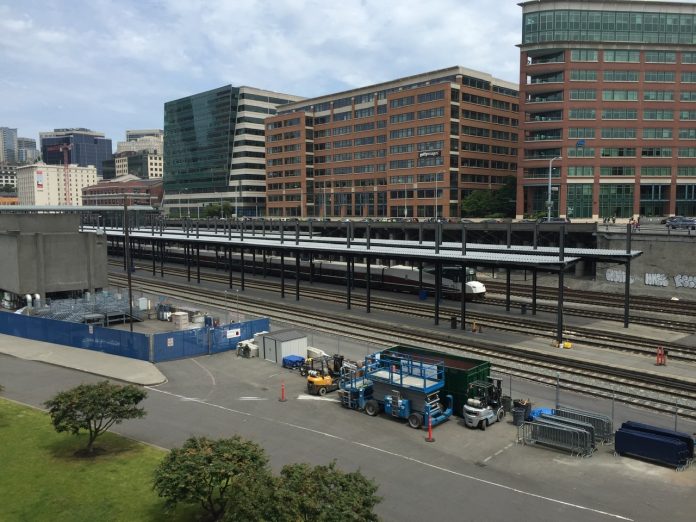 Service on the Amtrak Cascades corridor is likely to remain reduced for quite some time. One daily roundtrip between Seattle and Eugene will continue until demand warrants an increase in service, according to the Washington State Department of Transportation (WSDOT). Ridership is down 90% from normal, but part of that is due to significant curtailment of service, and seated capacity has been capped at 50% to reduce the risk of Covid transmission. With only one daily roundtrip, the convenience of riding the rails is greatly reduced even with the guaranteed spaciousness. Compounding this is the fact that all service north of Seattle has been suspended, leaving communities from Edmonds to Bellingham completely out of the picture, as well as Vancouver, British Columbia.
Even if service were restored on the northern portion of the corridor, Canadian authorities have said that Covid cases are just too widespread to keep the border open for general travel. Canada has closed the border until at least August 21st. That stance may not change any time soon since the outbreak is much worse south of the border. British Columbia has only 62 documented cases of Covid per 100,000 people, whereas the rate is 1,060 per 100,000 in the United States at large and 578 per 100,000 in Washington state.
The federal response and communications led by Donald Trump from the White House have been an abject failure on every front. Meanwhile, Republican leaders at home in Washington state have been loudly cheerleading from the sidelines for non-compliance with public health directives and relaxing of public health responses. That anti-public-health rhetoric has exacerbated the abysmal spread of Covid, increasing hospitalizations and death of Washingtonians. For his part, Governor Jay Inslee was also slow to require universal face mask wearing in public. The botched Covid response will undoubtedly continue to suppress long-distance mobility and by extension passenger rail ridership and service in the region.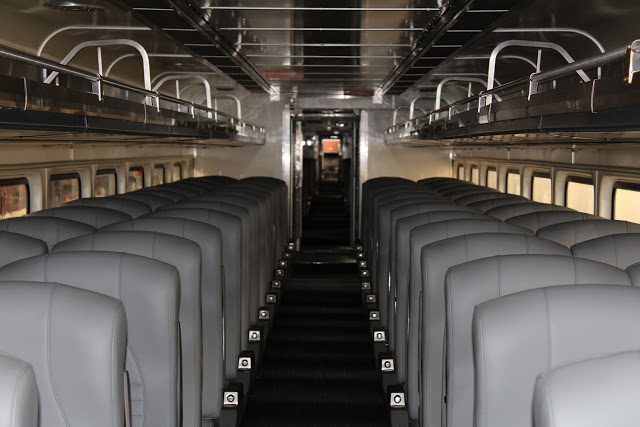 In the interim, there has been a temporary equipment change that may end up in the rotation. Amtrak-owned Horizon Series train cars have been delivered to Seattle, which replace Talgo Series 6 trainsets. As of June, the Talgo Series 6 trainsets have been removed from service in order to comply with recommendations from the National Transportation Safety Board (NTSB).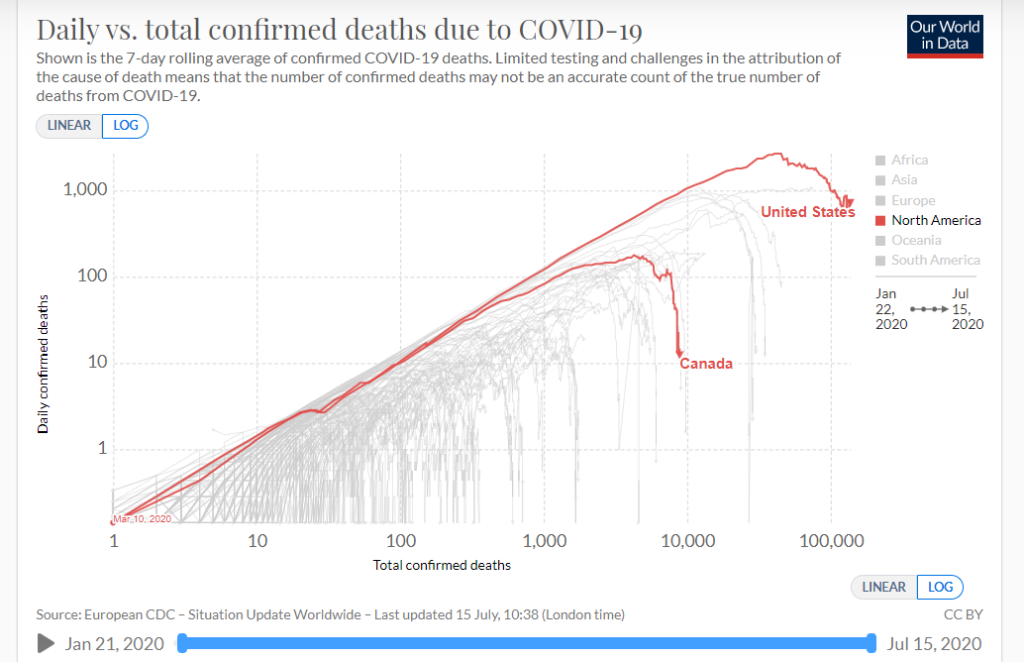 In 2019, the NTSB deemed the Talgo Series 6 as unsafe for failing to meet crashworthiness standards and other operating safety guidance. A clear recommendation in the 2019 report stipulated that Amtrak Cascades "[d]iscontinue the use of the Talgo Series [6] trainsets as soon as possible and replace them with passenger railroad equipment that meet all current United States safety requirements." Procurement of permanent replacement trainsets for the Talgo 6 Series is now underway.
It is not clear what the exact timeline is for replacement of the Talgos, but Amtrak is in the process of procuring new equipment nationally to replace the aging Amfleet. A WSDOT spokesperson said the agency will piggyback on the forthcoming nationwide Amfleet replacement contract to replace the Talgo equipment. Additionally, the state legislature set aside $10 million for the current biennium in 2019 to acquire new trainsets and WSDOT was awarded a $37.5 million federal State of Good Repair grant for the same purpose. Those funds, coupled with the $25 million from Amtrak insurance proceeds for the trainset lost in the DuPont derailment, will allow for the purchase of at least three new sets of passenger rail cars through Amtrak's national procurement, the agency said.
Hopefully the chosen equipment includes passive tilting capabilities–a necessity for faster speeds on curves, of which there are many in the Amtrak Cascades corridor.
For now, WSDOT has put all 27 Talgo 6 Series train cars up for sale with a bidding window through August 3rd. WSDOT is also on the cusp of delivery of Siemens Charger locomotive this September to replace the one damaged in the 2017 derailment with insurance covering the cost of replacement.
Aside from the Horizon Series train cars, Amtrak Cascades is still able to operate Talgo Series 8 trainsets. That is equipment owned by the Oregon Department of Transportation (ODOT) and currently in the service rotation. ODOT often runs the equipment on the Portland-Eugene segment. The Horizon Series, however, will be critical when service levels are restored as ODOT only owns two Talgo Series 8 trainsets.
WSDOT has also said that a timeline for reopening of the Point Defiance Bypass has not yet been set. Sound Transit, which owns the tracks, is working on a Rail Activation Plan that will deal with safety. Testing of the tracks and certification of Amtrak crews will also be required before a formal time is set to bring the bypass back online.
Two additional daily roundtrips between Seattle and Portland had been predicated on the bypass. WSDOT has now hinted that will not be enough, citing the need for a rebound ridership demand, getting Covid in remission, and procuring state funding as other key hurdles to get over before proceeding with the service additions. Still, the bypass would save riders time and increase reliability in the interim.
With one daily roundtrip and a shrunken corridor, Amtrak Cascades has a long way to getting back to four daily roundtrips between Seattle and Portland, two daily roundtrips between Seattle and Vancouver, British Columbia, and two daily roundtrips between Portland and Eugene
Correction: The post has been updated to clarify that WSDOT does indeed plan to piggyback on the nationwide Amfleet replacement and said it has funding for three trainsets lined up.

Stephen is a professional urban planner in Puget Sound with a passion for sustainable, livable, and diverse cities. He is especially interested in how policies, regulations, and programs can promote positive outcomes for communities. With stints in great cities like Bellingham and Cork, Stephen currently lives in Seattle. He primarily covers land use and transportation issues and has been with The Urbanist since 2014.