The issue of salmon run restoration provides a sharp contrast between challenger Rebecca Parson and incumbent Congressman Derek Kilmer in District 6.
The birds are larger, their feathers fuller. The water has turned a luminous, healthy green-blue hue. Elk roam where they couldn't before. Thousands of salmon swim upstream and—instead of dying as they once did—spawn. And indigenous people have discovered a legendary creation site that had been covered up for decades.
It almost sounds too good to be true. But this is the story of the successful dam removal and restoration of Washington's Elwha river, both for wildlife and the Lower Elwha Klallam people.

It's clear to me and a growing number of leaders across our region that we should be diligent students of what has been achieved in Elwha. It's time we get moving to breach the dams of the Lower Snake River and ignite another environmental flourishing.

Along with the Nez Perce, Lummi, and Yakima tribes, recently the Port Angeles City Council joined a broad coalition pushing to breach the dams. While it's noteworthy that the dams provide emissions-free hydropower, the council rightly recognized that it defeats the purpose of fighting climate change if we sacrifice vast ecosystems in the process. The council's vote was 5 to 1.

How did my opponent, 6th District Congressman Derek Kilmer, respond to the council's call to action—co-written by the Sierra Club and over 200 constituents? A mealy-mouthed "I am grateful for the continued engagement" statement that evinced no plan, no moral leadership, and certainly no agreement on the need to breach the dams.

District 6, with its rich history of seven Conservation Corps contingents during the Great Depression, deserves better than this hide-in-the-backseat-and-wait approach in Congress. There's no excuse for waffling or waiting. The truth is we don't have to choose between creating jobs, providing reliable clean energy, and protecting our environment.

According to an analysis by ECONNW, dam removal and river restoration would add more than 300 jobs per year in the counties adjacent to the Lower Snake River over more than three decades. A 2018 study found that solar, wind, batteries, and efficiency can replace the power provided by the dams. We can shield barge operators and farmers from economic damage with robust targeted mitigation measures—similar to the "just transition" provisions in the Green New Deal which guarantee good-paying jobs for fossil fuel industry workers in a new clean energy economy.

This is no small matter. Consider that the Columbia River Basin was once one of the greatest salmon-producing river systems on the planet. Today, salmon in its largest tributary face extinction. The dammed-up river's slow moving currents absorb heat, cooking the salmon to death. In 2015, 250,000 adult sockeye salmon were wiped out in the Columbia and Snake rivers by scorching water.

As a result, we see horrific stories of orcas driven to starvation in Puget Sound. Tribal families are denied a "first food"—salmon swimming upstream were among the first foods to appear in the springtime—that is a core part of their sustenance, culture and heritage.
What are we waiting for? "Will we be the generation that forgot those that are coming behind us—those that remain unborn?" Yakima Nation Chairman JoDe Goudy has asked. "Will we be the generation that forgot to speak for the resources that cannot speak in a manner that we can understand?"

I am running for Congress because if it's left up to Congressman Kilmer, we will not be that generation. Let us act now to breach the Lower Snake River Dams.
Editor's note: Check out The Urbanist's Primary Endorsements, which includes an endorsement of Rebecca Parson.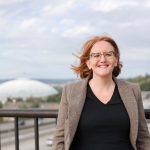 Rebecca Parson (Guest Contributor)
Rebecca Parson is a progressive Democrat running to represent the 6th District—Tacoma and the Olympic Peninsula—in Congress. She is a Tacoma Area Disabilities Commissioner, tenants' rights organizer, and small business owner, and if elected, would be the first LGBTQ+ woman to hold Congressional office in Washington state. Follow her campaign on Twitter @RebeccaforWA.