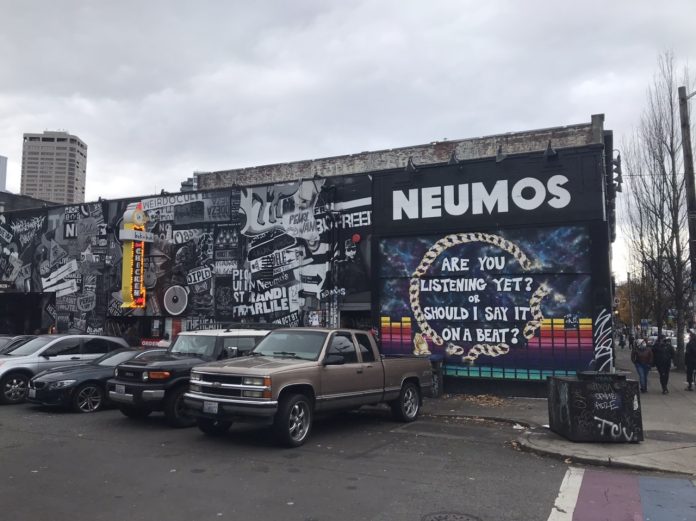 Flimsy: Drunk walking statistics are built on flimsy conclusions.
Stop drunk drivers: Meanwhile, the federal government is finally looking at technology to fight drunk driving.
Lift a finger: If Congress doesn't act to save transit from the pandemic, will New York Governor Andrew Cuomo lift a finger to save New York City's system?
57 days: The environmental terrorist-in-chief is rushing to sell oil drilling rights in the Arctic but this will face serious lawsuits ($).
Covid budget hit: The Metropolitan King County Council has adopted a two-year budget that is smaller than the last ($).
Wide bike lanes: Even in suburban Portland, the city is planning wide, buffered bike lanes.
Green Marshall Plan: Pittsburgh's mayor is proposing a $600 billion "Marshall Plan" for Middle America to facilitate a transition from fossil fuels.
Space Needle rival: Could a local architecture firm's fantasy Seattle 2030 highrise tower design become reality in Seattle post-pandemic?
An apology: The American realtors' association is apologizing for the industry's role in discriminatory housing practices ($).
Take the loss: Puget Sound Energy is legally required to divest in coal energy, but the company's plan to strike a deal to sell its interest in a Montana coal plant has fallen through.
Economic threat: Severe transit cuts would worsen the American economy.
Safer than you think: Studies continue to show that riding transit is relatively safe during the pandemic.
Frequency is freedom: Salt Lake City's transit system is going to get a major overhaul that focuses on frequency.
Laws tilt toward drivers: In Washington, D.C., e-scooter and e-bike riders face a nearly impossible law on collecting damages from people driving who hit them.
Resign Mullet: Restaurant owner and Democratic State Senator Mark Mullet rebukes Washington Governor Jay Inslee over indoor dining restriction using bunk arguments, leading several other Democrats astray.
Unfounded fears: Despite the fears of low-income housing in suburban areas, low-income housing has not ruined the neighborhood ($).
Decongest NYC: Decongestion pricing could still happen in New York City next year, but there's a lot of ifs.
Townhouses in Eastern Washington: As housing demand picks up in Eastern Washington, there is an influx for infill housing in Wenatchee.
Masterplanning PAE: Snohomish County is embarking on its next major masterplan update for Paine Field ($), home to Boeing and a new commercial passenger airport.
Long legacy: King County Executive Dow Constantine will seek a fourth term ($).
Bailout renters: American rent debt is projected to reach $7.2 billion by the end of year.
Bordeaux House: Another grand mansion on Capitol Hill's Millionaire Row is being nominated for historic preservation.
Climate change: Even Britain's charlatan and demagogue prime minister has a decent plan to combat climate change.
Biking president: How could Joe Biden revolutionize American bike culture?
Capstan infill station: Vancouver's TransLink has begun design work for Capstan Station, a future infill station on the SkyTrain Canada Line.
Lane study: Portland and Oregon State University are working together to research bus and bike lane conflicts.
Beachside aerial trams: In the Tampa Bay area, the local transit agency is considering multiple aerial trams.
Pandemic bike boom: Will vaccines for Covid spell the end of the bike boom?
Housing initiatives: Everett's mayor has issued several directives to promote affordable housing in the city.
Students to programmers: With Covid keeping students away from college, real estate developers are looking to buy up empty student housing ($) for private housing.
Reclaiming public space: Crosscut looks at how urban farmers are reclaiming public space, how pandemic streets showed the promise of car-free Seattle, and how Seattle could become the next 15-minute city.
Christie Park revamp: Christie Park in the University District has gotten some improvements.
Trail connection: A new connection between the Eastrail Trail and SR-520 Trail ($) in Bellevue is on the horizon.
No surprise: Lyft has launched a political action committee to undercut gig workers from getting benefits.
Cleaner Gowanus: Cleanup of the Gowanus Canal in Brooklyn, an historically industrial area, is finally beginning.
Highway expansion: Oregon's transportation department wants to further widen a state highway (OR-217) between Beaverton and Tigard.
Seated e-scooters: Wheels has entered the Seattle e-scooter market with a seated option.
Impact fee case law: A warehouse developer has to pay the City of Puyallup park and recreation impact fees ($), a Pierce County Superior Court judge finds.
Next steps: Despite the failure of a regional transportation package, Portland's TriMet general manager tries to stay positive about the Southwest Corridor light rail project.
Rejecting rejection: A California judge has found that a Los Angeles decision rejecting a 577-unit multifamily housing project was a violation of state law.
Moratorium lifting: Montgomery County, Maryland is lifting a housing moratorium in the DC and Baltimore suburbs.
No new roads: A freeway revolt could be brewing in the Dallas-Fort Worth area. Meanwhile, Texas wants to widen I-35 in Austin to 20 lanes.

Stephen is a professional urban planner in Puget Sound with a passion for sustainable, livable, and diverse cities. He is especially interested in how policies, regulations, and programs can promote positive outcomes for communities. With stints in great cities like Bellingham and Cork, Stephen currently lives in Seattle. He primarily covers land use and transportation issues and has been with The Urbanist since 2014.