Olympia has adopted zoning reforms across single-family, multifamily, and commercial zones to meet the requirements of a state statute passed in 2019. Legislation passed by the city council last week will allow more missing middle housing types like duplexes, fourplexes, and accessory dwelling units to be built. The legislation falls short of a larger land use reform for Missing Middle Housing adopted in 2018 that was later sunk by an appeal, but it is a big step toward re-legalizing many homes that had been non-conforming under existing laws and allowing construction of new housing on existing lots.
Prior to pursuing this latest legislation, Olympia had banked hopes on sweeping land use changes as part of the Missing Middle Housing process. That effort sought to further allow and incentivize a broad spectrum of housing types, including cottage housing, courtyard apartments, tiny houses, duplexes, triplexes, fourplexes, and single-room occupancy housing in zones. It also would have reduced parking requirements for many of these middle housing types. However, it got tied up in legal proceedings before the Growth Management Hearings Board, a statutory administrative appeals body under the Growth Management Act (GMA), that ultimately led to invalidation of the Missing Middle Housing ordinance.
Unlike the preceding land use reform effort though, the Housing Options ordinance benefits from new state statute "safe harbor" provisions that preempt appeals under both the State Environmental Policy Act (SEPA) and GMA so long as development regulations are adopted by April 1, 2021. That effectively means the ordinance is untouchable since it falls within the parameters of the statute for the types of regulatory changes protected from appeal. The state statute has a menu of housing options that cities and towns can select from to comply with the law.
What the legislation does
The legislation does several practical things to reform land use for more missing middle housing, but the principal way it does this is simply adding several housing types to the city's land use code and making them outright permitted uses in many more zones. New recognized district residential uses include:
Courtyard apartments which are either one structure or several small detached structures constructed around a courtyard space;
Triplexes, fourplexes, and sixplexes where each unit is separated by a one-hour fire wall or floor; and
Duplexes on corner lots, which are virtually the same as duplexes except that they can be on smaller lots.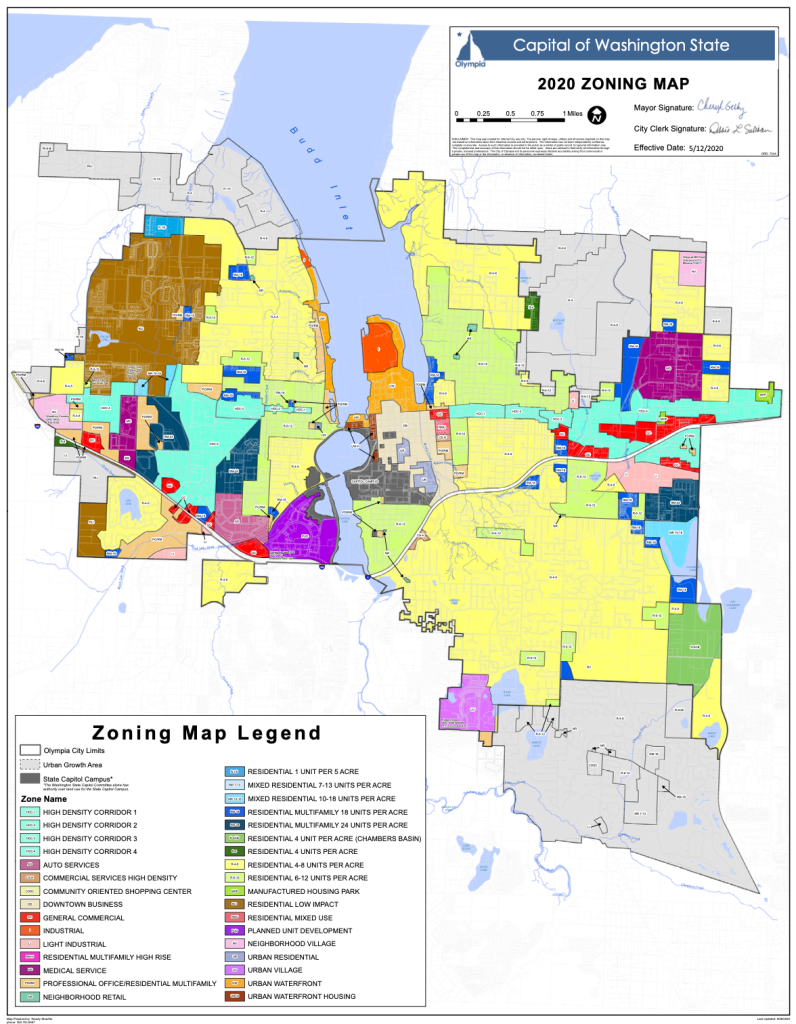 Generally speaking, these residential uses are added as outright permitted uses in most residential and commercial zones, except for courtyard apartments and sixplexes. In some cases, regular duplexes (not on corner lots) were allowed more broadly and other residential uses were already permitted in zones resulting in no effective change, but there was one case where triplexes became a prohibited use in the R-4CB zone.
| | | | | | | |
| --- | --- | --- | --- | --- | --- | --- |
| Zones | Courtyard Apartment | Duplexes | Duplexes on Corner Lots | Triplexes | Fourplexes | Sixplexes |
| R1/5 | | Permitted* | Permitted | | | |
| R-4 | | Permitted | Permitted | | | |
| R-4CB | | Permitted* | Permitted | Prohibited | Permitted*** | |
| RLI | | Permitted* | Permitted | Permitted | | |
| R 4-8 | | Permitted | Permitted | Permitted** | Permitted** | Permitted |
| R 6-12 | Permitted | Permitted* | Permitted | Permitted | Permitted | |
| MR 7-13 | | Permitted* | Permitted | Permitted | Permitted | |
| MR 10-18 | | Permitted* | Permitted | Permitted | Permitted | |
| RM 18 | | Permitted* | Permitted | Permitted | Permitted*** | |
| RM 24 | | Permitted* | Permitted | Permitted | Permitted | |
| RMH | | Permitted* | Permitted | Permitted | Permitted | |
| RMU | | Permitted* | Permitted | Permitted | Permitted | |
| MHP | | Permitted* | Permitted | | | |
| UR | | Permitted* | Permitted | Permitted | Permitted | |
| NC | | | Permitted | | | |
| NV | | Permitted* | Permitted | | | |
| UV | | Permitted* | Permitted | | | |
| COSC | | Permitted* | Permitted | | | |
| NR | | Permitted* | Permitted | | | |
| PO/RM | | Permitted* | Permitted | | | |
| GC | | Permitted* | Permitted | | | |
| MS | | Permitted* | Permitted | | | |
| DB | | Permitted* | Permitted | | | |
| CSH | | Permitted* | Permitted | | | |
| HDC-1 | | Permitted* | Permitted | | | |
| HDC-2 | | Permitted* | Permitted | | | |
| HDC-3 | | | Permitted | | | |
| HDC-4 | | Permitted* | Permitted | | | |
Notes: *originally permitted in this zone, **originally limited only to the High Density Corridor Transition Area, and ***originally permitted in this zone.
Accessory dwelling units (ADUs) also saw some reform in the legislation mainly in terms of size, ownership, height, and parking, but the number of ADUs and circumstances of locating them did not change. Under the land use code, one ADU is permitted per lot with a single-family residence as attached or detached, and given that most residential and commercial zones permit single-family residences, that means ADUs are also permitted in such zones. Changes adopted fully eliminate the owner-occupancy and off-street parking requirements for ADUs while increasing the size of ADUs in two ways. First, ADUs can be 850 square feet as-of-right without consideration of the primary residence size. Second, ADUs attached to accessory structures like shops and garages may be 1,000 square feet inclusive of living space of the ADU alone. In this way, the land use code seems to be incentivizing larger backyard cottages with attached garages. Additionally, detached ADUs saw height limits increase from 16 feet to 24 feet.
The addition of duplexes on corner lots in the land use code could wind up adding many more duplexes to lower density single-family neighborhoods, creating sprinkles of moderate density on block corners. This is because the land use code treats duplexes on corner lots similar to single-family residences, effectively giving them a density bonus to be placed on smaller single-family-sized lots than regular duplexes. The main caveat though is that duplexes on corner lots must still meet all development standards of the underlying zone. For some corner lots this could still be difficult to achieve since setbacks, lot coverage maximums, height limits, and two parking spaces per unit will still apply.
For triplexes and fourplexes, there was a mix of freer and more restrictive changes. As noted in the table above, the zones where these are permitted has greatly increased and side yard setbacks in the R 6-12 zone were trimmed from ten feet to five feet. Yet the number of stories permitted were cut from three to two in the R 6-12 zone and parking requirements are five parking stalls per triplex, which ends up falling somewhere between single-family and apartment parking ratios.
For courtyard apartments, the land use code sets a minimum of four dwelling units and maximum of twelve dwelling units that must be arranged in a common courtyard open space. Units can be in single structure or individual detached single-family structures where each dwelling has ground floor access to the courtyard. A certain amount of courtyard space must abut each dwelling unit and the courtyard itself must be at least 1,500 square feet in size. This form of development shares some similarities to cottage housing, but it could conceivably bring the return of bungalow courts that were more common in the early 20th century.
Olympia's work is not done though. During last week's meeting, Mayor Pro Tem Jessica Bateman commended the work on these policies but said that they were still "a drop in the bucket" and that future updates, especially through the Comprehensive Plan, should focus on housing equity and housing justice. "We need 13,000 housing units over the next 20 years to accommodate population growth and this [policy] is going to be…a thousand units give or take," Bateman said. The city still intends to pursue more land use reforms, particularly for missing middle housing and parking reform in the coming year or so.
With Bateman departing from the city council for the state legislature, she could well be a force for further state-level land use reforms and in the process directly aid Olympia's efforts, which The Urbanist Election Committee pointed to in their endorsement. In November, she was elected to the open 22nd Legislative District seat, succeeding Representative Beth Doglio, and has been assigned as a member on the House Housing, Community Development, and Veterans Committee which has oversight on housing issues that can crossover into land use.
With the sunset on safe harbor provisions quickly approaching, it may behoove the state legislature to extend them and expand the scope of the statute of protected housing infill actions in the upcoming 2021 legislative session, so more cities and towns can reform housing land use regulations like Olympia. But the city's land use reform is now in the books and could start seeing its fruits in the new year.

Stephen is a professional urban planner in Puget Sound with a passion for sustainable, livable, and diverse cities. He is especially interested in how policies, regulations, and programs can promote positive outcomes for communities. With stints in great cities like Bellingham and Cork, Stephen currently lives in Seattle. He primarily covers land use and transportation issues and has been with The Urbanist since 2014.