The pandemic has meant a big curtailment in passenger rail service for Washington. Right now there's only thrice weekly long-distance service to Los Angeles and Chicago and a once daily regional trip to Portland from Seattle. In May, Amtrak is poised to bring back service in a big way, which will be welcome news to riders. Trains have started to become crowded as ridership per trip has returned to near normal levels on the Cascades service. Amtrak has also announced future enhancements to Cascades with selection of a vendor for new trainsets.
Service restorations begin on May 24th with Amtrak bringing back daily roundtrips seven days a week on the Empire Builder and Coast Starlight services to Chicago and Los Angeles. Amtrak Cascades service will also be improved that day with two additional roundtrips between Seattle and Portland. One of the two restored roundtrips will be extended to Eugene, bringing the total to three daily roundtrips between Seattle and Eugene when counting the Coast Starlight (though Tukwila is not served by the Coast Starlight).
However, there are no imminent plans to return service on Cascades north of Seattle. That largely has to do with the border closure with Canada. The closure was just extended this week at least until May 21st. Passenger rail advocacy group All Aboard Washington has suggested restoring Cascades' northern service to Bellingham and even Blaine despite the border closure.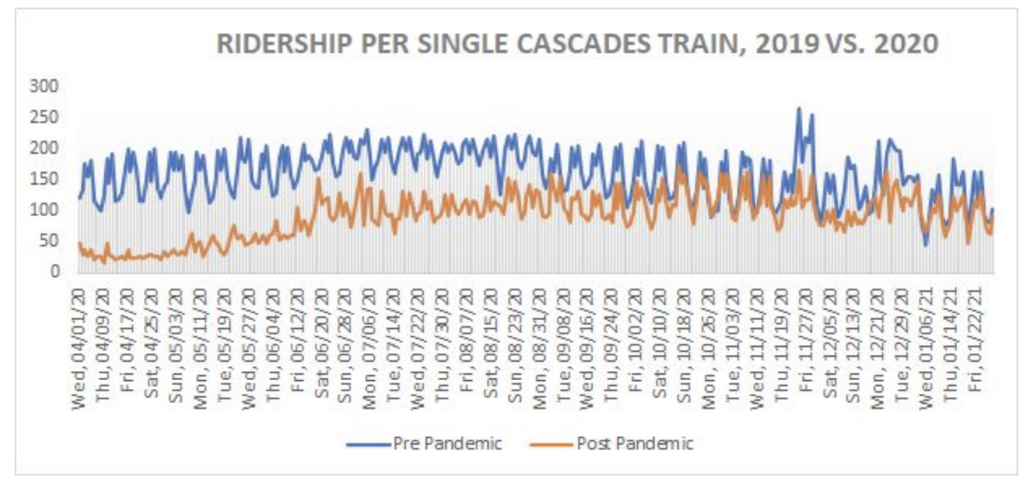 On the corridor between Seattle to Portland, these service restorations mean that riders will have four daily trips to choose from on Cascades and Coast Starlight services. Departure times from Seattle and Portland will be as follows beginning on May 24th:
Seattle at 7:25am (Train 503), 9:45am (Train 11), 2:20pm (Train 505), and 6:10pm (Train 507); and
Portland at 8:20am (Train 500), 12:00pm (Train 504), 3:56pm (Train 14), and 7:30pm (Train 508).
This combination will allow riders to make daytrips on the corridor again.
Amtrak Cascades equipment consists of Talgo 8 and Horizon trainsets. The latter replaced Talgo 6 trainsets that were deemed unsafe in 2019 by the National Transportation Safety Board. A Talgo 6 trainset had been involved in the fatal December 2017 derailment near DuPont. The Talgo 6 equipment has since been retired hence the Horizons that are standing in for the time being. Coast Starlight and Empire Builder services use Amtrak's bi-level Superliner rail cars.
In an announcement yesterday, Amtrak identified Siemens as the winning bidder to manufacture a fleet of 83 intercity trainsets for use on state-supported corridors in addition to the Northeast Corridor and Palmetto service. This procurement will replace aging Amfleet I and Metroliner cab equipment on those corridors and services as well as the retired Taglo 6 trainsets that had operated on Amtrak Cascades.
The Washington State Department of Transportation (WSDOT) said that the agency had intended to piggyback on this procurement process last year to purchase at least three new trainsets. The state set aside $10 million in 2019 to acquire new equipment and WSDOT was awarded an additional $37.5 million in federal funding. On top of this, insurance from the December 2017 derailment is providing another $25 million. When the new Siemens intercity trainsets arrive, Cascades will be able to send back the stand-in Horizon trainsets. WSDOT had indicated last year that delivery of new trainsets could be in 2025, but Amtrak has not released an exact date yet.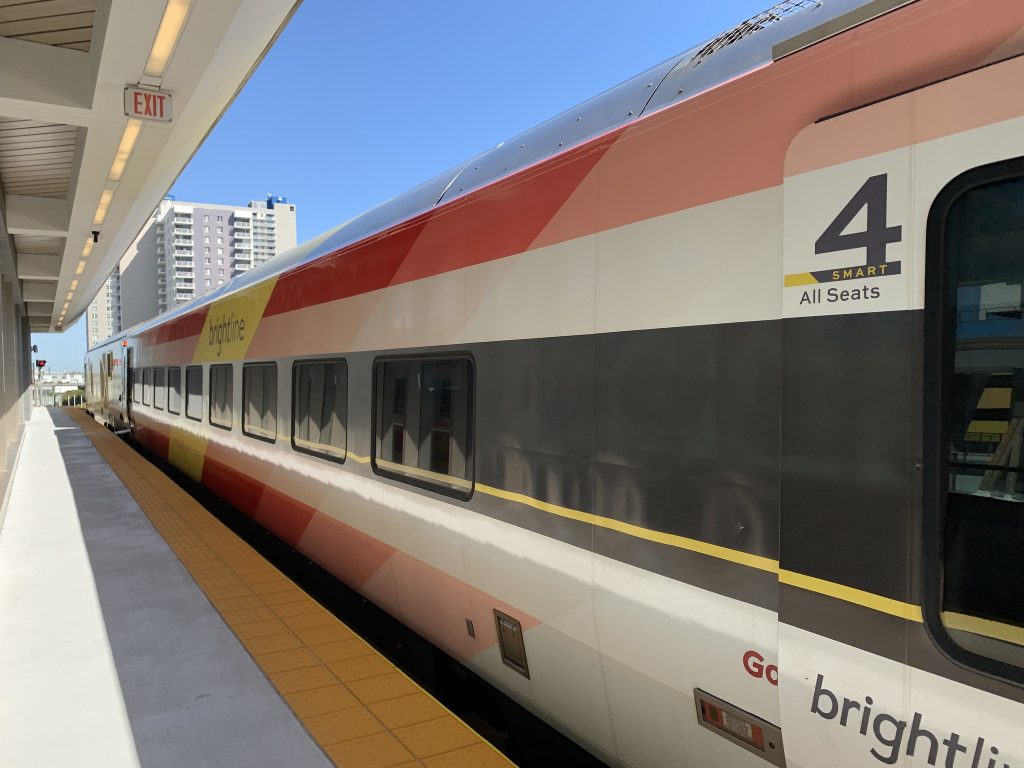 Additionally, details of the trainset models to be procured from Siemens have not yet been made public, but Brightline in Florida owns and operates Siemens Venture series trainsets and several state-supported Amtrak services like San Joaquins (California) and Hiawatha (Illinois and Wisconsin) have trainset purchase orders of the series.
Amtrak CEO Bill Flynn said in a statement that, "This new state-of-the-art equipment will not only provide Amtrak customers with an enjoyable and efficient travel experience, it will also enable us to improve safety, increase passenger capacity and reduce carbon emissions." Amtrak expects to execute a contract with Siemens this summer and move ahead with formal purchase and procurement.
When Amtrak services will move to the Point Defiance Bypass between Tacoma and the Nisqually Valley is still unknown. WSDOT had suggested sometime in the spring or summer, but a recent presentation to the Washington State Transportation Commission by Sound Transit — the owner of the tracks — revealed that the agency has not set a reactivation date of the corridor for use by Amtrak. Sound Transit has not completed the requisite safety certification process even though positive train control — a safety system to slow or stop trains automatically so as to avoid hazards and collisions — has been installed. The bypass is critical to improving reliability, reducing travel times, and eventually increasing the number of trips on the Cascades corridor.
Nevertheless, partial restoration of passenger rail services will be a big step in the right direction for the region as it wakes up from the pandemic-induced hibernation.

Stephen is a professional urban planner in Puget Sound with a passion for sustainable, livable, and diverse cities. He is especially interested in how policies, regulations, and programs can promote positive outcomes for communities. With stints in great cities like Bellingham and Cork, Stephen currently lives in Seattle. He primarily covers land use and transportation issues and has been with The Urbanist since 2014.