This month, The Urbanist is excited to be joined by Seattle City Council President and Mayoral Candidate M. Lorena González for our June meetup from 6:15 to 7:30pm on Thursday, June 3rd.
The daughter of farmworkers, Lorena worked her way through community college, earned a business degree at Washington State University, then earned a law degree from Seattle University School. She went to work as a civil rights attorney, fighting for the rights of workers, victims of wage theft and employment discrimination, and victims of police misconduct and sexual abuse. González was first elected to her citywide seat in 2015. This year, she is running for Mayor. Read our interview for more on her platform.
Where exactly does González stand on ending apartment bans, social housing investment, homelessness, police accountability, transportation, climate justice, and more? The best way to find out is to tune in and submit a lingering question for the Q&A.
Here's the video from the meetup:
Our monthly social event is free, all ages, and open to everyone. Normally our meetup is the second Tuesday of the month, but we moved it this month to fit the Council President's schedule. The line opens a 6:15pm for networking and discussion and the speaker starts at 6:30pm. We hope you can join us! In July, we will be joined by Mayoral candidate Jessyn Farrell.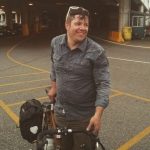 Patrick grew up across the Puget Sound from Seattle and use to skip school to come hang out in the city. He is an designer at a small architecture firm with a strong focus on urban infill housing. He is passionate about design, housing affordability, biking, and what makes cities so magical. He works to advocate for abundant and diverse housing options and for a city that is a joy for people on bikes and foot. He lives in the Othello neighborhood with his fiance and kitty.