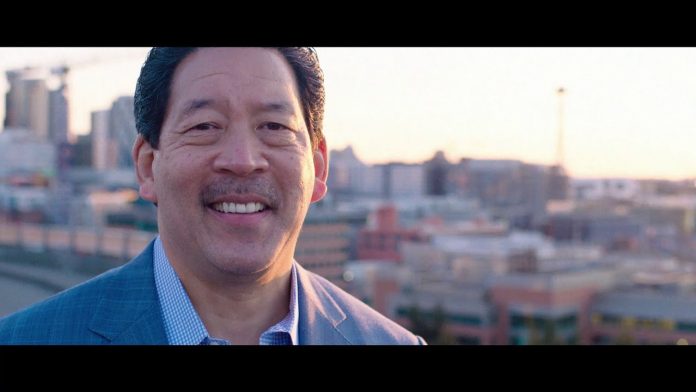 Former Seattle City Council President Bruce Harrell is vying to replace outgoing Mayor Jenny Durkan. Harrell's campaign bio notes he grew up in the redlined Central District the son of a Black father and Japanese mother. From star linebacker at Garfield High School and the University of Washington to high-powered attorney to three-term City Councilmember, Harrell has the kind of pedigree that political operatives drool over. But some have contended the dynamics of this election favor an outsider rather than an insider. There's also the question of what he'd like to get done and how, which our questionnaire can shed some light on.
The Urbanist Election Committee wrote and distributed questionnaires to the candidates and followed up with Zoom interviews this month. We'll roll out the rest of the Mayoral questionnaires this week and continuing releasing questionnaires in other races. The Urbanist will drop our Primary Endorsement writeups in early July. The Primary voting period starts July 16th; ballots must be postmarked by 8pm August 3rd. For voter information or to register to vote, visit the State election website.
Below are Bruce Harrell's questionnaire responses. Check out his campaign website for more information.
---
What does being an urbanist mean to you?
I view being an urbanist as promoting and building a city that reflects our values of walkable, welcoming neighborhoods with affordable housing, great parks and public spaces, and thriving retail clusters that promote local jobs and opportunity, with access to needed services.
Inherent to my definition are also neighborhoods rooted in equity, where all people feel safe and supported, where we overcome historic barriers and biases in housing and transit access, where there are no food deserts or substandard public spaces.
True urbanism must be inclusive to all who call our city home.
What strategies would you adopt to address the homelessness and housing affordability crisis in Seattle, and do you support the charter amendment proposed by Compassion Seattle?
My plan is a new approach – one rooted in accountability and results. My plan will coordinate with regional partners to ensure an ambitious effort getting people into housing with needed on-site services. We have to start with housing – for real progress, people need a permanent space to call home. From there, offering a broad array of services, like behavioral health and addiction support and job training and resume building will provide those in need with the individualized care necessary to get back on their feet.
My administration will provide clear measures of progress, with entry points for volunteers, foundations and civic partners to track our response, contribute, and feel confident we are helping people get shelter and restore their lives.
In Compassion Seattle, I'm pleased to see broad agreement between leading human service providers, advocates for the unsheltered, and local business leaders on a path forward.
I'm committed to bringing communities together to solve this challenge, and if elected, I hope to pursue a dialogue bringing all stakeholders to agree on one plan: massive investment in emergency housing, individualized services, and helping people out of tents and into housing as units come online – with progressive revenue to fund these investments.
How do you envision the relationship between the city and Seattle Police Department changing? How do you plan to look after the safety/well-being of Seattle's residents, especially those in communities who have faced disproportionate use of force from police?
Fixing SPD to ensure public safety for ALL residents – especially Black and Brown Seattleites – has always been my priority, even when the issue wasn't popular. I was the first Seattle City Councilmember to meet with the family of Native American woodcarver John T. Williams after he was killed by SPD in 2010. I was a dogged supporter of body cameras on all SPD officers. I led efforts to pass Seattle's bias-free policing law, prohibiting racial profiling and collecting data to track bias in SPD's approach.
As Mayor, we'll take an uncompromising approach to: eliminate police bias and brutality, utilize social workers or mental health counselors in situations that don't require armed response, continue improvement and timely adoption of de-escalation training, and ensure real accountability that demands bad cops are fired. I'll advocate for serious culture change, the kind required to ensure changes are both implemented and effective.
As the only major candidate who's had to deliver "the talk" to my own children, and having marched last summer to again demand an understanding that Black Lives Matter, I can tell you commitment to racial justice is rooted in my DNA – and was a catalyst for why I am running for Mayor.
What is your strategy for equitable development in Seattle and how will that guide your approach to the Major Update to the Comprehensive Plan in 2024?
I grew up in a redlined Central District home and witnessed firsthand friends and family forced out of communities due to lack of affordable – and equitable – housing options. As Mayor, I'll address the historic vestiges of Seattle's housing practices and the modern manifestation that results in a chronic lack of affordable housing by leveraging the full array of federal, state, and local options to build transit-serviced, affordable and workforce housing, especially on vacant or underdeveloped public land. I'll work to increase density options citywide; reduce reliance on property taxes via alternative progressive revenues; and support residents at risk of displacement with legal and financial services.
Further, we must ensure the Office of Housing has a mandate to explore programs for increasing equity in housing and homeownership, including community land trusts, affirmative marketing, and policies like those in Washington, DC that give tenants the opportunity to purchase buildings when they are up for sale, and in Austin, Texas, where 'right to return' programs have helped marginalized tenants return to gentrified communities."
What is your plan to help businesses recover from the pandemic? What has the pandemic taught you about what small businesses and their employees need?
I'm inspired by stories of creativity and perseverance during the pandemic, but the most important lesson has been that in order for a recovery to work, we must protect workers and keep our smallest businesses from slipping through the cracks. We need leadership and an open door in City Hall.
I have a long history of helping small, local, and BIPOC-owned businesses get off the ground and turned into thriving job creators and community pillars. I recently launched a Save Our Shops tour and will be visiting small businesses in every council district and neighborhoods across the city to hear directly from business owners and workers about how we can best support an equitable recovery.
I've called for use of federal recovery funds to go toward small business recovery efforts, increased access to capital and resources, and new "business to business" partnerships to ensure that smaller businesses and BIPOC entrepreneurs enjoy the ancillary revenues and success of many larger businesses.
I'll create a Seattle Jobs Center that connects those seeking work with businesses, labor unions, and training and apprenticeship programs. I'm the only candidate with a plan to preserve and revitalize arts, culture, and nightlife – some of Seattle's hardest hit businesses and creatives.
What tax policies would you advocate for in Seattle?
Washington's regressive tax system is incredibly unfair to working class and low-income Seattleites – as the city's hands are tied by our inability to implement progressive taxes on the wealthy. As we work to maintain public services and programs and expand our efforts to address homelessness, COVID recovery, climate change, and other priorities – we must review all revenue options.
I'm open to exploring Seattle's newfound ability to levy a 1% flat income tax, but would much prefer greater discretion to exempt low-income Seattleites and set different rates for the wealthy. I support the new capital gains tax passed in the Legislature, and hope that opens the door to additional revenue streams for Seattle.
Thinking about additional revenue streams, I believe the wealthy and big business must pay their fair share in our efforts to tackle immediate crises such as homelessness and address the unsustainable inequities in our economy and society. I am open to new progressive revenue with a clearly defined plan for how it can be used to address the challenges we face.
What are your preferred policies to improve access to public transportation?
The only way we will reach the carbon reduction goals outlined in the Climate Action Plan (which I worked to approve while on City Council) is to continue improving access to – and usage of – our transit system. I'm determined to create a new transportation agenda with significant change over the next decade to reduce our reliance on cars and impact on the environment, while better helping Seattleites get around.
We need the kind of expansive and synergistic transit system that connects people to the places they want to go and lives up to this city's innovative spirit.
As we recover from this pandemic, we have to get transit back on track – increasing frequency of service, broadening route options, and working to better connect different methods of transportation to each other and to the communities they serve, especially BIPOC and low-income communities. We have to look at transportation comprehensively – investing in a variety of solutions like safe sidewalks and bike lanes, electric charging infrastructure and expanded access to e-bikes, and large rail projects like expediting ST3 and making Cascadia high speed rail possible.
"The time for letting existing wealthy neighbors say no to new neighbors who are less wealthy is over" — Do you agree and what is your plan to address this issue?
Yes, I agree that every neighborhood should embrace additional housing if we are going to meet our goals and ensure everyone has an affordable place to call home, especially as our City and region grow over the next several decades. Early in my City Council tenure, I recognized the importance of increasing our housing supply, voting in support of efforts to expand backyard cottages and upzone areas around transit near Downtown, Roosevelt, West Seattle, and more.
I later helped pass and continuously update the MHA program to significantly expand density and affordable housing across the city, made it easier to build ADUs, and supported major redevelopments like at Fort Lawton. But it's very clear that more housing is still needed. To reach the tens of thousands of new units that we need, similar efforts must continue with urgency, density, and financing.
As Mayor, I'll push for increased investments in maintenance and development of affordable housing. I will continue to support efforts to increase multi-family housing in neighborhoods across the city through expansion of zoning for ADUs, duplexes, triplexes, and mixed-use apartments that include businesses, childcare, and other needs, critical for better ensuring more affordable, walkable and bikeable communities.
More specifically, do you support and would you commit to rezoning wealthy neighborhoods like Madison Valley, Montlake, and Laurelhurst to have robust urban villages, especially with frequent transit, university jobs, and multiple hospitals nearby?
I agree we must be smart about placement of new housing where it can be connected to existing jobs and amenities, and by maximizing transit-oriented development. We can reduce greenhouse gas emissions and help people live in the communities and neighborhoods where they work, while ensuring walkable, bikeable, connected communities. The wealth or lack of wealth of the neighborhood should not be the determinative factor and an equity lens requires impacted neighborhoods to be part of the conversation. I also agree that zoning should not be used in a one size fits all approach and we must work with neighborhoods to understand their character and their equity needs but always with a lens to increase housing supply and options. The City should be a leader in this regard.
How will you balance community input with effective and equitable policy-making?
I'm running for mayor to unite our city and bring our diverse interests and lived experiences together to solve the challenges we face. Critical to achieving that goal is unifying around our progressive values and letting community voices help to shape policy and guide the direction of our city. We need to make sure those who are most often underrepresented have a seat at the table as we build an inclusive, welcoming city for all.
My strong early support among Seattle's Black and AAPI communities demonstrates their trust in my approach to lead with an open mind, open heart, and open door.
As Mayor, I will build upon my record and prioritization of constituent engagement. I will strive to have a truly representative government – recruiting leaders from all communities across issue areas. I'll make sure that no matter your zip code, occupation or income level, you will be heard in the Mayor's office.
Do you support allowing missing middle housing like rowhouses in existing single family zones so all neighborhoods contribute to growth?
Yes I believe middle housing is one tool that can be explored when considering the City's need to expand affordable housing through additional density and transit-oriented development.
Do you support increasing progressive taxes (income or capital gains) to pay for affordable housing?
Yes – we cannot keep relying on the same regressive tax structure to fund our city services and priorities, especially when they contribute to a vicious cycle that drives people further into poverty. I will make lobbying the state for additional funding mechanisms a key element of our legislative agenda, and pursue innovative tax structures built on equity.
Will you push to make municipal broadband a reality in Seattle?
As COVID-19 has pushed schooling online, I remain frustrated by the disparities in access to high speed internet, where low-income and minority communities have the least access. I strongly support making high-speed internet available to all through expanded broadband access, reducing broadband costs, and free citywide Wi-Fi. Unlike any other candidate, I have received national recognition for my work in bringing internet access to underserved communities.
Do you support establishing a municipal bank?
Yes, I'm open to pursuing a municipal bank or other type of public lending institution as a way to potentially fund low-interest loans for housing equity and development, small business and entrepreneurial support, and fossil-fuel-free pension funds. I have represented Community Development Financial Institutions and Community Development Block Grant organizations, assisted many organizations in accessing Housing Urban Development funds, and have worked consistently on the Council toward trying to bring a municipal bank to Seattle.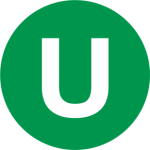 The Urbanist was founded in 2014 to examine and influence urban policies. We believe cities provide unique opportunities for addressing many of the most challenging social, environmental, and economic problems. We serve as a resource for promoting urbanism, increasing political participation, and improving the places we live. The Elections Committee consists of community volunteers and staff members of The Urbanist and is a standing body representing the political values of our organization.