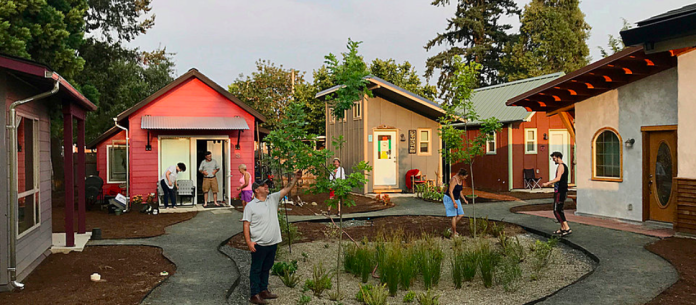 Is it possible to create deeply affordable housing for people making less than 30% of area median income (AMI) without relying on ongoing public subsidies? Nonprofit EcoTHRIVE believes so, and they are seeking to acquire land in Burien to test out their hypothesis. If all goes well, the result will be the transformation of an oversized single-family lot into a "resilient village" of tiny houses owned by residents through a limited equity cooperative.
According to Denise Henrikson, EcoTHRIVE co-founder and board president, EcoTHRIVE's housing model was inspired in response to the question of how to create permanent housing solutions for people who have experienced homelessness and are currently living in emergency shelter.
"It's this 'and then what?' question that inspired the development of our model. Through the process of answering that question, we believe we've developed a model that could serve not only people who are transitioning from houselessness (many people who are houseless are working, some full-time), but other people, with a variety of incomes, who want to invest time, energy and money to live in a creative, mutually supportive, permanently affordable community where they can grow their own food and generate energy," Henrikson said. "Most people I know, myself included, could be well-served by a housing model that does that."
EcoTHRIVE's model is based on the success of nonprofit SquareOne Villages, which creates community owned tiny house villages for low-income people in Oregon. Since beginning with Opportunity Village in Eugene in 2012, the nonprofit has expanded to five additional sites. EcoTHRIVE's pilot in Burien would be the first of its kind to debut in the Evergreen State.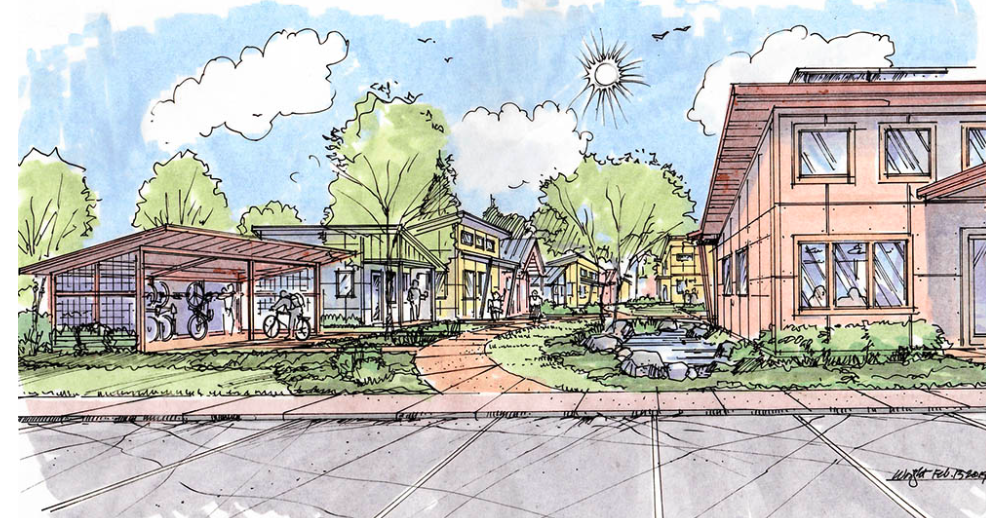 The City of Burien opened the door for an affordable housing pilot
At this point, you may be asking, why Burien? Well, in 2019 the Burien City Council adopted Ordinance 718 which allowed for the creation of an affordable housing demonstration program. The ordinance allows up to five affordable housing demonstration projects that include housing types and density allowances currently not permitted in the city. So far two housing demonstration projects are already in the works. The first is a six story DESC supportive housing development in Downtown Burien, which will include 95 studio units with onsite services for behavioral health care, crisis intervention, and employment. The proposal was approved in June of this year.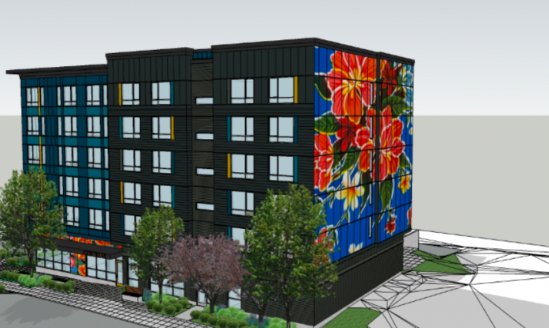 The second proposal was put forth by Habitat for Humanity Seattle-King & Kittias Counties. It would develop 40 affordable townhouse units (typically 3 bedroom 1 ½ bath) across 9 structures at 511 and 515 South 136th Street using a community land trust model. A community center, open space, and 42 units of parking would also be included at the site, and townhomes would be available for purchase by households earning an average of 50% of AMI. The proposal is still pending approval.
Before moving forward with their pilot project, EcoTHRIVE first needs to acquire the right property for development in Burien. Ideally that means an over-sized single family lot within one-quarter mile of public transit and walking distance of a grocery store and other essential services. The lot will also need to be spacious enough to accommodated a shared eating/meeting space, laundry facility and workshop in addition to 18 tiny houses. Potential for urban farming and solar panel installation are desirable too. According to their business plan, EcoTHRIVE has allocated $680,000 for its land acquisition costs. While this is not a high figure for the Seattle region, a quick search for residential parcels in Burien suggested that options are in short supply, but not completely out of reach.
EcoTHRIVE is also open to growing their affordable housing model in other locations where they would have municipal support for zoning they need. Eventually they'd like to see their model replicated across Washington State.
Public art leads to affordable housing
EcoTHRIVE co-founders Denise Henrikson and Susan Russell didn't set out initially to develop affordable housing, their first goal was to create public art that would engage people experiencing homelessness. The team came with an impressive resume; Henrikson helped launch the first Fremont Solstice Parade and build the iconic Fremont Troll, among other artistic and community development focused accomplishments, while Russell, who experienced homelessness for seven years in Seattle/King County, won the Real Change's 2018 Change Agent Award and created Love Wins Love, a project bringing homeless and housed people together to create art and ideas for reimagining housing.
The duo were awarded a Seattle Department of Neighborhoods' grant to host five art and conversation pop-ups. "That experience was so profoundly moving that we went on to host over 40 pop-up art-making stations and at each one, we set up a sandwich board with chalk and asked the question: "What Do You Need to THRIVE?" Asking that question and listening to people share their stories inspired us to form ecoTHRIVE Housing," Henrickson said.
How does EcoTHRIVE's affordable housing model work?
Using SquareOne Village as an economic model, EcoTHRIVE housing has developed a business plan centered on a dual shared ownership structure that includes both a nonprofit land trust that would acquire and own the land and a housing co-op that residents would pay into to cover ongoing costs. The combination is intended to maximize outside social investment and provide permanent affordable housing for current and future residents.
EcoTHRIVE intends to further maximize affordability by "building small and green." According to the nonprofit, building small dwellings can result in savings of 30% when compared to multi-story apartment buildings because their construction involves less specialized labor and material demand. This claim, however, may be difficult to substantiate given the wide variability in affordable housing development costs. Looking at the list of 2020 affordable housing projects submitted to the state legislature by the Washington State Housing Finance Commission, it is possible to see housing unit costs run the gamut, with location, square footage, and building amenities heavily impacting prices.
The cost projections put forth by EcoTHRIVE do seem competitive, however. In their business model, EcoTHRIVE estimates that they need $4 million to create their first village, which includes the cost of land and would house approximately 18 people. As written in their business plan, the estimate includes both all private and community spaces, and each unit would come equipped with a small kitchen and 3/4 bath. Sustainable design features would also be incorporated into the village to reduce energy and water consumption. Renovating existing housing onsite into shared community space and augmenting it with additional housing units is also a desired goal.
The EcoTHRIVE budget is based on the following assumptions:
$3.2 million financing package (aka "funding stack") including a $1.9 million construction loan convertible to a 30-year mortgage at 4.75% annual interest, $1.3 million of grants, and resident equity of $90,000, which would be paid in the form of a $5,000 share in the cooperative by 18 residents.
$3.2 million of development costs including $1.8 million of hard cost to renovate an existing home for up to six persons and add two more homes for an additional 12 persons, $739,000 of soft cost, and $683,000 of raw land cost.
In addition to the purchasing a share in the cooperative, residents would pay approximately $835 in monthly costs for utilities, taxes, and maintenance.
If EcoTHRIVE's numbers pencil out, the result would be a $222,000 price tag for each unit of housing created, which actually compares favorably to costs associated with creating affordable housing in Washington. For example, in 2020, Burien Haus Apartments, an affordable housing acquisition project for disabled/elderly residents, cost roughly $257,000 per unit, veering toward the lower end of the price scale, while Renton Commons, a newly constructed affordable senior housing development, cost $400,000 per unit. Estimates on affordable ownership housing were unavailable from the state, in part because so little of it is created.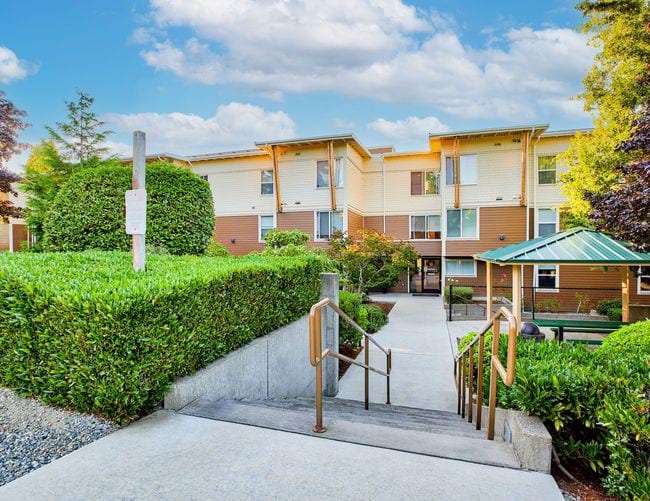 However, the fact that EcoTHRIVE aims to function longterm as a financially self-sufficient cooperative community sets it apart. Many affordable housing providers depend on tax credits and philanthropy to pay for their buildings' ongoing costs. When they are unable to recoup sufficient revenue to cover those costs, they may end up deferring important building maintenance or passing those costs on to residents in the form of rent hikes, two outcomes EcoTHRIVE hopes to avoid.
Yet, there are some other drawbacks to EcoTHRIVE's model. While bringing 18 homes to an over-sized single family lot certainly increases density, it is a less dense option than conventional apartment style housing on the same lot size. But it's also true that if the housing model is confined to creating infill housing in sprawling single-family neighborhoods, it may provide more density than many types of missing middle housing such as a townhouses, rowhouses, and courtyard apartments.
In terms of sustainability, as detached dwellings, tiny houses typically consume more energy than apartments in multifamily buildings. This drawback may be partially offset by the fact that tiny house inhabitants have more control over the environmental footprint of their home and the opportunity engage in energy saving measures that may not be available to all apartment dwellers.
However, EcoTHRIVE believes that the peace of mind that comes from home ownership is the greatest benefit offered by the model, especially for residents with very low incomes. "Those whose incomes fall under 30% AMI are often faced with a choice between housing stability and financial growth as they risk 'earning out' of predetermined income brackets which may cause them to lose access to subsidized housing. Earning more money is a huge financial and psychological risk, especially for folks who have experienced the trauma of homelessness. With ownership status, residents aren't at risk of losing their housing if their earnings increase," Henrikson said.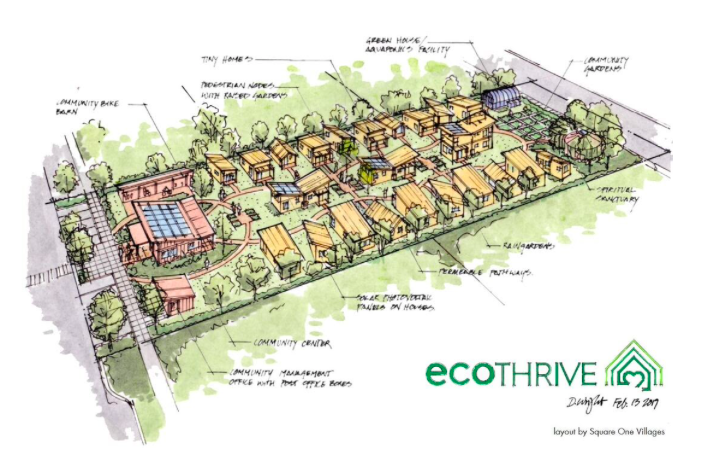 Recognizing that many future low-income residents may not be able to afford the initial $5,000 investment and nearly $835 monthly cost, Henrikson says the group is examining revenue generating possibilities such as solar panels and a possible Airbnb or other short-term market rental unit on the property. Some of SquareOne Villages' residents have been able to raise money for their payment through crowdsourcing, unique work opportunities, or other donations. Their villages also have community gardens onsite to help residents with growing some of their own food, another goal of EcoTHRIVE that would reduce monthly expenses. Overall, the EcoTHRIVE wishes to create a scalable model that they and others can use to create larger limited equity cooperative villages in the future.
The sense of community and solidarity that arises from cooperative living is another benefit for residents. That appears to be the case for residents living SquareOne village housing in Eugene. Instead of paying the median sales price of $300,000 for a home, Jeremy Mims, who prefers to go by his drag name Labaux, was able to secure a home for himself and his Chihuahua for $5,000. Labaux's new tiny house, which he built himself, provided the stability to stop substance abuse, leave an abusive relationship, and find new friendship and support in the village. "I'm living the best version of me now," Labaux said in article for Eugene Weekly. "I should be on Oprah."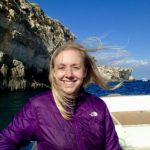 Natalie Bicknell Argerious (she/her) is a reporter and podcast host at The Urbanist. She previously served as managing editor. A passionate urban explorer since childhood, she loves learning how to make cities more inclusive, vibrant, and environmentally resilient. You can often find her wandering around Seattle's Central District and Capitol Hill with her dogs and cat. Email her at natalie [at] theurbanist [dot] org.