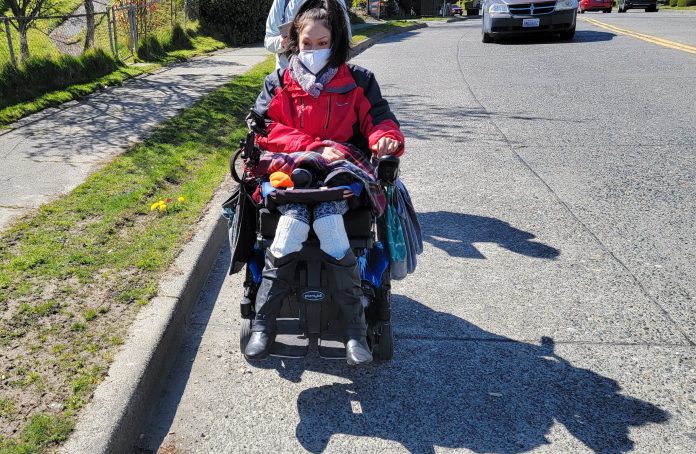 During October 22nd through 29th, Disability Rights Washington is asking drivers to ditch their cars and expand their knowledge of navigating the world by walking, rolling, or transit.
What is it like to try to get around your community without driving yourself? For people who can drive, and can afford a car, this isn't something you think about. But for nearly a quarter of the people in our state — people with disabilities, young people, seniors and people who can't afford cars or gas — this is everyday life.
At the Disability Mobility Initiative, a program of Disability Rights Washington (DRW), over the last year, we interviewed more than 130 disabled nondrivers from every legislative district in our state about our transportation needs. Those interviews are featured in our transportation access story map, and now we've compiled the expertise from those interviews into a groundbreaking research paper.
In her review of our work, Natalie Bicknell Argerious front The Urbanist wrote:
"In the introduction, the report writers ask policymakers and those in power to view reading the report as an opportunity to 'humbly perceive their ignorance of people who live differently from them.' It's a request that can feel a bit pushed — that is until the reader turns the page and comes across the first story and supporting photographs. From there on, the lived experiences of disabled people grappling with a transportation system that mostly ignores their existence takes hold and doesn't let go."
To help elected officials and other transportation decision makers better understand our research, Disability Rights Washington is launching our first annual Week Without Driving, which will take place this October 22nd through 29th. Cohosts include: 350 Seattle, All Aboard Washington, Cascade Bicycle Club, Complete Streets Bellevue, Downtown on the Go, Everett Bike Walk, Feet First, Front and Centered, Futurewise, Hopelink, Living Well Kent, Move Redmond, Seattle Neighborhood Greenways, Seattle Subway, Transit Riders Union and Transportation Choices Coalition. 
Here's how it works: you can get around however you want, but you can't drive yourself in any car. This applies to all your activities — not just your work commute. And if you normally transport other family members or friends, it applies to those trips too. If you decide to, you can ask someone else to drive you, but make a note of how much you "owe" this person in their time, and if you felt obligated to support them in other ways (i.e., doing all the dishes). If it's a staff person, make a note of how much you pay them for this time. You can use ridehail or taxis, but make a note of how much it costs you. 
At the conclusion of the week without driving, we're asking participants to reflect on their experience:
What were the biggest barriers to getting where you needed to go? Did it take you longer? Did it take you longer to plan how to get places? Was there infrastructure or environments where you didn't feel safe? What parts of your experience did you enjoy? Did you get more physical activity? Did you get to interact with people from your community you don't normally interact with? Did you see or experience places you don't normally visit? If you do end up having an emergency and have to drive yourself, make note of this. What would you have done if you didn't have this option?
This isn't a disability simulation or a test of how easy it is to find alternatives. We know that it is far simpler to give up your keys if you can afford to live in a walkable area well served by transit, or can outsource your driving and other transport and delivery needs to other people. Instead, we intend this as a learning experience to inform the decisions our leaders make about land use, climate, health equity and transportation access and funding. We are offering to partner participants with a nondriver from their community who can be their "technical advisor" and can give tips on how to get around. Our knowledge, rooted in years of navigating sidewalks, buses and paratransit systems, can help move our communities towards greater inclusion and access.
Will you join us?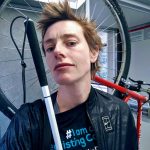 Anna Zivarts (Guest Contributor)