As part of our subscriber drive, we include testimonials from our supporters. Here's one from Anna Zivarts, Director of Disability Mobility Initiative at Disability Rights Washington. (Zivarts has contributed a few guest pieces with us, too.)
---
I am a proud supporter of the Urbanist. Here's why.
Many years ago, reading the New York City version of The Urbanist — StreetsBlog — was the beginning of my education into transportation policy and politics. This was before Twitter, before Facebook was mainstream, and it was the first time I was able to see that there was a whole wonderful world of people out there who like me, didn't believe driving and car-dependent communities were the answer. It took another 15 years before I was able to make mobility justice my full-time paid work, but it was reading that blog that made me start to try.
We need The Urbanist (and housing/land use/transit/enviro-justice blogs like it) in every community. We need them because this is how we include more people. This is how we create space for in-depth policy and political conversations that too often happen behind closed doors, with only the experts and credentialed planners. It's time to start recognizing the lived experience of people who day in and day out move and breathe in our communities, and know how to create security, joy, freedom, and health. The Urbanist allows us to share in creating the communities we need.
Fall 2021 Subscriber Drive Testimonial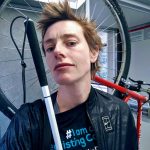 Anna Zivarts (Guest Contributor)