Findings strengthen case for funding work that could lead to lidding segments of the freeway.
In the event of an earthquake, do you know what Seattle roadway is named as the city's seismic lifeline? If you guessed Interstate 5 (I-5) the freeway that cuts straight through the heart of Seattle, you'd be wrong. Instead its Interstate 405, which does not even run through Seattle, that has received the seismic lifeline designation from the Washington State of Transportation (WSDOT). As a closer alternative, SR 99 (Aurora Avenue) has been identified as a possibility, pending more analysis from the agency.
Why is the freeway that has bisected Seattle for over 60 years, the same one that carries thousands of vehicles daily, seen as unfit for emergency operations?
Heavy use, aging infrastructure, and deferred maintenance have degraded the condition of the freeway, WSDOT says. Throughout the entire state corridor, I-5 is need of repair, but in the Seattle segment of the freeway, WSDOT estimates that a $550 million investment is need to pay for seismic retrofits alone. The data was shared with the public in a 2019 Call to Action report emphasizing the freeway's poor condition from the I-5 Systems Partnership, just before the partnership was dissolved for lack of funding.
Since then, little to no progress has been made to address the issue of I-5 confronting its obsolescence. WSDOT's Revive I-5 freeway preservation program estimates the work will continue into the 2030s and that most of it remains unfunded.
"Preserving this highway is an enormous undertaking that grows each year as the weather and billions of tires take a toll on pavement that is nearing the end of its useful life," the Revive I-5 website states.
To gauge the public's response to the poor condition of the freeway, the Northwest Progressive Institute (NPI) commissioned a scientific poll gauging the public's response on three questions related to the freeway's condition.
Responses to the poll showed a high level of concern, with a strong majority of respondents indicating concern over its capability to withstand a major earthquake. The poll also found most respondents were open to relocating to Downtown freeway ramps if it were determined to be "feasible for improving traffic congestion and safety issues."
Change Research conducted the poll in July to 617 Seattle voters and assessed its modeled margin of error of 4.3% at the 95% confidence interval.
The Urbanist's former boardmember Scott Bonjukian is co-chair of the Lid I-5 campaign, a grassroots movement to reconnect Seattle neighborhoods divided by the freeway, and he welcomed the poll's findings.
"Lid I-5 was interested in this information put out by NPI because we know that lidding I-5 is a complex endeavor that may necessitate changes to the underlying infrastructure. The polling shows that people are engaged on this issue, and importantly for Downtown, that they are willing to make changes to the ramps that could help make lidding the freeway easier," Bonjukian said via email. "Elected officials should take this as a sign that their constituents care about the seismic safety of Interstate 5 and the configuration of the ramps, and that voters want a spotlight on these challenges."
In 2020, the City of Seattle released a feasibility study demonstrating that it is possible to lid, or cap, a segment of I-5 in Downtown Seattle, a goal advocated for by the Lid I-5 campaign. Since then, Lid I-5 has continued to urge the City to explore options that advance the cause of lidding the freeway, in particular funding a Downtown Street Network Study.
A closer look at the NPI poll
In the first question, respondents were asked to review the seismic lifeline map shared above and then posed the following question:
The map below depicts the state of risk of major highways in our area to severe damage in a major earthquake. After reviewing the map, please indicate how concerned you are about the capability of Interstate 5 to survive a major earthquake in Seattle and be available for emergency use.

Northwest Progressive Institute
As mentioned previously, 82% of respondents were concerned, with 38% very concerned and 44% somewhat concerned. Only 13% indicated that they were not worried, 10% not worried, and 3% not worried at all. 5% responded that they were unsure.
The second question related to freeways ramps in Downtown Seattle and used the map below for support.
After reviewing the map, please specify whether you would support or oppose relocating some of the Interstate 5 ramps in downtown Seattle if this were determined to be feasible for improving traffic congestion and safety issues.

Northwest Progressive Institute
In response to this question, 77% of respondents were supportive with 43% stating strong support and 34% some support. 12% expressed disapproval, with the respondents evenly split between some opposition and strong opposition. 6% indicated they were unsure.
Soliciting public feedback
The third question in the poll was open-ended, allowing for respondents to share their individual thoughts and opinions, which were then grouped into three categories.
Should the state prioritize modernizing the stretch of Interstate 5 that runs through Seattle, from the northern city limit with Shoreline to the southern city limit with Tukwila?

Northwest Progressive Institute
After reviewing the written responses, it was determined that 40% of respondents wrote supportive answers, 30% did not express a clear stance or made other comments, 18% indicated opposition, 12% expressed ambivalence or said they didn't know. NPI notes in its writeup on the poll's results that many of those who wrote supportive answers "expressed a lot of enthusiasm."
"I‑5 is in such bad shape and negatively dissects the city," noted a respondent. "It needs to be redone to better serve travelers, reunite neighborhoods it now divides and be climate neutral."
"Definitely need [I‑5 to be] more transit ready and earthquake safe," wrote another respondent. "Single car driving should be discouraged and the city needs to greatly improve mass transit."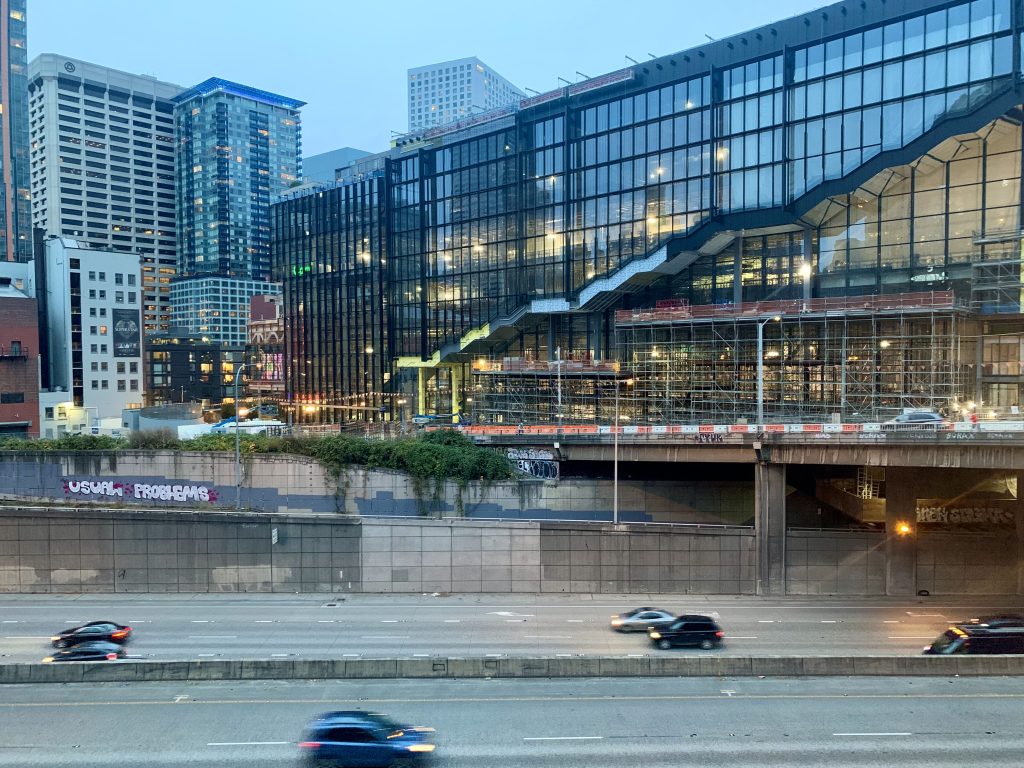 In terms of near-term actions, the Lid I-5 campaign is calling on Seattle officials to fund a Downtown Network Study in the 2022 transportation budget. Such a study would provide valuable information on traffic patterns related to the existing freeway ramps which could aid in the development of alternatives that open the possibility of relocating, or removing, ramps. The Lid I-5 campaign is particularly interested in opportunities to remove the ramps at Spring Street and Seneca Street, which would "enhance opportunities for lid structures."
To advance the cause of the Downtown Street Network Study, Lid I-5 is calling on supporters to email the Seattle City Council or reach out directly to their district councilmember and express their support for the study. Supporters can also testify at the upcoming budget hearings on November 10 and 18.
Note: Natalie Bicknell Argerious is a member of the Lid I-5 steering committee.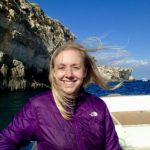 Natalie Bicknell Argerious (she/her) is Managing Editor at The Urbanist. A passionate urban explorer since childhood, she loves learning how to make cities more inclusive, vibrant, and environmentally resilient. You can often find her wandering around Seattle's Central District and Capitol Hill with her dogs and cat. Email her at natalie [at] theurbanist [dot] org.