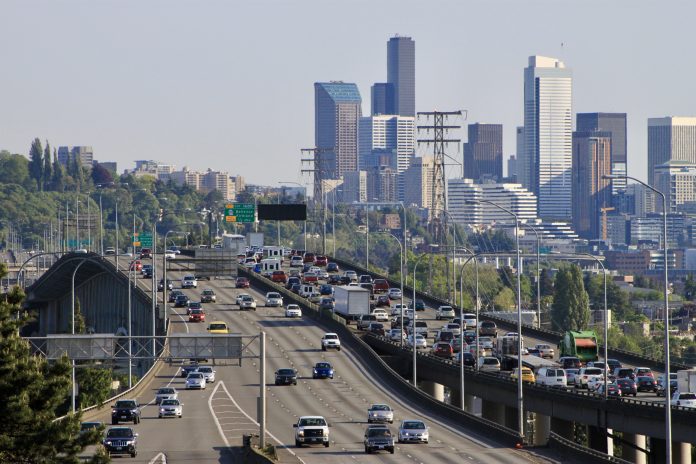 "Doing nothing is not an option," the I-5 System Partnership said in its Call to Action draft report. The report advocates for updating the current I-5 with a 21st century multi-modal corridor.
While Seattle holds its breath and watches as demolition of the Alaskan Way Viaduct removes the concrete threat that has been lurking over the downtown waterfront for decades, whispers about another piece of faulty, but critical infrastructure are growing louder.
It is no secret that I-5 shares many characteristics with the Alaskan Way Viaduct. Both structures were completed in roughly the same era, using the similar engineering know-how and materials. Additionally, the same earthquakes that weakened the viaduct rattled the interstate as well. But it still comes as a surprise to read the opening of the Call to Action draft report recently released for comment by the I-5 System Partnership.
The I-5 system is broken.

The 107-mile stretch of I-5 between Tumwater and Marysville needs urgent attention. The cracked, rutted, crumbling pavement and seismically vulnerable structures on the interstate increase costs and pose challenges to everyone on it, including transit, freight and commuters.

I-5 System Partnership, Call to Action, draft, 2019
The I-5 System Partnership is a stakeholder group made up of representatives from state and regional transportation agencies, the business community, and local government. Members include all of the major players on the state and local level, including the Washington State Department of Transportation (WSDOT). To cast the I-5 System Partnership as a bunch of pessimistic doomsayers would be misleading.
Instead, by calling for radical changes to the interstate that spans the most densely populated segment of Washington State, the I-5 System Partnership is simply acknowledging some difficult, but important truths in regards to the corridor's safety, economic prosperity, and regional mobility. We cannot widen our way out of congestion, but better integrating transit into the corridor could make it much efficient at moving people. The report did not mention high-speed rail, but the State is studying high-speed rail to Vancouver to Portland (and perhaps beyond) right now and the I-5 corridor is a prime candidate to host much of it.

Interstate 5 will be difficult and expensive to fix
I-5 runs through the heart of Seattle. Over the decades, its corridor has become a hub for both transportation and building development. Think of all of the cities and neighborhoods both within and beyond Seattle that touch the interstate. Tacoma. Everett. Tukwila. Lynnwood. Big and small alike, the demise of I-5 would come at high cost to nearly every city in Puget Sound, both in terms of economics and human life.
But repairing and replacing the interstate comes at a high cost as well, which is why even as notable signs of deterioration have emerged, such as the two by four foot hole that appeared in the Ship Canal Bridge last summer, government and transportation agencies have been relatively hushed about the risks posed by the interstate.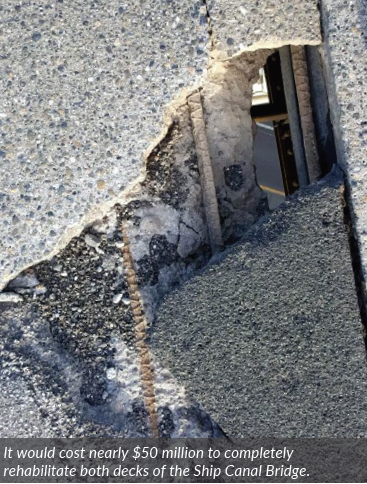 WSDOT Secretary Roger Millar has been forthright that widening I-5 is cost-prohibitive and misguided, making alternatives like high-speed rail seem more attractive.
if you were to direct us to add a lane in each direction to I-5 between the Oregon border and British Columbia. That would be $110 billion-ish to build and would probably take as long as it would take to build a high-speed rail system between the communities. And it would add a lane of travel in each direction and would probably be full of traffic by the time we got finished building it. And it would still take you all day to get from Portland to Vancouver, B.C. With the investment in ultra high-speed rail, we're talking about an hour to Vancouver or maybe an hour and a half down to Portland, and that would be a gamechanger.

Roger Millar, WSDOT Secretary
The less sexy task of addressing I-5 maintenance woes get less attention–perhaps because just maintaining what we have will take an unprecedented level of financial investment. For example, just covering the cost of the deferred maintenance work outlined in the report below amounts to $2.5 billion. To put that figure in context, WSDOT's operating and capital appropriations budget was $5.7 billion for 2017-2019.

Delays will only increase future costs
While the steep cost of repair work has deterred decision-makers from addressing I-5 earlier, the I-5 System Partnership believes inaction will only serve to increase longterm costs. That's because I-5's current condition is already taking a financial, environmental, and social toll on Washington State. According to the draft report, the cost of congestion to the state's economy is estimated at $3.2 billion a year.
The ports of Tacoma and Seattle represent the fourth-largest container gateway in North America and carry over 10 million tons of freight per year, resulting in over $73 billion in international trade. By providing freight access, the I-5 system is a "critical lifeline for the region's booming economy" and supports over 48,000 jobs across the state.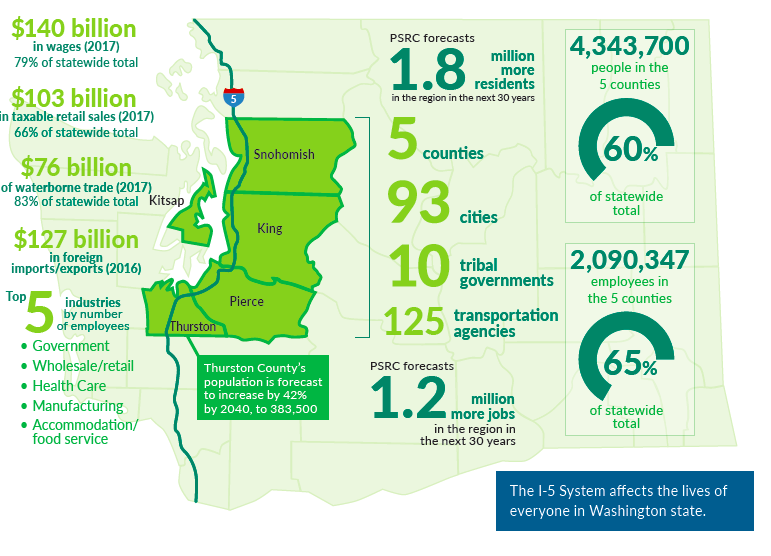 Unfortunately, that critical lifeline has also become the nexus of Washington State's worst congestion. Since I-5 was completed in 1969, average daily traffic on I-5 has grown 150 percent, from 124,599 average daily vehicles to 250,000 in 2017. Carrying capacity simply has not kept up with demand, as suburban sprawl has made the region even more car-dependent and rapid transit plans were repeatedly put off. Only recently has Link light rail began to offer commuters a major alternative to I-5.
However, at the same time, Puget Sound's population has more than doubled, growing from 2 million in 1969 to 4.3 million in 2017. The I-5 System Partnership understands that in order to keep up with a growing population and (hopefully) quell congestion I-5 will need to be redesigned to move higher volumes of traffic.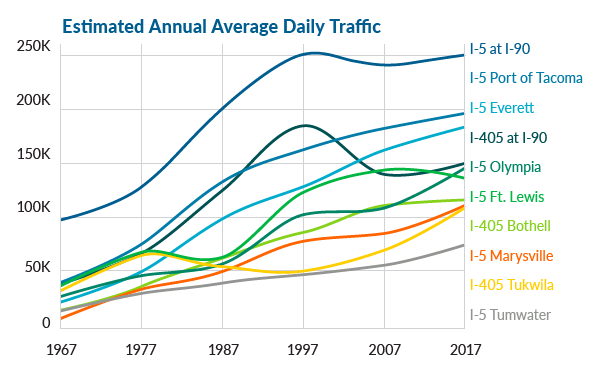 The need to redesign is further heightened by population forecasts that estimate Puget Sound's population will increase by another two million people by 2050.
"If nothing is done, our economy and quality of life will suffer as congestion worsens," states the draft report, citing how levels spending to address I-5 problems have consistently fallen short.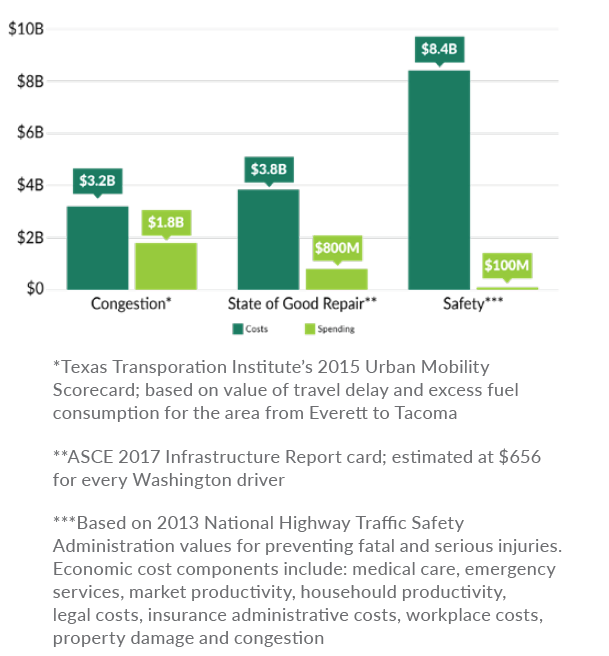 To meet mobility needs, we must reinvent I-5 as a multimodal transportation corridor
"The road that changed everything now needs to change again," states the Call to Action draft report. Rather than advocate for expanding I-5 by adding new lanes, which would be nearly impossible in critical stretches of the I-5 corridor including Seattle, the I-5 System Partnership wants to focus on multimodal solutions to increase the volume of traffic the corridor can accommodate.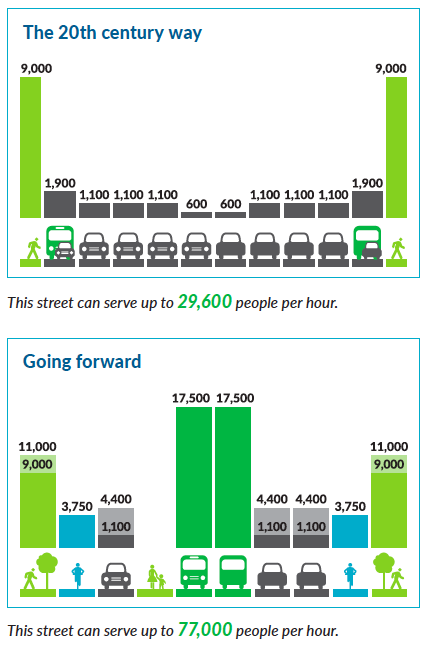 Current solutions like HOV (high occupancy vehicle) lanes that prioritize the movement of carpooling and transit are moving a substantial amount of the traffic on I-5, but they underperform relative to mobility needs. According to the draft report, HOV lanes "are operating today with the same levels of congestion as regular lanes [and] with speeds below performance targets."
While high occupancy tolling (HOT) has improved HOV lane performance on Interstate 405 and State Road 167, so far WSDOT has been hesitant to implement such tolls on I-5 for various reasons including the fact that studies have shown HOT lanes are used more frequently by wealthy people.
The Call to Action draft report does not put forward a specific vision of how to redesign I-5 as a multi-modal corridor, but it does present a list of overarching strategies, which it intends to use as a blueprint to create a I-5 System Master Plan. The most attention-grabbing of these strategies include:
Embrace new and emerging technologies: more specifically, the draft report calls for keeping pace with future transportation modalities such as car sharing, on demand services, and connected automated vehicles.
Coordinate land use and transportation: it also references how the creation of the interstate system created conditions that have worsened congestion and cites the important of coordinating land use and transportation so people can live closer to their places of work.
Increase travel choices: increasing access to transit and non-motorized transportation like walking and biking are put forth as congestion solutions that could also improve social equity outcomes by reducing the amount of money people spend on transportation and providing more alternatives who people who do not drive.
While it is largely a visionary document, the Call to Action draft report might represent the beginning of a new chapter for how state and regional transportation agencies address Washington State's most important transportation corridor. It could even be that refurbishing I-5 ends up being the necessary catalyst for freeway lids near important nodes like Downtown Seattle, the University District, or perhaps future freeway light rail stations in places like Federal Way, Lynnwood, and Everett.
Current plans are to present the finalized report to the Puget Sound Regional Council and Thurston Regional Planning Council transportation boards for endorsement as early as this May.
The featured image is by Sounder Bruce and used via Creative Commons.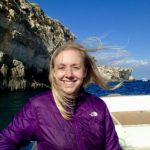 Natalie Bicknell Argerious (she/her) is a freelance reporter and podcast host at The Urbanist. She previously served as managing editor. A passionate urban explorer since childhood, she loves learning how to make cities more inclusive, vibrant, and environmentally resilient. You can often find her wandering around Seattle's Central District and Capitol Hill with her dogs and cat. Email her at natalie [at] theurbanist [dot] org.