On November 2nd, Seattle City Councilmember Mike O'Brien became the latest politician to formally endorse the campaign to build a freeway lid over Interstate 5 in central Seattle. Joining the ranks of fellow councilmembers Sally Bagshaw, Teresa Mosqueda, and Rob Johnson, as well as State Representatives Nicole Macri and Jamie Pedersen of the 43rd District, Councilmember O'Brien's nod of support comes at a time in which the Lid I-5 campaign has been steadily gaining in momentum and urgency.
2018 has turned out to be a pivotal year for Lid I-5 in several respects. In addition to gaining political support, excitement over the prospect of using a freeway lid to rebuild connections and increase developable land in Seattle's downtown core is growing among the general public as well.
Earlier in October more than 250 people attended the unveiling of final Central Hills Triangle Collaborative (CHTC) conceptual designs for the freeway lid.  This was by far the largest turnout yet for a Lid I-5 event.
The conceptual designs are the culmination of a yearlong effort by volunteer teams of industry professionals and community advocates. Offering sophisticated glimpses into the potential future uses of the freeway lid, the conceptual designs showcase amenities such as open space, affordable housing, increased pedestrian and bicycle connections, public schools, and different scales of commercial development that could all be incorporated into the downtown core with the construction of a freeway lid covering the currently vacant space above the I-5 corridor.
"This land, which is central to Seattle, is very important and it can host any variety of uses," said John Feit, co-chair of the Lid I-5 steering committee, in an interview with King 5 news. 
According to Feit, the Lid I-5 campaign reimagines the city as it existed before being divided by the freeway trench. "It is thinking about what Seattle was like before the interstate ran through it. It is also reconnecting [Seattle] back to being a healthy city," he said.
The conceptual designs, rich in greenery and public amenities, highlight this healthier, more interconnected, and sustainable vision of Seattle.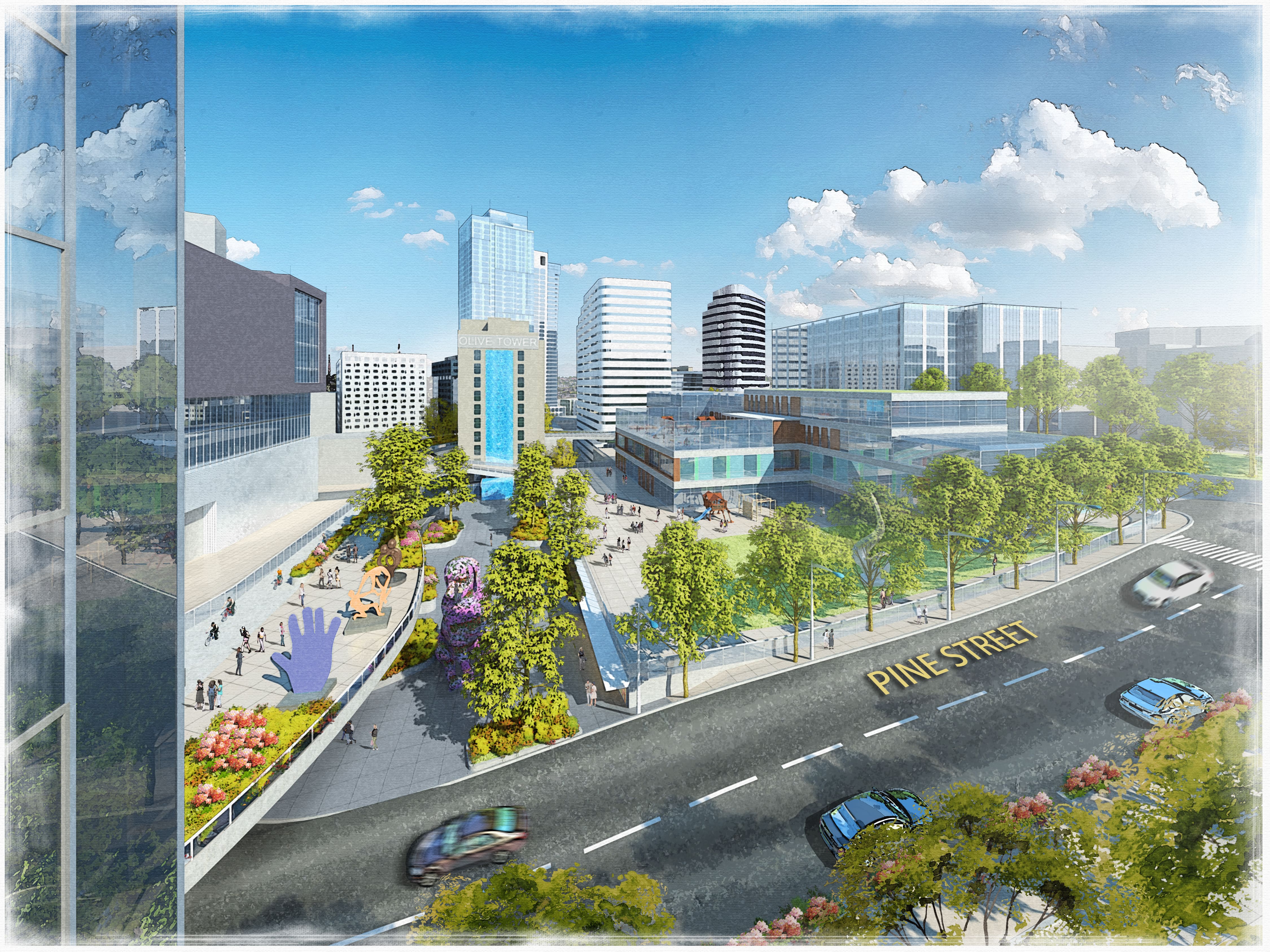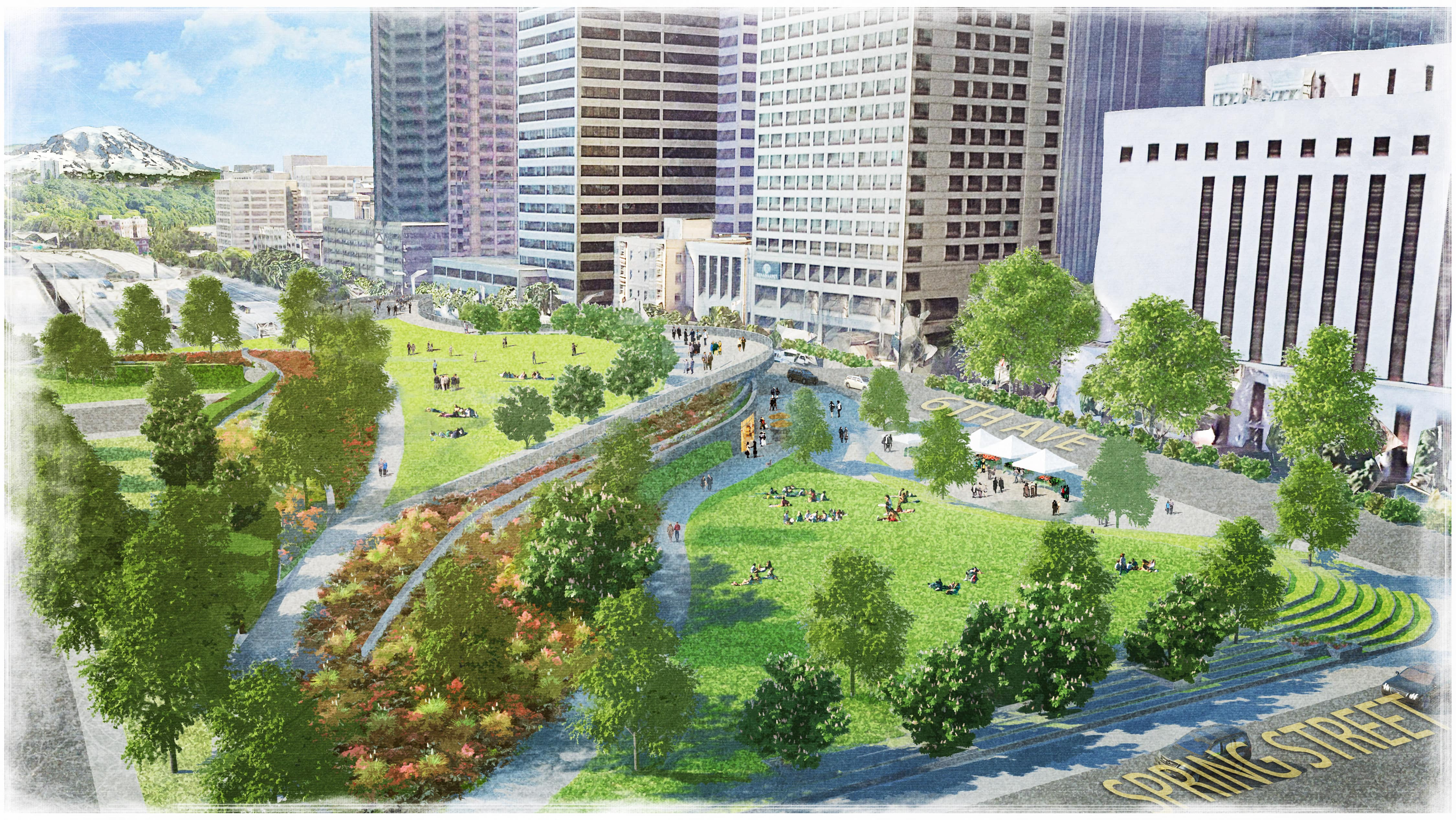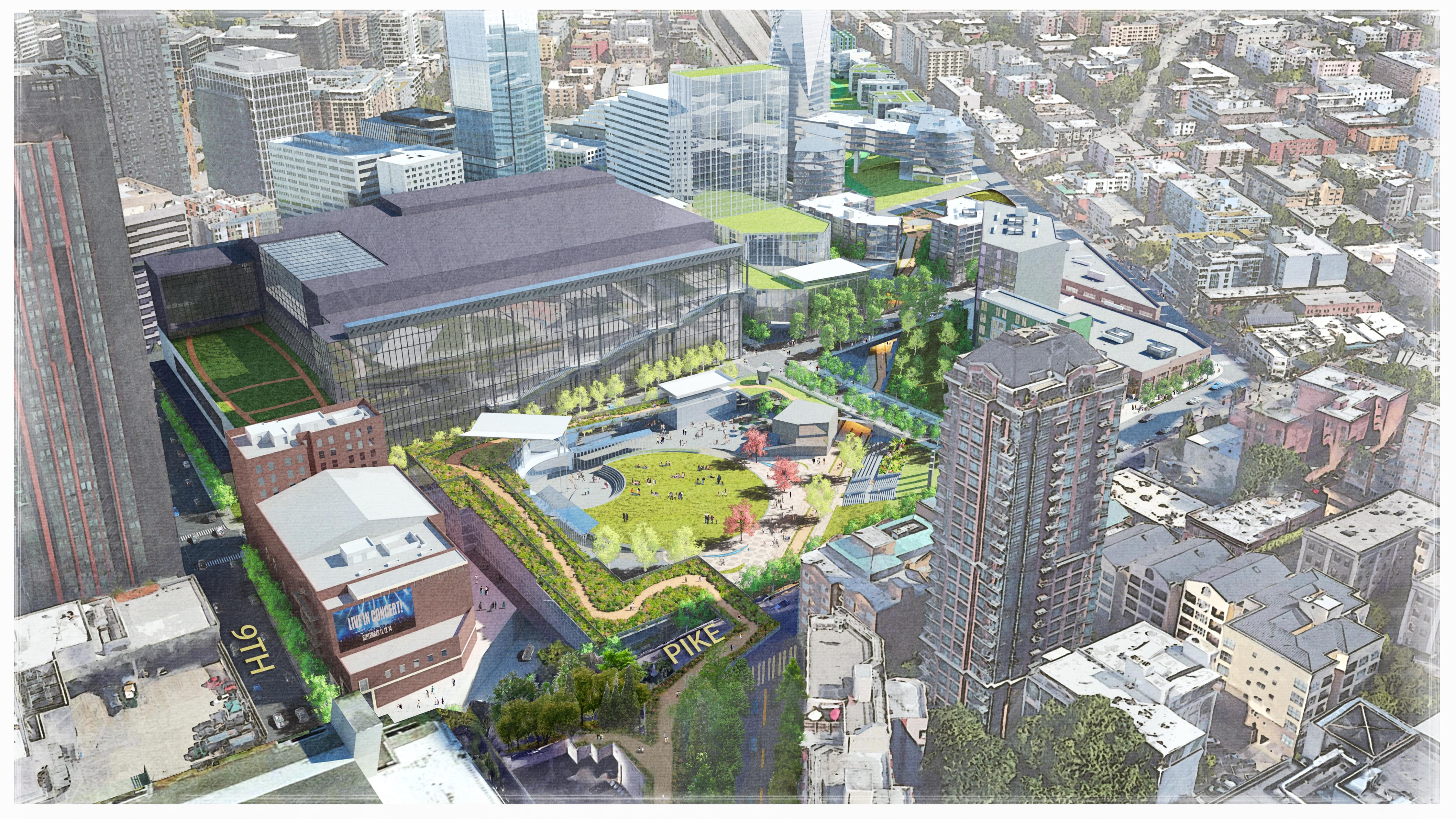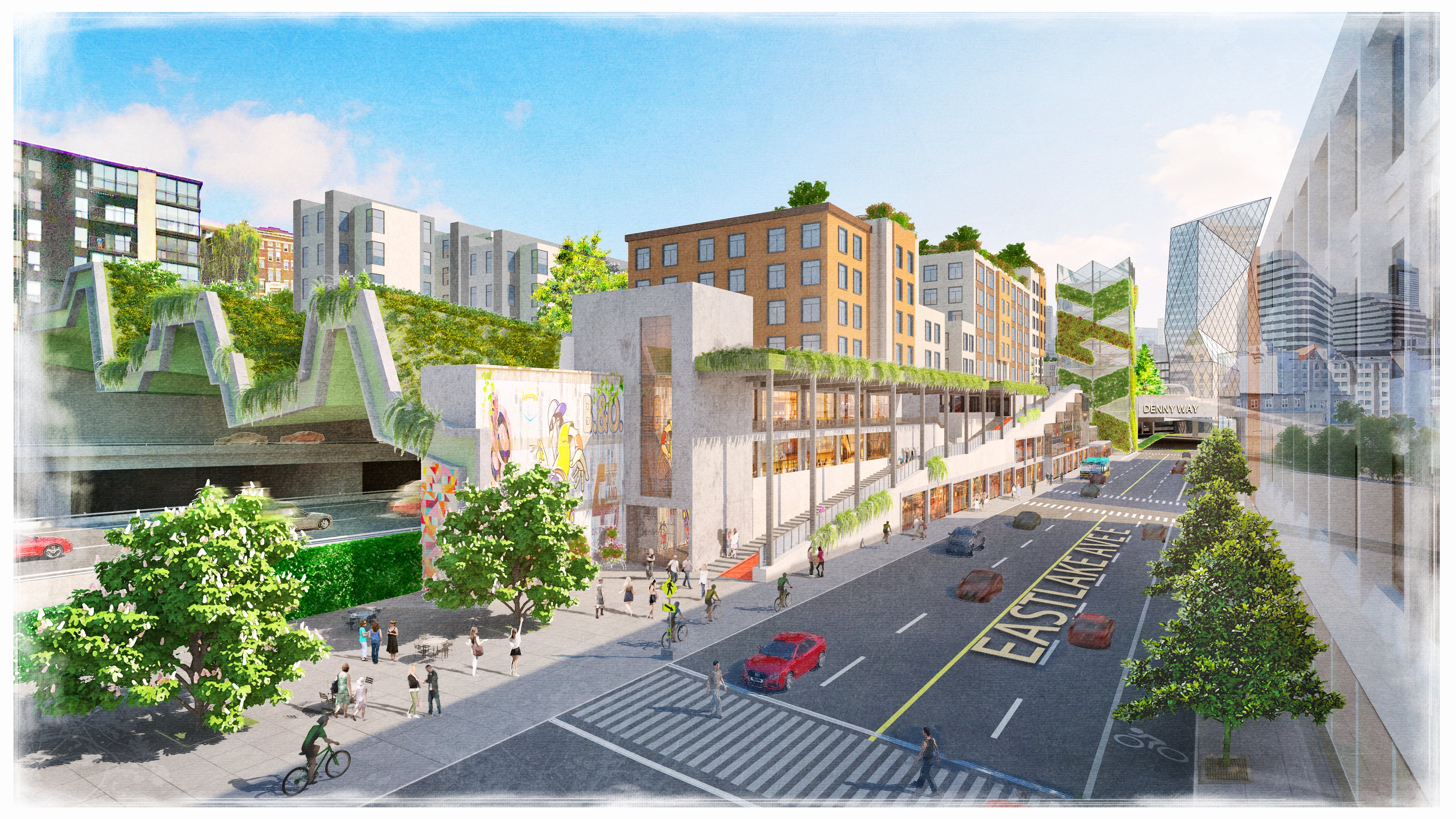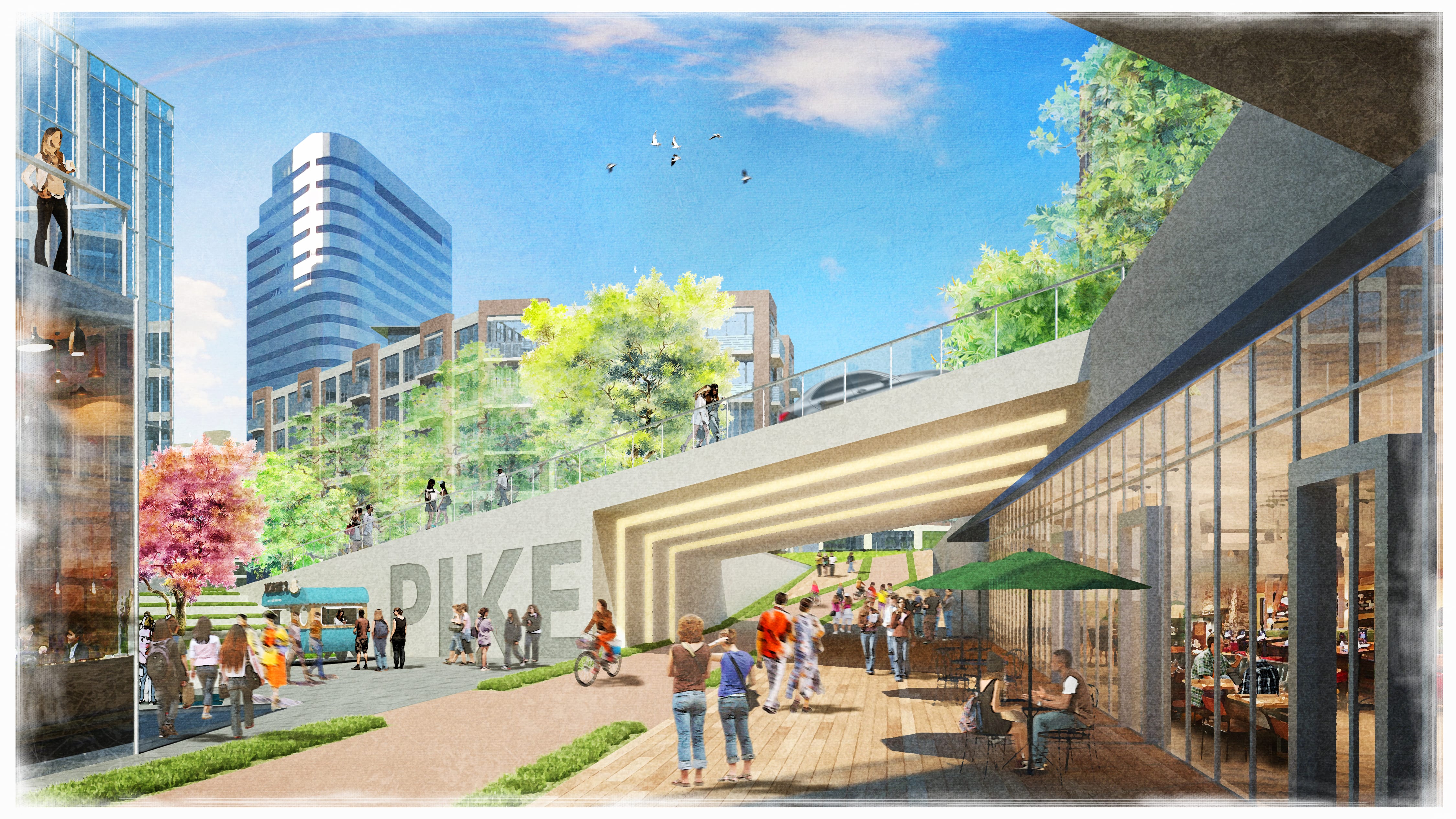 The full team presentations and conceptual designs are available to view on the Lid I-5 2018 Collaborative website.  The professional renderings of the volunteers' work was completed by the design firm Studio 216.
Gathering a Team of Expert Advisors
Funded by a $1.5 million public benefit payment from the Washington State Convention Center, a feasibility study of the potential benefits of expanding the lidding of I-5 in central Seattle will be undertaken in next year. Currently, Freeway Park and a portion of the Washington State Convention Center are constructed on freeway lids above I-5.
The City Office of Planning and Community Development (OPCD) will hire an expert consultant team with qualifications in civil and structural engineering, economic analysis, urban design, and environmental mitigation to complete the study, which is expected to last through 2019 and provide guidance on the next steps in lid design, planning, permitting, and capital funding. The team will engage Washington State Department of Transportation (WSDOT) staff during the process.
To better address the scale and complexity of the task at hand, the Lid I-5 Steering Committee has recruited an Advisory Council of distinguished experts and community members, including 30 of Seattle's leading business leaders and technical specialists, to assist with technical guidance, long-term strategy, community engagement, and fundraising.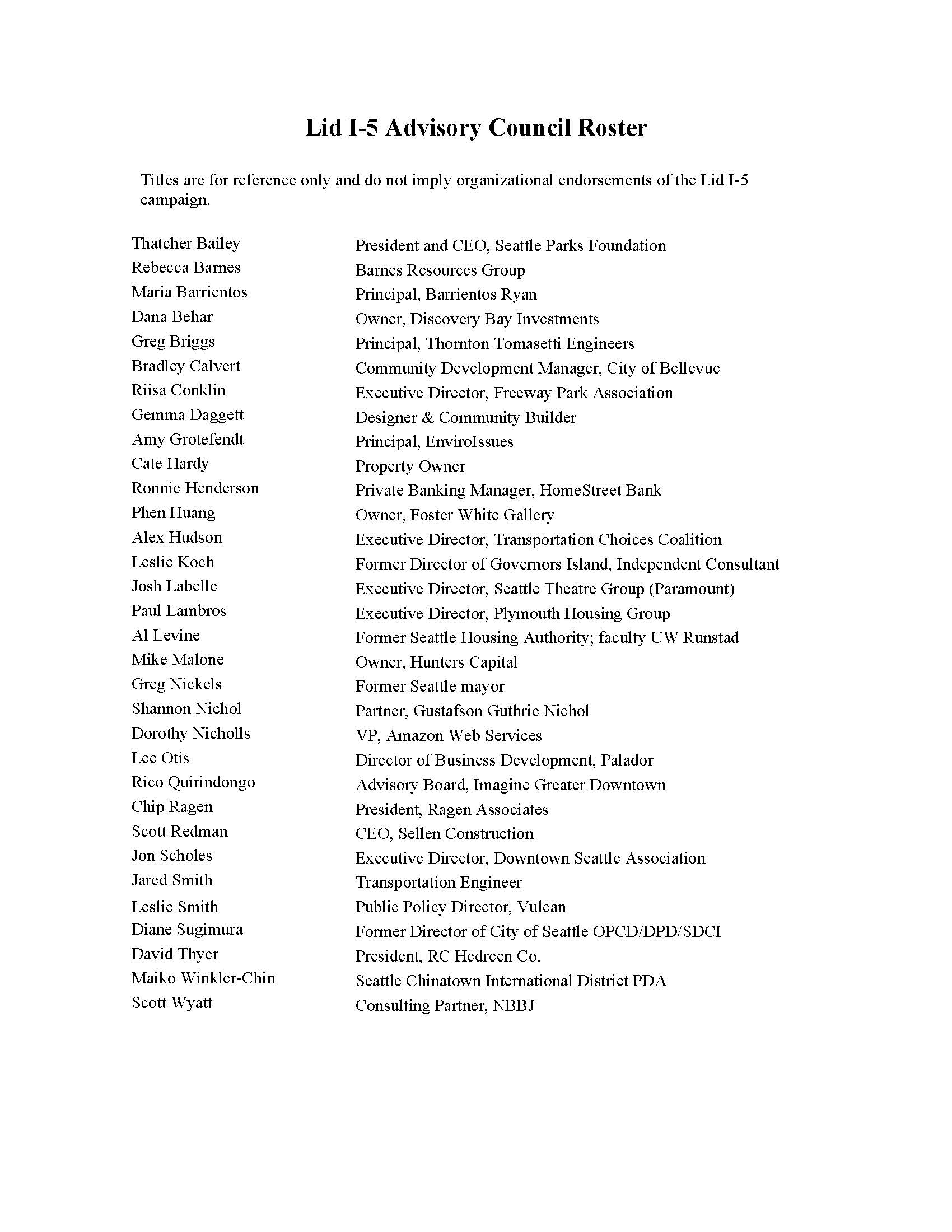 The guidance from the Advisory Council will help the campaign ensure that all of the potential benefits from the freeway are fully capitalized on, and that the community is engaged throughout the process. Construction of freeway lids offers many opportunities for expansion of utilities like storm, sewer, power, and even fiber optic cables. Green infrastructure that provides bio-filtration of stormwater runoff, the number one of source of pollution in Elliot Bay, can be incorporated in the freeway lid design, as can carbon scrubbing and sequestration technologies.
"We know [the freeway lid] is feasible in a lot of ways, but what other leverage points are there when you build a lid?" Feit said. "By building more uses and leveraging more points, it could also serve the city in any number of ways."
The grim news conveyed by the recent publication of the UN's Intergovernmental Panel on Climate Change's report has highlighted the need for the swift and decisive action on carbon reduction. Seattle's current goal of becoming carbon neutral by 2050 no longer matches the scale of the problem at hand. The City needs to think of bigger and more ambitious solutions for climate change, including increasing urban density and green infrastructure, both of which would facilitated by lidding I-5.
"It's a once in a lifetime opportunity to fix a past mistake," said Lyle Bicknell, OPCD Principal Urban Designer who will be managing the project. "And we want everyone to be involved in the solution… this project is made better when everybody has a chance for meaningful input."
Lid I-5 is holding a "Big Ideas Happy Hour and Fundraiser" on October 7th. The author is a member of the Lid I-5 Steering Committee.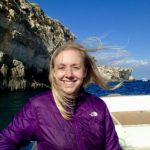 Natalie Bicknell Argerious (she/her) is a reporter and podcast host at The Urbanist. She previously served as managing editor. A passionate urban explorer since childhood, she loves learning how to make cities more inclusive, vibrant, and environmentally resilient. You can often find her wandering around Seattle's Central District and Capitol Hill with her dogs and cat. Email her at natalie [at] theurbanist [dot] org.