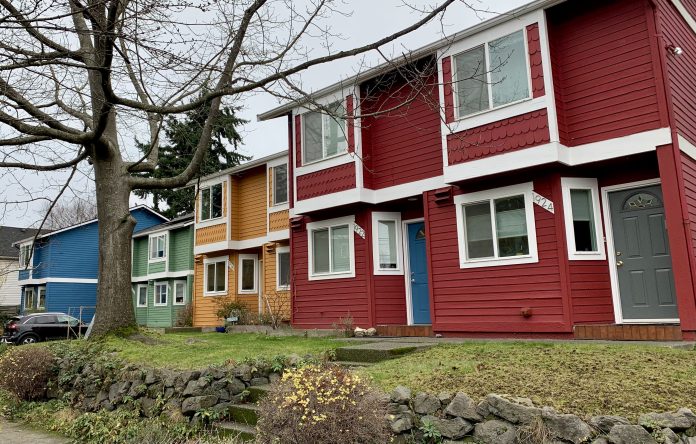 Everyone needs a home, and that's why all of us are hurt by Washington's housing crisis.
Nearly 23,000 people in our state experienced homelessness in 2020. More than 25% of those were families with children.
Prices have skyrocketed so much that a minimum wage worker in Washington would need to work 86 hours every week to afford a two-bedroom rental. Almost half of Washingtonian renters pay 30% or more of their income on housing costs, as affordable housing rises increasingly out of reach for working families and first-time home buyers.
Prices for rent and housing are especially high in job-rich areas. That forces workers making the least to live furthest from work — and that means longer commutes, higher family costs for transportation, and more air pollution.
Walking this financial tightrope is perilous and many families are a step away from homelessness. All it takes is one missed paycheck, a broken-down car or an unexpected medical bill. On top of that, according to a study by the Journal of Urban Affairs, every $100 dollar increase in median rent drives a 15% increase in homelessness. This disproportionately hurts communities of color, who have been historically harmed by redlining and are more likely to be renters.
This isn't new. The increase in homelessness and unaffordable housing has been years in the making, and the COVID-19 pandemic made it worse.
Our state has not produced enough housing to keep up with population growth. This created a supply and demand imbalance in every corner of our state, with a shortage of 225,000 homes as of 2020.
The most effective solution to address this shortage is producing more modest housing where people need it most: close to their jobs, schools and services. We must lift bans that prevent modest home choices like duplexes, triplexes, quads, and backyard cottages. These middle housing types are more affordable than traditional single-detached homes. They are lower impact, offer attainable homes for first-time home buyers and can help protect mixed-income neighborhoods.
Middle housing reduces traffic gridlock while creating livable, walkable neighborhoods — the kind of place families need with parks, sidewalks, and schools. Middle housing also gives people more options for getting around. Instead of being forced to drive alone, we can choose between buses, trains, ferries, bicycle paths, and sidewalks.
Living close to work, with multiple options to get there, saves families money and helps us combat the devastating impacts of climate change.
Other solutions include investing more in affordable housing, preserving rental units, and shoring up tenant protections. To speed construction time, we should streamline the permitting process and impact fees for affordable housing.
Oregon and California have already lifted bans on modest home choices. It's time for Washington to do the same — and it takes all of us to help. To pass solutions like this, we need you to stand up and speak out.
Contact your local lawmakers by email or phone (800-562-6000) to say you support housing for all.
Share your family's story about the high cost of housing and traffic gridlock.
Talk about your dreams. Where would you like to live, if you could afford it?
Finally, you can testify, in person or remotely, when the legislative session starts in January. We look forward to hearing your story.
From home prices to climate impacts to commute times, all of us are affected by today's housing crisis. We have the tools to fix it — and it's time that we use them.