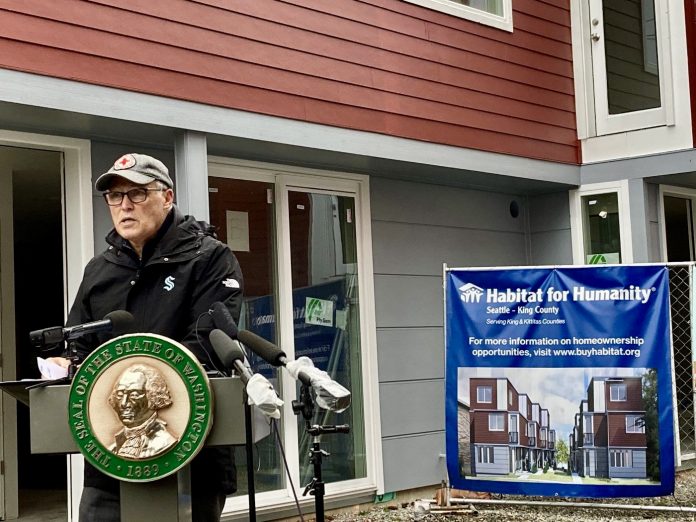 Today, Governor Jay Inslee rolled out another big initiative, this one focused on housing and homelessness services. King County Executive Dow Constantine, Seattle Mayor-Elect Bruce Harrell, and Tacoma Mayor Victoria Woodards joined Inslee for a press conference at a Habitat for Humanity build site in Seattle.
The strategy would direct federal Covid relief funds to efforts to prevent and mitigate homelessness, but it also seeks to tackle housing affordability via zoning reform. Governor Inslee has backed a statewide zoning reform that would require local jurisdictions to allow duplexes, triplexes, and fourplexes within a half-mile of "major transit stops in large cities." The supplemental budget also aims to create 2,600 units of permanent supportive housing.
"I believe the Governor has given us the tools to really excel in this area," Harrell said, noting he had appointed a deputy mayor to focus on housing and homelessness exclusively. That hire was announced Monday and will be Tiffany Washington, who also served in the Durkan administration and worked as division director of homelessness at the Department of Health and Human Services.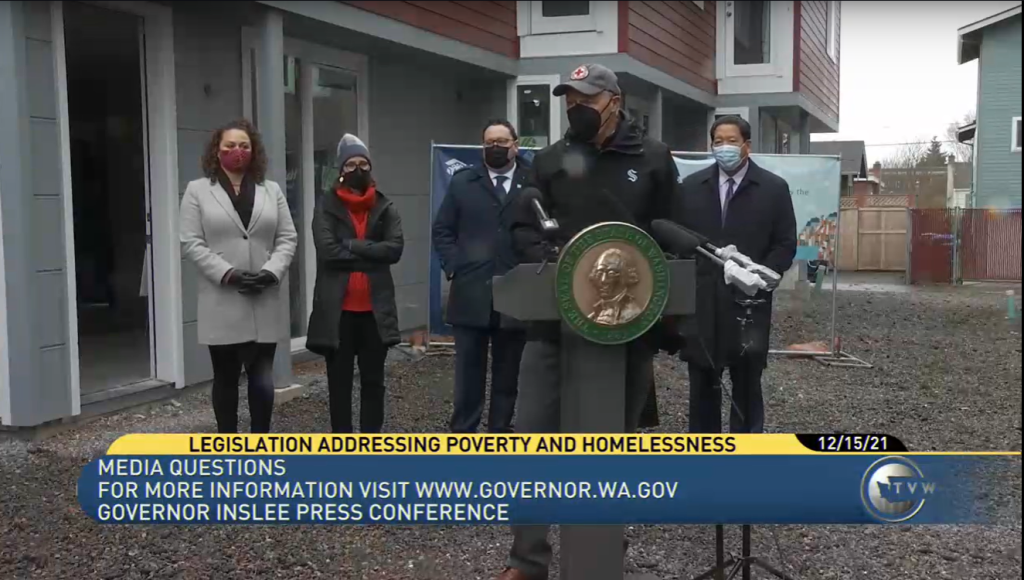 The funding will need to be approved by the state legislature, although the majority of it is one-time federal funding.
"Inslee's plan looks to spend about $815 million, with more than two-thirds covered by federal coronavirus funding the state has received," AP News's Rachel La Corte reported. "His proposal looks to build on nearly $2 billion of state and federal money that was approved by the Legislature earlier this year for housing and homelessness programs."
'Missing middle' zoning reform
A new policy brief describes the Governor's approach, which on the zoning front will be carried forth in a bill sponsored by State Senator Mona Das (D-Kent) and Representative Jessica Bateman (D-Olympia), who successfully led on zoning issues as an Olympia councilmember. (That work helped earn her an endorsement from The Urbanist Elections Committee when she ran for State Representative.)
"Passing a new statewide policy to allow a variety of 'middle housing' types in our cities is one of the most impactful things we can do to restore housing supply and encourage affordable homeownership," the brief said. "We will increase housing by allowing duplexes, triplexes and quads on all lots within a half mile of major transit stops in large cities. We will also allow lot-splitting and duplexes on all lots in large and midsize cities and support anti-displacement measures required under recently enacted legislation (HB 1220)," which was part of the Washington Can't Wait growth management reform package.
Striking a very urbanist tone, the Governor's policy brief noted that restricting zoning had choked off growth in far too many high opportunity neighborhoods.
"Over the last two decades, housing supply in Washington has failed to keep pace with growth," the brief continues. "Despite the dire need for additional housing stock and a greater variety of housing types, we continued to build low-density, detached residential homes and units at about double the rate of other high-density housing types. That is largely due to most cities in Washington enacting restrictive ordinances, which drastically limit the areas where duplexes, triplexes and other types of "middle housing" are allowed. This reserves closed-in neighborhoods for only the largest and most expensive housing."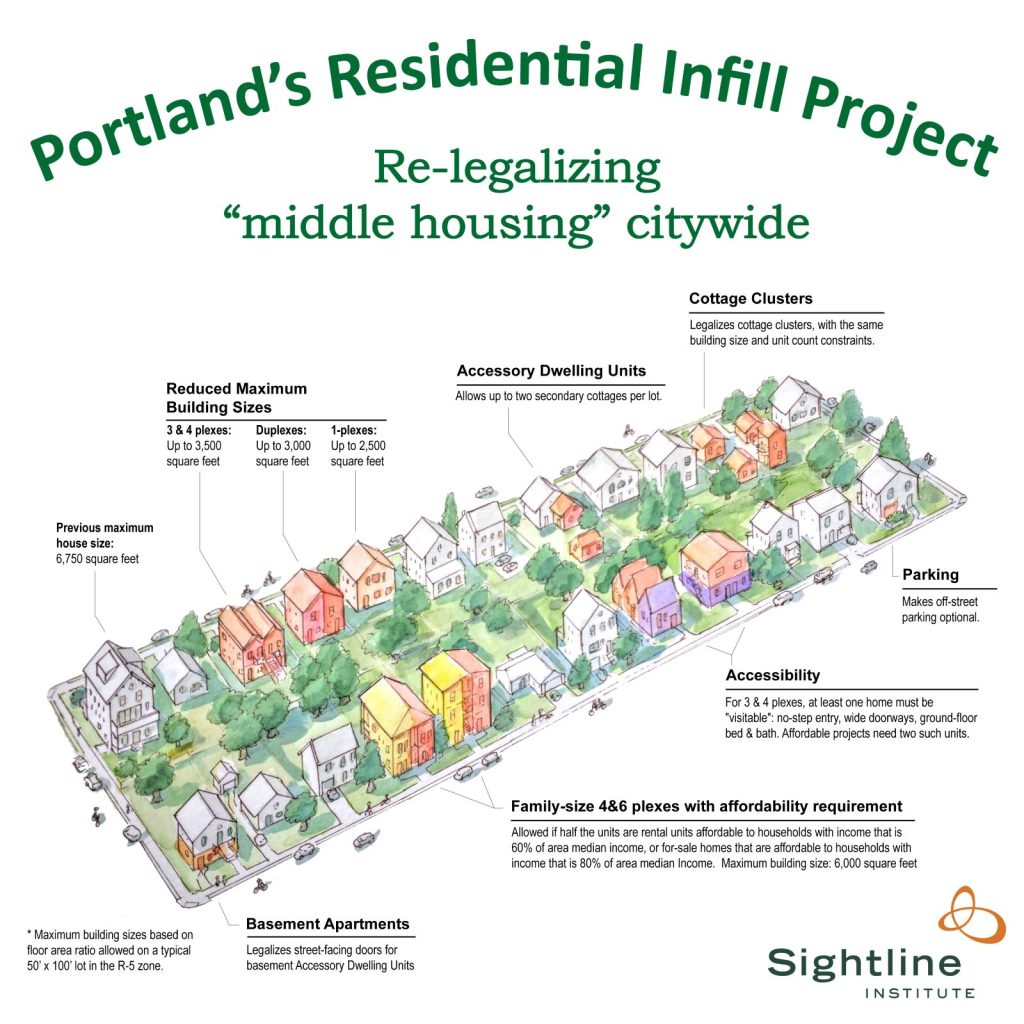 Homelessness investments
The $815 million in spending Governor Inslee is asking the Legislature to approve, per La Corte, includes:
—$100 million in federal money to help with unpaid utility bills in order to prevent eviction.
—$100 million in federal money to build about 1,500 permanent supporting housing and permanent affordable housing units to serve a variety of populations, including those with chronic mental illness who need services.
—An additional $334 million, mostly federal funds, housing ranging from tiny homes to enhanced emergency shelters.
—$100 million in state funds to expand homeless shelter capacity.
—$60 million in federal funds to expand treatment beds for chronic behavioral health conditions.
—More than $48 million in state money to increase access to supportive housing and employment, and help people maintain both even during behavioral health crises.
—Nearly $51 million in state funds to transition people from unsanctioned encampments on public right of way, like areas along highways, to shelter or housing and to clean up and restructure the former encampment sites to prevent new ones from forming.
—$3.5 million in state funds and passage of a new statewide policy to expand where housing supply like duplexes and other types of "middle housing" can be built.
—$6 million to expand programs for homeless youth and young adults, including additional case managers, housing and rent assistance and other support services.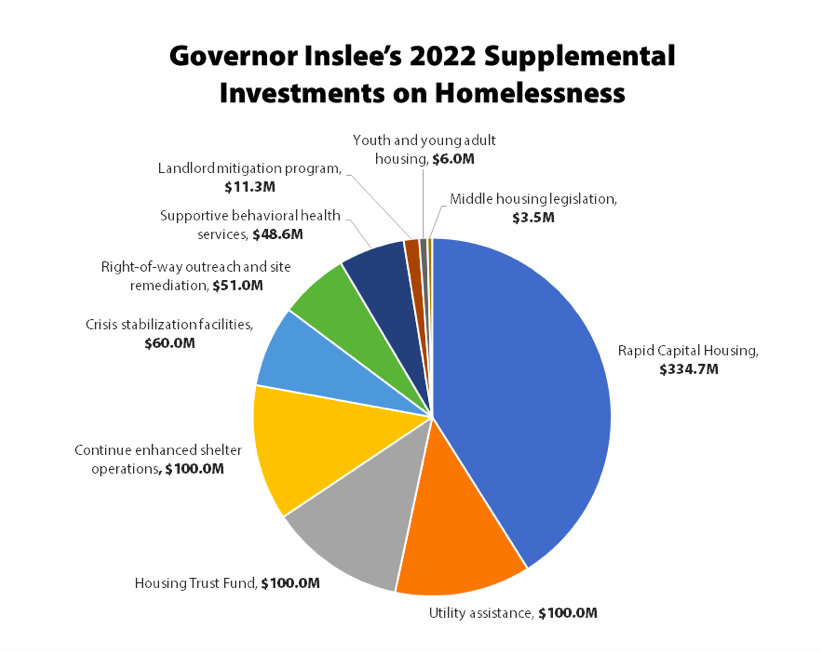 "Capital budget funding would help us acquire real property, including tiny homes, with about 2,460 units," the brief states. "We could rapidly convert acquired property into enhanced emergency shelters, permanent supportive housing and other permanent solutions for low-income and extremely low-income people who are experiencing sheltered and unsheltered homelessness. Approximately 60% of the units will be prioritized to safely transition people into safe and habitable spaces, and toward permanent housing solutions."
The proposal to invest $815 million represents a significant increase from previous efforts. In his 2020 biennial budget proposal, Inslee requested $319 million to invest creating permanent supportive housing and rent assistance. At that time, Washington State had seen its number of people experiencing homelessness increase for six straight years, with an estimated 10,000 people sleeping unsheltered on a given night. With those investments, Governor Inslee had hoped to cut the state's homeless population in half over the next two years.
But that was not the case. While the pandemic put a pause on the point in time counts used to measure homelessness, data from the Department of Commerce and the Department of Social and Health Services suggests a 2% increase in people experiencing homelessness from January 2020 to January 2021.
The intractability of the problem has resulted in the Governor proposing new policies in addition to requesting more funding. Among these, the proposal to fund missing middle housing legislation emerges as the biggest departure from previous approaches, demonstrating that lawmakers in all levels of state government are waking up to the reality that ending the state's housing and homelessness crisis will require increasing affordable housing choices.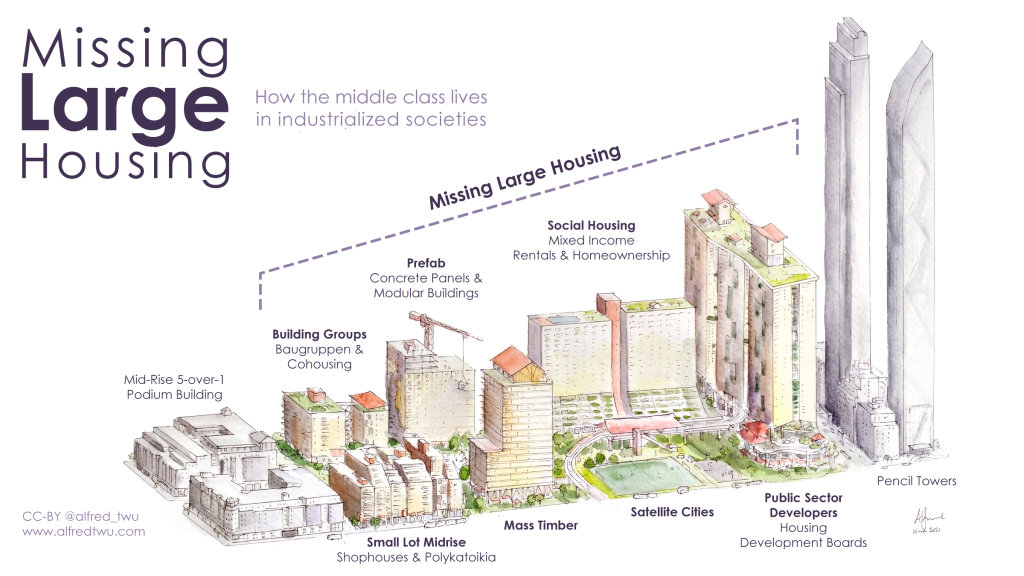 However, how the bill defines "big cities" and "major transit stops" will determine if the impact on local zoning is surgically small or widespread and sweeping. Failing to deal with predatory delay, other onerous building requirements, and permitting hurdles could also damper the effect of the bill, as appears to be case in Portland, which passed a sweeping reform in 2020, but has yet to see a big wave of production.
Moreover, in many cities, housing larger and denser than fourplexes — missing large housing, as Alfred Twu has dubbed it — is appropriate near frequent transit stops, but the bill may not tackle that issue. Still making the fourplexes the baseline zoning within a half-mile radius of transit stops would be a major improvement in many communities that have let exclusionary single family zoning persist even in transit-rich areas, which includes both Seattle and Bellevue. If it passes, the statewide zoning reform bill may also give Mayor-Elect Harrell, who campaigned against broad zoning changes, an out.
A one-time infusion of $815 million still isn't enough to make good on the Governor's 2020 goal of cutting homelessness in half. However, paired with statewide zoning reform and strong matching efforts from local governments, it might be enough to significantly alter course in a state with a persistent homelessness problem.