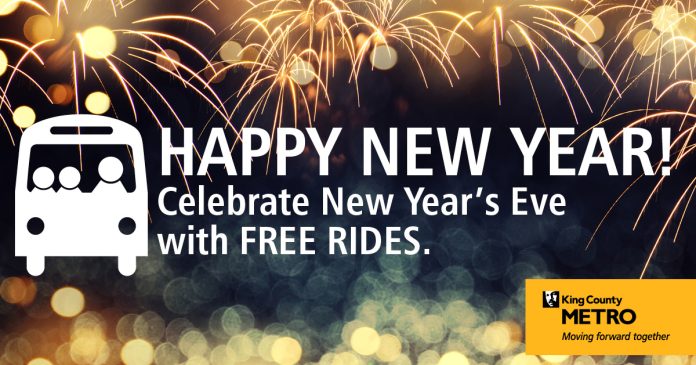 As we move into New Year's Eve, temperatures remain somewhat cold and the remnants of this week's winter storm are everywhere in Puget Sound. That's placed two major strikes against the regional transit system. Transit agencies are treating today as a holiday, further reducing or suspending service than normal. Transit agencies also remain cautious with service that they are providing. However, five transit providers are operating fare-free, including King County Metro, Sound Transit, Community Transit, Pierce Transit, and Seattle Streetcar. Free fares expire at the end of the normal nighttime service period, which is generally around 4:00am tomorrow.
So here's today's morning service update:
| | | |
| --- | --- | --- |
| Agency/Service | Service Type | Details |
| King County Metro | Sunday Schedule* | For a fifth time this week, Metro extended the Emergency Snow Network last night, which consolidates service to about 60 core routes. Paratransit service is more limited because of the reduced scope of bus service. |
| Sound Transit | Sunday Schedule* | Some ST Express bus routes are skipping stops and all are operating on snow routes. Train service (1 Line and and T Line) is largely operating normally. |
| Seattle Streetcar | Regular Service | Both streetcar lines continue to operate. |
| Seattle Monorail | Special Service | According to the schedule, the monorail should run from 9:00am to 10:30pm. Special trips will operate only from Seattle Center to Westlake Station from around 12:20am to 1:00am in order to bring revelers back downtown. Note, however, morning start times have adjusted throughout the week due to the weather conditions. |
| Community Transit | Sunday Schedule | All routes are operating on snow routes and there are cancelations on many routes. |
| Pierce Transit | Sunday Schedule | Most routes are operating on snow routes, except Routes 52, 54, 55, 100, 202, 206, 402, 409, and 501. Downtown Tacoma circulators are also operating. |
| Intercity Transit | Regular Service | Routes 12, 21, 41, 45, 47, 60, 64, 66, 68, and 94 are operating on snow routes. All other service is running normally |
| Kitsap Transit | Reduced Service* | All routes running today will be operating on modified snow routes, except for ferries that are operating. |
| Everett Transit | Regular Service | Service is operating normally. |
*Metro and Sound Transit will be running extended and extra services, Seattle Monorail will be running extended service to bring riders back from Seattle Seattle after New Year's events at The Space Needle conclude, and Kitsap Transit will run on a mix of Sunday and reduced schedules.
In all cases, refer to agency social media and websites for maps, schedules, and service alerts. Routes may be operating very differently than normal and circumstances can change quickly.

Stephen is a professional urban planner in Puget Sound with a passion for sustainable, livable, and diverse cities. He is especially interested in how policies, regulations, and programs can promote positive outcomes for communities. With stints in great cities like Bellingham and Cork, Stephen currently lives in Seattle. He primarily covers land use and transportation issues and has been with The Urbanist since 2014.