On Tuesday, the Seattle Seahawks announced a blockbuster trade sending champion quarterback Russell Wilson to the Denver Broncos. In exchange, Seattle receives three players who may be promptly forgotten, and pretty much every future Denver draft pick until 2050. The Seahawks appear to be in full rebuilding mode after missing the playoffs for only the second time in Wilson's career. The Broncos are mortgaging their future to make an immediate run to the championship.
Oh, it's just sportsball. Not something I care about. Talk to me when it matters.
For well over half of the population, sports does deeply matter. Definitely mattered for the 750,000 people that showed up for the Seahawks Super Bowl parade a few years back. It matters to the 32,000 folks that put deposits down for Kraken tickets. Fundamentally matters to the adoring masses waiting on the Storm to return downtown for the first time since their fourth championship run. Baseball is in an extremely irritating lockout, so we're not speaking about that at the moment.
When a player like Russell Wilson leaves, it does deeply impact the city. We're seeing it currently play out in North Carolina where long time Duke coach Mike Krzyzewski is retiring and the entire state is paying homage (mostly by beating the team mercilessly). I remember Cal Ripken Jr.'s retirement from the Orioles, which felt like a double tap of sadness in fall of 2001. 
Though Wilson does not have the tenure of Krzyzewski or Ripken, he fits nicely into the current view Seattle takes of itself.
His story is boom and bust. Underestimated as one of the "short" quarterbacks at 5' 11." Forced to split time with another QB during college at NC State. Overachieving enough to get drafted in baseball and force a transfer to Wisconsin where he played in the Rose Bowl. Fell to the third round of the 2012 NFL draft where the Seahawks piked him up for a song. Beat Green Bay on a game finishing Hail Mary in his third ever start that same year. Super Bowl win in 2013. Super Bowl loss in 2014. Then five years of continued regular season success and post season near misses. And last year missing half the season with a finger injury and watching the team flounder without him.
But Russ also fits into the Seattle that we don't want to admit about ourselves. As his star rose, so did evidence of those personal quirks that are fun from afar, but you don't want to get stuck talking about at a dinner party. Questions of whether his increasing salary took nips or full gulps out of the vaunted Seahawks defense. The image that interests outside of football came at the expense of focus on the field.
To be honest, those issues are really just the fodder for talk sports shows on afternoon AM radio. Wilson deserved every penny he was paid, as his stats and value leading such a successful team was so high. To complain about them is armchair quarterbacking, something he'd also do better than most of the wannabes making these complaints. They're the kind of topics that Ronny in Renton calls about, followed by a couple of yells of "HE DON'T GOT THE LOCKER ROOM OR SHOW REAL HEART."  
And, as all grand accusations tend to be, they're a reflection of our own insecurities.
Is Seattle's attention scattered? Hell yeah. We're not sure if we're concerned about climate change, equity, or the RSUs that vest in 15 days. Homelessness is terrible, but so is the thought that new apartments may put a slight crimp in the ascent of our home's value and property taxes are so bad too. We're constantly bombarded by news outlets that step out their station's front door to film sensationalist pieces along 3rd Avenue, then flit to whatever fuzzy cats or car crashes they get video about. And there is an overwhelming concern that the boom has been so long that the bust is imminent. So our attention is squirrel.
Speaking of the boom, the wealth in this city is draining. It would be facile to say that money has taken the city's personality, but there are so many great new neighbors and emerging places to visit that such a narrative is nonsense. The repetition of the simple story that "new money equals bad" is what's really exhausting. Like saying Wilson's salary was a loss for other parts of the team gives the Seahawks a pass for over-relying on his very low early salary. Seattle has always seen floods of money. A literal boat full of gold pulled up in the Downtown docks at one point. By making the story about the flood, we fail to see how we didn't fix the dam, improve the beaches, or even buy buckets in the first place.
But some of the complaints about wealth come from the sense that Seattle's weirdness has lost an essential quality. How can we even grunge anymore, when we can't even find an affordable apartment next to Matt Dillon? Stories of Wilson's nutrition or focus coaching deeply parallel all the nouveau tech bro dependence on blended all-greens smoothies to get into the Hyper Persistence Zone ™. The argument suggests Seattle has lost any gritty soul that could start a music revolution, or support a team that had gone 8-11 in the playoffs over 35 years between 1976 and 2011.
The Seahawks rose to success after Paul Allen's purchase of the team in 1996. Their 25-year ascent roughly parallels the city's most recent tech boom. Wilson came in at the middle, exceeded all expectations, beat the 49ers a lot, and is now heading out. Just as the city put a ton of insecurities on Wilson over the course of his stay here, we're piling on with a final one. Is this the end, is it time to get out too?
That's why sports matter. Thanks Russ. You offered the city more than just a ring. You gave us an excellent mirror. Hope we look as good in it as you do. Best of luck in Denver.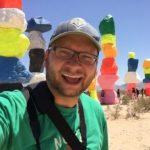 Ray Dubicki is a stay-at-home dad and parent-on-call for taking care of general school and neighborhood tasks around Ballard. This lets him see how urbanism works (or doesn't) during the hours most people are locked in their office. He is an attorney and urbanist by training, with soup-to-nuts planning experience from code enforcement to university development to writing zoning ordinances. He enjoys using PowerPoint, but only because it's no longer a weekly obligation.