In this episode, reporter Ray Dubicki and I talk transit and mobility. Specifically we take on the thorny question of whether or not transit rider use has recovered from pandemic lows. While it's clear that transit ridership is higher than it was back when we many of us were flattening the curve of Covid infections by social distancing, major societal changes resulting from the pandemic continue to impact transit ridership.
The truth is transit never left — some of us just had the choice of whether or not we wanted to use it to get around. Even at the height of the pandemic, transit offered a transportation lifeline for many people.
But while King County Metro recently released some encouraging ridership numbers, the picture gets less rosy once other agencies are taken into consideration, both regional and national. Plus, as transit advocates, both of us want to see transit ridership not only recover to pre-pandemic levels, but actually increase beyond them. Thus the idea that some agencies might be still be suffering from blows dealt by the pandemic is distressing, to say the least.
In our discussion, Ray and I share our personal experiences about how we got around the city changed during the pandemic. We also zoom out to the future. What can agencies do to attract riders — both returning and new? How can we build a system that's more resilient to the challenges that will inevitably arise moving forward? There's so much tackle in response to this topic.
During this episode, I reference some information from Stephen Fesler's latest edition of Transpo Notes published by The Urbanist. If you are not yet a reader of Transpo Notes, I highly recommend you become one. It's a great way to keep on top of our most important regional transportation news. 

Of course, we want to know your thoughts, opinions, and experiences related to transit. Reach out to us at podcast [at] theurbanist.org. As always, you can find The Urbanist podcast on iTunes, Spotify, and other major platforms. 

And if you are enjoying the podcast, be sure to offer a "like" or "thumbs up" on your favorite platform. It's a great way to spread the word to new listeners.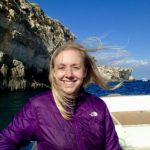 Natalie Bicknell Argerious (she/her) is a reporter and podcast host at The Urbanist. She previously served as managing editor. A passionate urban explorer since childhood, she loves learning how to make cities more inclusive, vibrant, and environmentally resilient. You can often find her wandering around Seattle's Central District and Capitol Hill with her dogs and cat. Email her at natalie [at] theurbanist [dot] org.