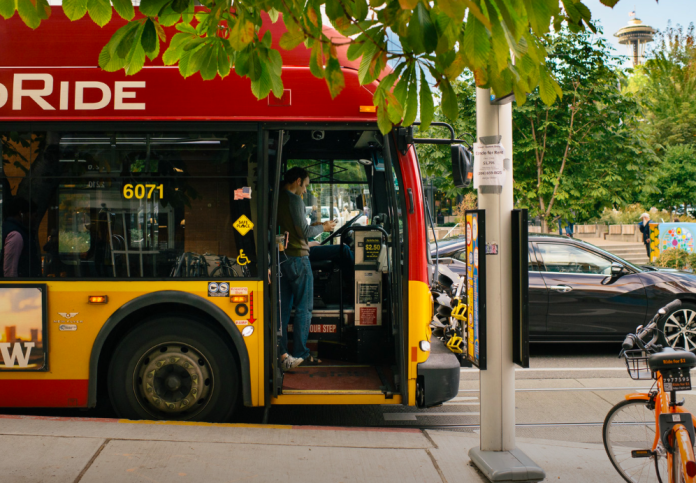 In this week's Transpo Notes roundup, we highlight slight service reductions on King County Metro, transit operator staffing challenges at Metro and Community Transit, improvements on the Route 44 corridor, new federal railway grants, more ORCA Recovery Cards, fare-free transit for youth, and the Seattle Transportation Plan.
King County Metro slightly reducing service next week
On Tuesday, King County Metro announced slight service reductions next week as ridership continues to rebound. The agency says that weekday service will be affected by the service changes. All routes will continue to operate, but schedules will be revised to address persistent trip cancellations due to a shortage of transit operators.
Metro hasn't published the exact changes yet — those will be issued in new online schedules on Saturday, June 11th — but the published service reductions should be relatively mild and largely reflect cancellations happening now. The agency said that the changes amount to less than 2% of originally planned service.
The service changes will go into effect on Monday, June 13th.
King County Metro and Community Transit are pushing for new hires, but staffing woes remain
The pandemic has been a disruptive force in industries. One in particular is the transportation industry, especially in public transportation. Despite good benefits, King County Metro and Community Transit are struggling to maintain and increase staffing levels. We checked in on their progress and their goals for the year.
King County Metro is seeking to staff back up to 2,723 transit operators (about 2,100 full-time, 600 part-time) this year. That's still slightly below last September's staffing numbers, which had been 2,734 operators. Going into January, Metro staffing level had fallen to 2,680 operators, leading to spotty service as the Omicron variant was heavily circulating and making folks sick. Metro is now even further from its goals as hiring has failed to keep pace with operators leaving service. The agency is now 151 operators short.
| | | | |
| --- | --- | --- | --- |
| Month | Full-Time | Part-Time | Total |
| April | 2,020 | 570 | 2,590 |
| May | 2,034 | 559 | 2,593 |
| June | 2,004 | 568 | 2,572 |
Metro was able to bring on 31 new part-time operators and promote 45 others to full-time status in April and May. The agency is training up for part-time and full-time positions this month with 18 part-timers that started on May 30th and 24 full-timers that start on June 25th.
Likewise, Community Transit is targeting 352 operators this year. The agency is still about 15 operators short, but a total of 13 trainees have been hired this year. Six have already graduated and another seven are set to graduate in July.
| | | | |
| --- | --- | --- | --- |
| Month | Full-Time | Part-Time | Total |
| April | 333 | 4 | 337 |
| May | 333 | 4 | 337 |
| June | 332 | 4 | 336 |
Both transit agencies are still hiring for operators. Metro is offering starting pay at $26.05 per hour for part-time operators while Community Transit is offering a $5,000 sign-on bonus and pays $27.73 per hour.
Metro probably could incentivize more hires by upping starting pay, including training which isn't as competitive, and starting bonuses. The agency might also be wise to suspend the two-tier approach to full-time operator status by allowing operators to go straight to full-time from the get-go as part of training, if they want to. And among other conditions of employment, both agencies are requiring operators to be fully vaccinated, which may be impeding some would-be candidates from seeking a position.
More Route 44 improvements coming
Last week, the Seattle Department of Transportation (SDOT) announced more Route 44 improvements are moving forward. This has led to temporary closure and movement of a bus stop and temporary closure of crosswalk in Wallingford on N 46th Street. In Ballard, SDOT is upgrading sidewalks, curb ramps, and signals on NW Market Street at 11th Avenue NW.
Later this year, the eastbound Wallingford and Fremont stops near Aurora Avenue N will be consolidated to the west side of Aurora Avenue N and the westbound Fremont Avenue N stop at will be moved to Linden Avenue N. Pedestrian and signal improvements will also come and some slip lanes will be removed.
SDOT recently rolled out more bus lanes on NE 45th Street in the University District as part of corridor improvements.
Federal railway grants help Sound Transit and Amtrak
Last week, the Federal Railroad Administration announced a significant round of grants to fund planning and construction of railway reliability and capacity projects. Sound Transit will secure up to $10 million for projects near Tacoma and the Washington State Department of Transportation (WSDOT) will receive up to $3.83 million for projects between Seattle and Everett.
Sound Transit's grant is focused on funding completion of "preliminary engineering and environmental review for track and signal improvements to increase passenger and freight rail capacity, including double-tracking and other track and signal improvements, in the Pacific Northwest High Speed Rail Corridor between Tacoma, Lakewood, and DuPont, Washington." This is a 12-mile corridor that would be double-tracked between Lakewood and DuPont, S 66th Street to Pine Street, and Portland Avenue to TR Junction near the river. The improvements will reduce Sounder delays and allow for increases in regional and intercity rail for Amtrak and Sound Transit.
Conversely, WSDOT's grant will fund mitigation work related to landslides by "installing catchment walls along BNSF's Scenic Subdivision at three locations between Seattle and Everett, Washington." The project will also improve "the existing slide fence alert system that notifies dispatchers and train crews of possible track intrusion and improves drainage along the track."
ORCA Recovery Cards available for Rainier Beach and Othello workers
Last week, SDOT announced that the department is offering ORCA Recovery Cards — free, unlimited transit passes — to workers in the Rainier Beach and Othello neighborhoods. Up to 900 people working in the food service or grocery industry will benefit from the cards. To qualify, a work must not already receive a similar transportation benefit and not work a business that has more than five locations in Seattle. Card benefits will last through the end of year. This builds upon the ORCA Recovery program that was launched last year and is funded by the Seattle Transportation Benefit District.
Fare-free transit for youth growing in Washington
Transit agencies across Washington are gearing up to enact fare-free transit for youth riders. In Puget Sound, Everett Transit is already set to eliminate youth fare and King County Metro, Sound Transit, and Kitsap Transit are on track to do so, too. Rumor has it that Community Transit and Pierce Transit soon will take up discussion on this as well.
Last week, Everett's city council approved elimination of fares on Everett Transit for riders 18 and younger beginning on July 1st, saving them $1.50 per ride. Youth riders will essentially get a grace period until free youth ORCA transit passes are rolled out later this year, needing only to show a local student card or similar identification.
In King County, legislation is working it way through the process to similarly eliminate youth fares on King County Metro. If approved this summer, the policy change would go into effect in October. Likewise, Sound Transit and Kitsap Transit are proposing that their fare-free youth policies go into effect by September.
Fare-free transit for youth has been precipitated by state Democrats' Move Ahead Washington transportation package that passed the legislature a few months ago. As part of the package, transit agencies that change their fare policies to allow free travel of youth by October 1st will be rewarded by grants, which generally more than offset the loss of revenue by eliminating youth fares.
However, Sound Transit is not eligible for the program and is expecting that the policy change could mean $147 million in lost revenue through 2046, but a new state mobility grant program may be able to recoup about $60 million over the same time period.
Seattle Transportation Plan is open for feedback
The Seattle Transportation Plan will form a piece of the city's updated Comprehensive Plan, setting the stage for policy changes and improvements to the city's transportation system for the next 20 years. SDOT has opened "online engagement hub" where folks can offer feedback, including comments an interactive map to identify transportation-related improvements that they'd like to see. The online engagement hub will be open for feedback throughout the summer.

Stephen is a professional urban planner in Puget Sound with a passion for sustainable, livable, and diverse cities. He is especially interested in how policies, regulations, and programs can promote positive outcomes for communities. With stints in great cities like Bellingham and Cork, Stephen currently lives in Seattle. He primarily covers land use and transportation issues and has been with The Urbanist since 2014.