It's only Wednesday and it's already been a robust week for transportation news in Puget Sound and Washington. Here's a rundown of some of the week's biggest transportation-related developments so far.
Veo launches a shared bike program in Seattle
On Monday, the Seattle Department of Transportation (SDOT) and Veo, a Chicago-based micromobility company, announced the launch of a new bikeshare option in the city. Veo immediately started rolling out their first 500 e-bikes, which are similar to their seated e-scooter model (called "Cosmo"), but include pedals. The company has more traditional bike styles as well, including an e-bike model (called "Halo"). However, the Cosmo is what the company is going with in Seattle, offering a slightly different experience than Lime.
The e-bike power kicks in differently than normal pedal electric-assist bikes. Veo's Cosmo uses a throttle-assist function that is activated like an e-scooter. In a press released, Veo said that the bike "was designed with a motor and pedals to make it easier for riders of varying body types and physical abilities to ride long distances comfortably while maintaining balance and control."
The initial cost is $1 to unlock a bike and $0.29 per minute, but first-time riders can save with a special promo code (RIDESEA). The promo code covers unlocking the bike and provides $5 worth of credit. Veo also offers reduced prices for low-income individuals. Veo's pricing is a bit cheaper than Lime's $0.36 per minute plus $1 unlock rates, which can add up quickly.
In the months ahead, Veo will ramp up the number of e-bikes available in the city to 1,500 by spring.
Sound Transit to deploy new real-time arrival information system next year
The return of real-time arrival information on digital signs on Link is nigh, Sound Transit announced on Tuesday. The agency says that riders can expect to see real-time information begin reappearing in the April to June timeframe as a new Passenger Information Management System (PIMS) is deployed. This is in line with the agency promised back in 2018. With the new PIMS launching, digital signs will display much more accurate predictions for next-train arrivals and unscheduled trips (e.g., extra trains for sporting events).
As part of this effort, new real-time information signs will roll out over a two-year period across the entire light rail network. The first wave of new signs will be focused on legacy dot matrix signs like those in the Downtown Seattle Transit Tunnel and then move out to the rest of the system to be completed by the end of 2023. Along with this, the new digital signs will be installed at stations on the East Link extension opening in 2023. The digital signs will be capable of specialized service alerts and extra information like the line name and color shield, and onboard Link digital signs will be outfitted to show more information unlocked by PIMS.
In a blog post, the agency finally explained why the existing signs have been real-time arrival information turned off. The rationale boils down to the accuracy of information, frequency of service, and the short-term nature of situation. "Since the 1 Line runs frequently and reliably, average wait time on the platform is just 4-5 minutes," the agency explained. "When trains are running normally, the arrival predictions have been mostly accurate. But next train arrival predictions are most important when things go awry, and the current system has been the least reliable just when you need it most."
To illustrate the problem, the agency provided several examples, including one where a train is slowed and delayed but track circuits relay on-time information as if the train were moving as normal (55 miles per hour versus 5 miles per hour). The agency's big worry is that new or infrequent riders may become dismayed by bad data, especially with say a 55-minute next-train departure prediction, and leave.
Sound Transit also plans to roll out PIMS and new digital signage across the Sounder commuter rail and Tacoma Link streetcar networks.
Seattle extends ORCA Recovery Card program
After a successful six months, Seattle is extending the ORCA Recovery Card program through the end of 2022, SDOT announced on Tuesday. The ORCA cards contain pre-loaded unlimited transit passes free to the cardholder and were set to expire at the end of this year. Just a month ago, Seattle announced that a free transit pass program would be extended to all Seattle public middle school students.
"Our goal is to create a more resilient, sustainable city, with accessible transit for all," SDOT Director Sam Zimbabwe said in a statement. "With the ORCA Recovery Cards, people can continue to commute and explore new areas of their city and community through transit at no cost. We're so excited that the Recovery Cards have been useful as we move toward pandemic recovery and it's great to see that people are using their new ORCA cards frequently."
In June, 1,665 people signed up for the ORCA Recovery Card program as part of the city's efforts to support business and workers during pandemic economic recovery. Eligible workers for the program are primarily in the food service and grocery industry in Chinatown-International District and Pioneer Square.
According to a survey of program participants released in October, 91% of respondents reported that their frequency of transit usage had increased. On top of that, 84% of respondents said that they were using their card three or more times per week.
Funding for the program is coming from the city's 0.15% sales tax for the Seattle Transportation Benefit District.
New state ferry has been named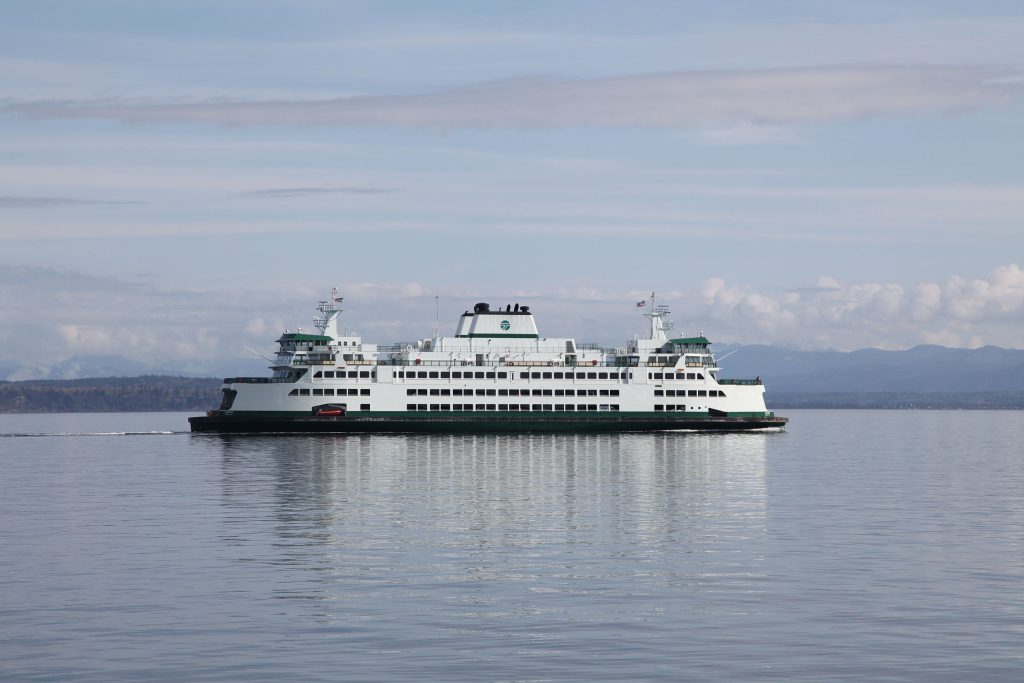 Washington's next ferry has been named the M/V Wishkah, the Washington State Transportation Commission (WSTC) decided on Tuesday. The name was proposed by Robin Grace McPherson. The name derives from the Wishkah River, which flows from the Olympic foothills into Grays Harbor via Aberdeen. The word itself is an adaption from the Lower Chehalis, a language of native Coast Salish people, that translates to "stinking water." The waterway was an important corridor historically to transport goods and people. In fact, the river was traversed by a steamer named the "Wishkah Chief" according to the WSTC.
The M/V Wishkah will be a hybrid-electric Olympic Class ferry with capacity for 1,500 passengers and 144 cars. The M/V Tokitae was the first of this vessel class to enter into service in 2014; three others (M/V Samish, M/V Chimicum, and M/V Suquamish) are also now in service. When the M/V Wishkah launches, it will be capable of charging when at ferry terminals, pending installation of charging infrastructure.
Several other names didn't make the cut, including: Stillaguamish, Snoqualmie, Enie Marie, Stehekin, and Muckleshoot.
Sound Transit reports concrete-related construction delays
Last week, Sound Transit CEO Peter Rogoff warned boardmembers of concrete-related issues that could result in project delays. Concrete supply workers are striking and impacts are already being felt of several light rail projects, including the Lynnwood, Federal, East, and Downtown Redmond Link extensions.
"So far the strike has affected delivery of more than 2,400 cubic yards of concrete to our sites," Geoff Patrick said in a statement. "To visualize that, we're talking about 240 concrete trucks. Between now and December 24th, our construction plans require more than 4,000 cubic yards of concrete, or about 400 truckloads."
Impacts of the strike could affect more than just schedule and physical progress. "We're very much hoping we can avoid further impacts to these four major projects where more than 2,000 workers are focused on opening 34 additional miles of light rail in 2023 and 2024," Patrick said. "Without access to concrete, contractors are beginning to lay off crews from various construction trades. It's too early to speculate about whether or how much delays or increased costs could impact our riders or taxpayers."
Rogoff also told the board of directors of two recent problematic poured concrete incidents.
On November 4th, concrete poured for a portion of the Lynnwood City Station parking garage was partially damaged by heavy rains, compromising somewhere between 30% to 40% of the concrete. Repair pouring will be required and could cause a two- to five-week construction delay. And on November 10th, construction on a portion of the 185th Street/Shoreline North Station parking garage was halted because of a delay in concrete delivery to the site. Concrete that had been poured prior to the work stop hardened and sabotaged further sequential work, leading to the contractor now removing the concrete and repouring concrete. The impact of this is a two-month delay to the parking garage schedule. However, neither construction hiccough will impact the overall Lynnwood Link extension project timeline.

Stephen is a professional urban planner in Puget Sound with a passion for sustainable, livable, and diverse cities. He is especially interested in how policies, regulations, and programs can promote positive outcomes for communities. With stints in great cities like Bellingham and Cork, Stephen currently lives in Seattle. He primarily covers land use and transportation issues and has been with The Urbanist since 2014.