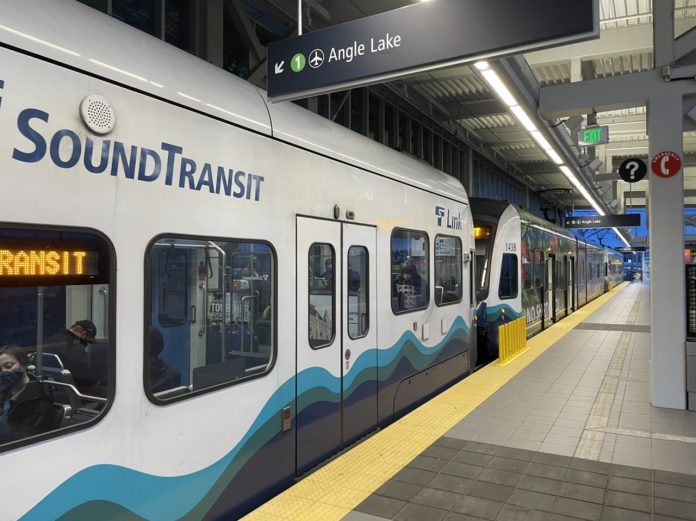 It was a busy week for transportation in Puget Sound and Washington. Here's a rundown of some of the week's biggest transportation-related developments.
Federal Way slated to be home to next OMF
On Thursday, Sound Transit's System Expansion Committee recommended a site in Federal Way as the preferred alternative for the Operations and Maintenance Facility South (OMFS) project. The decision could avert significant delays to light rail expansions to West Seattle and Tacoma and limit displacements of residents, businesses, and institutions. The selected preferred alternative site is located near South 336th Street on about 59 acres. A competing site nearby is considered to be more impactful with displacements but in a similar price range whereas as a site in Kent could increase project costs by $600 million to $1.1 billion and delay light rail expansion projects by two-and-a-half to five years.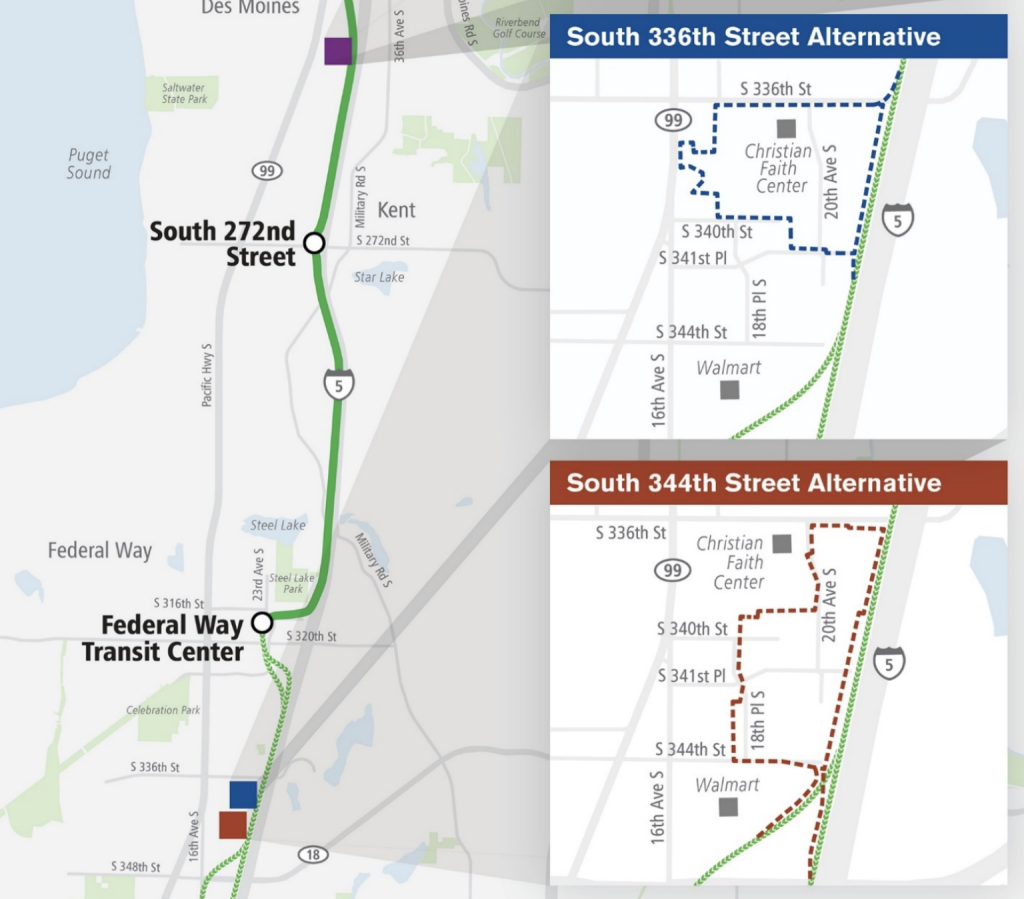 During Thursday's meeting, Chair Claudia Balducci explained her assessment and reasoning for recommending the Federal Way site. "We definitely don't have an easy site to select here; we have three site alternatives — each of them have unique pros and cons, but I will say one of them does have fewer related concerns and impacts," she said. "I am recommending that we identify the South 336th Street alternative site as the preferred alternative…[because it]…balances our aggressive system expansion needs to open the light rail extensions to Tacoma and West Seattle while minimizing business and residential displacement impacts."
The full board still has to sign off on the site as the preferred alternative later this week and the agency will need to complete the Final Environmental Impact Statement (FEIS) next year. The other two sites would still be evaluated as alternatives, but the South 336th Street appears all but sure to be selected as the final site for the project. A decision next year to proceed with a project there would still need approval from the board after the FEIS is issued. If approved, the OMFS could open in 2029 — three years ahead of the Tacoma Dome and West Seattle Link Extensions.
Liias takes reins of the state Senate Transportation Committee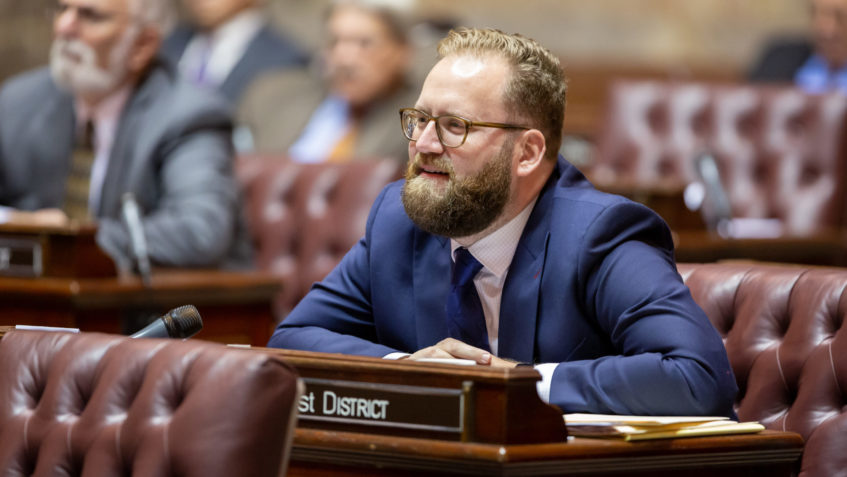 Also on Thursday, Senator Marko Liias (D-Everett) has been tapped as the new Chair of the Senate Transportation Committee, a key decision-making body in the Washington State Legislature. He succeeds former Senator Steve Hobbs (D-Lake Stevens), who recently left to become the new Secretary of State.
"It is an honor that my colleagues trust me with this responsibility and have selected me for this position," Liias said in a statement. "As we face dramatic changes to transportation revenue and mobility options, this is our moment to write a visionary, equitable, climate-focused transportation package that invests in our shared priorities while respecting our real and unique local needs."
Liias edged out fellow Democrats Mark Mullet (D-Issaquah) and Rebecca Saldaña (D-Seattle) who had been vying for the committee role. In so far as Saldana is concerned, that outcome is somewhat surprising given that she has served as Vice Chair on the committee for about four years. Normally holding that position would be considered a stepping stone for promotion to a Chair vacancy. Why she was passed over remains unclear, but Liias was Vice Chair of the House Transportation Committee from 2008 to 2014.
While in the state legislature, Liias has largely been a progressive voice and an ardent supporter of safe, equitable, and sustainable transportation policy. With the committee moving under his control, expectations will surely have risen for better legislation around walking, rolling, biking, and transit. A key task will be passage of new legislation for transportation projects and revenues. His predecessor repeatedly failed to do so and alienated potential allies with transportation policies that were out of step with climate and equity. Liias now has the opportunity to fix that.
New Sound Transit 4 legislation prefiled
On Friday, Senator Jamie Pedersen (D-Seattle) prefiled a regional transit bill for the upcoming 2022 state legislative session. The bill would grant Sound Transit new authorization, in collaboration with local communities, to establish "enhanced service zones" that could fund additional high capacity transit projects, effectively allowing for a Sound Transit 4 program. It also addresses governance concerns that Pedersen had about a similar bill filed earlier this year in the House by Representative David Hackney (D-Seattle).
Cities and towns within the Sound Transit taxing district could form these enhanced service zones, provided that a zone's area at least covers the full extent of a municipality. To encourage coordination, the bill would also allow other adjacent cities, towns, and unincorporated areas to form a larger enhanced service zone or allow layering of enhanced service zones (e.g., Seattle and all of urban King County, inclusive of Seattle).
Communities wanting to form enhanced service zones would need to first work with Sound Transit to develop a project list. Once established, the agency would put the project list and a corresponding revenue funding measure to a public vote, which would only need a simple majority to pass. Revenue options include an annual 1.5% motor vehicle excise tax and a commercial parking tax with no statutory rate limit. And in Seattle, the legislation would specifically require light rail and similar rail fixed guideway systems to be constructed entirely grade-separated.
The bill so far has just one co-sponsor: Senator Marko Liias. But having the Chair of the Senate Transportation Committee onboard is generally a positive sign that it will get airtime. Being that 2022 is a short legislative session (60 days), however, compresses things and complicates the path of newly-introduced legislation, especially when that legislation isn't considered an emergency.
Missing Link appealed yet again
The long-awaited multi-use trail connector for the Burke-Gilman Trail in Ballard, dubbed the "Missing Link," could be in trouble again. On Friday, David Kroman of The Seattle Times reported that the adversarial, local industrial and maritime community had filed a fresh appeal in superior court. The latest filing contends that the project doesn't comply with permitting requirements and ostensibly would create new unsafe conditions among other contrived arguments.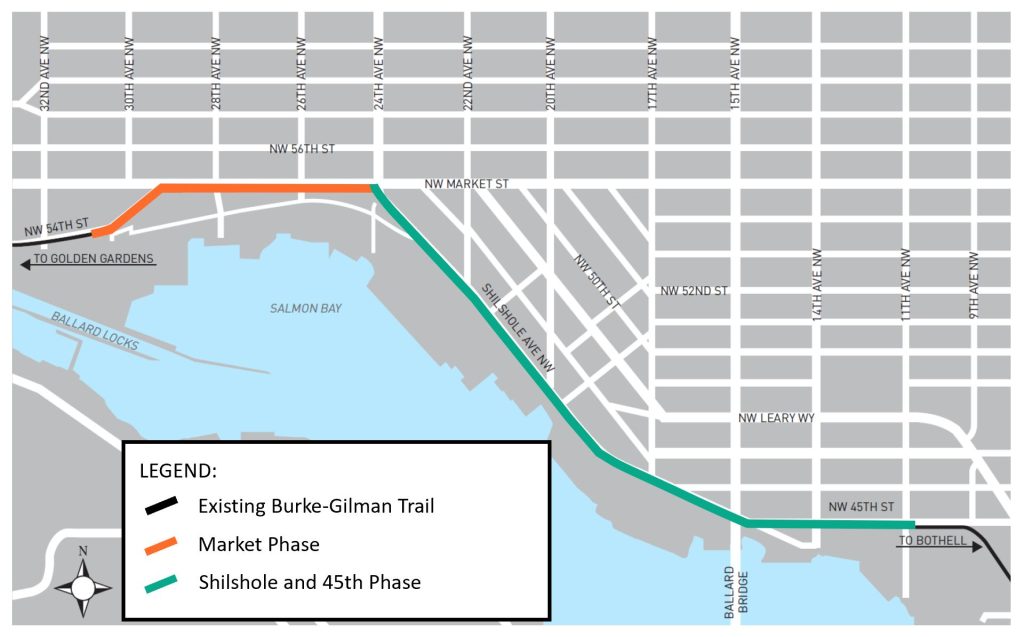 The latest lawsuit comes just one month after the Seattle Department of Transportation made changes to the project, reducing the trail width and cutting back on other elements. In doing this, the department revised the project enough that it should avoid the need of full environmental review under the State Environmental Policy Act. However, the appellants are poised to argue otherwise in court.
For years, the project has been tied up in one court battle after another by industry interests over spurious, bad faith arguments. But adjudicators have consistently sided with the appellants and confoundingly moved the goalposts. What happens in court is anyone's guess, but the department has said that the revised project schedule factored in the possibility of an appeal process. The project is slated to begin construction somewhere between late 2022 or early 2023 and take seven months to complete.

Stephen is a professional urban planner in Puget Sound with a passion for sustainable, livable, and diverse cities. He is especially interested in how policies, regulations, and programs can promote positive outcomes for communities. With stints in great cities like Bellingham and Cork, Stephen currently lives in Seattle. He primarily covers land use and transportation issues and has been with The Urbanist since 2014.