The excitement that the recent Northgate Link opening generated provided a vivid example of Seattle residents' desire to be better connected by rail. This enthusiasm is backed up by a recent poll which found three quarters of participating Seattle voters would support a new funding measure to expand light rail to more Seattle neighborhoods.
Taken together, one might assume that Seattle voters are destined to see a new Sound Transit light rail funding measure on the ballot in the near future. There is, however, a catch. Even if Seattle residents are willing to pay for more light rail, current rules in place prevent that from happening. Funding for Link light is up to the approval of voters across its taxing district, which spans from north of Everett to south of Tacoma.
Seattle Subway, a nonprofit advocacy group, wants to see those rules changed so that Seattle residents can decide if they want to embark on their own Sound Transit 4 campaign further expanding light rail throughout the city. They launched a letter-writing campaign that already has more than 8,000 signatures.
"The response to light rail is strong," said Jonathan Hopkins, Executive Director of Seattle Subway. "People are really eager not to be left out."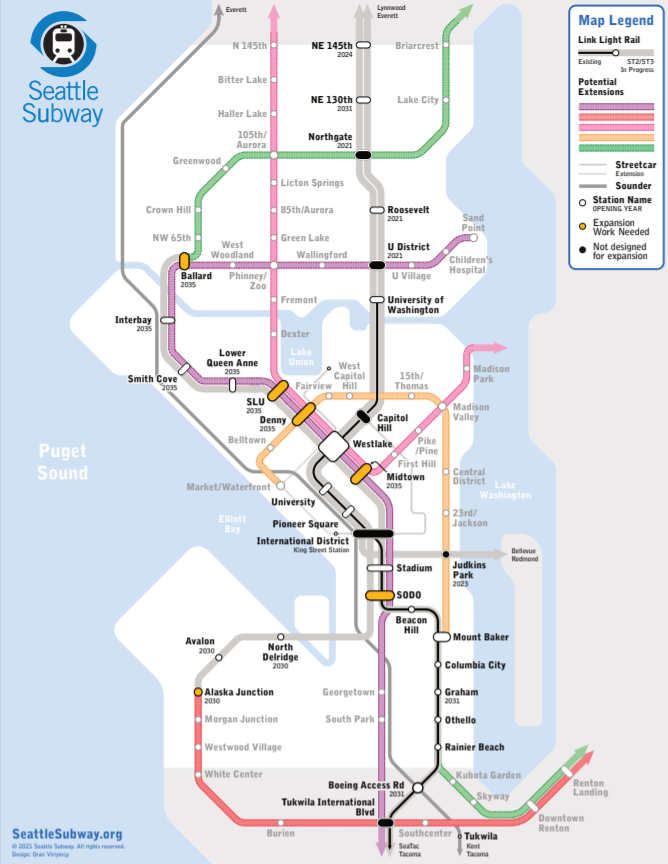 However, the reality is that current Sound Transit 3 (ST3) expansion plans leave out over 60% of Seattle's densest and most populated neighborhoods, a situation Seattle Subway finds unacceptable. "The vision for grade separated transit for the city needs to be bigger because the population is bigger and the growth is faster. ST3 is really building out Forward Thrust, a plan created when Seattle was shrinking and our planet didn't have a climate emergency," Hopkins said.
The map for ST3 expansion does bear a striking similarity to the transit map put forth in the failed Forward Thrust bond measures of 1968 and 1970. If voters in Seattle (and Bellevue, too) had had their way, the rail system would already be transporting riders across the Seattle metro area today; however, lack of support from suburban and rural areas of King County dropped the overall margin in favor to 50.2%, falling short of the 60% necessary to pass the Forward Thrust transit bond measures.
For decades, tension has existed between urban and suburban areas' transportation desires in Puget Sound. Another failed 1996 regional transit funding vote, which garnered majorities in Seattle, Mercer Island, and Shoreline, highlighted the difficulty in getting enough suburban and rural voters onboard with transit expansion. Convincing voters who live far away from future transportation investments to support them has never been, and will likely never be, an easy enterprise.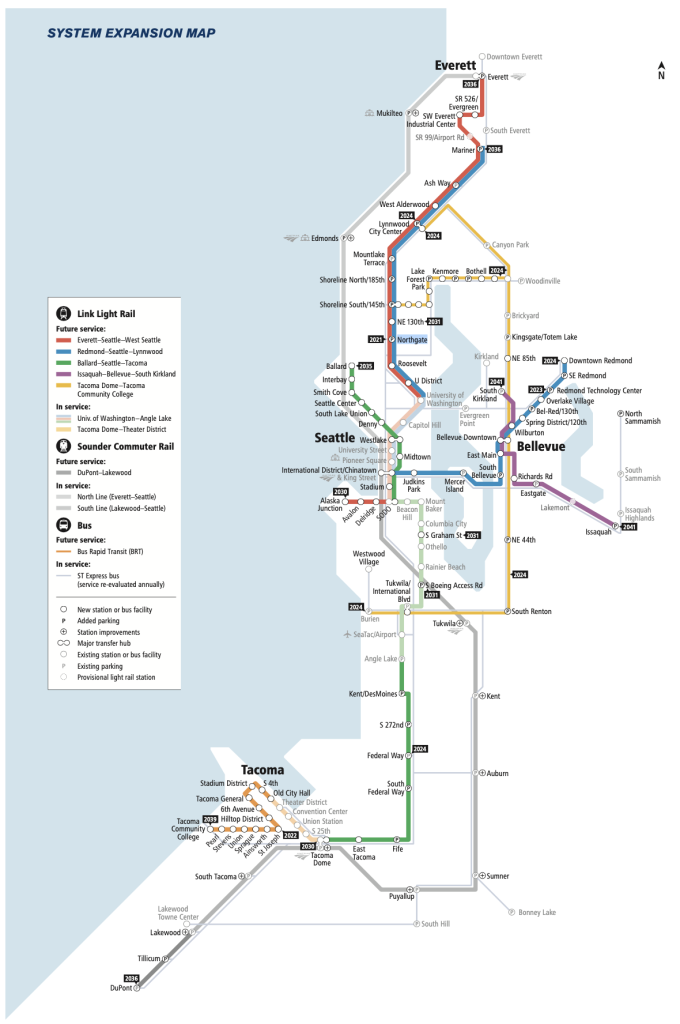 Seattle Subway believes there is another path forward, one in which Seattle voters will have the choice to raise funding for light rail transportation in the city without having to go to suburban and rural voters.
"Let's allow people to have the transportation systems they want," Hopkins said. "If Seattleites want more lines, they shouldn't have to wait for people in Parkland and Spanaway to agree with them. Seventy six percent of Seattleites favoring expanding light rail sounds like a good measure. In the meantime, we don't need to have one city held hostage to other voters' agendas. Different parts of the region have different needs."
How could Seattle raise it own funds for light rail?
In order to push the ball forward, Seattle Subway recently submitted letters to lawmakers, urging them to support legislation that would amend Seattle's existing City Transportation Authority (CTA) in order to allow it to raise funding for grade-separated rail transit. Current laws only permit Seattle voters the chance create a Monorail authority, a throwback to the failed Monorail proposals of the late 90s and early aughts.
Shaun Kuo laid out how the CTA would work to raise funding in his January 2021 article for The Urbanist on proposed House Bill 1304. According to Kuo, once the ability to create a CTA is made law:
Seattle City Councilmembers would be able to propose creation of an authority by ordinance, or a petition signed by 1% of qualified voters in a proposed authority area could propose an authority. The authority area can encompass a portion or the whole city.

Backers would propose what kind of public grade-separated transportation function will be exercised by the authority and propose an initial array of taxes.

The proposal would then have to be voted upon by the voters in the proposed authority area. If approved, the city councilmembers in the authority area would become the governing body of the authority and form the authority with bylaws and officers.

Shaun Kuo, The Urbanist, 2021
Choices for tax and fee measures to fund the CTA include "property taxes of up to $1.50 per $1,000 of assessed value, a special yearly excise tax not exceeding 2.5% on the value of every motor vehicle (in 2002, a 1.4% tax was worth $1.5 billion for the Monorail Green Line), a up to $100 per vehicle license fee per year, and a 1.944% sales and use tax on rental cars."
Kuo estimates that these taxes and fees could raise $500 million or more per year if fully leveraged, with the property tax raising the bulk of the funds. The CTA could also issue bonds to borrow money and would have the right to engage in all the activities necessary to create, maintain, and expand the rail facilities, which would include all types of grade-separated rail, a list that encompasses not only light rail, but also trolleys, funiculars, monorail, and high speed rail, although the last item in the list would likely be too complex — and expensive — for Seattle to fund on its own.
Supporters were disappointed when the bill died in committee during the last legislative session. However, they are hoping to bring it back in 2022.
If this happens, the bill will likely be embraced by Seattle politicians. During a mayoral candidate forum sponsored by Seattle Subway this summer, all candidates, incluing Bruce Harrell and M. Lorena González (who both advanced to the general election), stated they would advocate on the state level for Seattle to have more power to fund light rail on its own.
State level hurdles
In response to a letter writing campaign aimed at relaunching a new version of HB 1304 in 2022, Seattle Subway cites having received "a very positive response from a large number of the Seattle legislative delegation as well as members of the city council." However, one negative response from State Senator Jamie Pedersen (D-Seattle, 43rd District) may shed some light into why the bill languished at the state level.
Pedersen said his reservations concerning HB 1304 stemmed from Section 2 of the bill that allow for the creation of a CTA. Pedersen is concerned that the presence of a new transportation authority, which in this case would be governed by the Seattle City Council, would create complications for Sound Transit. Instead of passing a bill similar to HB 1304, Pedersen is pitching a "reform of Sound Transit's governance to allow the Board to propose additional investments within a subarea (such as Seattle) that would be subject to voter approval in, and paid for by residents of, that subarea," which he believes would be "more efficient than creating a new agency modeled on the Seattle Popular Monorail Authority."
However, Seattle Subway believes Pedersen's interpretation overemphasizes possible complications. While the Monorail Authority would have created a new transit agency overseeing a separate form of transportation, a CTA aimed at funding Link light rail could a situation similar to the Seattle Transportation Benefit District (STBD), which the city uses to purchase additional service hours for King County Metro bus service and make other transportation-related investments. Passed by City Council ordinance in 2010, the STBD has allowed Seattle voters to approve funding measures for public transportation, including a 2016 measure instituting a $60 vehicle license fee and 0.1% increase in the sales tax that funded expansion of Metro bus service.
While technically the STBD is a separate transportation governing body overseen by Seattle City Council, most of its funding must be directed to services provided by Metro. A similar contractual agreement could be written up between a future Seattle CTA and Sound Transit.
According to Seattle Subway, Sen. Pedersen's suggestion to allow for subareas within the Sound Transit's tax district to be able to raise their own funds was what they initially intended to advocate for before meeting with stakeholders who advised them again against it because of Sound Transit's concerns. Seattle Subway did explain that they were told a "new subarea-based law that is independent of the [Sound Transit] RTA (Regional Tax Authority)" could be workable.
While Seattle Subway continues to see a CTA as a viable approach for moving forward, the organization remains flexible about future funding options.
"We're definitely open to anything that will achieve the goal of getting Seattle-based funding to both expand Link light rail and make sure what's being built is future proof," Hopkins said.
Urgency to get transit right
What Seattle Subway does not want to see is inaction.
"Our entire global climate crisis is the result of a 'do nothing alternative', which is exactly what we don't want for Seattle. If Senator Pedersen has a strong solution, we are eager to hear it. Seattle is a super transit-friendly city. We need leaders in the delegation that make solutions possible," Hopkins said.
In addition to the current high level of enthusiasm for rail transit, Seattle Subways argues there are other factors that make it imperative that Seattle engage in planning for a Sound Transit 4 expansion now.
"We have to figure out what we are going to do next. Right now we don't know and that's a problem. It takes a couple decades to build this stuff, and if we don't start the planning work now, we will build out the current system in a manner that is not set up for expansion," Hopkins said.
Retrofitting stations for multiple lines after the fact could be prohibitively expensive or technically infeasible. Getting the system right the first time would be a big advantage; so, Seattle Subway argues it's time to map out further expansion.
Send legislators a letter with Seattle Subway's handy tool.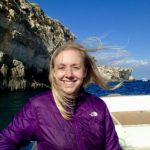 Natalie Bicknell Argerious (she/her) is Managing Editor at The Urbanist. A passionate urban explorer since childhood, she loves learning how to make cities more inclusive, vibrant, and environmentally resilient. You can often find her wandering around Seattle's Central District and Capitol Hill with her dogs and cat. Email her at natalie [at] theurbanist [dot] org.