What you need to know about transit service and special events for the Northgate extension opening on October 2nd.
It's a mere two and a half weeks to the opening of the 4.3-mile Northgate Link extension, which will add three more stations to Seattle's light rail line. Riders will be able reach Downtown Seattle from Northgate in just 13 minutes. Sound Transit expects travel times end to end will be 53 minutes with airport-to-Northgate travel time being 49 minutes. All in all, the extension will be a gamechanger for many people in North Seattle and areas further north thanks to significant bus restructures funneling riders to and from the new stations.
However, there's a lot more to the Central Link extension, or the 1 Line in Sound Transit's new naming system. So we've put together a complete guide on everything you need to know and more.
Start of Service and Frequency
Riders who want to catch the maiden voyage are going to have to get up very early to do it. Sound Transit is going to inaugurate service on October 2nd like any other service change by simply starting service according to the regular schedule.
The first train to depart from Northgate Station will be at 4:51am followed by initial southbound stops at 4:58am for Roosevelt Station and 5:00am for U District Station. Conversely, the first trains to arrive at those stations in the northbound direction will be at 4:56am at U District Station, 4:58am at Roosevelt Station, and 5:01am at Northgate Station; that train will initially depart from SODO Station at 4:39am.
On weekdays and Saturdays the earliest starts of service northbound are at 4:25am from SODO and 5:00am from Angle Lake and southbound at 4:15am from Beacon Hill and 4:51am from Northgate. On Sundays, the earliest stars of service northbound are at 5:27am from SODO and 6:00am from Angle Lake and southbound are at 5:15am from Beacon Hill and 5:33am from Northgate. Most early northbound trips start at Beacon Hill while early southbound trips progressively start from more northern stations to stagger frequency and reduce deadheading.
As for the latest full trips, the service pattern is northbound at 11:45pm from Angle Lake and southbound at 12:28am from Northgate on weekday and Saturday nights and northbound at 11:15pm from Angle Lake and southbound at 11:28pm from Northgate on Sunday nights. Later trips still depart northbound from Angle Lake but terminate at Stadium, some with connecting bus service. A full schedule of service is now available.
Earlier this summer, Sound Transit improved frequency on the 1 Line. Trains are running as frequently as every eight minutes during weekday peak hours, every ten minutes during weekday off-peak hours and on weekends, and every 15 minutes during late evening hours. Sound Transit plans to maintain this service level into the fall. However, prior to the pandemic, service on the line had run every six minutes during weekday peak hours, every ten minutes during weekday off-peak hours and weekends, and every 15 minutes during late evening hours.
Fares
The 1 Line fare schedule will change with the addition of new stations since Sound Transit uses a distance-based fare system. The maximum adult fare cost, however, is only increasing by $0.25 and tops out at $3.50. This is $0.25 more than the highest ST Express bus fare, which is $3.25. Some ST Express bus routes operate along corridors longer than the 1 Line. Nevertheless, qualifying riders who fall into the youth or low-income categories will only be subject to a $1.50 flat fare while seniors and disabled riders will only be subject to a $1.00 flat fare. Children under the age of six can ride for free.
Riders using ORCA cards can make free transfers to and from light rail within a two-hour period. If there is a fare difference between services during the time period, the cardholder will be charged the difference (e.g., initially riding a Metro bus on a $2.75 fare and then transferring to the 1 Line for the whole length on a $3.50 fare will deduct an additional $0.75 from the ORCA e-purse). ORCA cardholders should tap on and off at card readers for trips at stations. Fares can also be paid by using ticket vending machines (cash or credit/debit) or the Transit Go ticketing app.
Vehicles
While Sound Transit had been confident of a September start of the Northgate Link extension, that timeline fell backward ever so slightly by two weeks to October 2nd. That was largely because of the challenge in readying new light rail vehicles (LRVs) to operate the extension. The agency needed to burn-in and certify about three dozen LRVs to support the extension, but delayed deliveries and longer testing timelines drew out the process.
Nevertheless, the agency will operate two series of LRVs on the 1 Line when it opens, which includes the older Kinkisharyo-Matsui LRVs (Series 1) and newer Siemens S700 LRVs (Series 2). The new Series 2 LRVs are already circulating the system for regular service.
Both vehicle types are low-floor LRV models and both models have a similar maximum capacity of 194 passengers, but Sound Transit says that "Series 2 LRVs may allow for some additional capacity, which we would be able to evaluate once revenue service starts." The Series 2 LRVs have four fewer seats with 70 total. Normal service will consist of four-car trains, meaning that each trainset will be capable of carrying 776 riders comfortably standing and seated. Of course, crushload trains could carry considerably more riders.
As far as new onboard benefits go, the Series 2 LRVs have new information digital signs onboard, better LED lighting systems, bigger windows, extra bike hooks, and more space to storage luggage and move about the trains.
For now, Sound Transit is "simulating" service all the way to Northgate Station with all trains. This means that trains operate from Angle Lake Station to Northgate Station, but only in-service with passengers from Angle Lake Station to University of Washington Station. The important aspect of this for riders is that trains no longer swap platform sides at University of Washington Station. Instead, southbound trains are only picking up riders on west side of the platform whereas northbound trains are only dropping of riders on the east side of the platform.
Stations
The three new stations are quite different from one another. Northgate Station will be an elevated station near I-5 with a significant transit center, multiple parking garages, and new pedestrian/bicycle overpass to the west whereas Roosevelt Station and U District Station will be urban, underground stations. The transition from elevated rail to underground rail happens mere blocks from Northgate Station as the tracks reach the Maple Leaf Portal near N 92nd Street.
Northgate Station is an elevated station with a ground floor level, mezzanine level, and platform level. The station straddles two sides of NE 103rd Street with entrances on both sides. The south side leads to a plaza and off-street bus loop with bays. The north side leads to another plaza and the main parking garage, which contains 450 car parking spaces (Thornton Place and Metro also have additional parking near the station). A public restroom and bike parking — including secured bike lockers — will also be located at the station. Stair, escalators, elevators will convey riders from street-level to platform-level. Along with the new station, the Seattle Department of Transportation will formally open the new pedestrian and bike bridge over I-5 on October 2nd; this will provide a direct connection to Northgate Station at the mezzanine level.
Roosevelt Station is an underground station with two entrances off of 12th Avenue NE. Ticketing and information is available at the street-level entrances. There are two mezzanine levels with escalators and stairs leading riders downward to the platform level. Elevators are also available between street-level and platform-level. The station will also feature covered bike parking, including a secured bike storage area.
U District Station is also an underground station. There will be one entrance off of NE 43rd Street (with an opening on Brooklyn Avenue NE) and one entrance at the north end on Brooklyn Avenue NE. Ticketing and information is available at the street-level entrances. There is a mezzanine level with escalators and stairs leading riders downward to the platform level. Elevators are also available between street-level and platform-level. About 100 bike storage spaces will be located in a covered cage in the south entrance and some bike racks and secured bike lockers will be available in the north entrance. Already, light rail's anticipated arrival has kicked off a highrise development spree in the U District.
All three stations will have island style platforms, which generally means that all trains will serve center platforms and open doors on their left in relation to the direction of train travel, except at Northgate Station where trains will swap sides of the center platform depending which terminal slot is already used.
Preparation, Outreach, and Events
Agencies are already gearing up to inform riders of the sweeping changes ahead. Community Transit, for instance, has been doing in-person outreach to let riders know about changes coming to the 500 and 800 bus series. Agencies have also been pushing rider tips through social media and are pushing out trip planning data to digital platforms a lot sooner than they normally would so that they will be prepared. Ambassadors will continue to reach out to riders ahead of the changes and then during the first month of the Northgate Link extension opening.
From October 2nd through October 31st, Sound Transit will provide what the agency is calling a "museum-like experience" at the new stations. The details are still somewhat vague, but at the stations there will be special installations, new digital campaigns and advertising, sponsorship and business elements, and ambassadors welcoming riders and providing information. Prior to the station openings, Sound Transit will also host a special accessibility walk- and roll-through familiarization event on October 1st.
Additionally, free ORCA and ORCA LIFT cards with $10 pre-loaded will be given out during the first week of service with special registration events for ORCA LIFT being offered at Northgate and Roosevelt Stations on October 6th and 7th.
Branding, Maps, and Wayfinding
When the Northgate Link extension opens, Sound Transit will formally change all materials across the transit system to implement the new branding and alphanumeric nomenclature for services announced last year. The Central Link line will officially become the Link "1 Line" while the Sounder and Tacoma Link services become the Sounder "S Line" (Sounder South), Sounder "N Line" (Sounder North), and Tacoma Link "T Line".
Sound Transit is supporting these changes by a frantic overhaul of all maps, signs, and other media with the new branding. Some early changes of this have already been readily apparent with 1 Line diagrams onboard trains that show the new green 1 Line shield and pictogram associated with the new stations. Sound Transit is also poised to revise announcements to refer to the 1 Line instead of Central Link.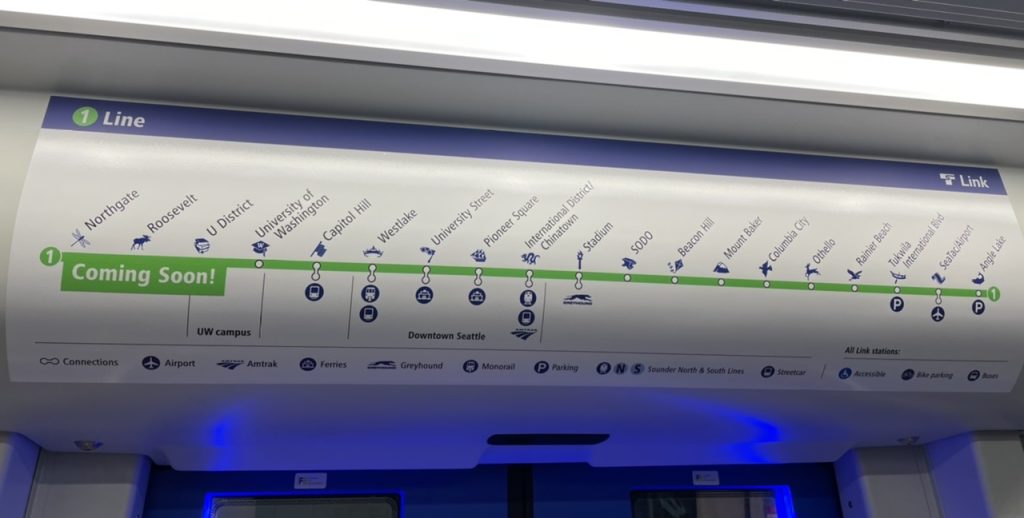 One type of map that Sound Transit is deploying at stations is a directional progress map. The maps are located at platforms and show the travel direction of trains with next stations to be served. Preceding stations that have already been served are greyed out. The current station is also boldly noted and connections are shown.
The new schedule booklet contains a new design highlighting similar designs to the directional progress and onboard 1 Line diagram. It also contains information on connecting bus routes that serve each station. Similar changes are being made to the ST Express and N, S, and T Lines' schedule booklets.
At the four North Seattle light rail stations, King County Metro will be installing spider maps unique to each station. These maps show bus routes departing from them and where to find them. Generally speaking, buses will be departing from numbered bays. The maps also provide other useful information, such as the general station layout.
Metro has also quietly suggested that the new light rail stations will feature expanded use of station exit wayfinding. Station exits at Downtown Seattle already use a letter system with secondary numbers in some cases. These are identified with wall signs and hanging blade signs from ceilings to help riders identify station exits to the street. Corresponding visual directories on walls help riders determine which exit they might want to use to reach listed and shown destinations. The three stations poised to get the exit wayfinding signage are Northgate, Roosevelt, and U District Stations.
As far as announcements go, Sound Transit has already begun to simplify and improve things. The agency has dropped the redundancy of saying "station" when referring to each station like Westlake and Beacon Hill. The agency has also added clarifying nudge information for the myriad of "University"-named stations like University Street and University of Washington by telling riders at University Street Station to "stay on the train for University of Washington campus."
Related Service Changes
To support the new light rail service, Sound Transit, King County Metro, and Community Transit are all restructuring local and regional bus service.
Metro is deleting 14 routes, creating seven new routes, and revising another ten routes as part of a major bus restructure on the north end to bring riders to the new light rail stations. It's a big investment in a better network for riders that should make transfers reasonably attractive over one-seat bus rides across longer north-south distances. Frequency of service will be key to making the restructure work and that's where further improvements are needed as the agency recovers from Covid impacts among more east-west crosstown service.
The North Link connections map showing how the service change will look in October. (Credit: King County)

Schematic of how Snohomish County-oriented Community Transit and Sound Transit routes will be adjusted, if at all. (Credit: Community Transit)

Revisions to Route 522. (Credit: Sound Transit)

Revisions to Route 542. (Credit: Sound Transit)

Revisions to Route 556. (Credit: Sound Transit)
Sound Transit is also making targeted changes to enhance connections to and from light rail and ST Express bus service. These changes are focused on Routes 511, 512, 513, 522, 542, and 556.
For Routes 511, 512, and 513, the new southern terminus will be Northgate Station and all three routes will benefit from increased frequencies.
For Route 522, the new southern terminus will be Roosevelt Station and it will benefit from increased weekend frequencies.
For Route 542, the new northern terminus will be U District Station.
For Route 556, service will be restored with 30-minute frequency during weekday peak hours and the new northern terminus will be U District Station.
Similarly, Community Transit will be terminating much of its commuter routes at Northgate Station. The 800 series, which includes Routes 810, 821, 860, 871, and 880, will be truncated to the station and benefit from 48 additional trips. This will allow for buses to depart every 15 minutes from Northgate Station during the peak afternoon and evening periods.
What Comes Next
Looking ahead, Sound Transit will be opening up other light rail and streetcar extensions. The Tacoma Link T Line's extension will open in May 2022, adding another 2.4 miles of streetcar service in the city from Downtown Tacoma to the Hilltop Neighborhood via the Stadium District. At Roosevelt Station, the Cedar Crossing development — which includes 253 affordable housing units — is expected to open in mid-2022. Then in June 2023, Sound Transit will open the Link 2 Line with light rail service between Northgate Station and Redmond Technology Station via Downtown Seattle, Mercer Island, and Bellevue. Three more extensions will open in 2024 with the completion of the Lynnwood, Federal Way, and Downtown Redmond Link projects.

For more information, visit Sound Transit's special Northgate Link website.

Stephen is a professional urban planner in Puget Sound with a passion for sustainable, livable, and diverse cities. He is especially interested in how policies, regulations, and programs can promote positive outcomes for communities. With stints in great cities like Bellingham and Cork, Stephen currently lives in Seattle. He primarily covers land use and transportation issues and has been with The Urbanist since 2014.