As the Puget Sound Region comes out of a year's-long pandemic hibernation, local agencies are hard at work improving the wayfinding system for people walking, rolling, biking, and riding transit. The first sightings came last week with Seattle's new pilot wayfinding scheme in Downtown Seattle. Sound Transit is also embarking on tweaks to in-station navigation later this month with bigger changes in the fall.
Sound Transit's wayfinding updates
Ahead of the pandemic, Sound Transit rolled out specialized wayfinding in the fall of 2019 to aid rider navigation to exits and points of interest at Westlake, University Street, Pioneer Square, and International District/Chinatown Stations. Each exit was given a unique number and wall directories were posted to offer information on destinations and sights that could be found in relation to exits. The wayfinding strategy was based upon best practices used by systems like Hong Kong and Vancouver.
A year in, the wayfinding remains but the posted wall decals have begun to peel off walls since it was only meant as a pilot trial. Now Sound Transit is planning to change things up by revising the exit numbering system; exits will be denoted with letters instead.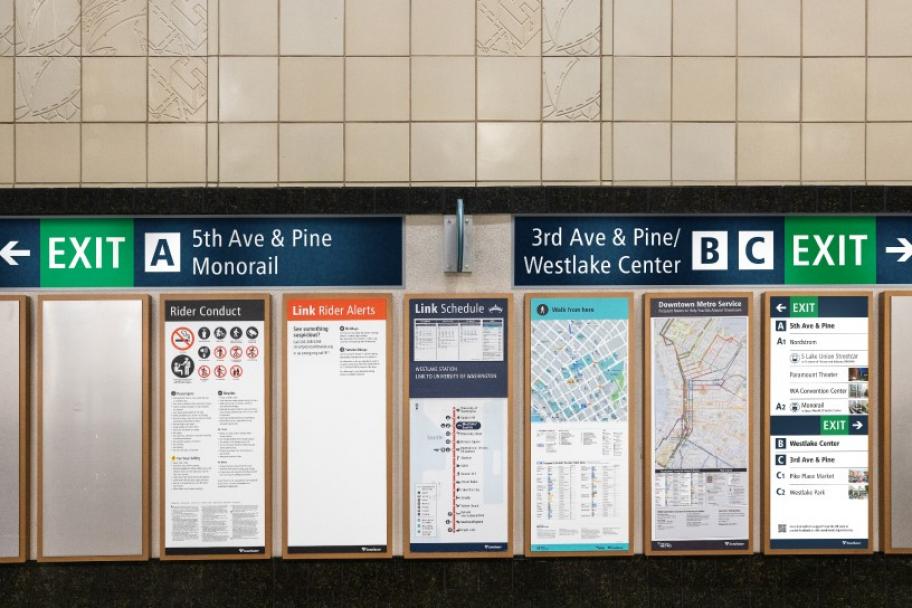 The letter approach will be distinctly different because only one letter will be assigned to a cross street even if there is more than one exit. The current number approach gives each exit its unique number even if multiple exits lead to the same cross street. To prevent confusion though, cross streets with multiple exits will be assigned a common letter with a secondary number to identify the specific exit. At Westlake Station this means that the 3rd Avenue and Pine Street exits will receive "C1" and "C2" identifiers to distinguish the north and south exits.
Sound Transit plans to start making the wayfinding changes toward the end of the month.
Further changes will come in the fall when the Northgate Link extension opens on Saturday, October 2nd. Sound Transit will take the opportunity to improve signage across the light rail system to align with the new alphanumeric nomenclature. Northgate Link and Central Link will become the 1 Line while Sounder and Tacoma Link are recast as the N, S, and T Lines. Other wayfinding and signage enhancements onboard vehicles and in stations will be implemented across the system.
Seattle begins rollout of Downtown wayfinding system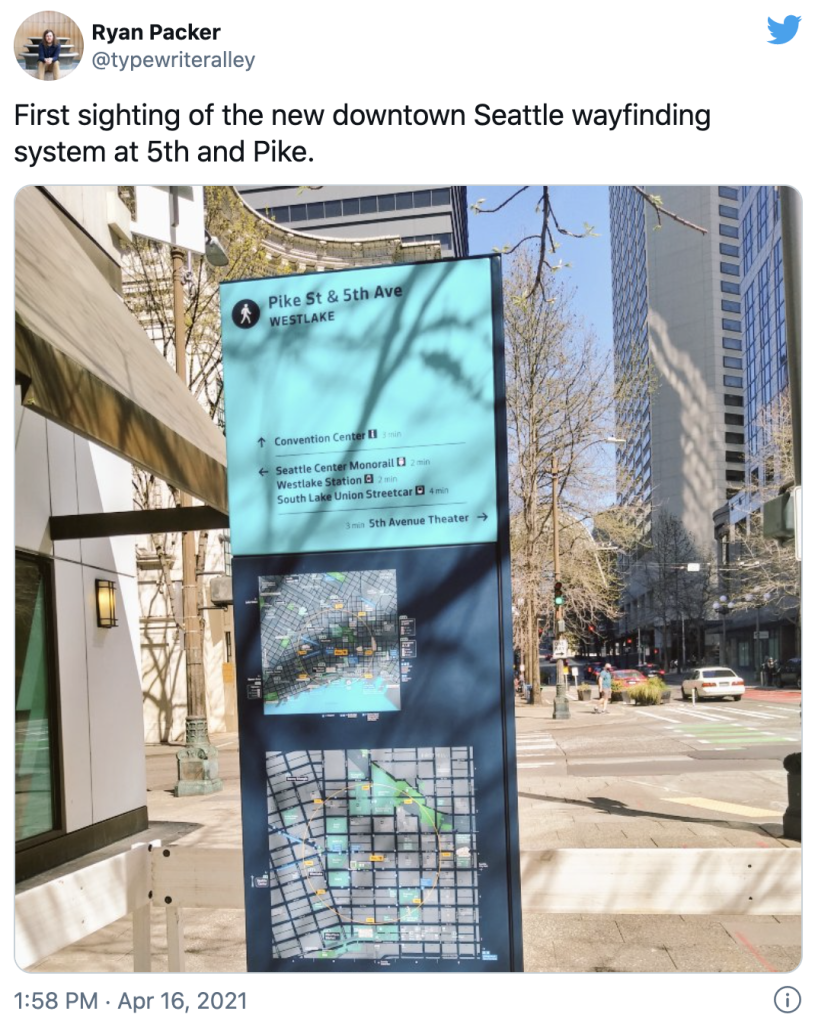 Ryan Packer, Senior Editor for The Urbanist, noticed that installation of Seattle's new wayfinding system had begun last week. A new area sign was being put into the sidewalk at the northwest corner of Pike Street and 5th Avenue. The city's wayfinding strategy is similar to programs in New York City, London, and Vancouver using a mix of sign types that provide various levels of details, including points of interest and local walking maps.
The area sign that Packer shared is a mid-sized totem that includes several features:
The nearest cross street and locality;
Key destinations with walking times and directions;
A local walking map with a directory; and
A wider block map.
The signs are designed specifically for their location so that a person looking at them will intuitively understand features in relation to the sign orientation. In other words, if a sign is being viewed on Pike Street in the easterly direction, the map and all directions will be oriented such that they match the viewing orientation.
Signs will come in nearly a dozen forms ranging from larger overview and area signs to nudge signs, sidewalk medallions, and tactile pole panels. Sound Transit is also using the same type of area maps in Downtown Seattle stations to provide a seamless manner of communicating how to get around.
The initial wayfinding program will be focused in the Westlake Hub and Jackson Hub areas. Most of the signage will therefore appear near the light rail and streetcar stations to test the waters where foot traffic from transit riders and visitors will be higher.
Depending upon the success of the program, Seattle may expand the program to other areas. Shaun Kuo, Junior Editor for The Urbanist, outlined the program staging last winter. "When the pilots (Stage 0) are finally implemented, SDOT will require a one year post-pilot review, planning, and budgeting process (Stage 1) for project expansion. The scale of Seamless Settle won't cover the entire street network as purely residential and industrial areas have been deemed inappropriate for the system," he wrote. "If the pilots prove valuable, the department is considering deploying the wayfinding system into Seattle's urban villages (Stage 3). SDOT prioritization is currently on downtown connections (Phase 2), but it is eyeing Link and RapidRide expansion in outlying urban villages as compelling early candidates for wayfinding expansion."
Timing to Stages 2 and 3 are still unknown, but getting through Stage 0 is a key first step. Expect to see more signage begin to appear across Downtown Seattle this spring.

Stephen is a professional urban planner in Puget Sound with a passion for sustainable, livable, and diverse cities. He is especially interested in how policies, regulations, and programs can promote positive outcomes for communities. With stints in great cities like Bellingham and Cork, Stephen currently lives in Seattle. He primarily covers land use and transportation issues and has been with The Urbanist since 2014.