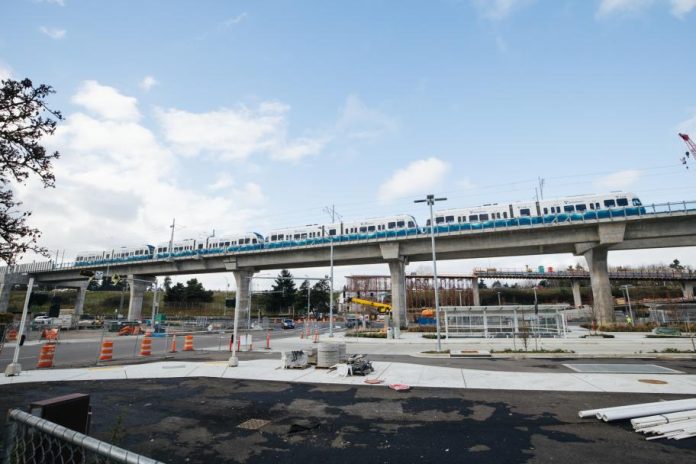 The critical window for light rail vehicle (LRV) burn-in and testing is still tight for Sound Transit's Northgate Link extension. Any further loss of time and problems could mean a delay to the start of service to Northgate in the fall. In a briefing last week, agency staff walked through the critical path and challenges that the agency is facing in getting the vehicles ready for revenue service. The agency's head, however, is still confident that the extension should be able to open on time.
Despite scheduling challenges, optimism prevails
In November, agency staff warned of LRV delivery and testing scheduling challenges for the Northgate Link project. Sound Transit had noted that project float had narrowed to two months, a small window for completing project elements and opening the extension on time. Only 26 of the 68 Siemens S700 LRV cars had been received at the time with 40 more still on their way for delivery. The schedule recovery plan stipulated having six LRV cars in service by early 2021 for burn-in and testing with 30 or more in service just before the scheduled revenue service date for the Northgate Link extension.
The total project float has narrowed further with only 42 days of float remaining. In the briefing last week, agency staff said that the fleet qualification process still faced risks. Unknowns like how the Covid pandemic may evolve could create new challenges and unanticipated delays to the process. Other demands for agency resources could also affect the schedule recovery plan.
Project management deputy director Tracy Reed, however, was somewhat optimistic that the schedule recovery plan would be successful. "We have a reasonably conservative projection that will allow us to achieve the fleet we need this year," she said. "We do need to get past this milestone of putting the first [qualification] train into service." She added that this process was likely to be completed in the next six or seven weeks with the first train. Sound Transit CEO Peter Rogoff also jumped into the conversation with a blunter view. "We remain confident that we will open Northgate on its intended schedule," he said.
As Reed noted, a key milestone for activation is conditional acceptance for each new LRV so that the vehicle can enter regular passenger service. As part of this, Sound Transit requires that there be at least six cars having reached the conditional acceptance stage before putting one full four-car train into service with two spares on hand. The agency anticipates having six cars reach conditional acceptance by the end of March, meeting those requirements. Thirty-seven train cars have been received so far and 20 of them are ready for testing in Seattle. More deliveries encompassing an additional 31 LRV cars for the Northgate Link extension still remain. Through 2024, Sound Transit will also continue to receive new LRVs to facilitate the sequential expansions of light rail for the East Link, Lynnwood Link, Federal Way Link, and Downtown Redmond Link projects with another 84 new LRV cars to support those expansions.
In recent weeks, Sound Transit has begun testing trains along the new Northgate segment from University of Washington Station. Trainspotters have reported seeing trains arrive and depart from the elevated Northgate Station.
Still, this is all a bit behind the November schedule recovery plan, which had hoped to already have six LRV cars in service and 40 LRV cars delivered. But Rogoff's confidence may be warranted if the agency can complete the qualification process soon and get 30 LRV cars fully burned-in and certified for regular passenger service under conditional acceptance. That will ensure enough vehicles are operational to provide the eight-minute peak headways that the Northgate Link extension is planned to start with.
The long, winding track of testing
Testing for LRVs began in July 2019 and has progressed substantially through the qualification process to verify that the vehicles will be reliable and meet system requirements. So far, more 95% of this process has been completed with only two qualification tests remaining from Siemens. Those involve a 1,000-mile "burn-in" of at least one LRV for proof of fleet performance and validation of cab computer operating performance.
The burn-in testing process essentially means putting a vehicle into physical operation in order to stress test it under various conditions. Stressing a vehicle through this process can expose faults and failures that might not otherwise present themselves under other testing processes, allowing for modifications to be conducted prior to final testing and certification.
Two LRVs are actively undergoing the burn-in testing process with one being used as the qualification vehicle. LRV burn-in of two-car trains is happening during regular Link service hours to simulate operations but are not accepting passengers at stations and are running in between headways of active in-service LRVs. All other new LRVs will also need to undergo a 300-mile burn-in test prior to entering service. A caveat to this is that the last 100-mile burn-in testing for each vehicle must be fault- and failure-free in order to enter passenger service. For now, the qualification vehicle still has open items before pursuing the last 100-mile burn-in, but it has surpassed the first 900 miles.
Sound Transit also needs to compete a systems integration test that validates the LRV overhead pantograph, which comes in contact with the overhead catenary wire, meets the performance design criteria. Physical testing of this latter item was completed last week, but the test results still need to be reviewed. Other small punch list items outstanding include things like the passenger information system and adjusting onboard heating units.
Since November, Sound Transit has resolved some key technical issues for qualification, including the interface of LRV onboard systems and wayside signal systems. The systems are no longer experiencing any deviation, which is important for safe operations. The agency has also updated software and verified the noise levels in the train cars are acceptable.
Safety and security certification, however, lags further behind the qualification process. Sound Transit reports that this is at 86% complete and in line with expectations as the agency works through documentation of each completed test. Right now, the agency is beginning to focus on training up operators on the new LRVs. That process is so far 25% complete.
Another update on the LRV delivery, testing, and service schedule will be provided in the spring.

Stephen is a professional urban planner in Puget Sound with a passion for sustainable, livable, and diverse cities. He is especially interested in how policies, regulations, and programs can promote positive outcomes for communities. With stints in great cities like Bellingham and Cork, Stephen currently lives in Seattle. He primarily covers land use and transportation issues and has been with The Urbanist since 2014.