The climate crisis is an accelerating problem–while President Joe Biden has re-entered the United States in the Paris Climate Accords, temperatures are still rising, and disasters are worsening in both frequency and impact. Much of the Pacific coast spent weeks of 2020 trapped inside, not just due to Covid-19 but due to the toxic clouds of smoke resulting from wildfires. The amber skies above San Francisco, Portland, Seattle, and elsewhere are a clear sign that we are experiencing the impacts of the climate crisis right now and drive home the urgency of this crisis. We must act quickly to address this challenge–and one of the most straightforward ways we can do this is by developing sustainable, zero-emissions public transportation in high-density areas.
Leveraging federal funds for Seattle and Washington state
Cars are the largest carbon emissions source in Washington State and account for more emissions in Washington State than all other emissions sources combined. Getting cars off the road by building sustainable, zero-emissions public transportation as part of a Washington State Green New Deal is crucial to addressing the climate crisis. With an estimated 1.8 million new residents expected to join the Puget Sound Region by 2050, the primary corridor for this transit development is the Puget Sound Region. In particular, Seattle has a massive opportunity to improve our transportation options while preparing for regional growth.
With President Biden's election, Seattle and Washington state have an opportunity to leverage his planned Build Back Better agenda and $2 trillion plan to build modern sustainable infrastructure and an equitable clean energy future. We can build Washington State's public transit system and create sustainable, well-paying jobs by leveraging the Biden climate plan's commitment to investing in sustainable transportation.
Biden wants to implement federal investments with strong labor protections to help fund the development of zero-emission public transportation for every American city with 100,000 residents or more. Washington State has nine eligible cities, with a 10th (Federal Way) close behind at approximately 97,000 residents. Even with no significant growth in the 2020 census, at least nine cities in Washington meet the size requirement for these federal investments, and of those cities, six (plus Federal Way) are in Snohomish, King, or Pierce county. They are already linked or planning to be connected through the Sound Transit system.
To prepare for this potential influx of federal dollars, we need a shovel-ready plan to prepare our region for growth and create a world-class transit system. Seattle Mayoral candidate Andrew Grant Houston's sustainable Seattle SST 2040 plan and the ST 2040 vision does just that while ensuring every Seattleite is within 10 minutes or 0.5 miles of some form of frequent transit.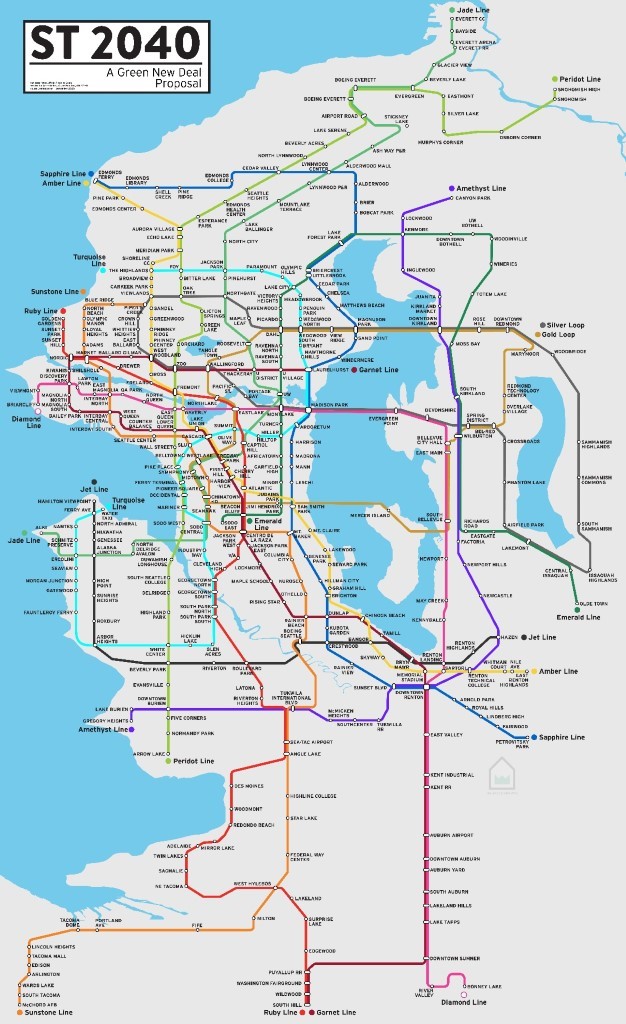 What is ST 2040?
With the approval of the $54 billion Sound Transit 3 (ST3) expansion in 2016, Sound Transit began developing the most ambitious transit expansion in the United States. The system expansion plans to include over 70 stations and 116 miles by 2041, with five lines across all three counties.
However, the sad truth is that the Sound Transit effort is an effort to catch up to other cities, not prepare us for the future. Seattle voters rejected mass transit investment at the ballot box in 1968 and 1970. It wasn't until 1996 that the first Sound Transit proposal was approved. This short-sightedness has left our region playing catchup on mass transit. 
We need to go further than the investments we've already made in ST3–by leveraging the Biden administration's public transit funding to implement a version of the sustainable Sound Transit 2040 (ST 2040) plan. ST 2040 builds off the first three Sound Transit ballot measures' success by creating a fully-fledged Link light rail system for the Central Puget Sound Region.
ST 2040:
Connects job centers and as many cities in the three counties as possible;
Leaves the system open outside of Seattle to allow local communities to influence the specifics of implementation;
Ensures every Seattleite is within one mile of a light rail station; and
Creates a massive transit system that can be built in 20 years while preparing us for tremendous regional growth.
To build out this world-class transit system, we can leverage federal investments in each of the six-plus cities that meet the Biden climate plans population, along with further state and local investment. Together, those six cities account for more than half of the total population of Sound Transit's jurisdiction, and if you include Federal Way, over 60%. They also represent over 20% of Washington's total population and the core of the state's financial muscle home to companies such as Microsoft, Amazon, REI, and many more.
With the concentrated impact of transit investment in this vital corridor, Washington state should be part of the funding package for this investment to meet our climate goals and develop the green economy. However, even without state investment, we can use the Biden climate investments in concert with local tax capacity, including a tax on major polluters in the Puget Sound region.
A tax on major polluters in the Puget Sound region;
A property tax increase (ST3 did 25 cents for each $1,000 of assessed valuation); and
A motor vehicle excise tax (ST3 did $80 annually per $10,000 of vehicle value).
Sustainable Seattle Transit 2040: A Green New Vision
Perhaps the most crucial part of the ST 2040 plan is investing in developing the transit system of the economic engine and population center of the Puget Sound Region—Seattle. Seattle is the jobs and housing center for the region, and with Andrews' vision for a Seattle-specific ST 2040 map, we can develop the city sustainably while adding hundreds of thousands of new residents. This plan could also be primarily paid for by federal investment and a tax on major regional polluters.
Seattle Sound Transit 2040 (SST 2040): 
Ensures every Seattleite is within 10 minutes or 0.5 miles of some form of frequent transit;
Builds off of the one-mile stops provided through the broader ST 2040 plan;
It uses streetcars to stitch together Link stations while also serving as a way to bring the focus back on the road as a destination as opposed to one that would otherwise split neighborhoods in half; and
Uses and builds off of Seattle's excellent bus system to provide unique cross-city connections and reach the city's furthest reaches.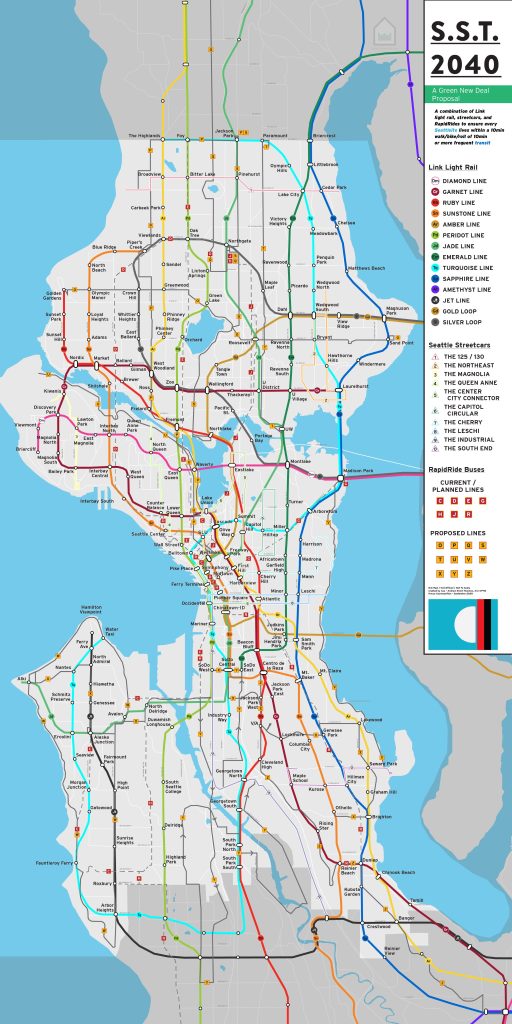 RapidRide and Bus Service
King County Metro has ambitions of connecting metro areas and ambitions of electrifying their bus fleet, but those ideas have mostly been unfunded. By presenting a package of ideas to the federal government, Seattle and King County Metro can be at the forefront of federal investment. Seattle RapidRide is a particular opportunity–RapidRide projects have qualified for the Federal Transit Administration's Small Starts investments program. With a climate mandate helping sweep Biden into office, we need to be prepared to leverage that funding for Seattle.
Currently, the RapidRide plans are underfunded–with less than three of the promised seven lines still planned for opening before the end of the Move Seattle Levy in 2024, and all delayed from their original dates. By leveraging newly available federal funding we can treat our bus system the way it should be–adding new RapidRide lines without sacrificing crucial local lines. One example of this is the currently planned addition of RapidRide R, which would eliminate the neighborhood 7 bus; we shouldn't have to pick between rapid regional service and local service.
To further ensure fast, frequent, and reliable transit, we also need to create more dedicated bus lanes. The bottom line is that buses move people more efficiently and less carbon intensively than cars, and prioritizing bus use opens more space for personal vehicles. In addition, when we prioritize public transit, we also enable people to choose a more sustainable option. With the right investments, our city and region can come out of the Covid-19 pandemic more resilient than ever.
Connecting the Dots
One of the significant challenges with proposing mass transit is that it can be extremely difficult for citizens (who ultimately pay for these systems) to see the full picture of something that may not be coming for years. With these maps and the activism of folks like Seattle Subway, our region has a concrete vision for what is possible. A renewed commitment to transit under the Biden administration will allow us to create the sustainable green future we all want, but we must have a clear direction for transit throughout our region. Through significant investment in sustainable public transportation in concert with enabling micromobility options, investment in sustainable housing development, and decarbonizing our ports, Seattle and the Puget Sound Region can lead the just transition to a sustainable economy and future for all.