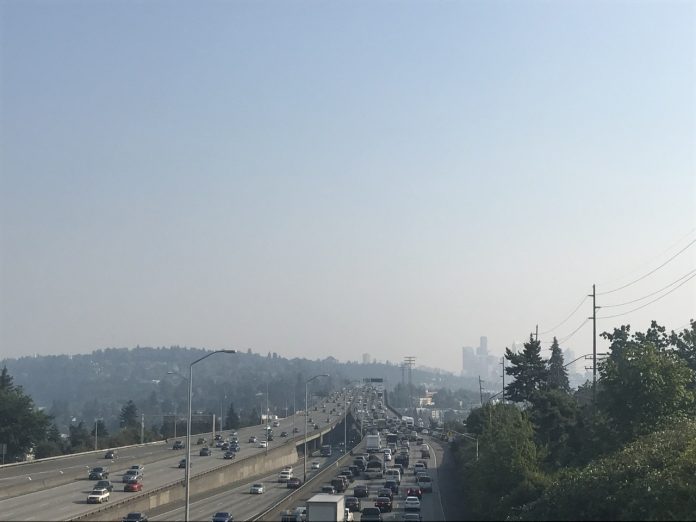 Last Wednesday, Washington's Senate Transportation Committee held a public hearing on the next statewide transportation funding package, dubbed "Forward Washington." The public hearing did not involve a specific bill, but rather a package of conceptual funding sources and expenditures for statewide transportation investments and environmental needs related to transportation.
Senator Steve Hobbs (D-Lake Stevens), chair of the committee, said that this public hearing was mainly to get feedback about the proposals and that a formal bill was "more of a next year thing." The public hearing was essentially a continuing conversation from last year when Senator Hobbs proposed revenue options to pay for highway priorities he'd identified.
While no bill has been formally filed, Senator Hobbs has released several revenue options that would raise approximately $18.8 billion to $19.2 billion in funding over 15 years–instead of 10 years like the previous concept–mainly for highway expansions and preservation.
During the committee meeting, Senator Hobbs said, "please don't flame me on social media too much… maybe give me some ideas." That appeared to be in reference to the vigorous disagreement both between the two state parties and within the Democratic party about transportation priorities and ways to fund them. Of course, there are ample other major critics from the public and advocacy organizations.
Washington's need for transportation revenue is increasing
The last major statewide transportation bill passed in 2015 when state legislative power was divided. Since that time, Sound Transit 3 and many local option funding measures have passed to advance transit, walking, rolling, and biking–priorities that the state legislature has largely avoided addressing. Only relatively minor adjustments to transportation funding have been made at the state level in the past five years, but state legislators have big problems on their hands besides how to pay for new priorities.
Last fall, a Tim Eyman's Initiative 976 (I-976) passed on the state level to cut annual car registration fees. Though the constitutionality of that measure is being challenged in state courts and has been restrained from implementation for now, the measure's passage has created political uncertainty in how to fund already-planned transportation priorities that are supposed to be paid through car registration fees. On top of this, the state is under court order to upgrade or remove culverts for fish passage and an immense amount of stormwater infrastructure.
Revenue sources under consideration
Under Senator Hobbs' proposals, the single biggest source of funding would either be a carbon fee or a carbon emissions permit program dubbed "cap and invest." Those funding mechanisms could raise between $8.1 billion and $9.2 billion alone. Other major funding sources would include fuel taxes, automotive parts sales taxes, impact fees on development, and ridehailing surcharges. The latter two options are relatively newish ideas for statewide transportation funding with impact fees having traditionally been reserved to local jurisdictions for local transportation investments.
In terms of revenue rates of the proposed taxes and fees, a funding summary lists out the major options, including:
A carbon fee with utilities (Option 1A) at $10 per metric ton on utilities and $15 per metric ton on carbon emissions from the sale of fossil fuels in the state, though there would be many exemptions;
A carbon fee without utilities (Option 1B) at $20 per metric ton on carbon emissions from the sale of fossil fuels in the state, though there would be fewer exemptions;
A cap and invest program (Option 2) that would reduce statewide greenhouse gas emissions over time by requiring emitters of 25,000 metric tons or greater of carbon per year to obtain pollution permits for a fee, though there were be several major exemptions;
A 6-cent (Options 1A and 2) or 8-cent (Option 1B) gas tax increase;
Transportation impact fees for new commercial, industrial, and residential development equal to 0.4%, 0.1%, and 0.2% of the assessed value of construction projects respectively;
A 1% sales tax on automotive parts (all options);
A 1% increase on the rental car tax (all options); and
A 50-cent per ridehailing trip (all options) regardless of whether it is provided by taxi, for-hire, or other app-based ride service.
Sustainable investments take a backseat to highways
While Senator Hobbs is trying to spin his proposal as a "transportation and environmental bill," the initial project list epitomizes everything that is wrong with long-standing state transportation priorities. Well over 86% of project list funding would go to highways (about $12.71 billion) with over 92% of that in highway expansions (about $11.71 billion). Aside from ferries, sustainable transportation investments would be a meager $78.8 million or 0.5% of the project list funding.
So far, the project list would only fund five specific sustainable transportation projects. $25 million would go the Division Street bus rapid transportation project planned for Spokane and $53 million for two trail projects in Skagit and Snohomish Counties. $500,000 would be allocated for be provided for bike and pedestrian safety connections between Puyallup and Tacoma. Additionally, $300,000 would be directed to sidewalk improvements on US Route 101 from N Valley Dr to N Reservation Rd in Olympia. The paltry project list should be clear indication in how little thought has been put into the proposal after more than a year of discussions.
Looking at a wider lens of the proposed budget, which includes portions that would not be line-item program projects, more sustainable and environmentally-friendly investments do appear to get a better but small share of the pie. Walking, biking, and transit programs would constitute 6.75% (about $1.16 billion) of the $17.14 billion budget–this is on par with last year's proposal–while ferries would get another 8.16% (about $1.04 billion) of the budget. Fish barrier removal would be the largest environmental priority receiving 20.36% (about $3.50 billion) of budget funding.
The real purpose of the spending plan is massive highway expansion programs. While the new carbon-reduction revenue will be primarily directed to environmental investments, other new revenue would be used to support negative environmental outcomes in the form of hundreds of new miles of highway lanes across the state. To top this off, his proposal includes environmentally-backward revenue approaches, which would involve a 1% sales tax on bicycles and another 25-cent surcharge increase paid by all state ferry users, not just motorists.
Climate is largely overlooked by vested interests
Most people who turned up to the public hearing last week were representatives for cities, counties, and private transportation- and energy-based industry. Feedback presented was largely focused on new road projects and discouraging certain tax incidence on industry. It was non-profit organizations that came out in force to place a lens on equity and environmental justice issues surrounding taxation and transportation investments.
Some advocates voiced their preference for a carbon fee over a cap and invest system for funding because standalone cap and trade programs are not as effective at justly reducing carbon emissions as their proponents proclaim. They also urged state legislators to focus serious transportation investments in walking, biking, and transit instead of highway expansions.
Spin off fish barrier removal and propose a sustainable transportation bill
To make the proposal honest about its environmental implications, the fish barrier funding should be dealt with separate and apart from anyway Forward Washington package. The state is already under court order to remove fish barriers. Including this in the package is not actually advancing additional environmental objectives, it is doing the bare minimum to meet a court order.
A legitimately environmentally-oriented transportation proposal would reject the notion of further highway expansion across the state and put walking, biking, and transit investments front and center. This is critically important in achieving the state's greenhouse gas reduction targets in a timely fashion, increasing mobility options, and enhancing the state's economic competitiveness.
At less than 9% of the budget proposal when discounting fish barrier funding though, sustainable transportation investments make up a pittance of Senator Hobbs' transportation budget priorities. There is no credibility in the idea that these proposals are environmentally-minded, so the state legislature would be wise to either vastly rework the proposals or simply reject them.

Stephen is a professional urban planner in Puget Sound with a passion for sustainable, livable, and diverse cities. He is especially interested in how policies, regulations, and programs can promote positive outcomes for communities. With stints in great cities like Bellingham and Cork, Stephen currently lives in Seattle. He primarily covers land use and transportation issues and has been with The Urbanist since 2014.