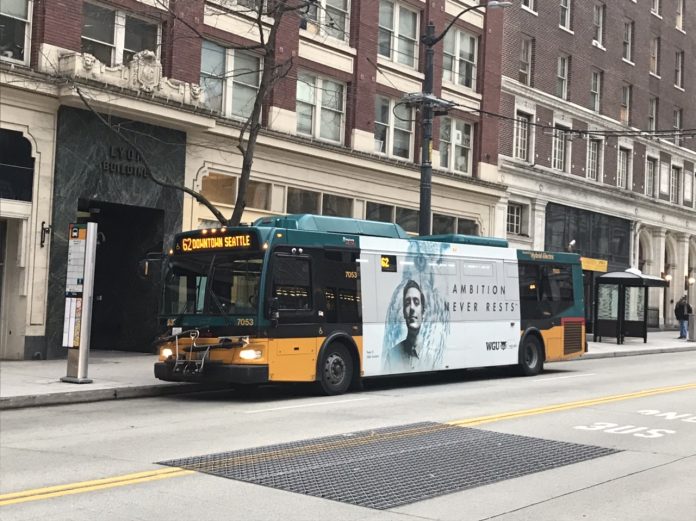 The King County Council is poised to adopt an income-based fare program to be used on King County Metro services. On Wednesday, the county council's Mobility and Environment Committee passed an ordinance and motion that would would give Metro the authority to offer free or further reduced fare options to qualifying riders. The income-based fare program is contingent on additional appropriations funding from the county council.
Metro currently participates in the ORCA Lift program, which offers standard reduced fares for individuals who have household incomes up to 200% of the federal poverty line. Those fares are set at $1.50 per ride or the equivalent monthly ORCA pass.
Under the initial income-based fare program, individuals would need to meet several pieces of criteria to participate. The first criteria is being part of a household with income less than 80% of the federal poverty line. The second criteria is enrollment in one or more of six state social welfare programs, such as Supplemental Security Income and Pregnant Women Assistance, that have the same income eligible threshold. Approximately 54,000 individuals in King County could qualify for the program based upon the eligibility criteria out of 140,000 people who have household incomes below 80% of the federal poverty line.
The income-based fare program would give participants transit passes that fully cover the cost of Metro services, but the passes might only cover a portion of other fares otherwise due to other transit providers where a pass is used. Services fully covered by the pass will be all Metro buses, Access, Trailhead Direct, Via, King County Water Taxi, Seattle Streetcar, and Seattle Monorail. Sound Transit has not yet committed to participating in the program. Other ORCA Lift-participating transit agencies will receive a partial subsidy, but additional fare may need to paid out of the ORCA E-purse and non-ORCA Lift-participating transit agencies will charge full fares. Beneficiaries of the income-based fare program will need to be aware of the restrictions and Metro will work to communicate those.
Administering the program is estimated to cost $30 million this year since the start-up period may take awhile. Over the next two years, the program costs are projected to rise to about $40 million per year. However, those costs are largely offset by revenues from the fares paid by transit pass use with about three-quarters being recovered.
Ongoing program evaluation will be carried out as it technically falls into a pilot program. Annual evaluations will need to be provided at least through 2024. The county council hopes to get information on how many people are participating and how often they make trips as well as mobility outcomes for participants and program costs. The evaluation reports could also come with recommendations on how to improve program performance.
The program is anticipated to be launched this summer, perhaps by July. The county council must still approve the authorizing ordinance and motion, which should happen soon.

Stephen is a professional urban planner in Puget Sound with a passion for sustainable, livable, and diverse cities. He is especially interested in how policies, regulations, and programs can promote positive outcomes for communities. With stints in great cities like Bellingham and Cork, Stephen currently lives in Seattle. He primarily covers land use and transportation issues and has been with The Urbanist since 2014.