News broke yesterday that the Washington State Supreme Court had upheld the King County Superior Court's injunction against Initiative 976 causing transit backers to rejoice. The 6-3 decision agreed with the lower court that the plaintiffs (which include Garfield County, King County, the City of Seattle, and Intercity Transit) had demonstrated an immediate harm from the transit cuts that I-976 set in motion that outweighed the harms to motorists. Moreover, the constitutional case against I-976 is "debatable," the majority diplomatically grants in its ruling.
This sets the stage for the King County Superior Court Judge Marshall Ferguson to see the case though and issue his final ruling–which may be appealed again to the State Supreme Court. While an upheld injunction doesn't guarantee the case's ultimate success, it is a promising sign and for both courts.
Washington State Attorney General Bob Ferguson, who is representing voters in defending the initiative as is his office's duty, announced the emergency appeal directly to the State Supreme Court on November 27th. The maneuver intended to overturn the injunction and ensure that I-976 went into effect on December 5th as stipulated in the initiative. Attorney General Ferguson noted he had directed his team to work over the Thanksgiving weekend to get the paperwork ready. They filed that paperwork Monday.
Unconstitutionality is a problem perennial initiative backer Tim Eyman has run into before. It appears Eyman hasn't boned up on the state constitution in the interim, as I-976 tripped up prohibitions on misleading ballot language and the single-subject rule, which had been a problem for him before, including on previous $30 car tab iterations.
King County said it would have had to sign a contract with operators on December 6th that would have locked in transit cuts. That helped tilt the immediate harm in favor of plaintiffs. Luckily those transit cuts–totaling 175,000 service hours–are now forestalled and hopefully averted for good.
Washington State, meanwhile, has taken a different tact. Governor Jay Inslee has announced that the state would implement transportation funding cuts and hold car tabs in escrow while the case is decided. A few programs–including some state road safety projects–will avoid the cuts. That would prevent a complicated mess if I-976 is ultimately validated and the State ends up having to refund car owners and backfill programs with budget holes blown in them.
That safe move also insulates the State in case state legislators led by defeated ship captain (see his earlier metaphor) and Senate Transportation Chair Steve Hobbs (D-Lake Stevens) end up passing transit cuts anyway, as he has threatened to do. Almost 53% of statewide voters in the November election voted for I-976, and Hobbs–who has a history of prioritizing highways rather than transit–seems to view that narrow result as a mandate against transit.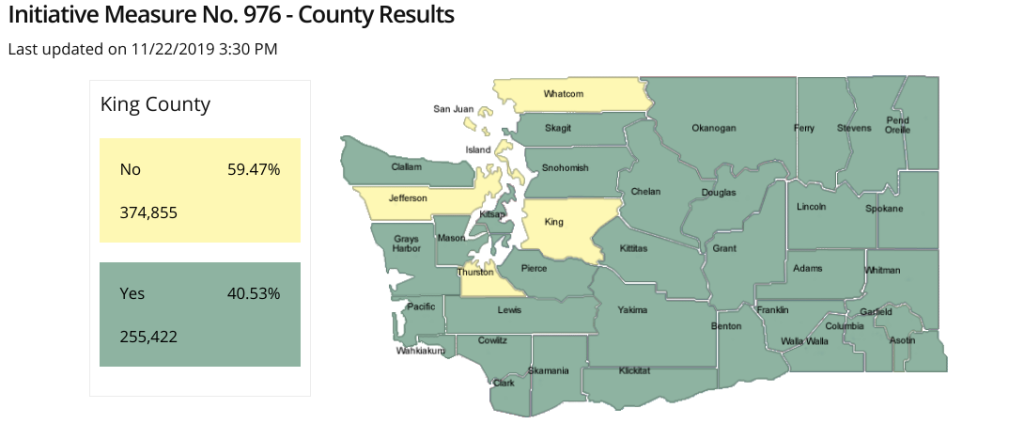 However, six counties rejected I-976 and it was basically a draw in Kitsap County. More than 59% of King County voters opposed the anti-transit initiative. A whopping 75.9% of Seattle voted against it. Despite Eyman's harangues against Sound Transit, I-976 failed in the Sound Transit taxing district–by roughly the same margin at the Sound Transit 3 package passed–as Seattle Subway pointed out as they urged the State to fund transit.
A significant portion of Sound Transit 3 was funded from the motor vehicle excise tax (MVET) by vote of the Sound Transit taxing district because the State didn't fund transit directly, instead holding hostage Greater Seattle's right to tax itself to fund high capacity transit to a slew of highway sprawl projects hostage. The state legislature also approved the MVET (and car valuations it uses) in the first place, before getting fixated on cutting car tabs, particularly for the wealthy owners of high value cars–albeit unsuccessfully. And Democrats still cruised to a resounding victory within the taxing district despite fear-mongering about the political implications of maintaining car tab fees.
In the near future, the state legislature hopefully will get engaged in funding transit proactively rather than throwing up road blocks and second guessing.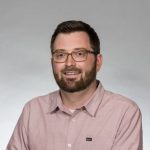 Doug Trumm is publisher of The Urbanist. An Urbanist writer since 2015, he dreams of pedestrianizing streets, blanketing the city in bus lanes, and unleashing a mass timber building spree to end the affordable housing shortage and avert our coming climate catastrophe. He graduated from the Evans School of Public Policy and Governance at the University of Washington in 2019. He lives in East Fremont and loves to explore the city on his bike.