King County Superior Court Judge Marshall Ferguson granted an injunction on Initiative 976 this morning, pausing 175,000 hours worth of transit service cuts in the county and countless more impacts statewide. Timed just before the Thanksgiving holiday, the injunction should put transit advocates in a thankful mood. An injunction is only a reprieve rather than a permanent invalidation of I-976, but it does bode well for the outcome of the case.
Sound Transit got an even bigger reprieve as the counsel for the State conceded that the section of I-976 that sought to force Sound Transit to retire or defease bonds backed by the Motor Vehicle Excise Tax (MVET) has no deadline, making it pretty much impossible to enforce. Sound Transit wouldn't have to lower the MVET until those bonds are paid off, although it may not be able to bond off the MVET going forward unless I-976 is thrown out.
On Tuesday, Judge Ferguson heard oral arguments on the injunction at King County Courthouse. Garfield County brought the case against I-976 along with King County, the City of Seattle, Intercity Transit, the Amalgamated Transit Union, and others. The plaintiffs have levied many constitutional complaints against I-976, but it seemed the charge that ballot language was misleading and violated the "subject-in-title" rule in particular seemed to resonate with the judge yesterday.
"The ballot title states that 'voter-approved charges' are excepted from the $30 limit on motor vehicle license fees, but Section 2 of I-976 indicates that only charges approved by voters after the effective date of I-976 are excepted from the $30 limit," Judge Ferguson wrote in his decision. "In other words, all existing voter approved charges are apparently extinguished by I-976, even though the ballot title suggests that all voter approved charges, past or future, survive I-976."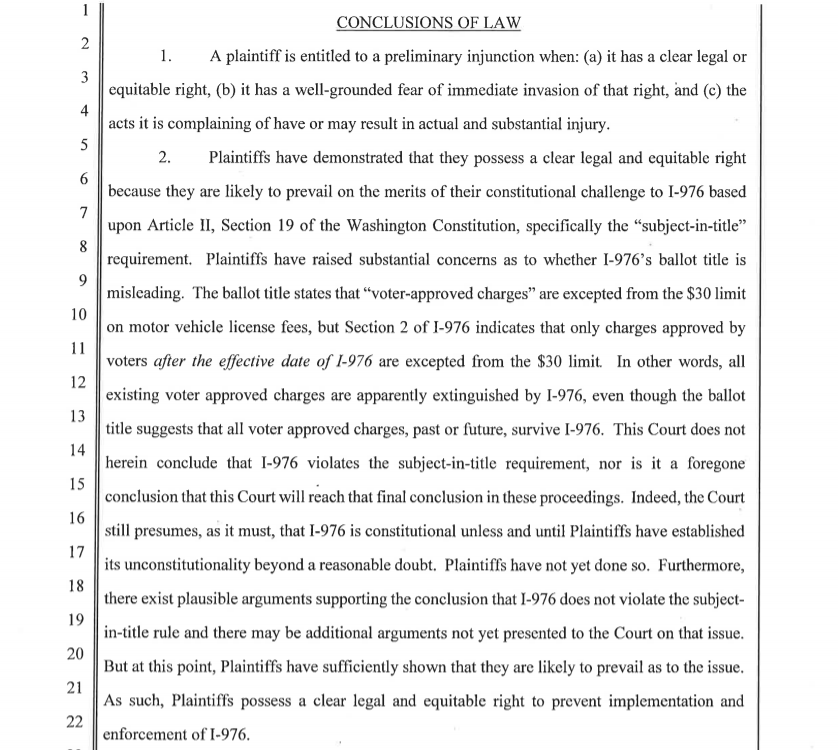 This isn't to rule that I-976 is unconstitutional, Judge Ferguson continues, but "at this point, Plaintiffs have sufficiently shown that they are likely to prevail as to the issue." Thus, plaintiffs have a "clear legal and equitable right to prevent implementation and enforcement of I-976," the judge said. The judge set a deadline of December 5th to file additional motions, briefings, or hearings. That is also the date that I-976 would have gone into effect (save for Sound Transit) if not for the injunction.
Counsel for the City of Seattle made the argument that state initiatives lack the power to overturn the will of Seattle voters, who overwhelmingly rejected I-976 and overwhelmingly passed the car-tab-funded Seattle Transportation Benefit District in 2014 (with 62.4% of the vote) and the Sound Transit 3 ballot measure in 2016 (with about 70% of the vote). The judge seemed less moved by this as a constitutional argument, but time will tell as the full case is argued. The transit plaintiffs may only need to prevail on one of their charges to invalidate I-976. There is also a possibility the court will strike down some aspects while preserving others. For now, cuts are delayed, at the very least.
"This injunction allows us to continue our ORCA Opportunity program, which provides free transit passes to more than 14,000 Seattle residents," Mayor Jenny Durkan said in a statement. "A supermajority of Seattle voted this irresponsible measure down in Seattle. That is because Seattle votes every day with our feet and with our dollars to invest in more transit." The Mayor is correct that transit has been popular in Seattle, where we've lead the nation in transit ridership growth and in lowering car ownership rates.
I-976 mastermind Tim Eyman was circling like a vulture at the injunction hearing and his prey–video cameras pointed at his face–was easily found. Eyman took the opportunity to criticize the plaintiffs and gloat about statewide passage of his initiative, while ignoring the havoc it will wreak for transit-dependent people.
Eyman announced a run for governor on Thursday at a Sound Transit Board meeting–an agency he's made it his mission to undermine if not disband completely. As local governments try to extract themselves from the draconian cuts he set in motion, Eyman has claimed a King County Superior Court has no ability to overturn the statewide initiative. He's also urged car owners to boycott their car tabs in contradiction of the law. The judge's ruling would make that doubly unlawful.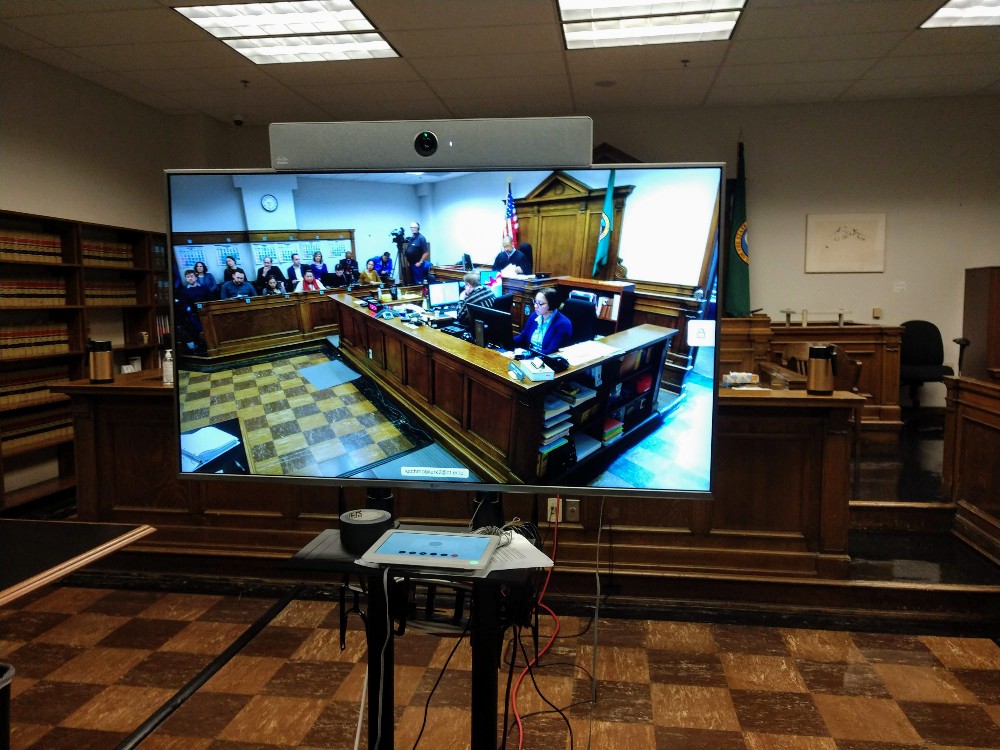 At that same meeting Thursday, Sound Transit announced that its legal department doesn't believe I-976 applies to its taxes since the MVET is different than car tabs that counties and cities levy via transportation benefit districts. Plus, it's secured by bonds held by bondholders who possess legal rights under the state constitution. Thus, Sound Transit isn't yet implementing any cuts. Car tabs are typically flat and the MVET progressively scales to the estimated value of the vehicle. I-976 sought to stretch the definition of car tab to cover both–and in common parlance sometimes the term is used that way–but legally the sloppy definition work in the initiative does not appear binding.
"While I-976 passed statewide it failed within the Sound Transit District. The current estimate of 53 percent opposition is almost identical to the 54 percent who adopted the Sound Transit 3 program in 2016," Redmond Mayor and Sound Transit Board Chair John Marchione announced Thursday. "For the second time in just three years, the district voters who actually pay Sound Transit's motor vehicle excise tax have endorsed its continuation to finance the transit expansions our region so desperately needs."
"The initiative and the Attorney General's voter pamphlet summary both make clear that state law requires the MVET to be collected until Sound Transit's bonds are repaid," the statement continues. "No action by the Board is needed or prudent at this time." If the MVET were to be stripped without replacement funding, the agency said its finances and project timelines would be devastated.
"While Sound Transit would lose a forecasted $7.2 billion in MVET and rental car tax revenue through 2041, the fiscal impact to regional taxpayers of delaying voter-approved projects would be far greater," Sound Transit warned in a Thursday press release. "To illustrate the order of magnitude of these impacts, staff analyzed a hypothetical delay of future Sounder expansions and light rail extensions to Everett, Tacoma, West Seattle, Ballard, South Kirkland and Issaquah by five years, the amount of delay that would be necessary to deliver these projects without MVET and rental car tax revenues. In this scenario, inflation and increased interest costs would require the collection of an additional $25 billion in taxes from local taxpayers. The date by which Sound Transit taxes would eventually be rolled back would be delayed by approximately 12 years."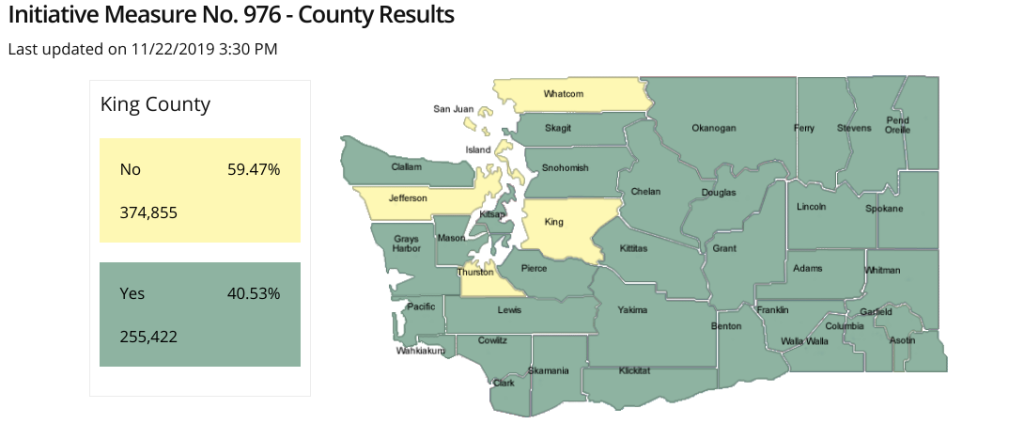 If the Judge Ferguson continues to sides with the plaintiffs, worst case scenarios would fortunately remain hypothetical and the only threat would be if the Washington State Legislature intervenes to enforce a narrowly conceived "will of the people"–as fractured as it was in the vote. Even with misleading ballot language, I-976 carried less than 53% of the statewide vote and failed in six counties–King, Whatcom, Thurston, Jefferson, Island, and San Juan–and was a near-tie in Kitsap County.
Senate Transportation Chair Steve Hobbs (D-Lake Stevens) had said he'd like to go forward with the cuts regardless of what's happening with the lawsuit, sounding like a salty sea captain as he said "the ship's going down." But, with the injunction, maybe he'll cool it. On the other hand, if the judge ultimately rules I-976 is constitutional, then local jurisdictions and the state may have to pay back collected fees stayed during the injunction.
Advocates should continue to pressure state legislators and write them to express strong support for transit. Urge them to hold firm in these storm-tossed seas. This ship doesn't have to go down. Let's not steer it into any icebergs.
Update: Washington State Attorney General Bob Ferguson announced this afternoon his intent to file an emergency appeal directly to the State Supreme Court to overturn the injunction and ensure I-976 goes into effect on December 5th. Attorney General Ferguson noted he has directed his team to work over the Thanksgiving weekend to get the paperwork ready.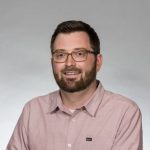 Doug Trumm is publisher of The Urbanist. An Urbanist writer since 2015, he dreams of pedestrianizing streets, blanketing the city in bus lanes, and unleashing a mass timber building spree to end the affordable housing shortage and avert our coming climate catastrophe. He graduated from the Evans School of Public Policy and Governance at the University of Washington in 2019. He lives in East Fremont and loves to explore the city on his bike.