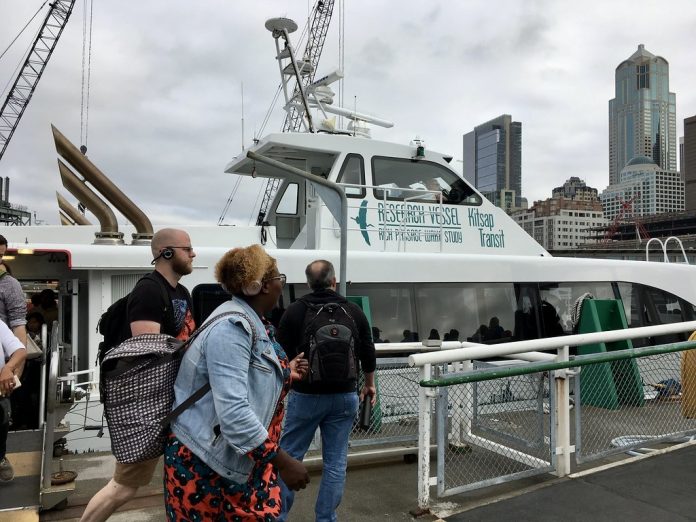 This week's Transpo Notes roundup touches on Seattle Monorail fare increases, a new Eastrail bridge, transit funding car lanes in Kirkland, new U District bus lanes, updates to Sound Transit Title VI policies, Washington State Ferries restoring service, and Kitsap Transit planning a new ferry landing site in Seattle.
Seattle Monorail fares are proposed to rise
The City of Seattle, which owns the Seattle Monorail, is proposing a two-stage fare increase. Adult fares (ages 19 to 64) are currently $3.00 but would rise 50 cents in the next seven months. The first 25-cent increase would come in July followed by a second 25-cent increase in January. Likewise, fares for youth, senior, low-income, and other qualifying riders would rise 25 cents from the $1.50 fare of today, but the increase would come in January. Both sets of fare increase represent a 17% cost increase.
The Seattle Monorail was brought into the ORCA pod just three years ago. That was a big deal, allowing transit riders to make transfers between other transit modes while using their ORCA cards. That, however, meant adult fares needed to increase to offset costs. At the time, an adult fare was only $2.50.
The City of Seattle is accepting comments on the fare change proposal through June 27th. A public meeting on the proposal will be held online on June 22nd at 4:30pm.
New bridge for Eastrail breaks ground
Last week, King County Parks broke ground on a critical piece of the Eastrail in Bellevue. The NE 8th Street Eastrail Bridge, as it is known, will cross the very busy NE 8th Street in the Wilburton neighborhood. The street is an awful stroad and carries about 40,000 per day. While pedestrian and bike overcrossings are best avoided where possible, this location is ideal if only to make headway on a complete Eastrail.
The bridge will be 500 feet long and 16 feet wide, offering a comfortable transition for people walking, rolling, and biking. It will also provide a connecting to the new light rail station opening in 2024. Completion of the project is expected in the fall of 2023 and cost $16 million. Funding for the project is coming from Sound Transit ($3 million from the System Access Fund) and King County ($13 million from the King County Parks Levy).
Kirkland funding agreement hands out scarce Sound Transit dollars for car infrastructure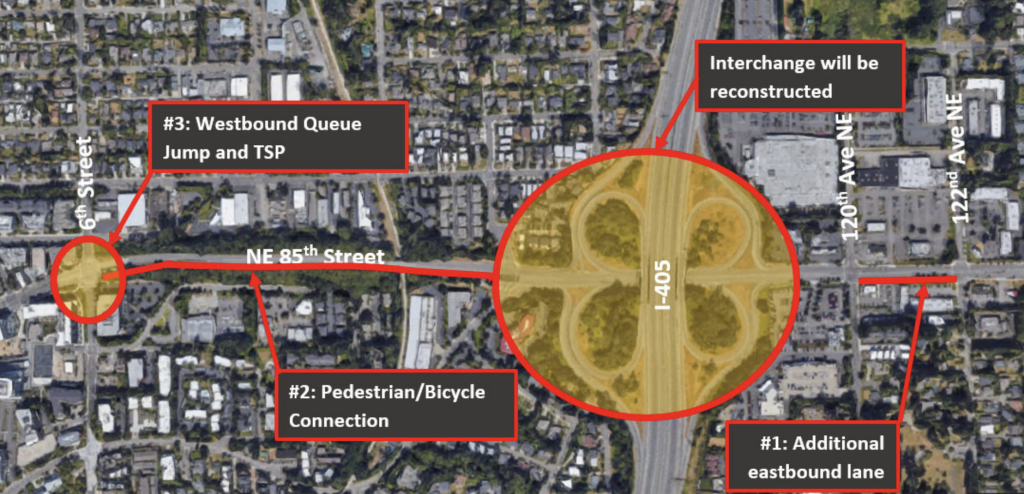 In Kirkland, Sound Transit planning to fund right-of-way projects related to NE 85th Street/I-405 interchange boondoggle that the agency got dragged into for its I-405 bus rapid transit (BRT) program, which is slated to cost well over $287 million. Under a proposed motion, the agency is planning to spend a further $16 million for the project.
The motion specifies funding commitments to the City of Kirkland for three project elements. These include a pedestrian and bicycle trail connection between the NE 85th Street BRT station and 6th Street, a queue jump and signal for buses heading in the westbound direction at the intersection of NE 85th Street and 6th Street, and new lane on NE 85th Street between 120th Avenue NE and 122nd Avenue NE in the eastbound direction. It's the latter of these projects that should raise eyebrows.
The additional lane on NE 85th Street would consume about 25% of the proposed funding allocations and serve as yet more I-405-related freeway infrastructure — in this case, surface street car storage. The project serves no meaningful transit function since it would be a general purpose lane for right-turning vehicles and is specifically being proposed to satisfy the Washington State Department Transportation — the same agency that has supersized the planned interchange that mostly only benefits people driving.
Eventually, the area east of the NE 85th Street/I-405 interchange is supposed to be a booming walkable, transit-oriented urban center. However, NE 85th Street is already a wide and miserable arterial street to walk along with few crossings. It serves as a real barrier to an urban center, but the menacing presence of I-405 makes it even worse. Expanding the main street yet again will only further degrade the potential urban center and risk the lives of people who there.
If you oppose the abuse of transit funding being used for the convenience of people driving alone, email the Sound Transit Board of Directors at emailtheboard@soundtransit.org.
New U District bus lanes
Last week, the Seattle Department of Transportation opened new bus lanes in the University District. The lanes run eastbound between Roosevelt Way NE and 15th Avenue NE, a five-block distance. As a bit of compromise, the lanes do allow cars into them for turns, so they technically are business access and transit (BAT) lanes. The change, however, has been noticeable with the lanes largely operating free of cars in a very congested corridor.
King County Metro says that the corridor serves about 20,000 bus riders on weekdays. Seven routes will benefit from the changes, including Routes 20, 31, 32, 44, 48 (on Saturdays), 49, 70, 167, 372, and 586. Last year, SDOT also installed bus lanes on a portion of 15th Avenue NE and NE Campus Parkway. As part of the wider Route 44 corridor, SDOT plans to deliver further speed and reliability improvements in Wallingford, Phinney Ridge, and Ballard later this year.
Washington State Ferries restores some service
On Tuesday, Washington State Ferries announced that three routes had reached fully restored service levels. Those include the Seattle-Bainbridge, Mukilteo-Clinton, and Anacortes-San Juan Islands routes. Several routes still remain on reduced, alternate schedules due to persistent staffing shortages. The agency was forced to cut back service in October when reliability fell off the cliff.
Washington State Ferries has a priority-based approach to restoring service, which is as follows:
Edmonds-Kingston;
Fauntleroy-Vashon-Southworth;
Seattle-Bremerton; and
Port Townsend-Coupeville.
The agency has been making progress in staffing up, but still has a ways to go. For the time being though, the Sidney, British Columbia-Anacortes route will remain suspended, presumably for the whole year.
Sound Transit updating Title VI policies
Sound Transit recently ran a very brief survey on proposed updates to its federally-mandated Title VI policies. The agency has four principal changes in mind:
Revising the measure for when changes constitute a major service change. Under the current methodology, "platform service hours" — which includes time that vehicles are picking up riders and traveling to and from bases — is used. The update would use just "revenue service hours," which is the time vehicles are picking up riders. It's a better measure of a major service change by focusing only on impacts to riders.
Reducing the distance that a bus stop can be moved before triggering a major service change. Under current practice, the threshold is a half-mile. The update would reduce this to a quarter-mile.
Reducing the distance between bus stops at which elimination or closure of a bus stop without replacement would trigger a major service change. Under current practice, the threshold is a half-mile. The update would reduce this to a quarter-mile.
Increasing threshold of changes for service and fare changes before assuming disparate impact and disproportionate burden. Right now, the threshold is 0% but the proposed changes would adjust this depending upon the type of change action proposed to reduce Title VI impact analyses in cases where they might not be warranted.
Final updates are expected to be approved this summer.
Kitsap Transit planning a new ferry landing site in Seattle
Kitsap Transit is planning a permanent passenger-only ferry terminal in Seattle for its three Fast Ferry services. The agency currently operates routes from Bremerton, Southworth, and Kingston to Pier 50 (owned and operated by King County Metro). The pier is shared with the King County Water Taxi but can only handle two ferries at a time, which is a capacity constraint on service. As a result, Kitsap Transit is evaluating potential landing sites from Pier 70 to Pier 46.
The agency has produced an early scoping report, which is required as part of the environmental review process and qualification for federal funding. Details are fairly light at this point, but the benefits of colocation of ferry and transit services should be obvious. An additional landing site at Colman Dock should be the preference since it allows good access to Downtown Seattle, frequent bus service, and other ferry options. For instance, colocation will continue to allow riders to choose if complementary Washington State Ferries service to Bremerton is something they want to use for trip time flexibility or when Kitsap Transit boats are out of service. Another landing site elsewhere along the waterfront would complicate such choices and benefits of the current site.
The agency is accepting comments on the project through June 12th.

Stephen is a professional urban planner in Puget Sound with a passion for sustainable, livable, and diverse cities. He is especially interested in how policies, regulations, and programs can promote positive outcomes for communities. With stints in great cities like Bellingham and Cork, Stephen currently lives in Seattle. He primarily covers land use and transportation issues and has been with The Urbanist since 2014.