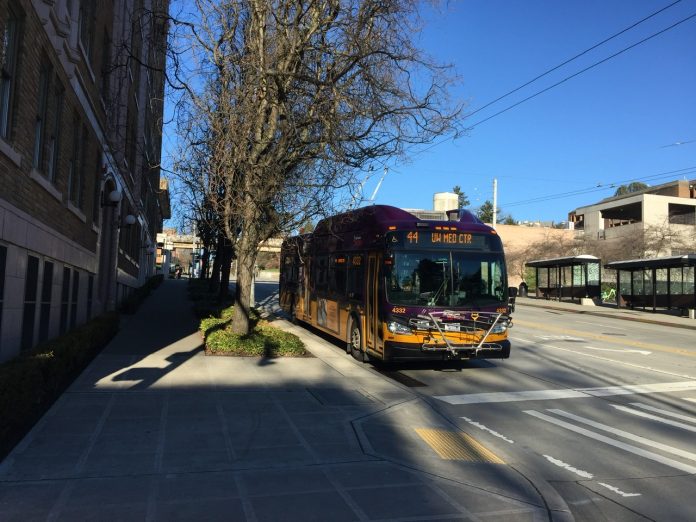 The Seattle Department of Transportation (SDOT) is rolling out a temporary emergency bus lane in the University District this weekend. The bus lane is in response to congestion caused by the closure of the Montlake Bridge over the next few weeks. Earlier this week, bus riders like Daniel Heppner alerted the agency to seriously delayed buses trying to get to and from the University District that are being funneled over the University Bridge.
Montlake Bridge is closed for repairs by the Washington State Department of Transportation through 5am Friday, September 3rd and is a key pathway for many bus routes, including Routes 48, 255, 271, 542, and many others. With the bridge closure beginning on Monday, it quickly became a source of problems for King County Metro bus service. Dozens of buses found themselves gridlocked with mounting and cascading delays. Throughout the week, reliability and delays have continued to be a challenge as people adjust to the bridge closure. Evidently the outcry has led to SDOT taking nimble action to address the problem.
In a blogpost, the agency acknowledge the pain to bus riders and hit on the need to address induced demand. "The Montlake Bridge closure has been challenging for all sorts of travelers, and especially for people riding the bus," the agency wrote. "Solving this problem was a high priority for us because buses carry a lot more people than cars, so reducing bus backups will benefit more people than any other kind of change. We'll continue to closely monitor traffic throughout the U District and look for other opportunities for improvements to help people getting around in other ways." The agency also added: "This is also important because every person taking a bus means one less car on the road, which is an incredibly important way to help address congestion. We are very thankful for everyone who is choosing not to drive alone, and want to do what we can to make sure that this stays a reliable option."
SDOT's initial solution is a five-block temporary bus lane on NE Campus Parkway that will be in effect 24 hours a day, seven days a week. This street is a main east-west corridor with two lanes in each direction, separated by a boulevard median, that brings buses to the heart of the University District and University of Washington. The temporary bus-only lane, however, will only be located on the right lane in the westbound direction. SDOT plans to install the lane on Saturday, August 14th, stating that "there's no time to lose."
SDOT does plan to add other bus lanes in the University District. Unfortunately, none of them were planned to precede the Montlake Bridge closure. Early implementation of a new business access and transit (BAT) lane on 15th Avenue NE will be installed later this month. Additional bus lanes on NE 45th Street are slated for later this fall.
While the temporary bus lane NE Campus Pkwy is certainly a welcome and appreciate spot improvement, there are also dozens of buses crossing the University Bridge and traversing NE Pacific St most hours of the day and many are continuing down Fuhrman/Boyer Avenue E and 23rd/24th Avenue E — so there are other segments are chokepoints, too. Adding bus lanes in key spots should be the rule rather than the exception, especially with the climate crisis bearing down on us and Seattle not yet succeeding in tackling its number one source: transportation emissions.
Whether or not the single bus lane will go far enough in solving bus service reliability and reduce delays during the Montlake Bridge closure remains to be seen. Nevertheless, SDOT has suggested the bus lane could become a permanent feature: "We will monitor traffic closely to see how well it works and consider whether there may be a long-term benefit in keeping the bus lane after the Montlake Bridge reopens."
Correction: An earlier draft incorrectly stated the Montlake Bridge closure will end September 9th. WSDOT plans to open the bridge at 5am September 3rd.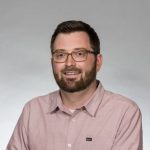 Doug Trumm is publisher of The Urbanist. An Urbanist writer since 2015, he dreams of pedestrianizing streets, blanketing the city in bus lanes, and unleashing a mass timber building spree to end the affordable housing shortage and avert our coming climate catastrophe. He graduated from the Evans School of Public Policy and Governance at the University of Washington in 2019. He lives in East Fremont and loves to explore the city on his bike.