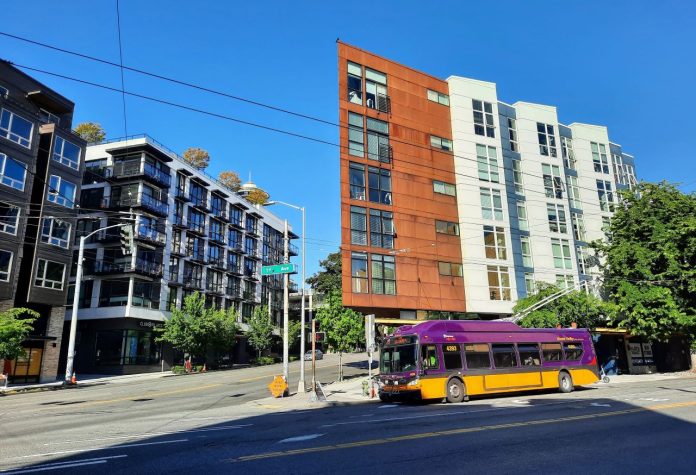 The United Nations' Intergovernmental Panel on Climate Change (IPCC) issued a report on Monday underscoring its past warnings that governments must act decisively and immediately to stave off climate catastrophe. Although many American leaders issued remarks in response, few could boast of having taken tangible actions to meaningfully change our current course — among them Seattle Mayor Jenny Durkan.
Yet Mayor Durkan often boasts of Seattle's environmental leadership, and she did so again this week at a public event as part of Foreign Press Center's Climate Mayors' program.
"In Seattle, we've been taking very proactive steps for — in our battle against climate," Mayor Durkan said in her speech. "Our greenhouse gas emissions come primarily from two areas — transportation infrastructure and transportation, and our buildings. So we've been pushing very hard to get our buildings to be more friendly for the climate, and I just signed one of the most aggressive energy codes in the country to move forward on that, as well as a pilot to develop buildings that are actually zero net emissions."
However, data shows that Seattle's carbon footprint has crept up during Durkan's tenure, and the Mayor has been notably hesitant to take aggressive actions to tackle the city's number one source of emissions: transportation, which accounts for two-thirds of the city's carbon output. Mayor Durkan had pledged to pass road congestion pricing in her first term, but later abandoned that pledge after conducting a preliminary study that led to a sketchy plan. The lack of specifics in her remarks hinted at that cloudy record on transit and climate.
"On the transportation side, we're — we are really pushing as much as we can transit in every fashion, as well as the ability to have that seven-minute city where people can walk or roll to where they need to get," she said.
Mayor Durkan's record
Rhetoric aside, Mayor Durkan's record on transit is underwhelming and rife with backsliding. A trip down memory lane shows little concerted climate work in action and not enough progress on encouraging people to ditch their cars and walk, roll, bike or ride transit. That's too bad, because Seattleites have demonstrated a willingness to ditch their cars when presented with good alternatives.
We covered the Mayor's quest for Seattle to become a 15-minute city, which has primarily been theoretical at this point. The idea is that every resident should be able to meet their basic needs — such as groceries, health care, pharmacies, park space, childcare, and cafes — within 15-minute walk or roll of their home. Moreover, sidewalks and street crossings should feel safe and connected enough that getting there is a comfortable experience for everyone — disabled people included. Most Seattle neighborhoods have not come close to realizing a 15-minute city concept, let alone a seven-minute one, but it's a nice goalpost. Alas, identifying goalposts is not the same as actually scoring goals; it does not constitute climate action.
What city-led climate action looks like
What would leading on climate as a city actually look like? Despite Mayor Durkan playing a prominent role in international climate talks with the C40 Summit and other venues, Seattle hasn't led by example nearly enough. Too often plans stay in the ideation mode rather than advancing swiftly to the action phase at the pace the climate emergency demands. And even then, the climate action plan adopted under Durkan's tenure was not very bold. Some newfound boldness and reversals of Durkan policy are in order.
Rapid roll out of bus lanes to entice people into buses and keep the riders they do have. The Urbanist suggested some high-priority bus lane ideas and MASS put out a map as well.
Increase bus frequencies so that people don't have to wait so long for the bus and buses are less crowded.
Build rapid transit projects sooner to give people more and faster transit options. New revenue could help deliver Sound Transit 3 sooner than current realignment plans and accelerate Metro Connects RapidRide plans.
Add tons of environmentally sustainable social housing particularly near rapid transit.
Pedestrianize streets to help people get around safely and promote street life and help small businesses. For example, Ballard Avenue restaurants and bars have seen a big uptick in business after they added pergolas and street cafes during the pandemic, replacing street parking spots. Seattle Greenways proposed a 130-mile network of open streets to add all ages and abilities bike and pedestrian arterials in just about every neighborhood in the city. These changes promote walking, rolling, and biking instead of driving and ridehailing.
Retrofit existing buildings for energy efficiency and climate performance. Replacing natural gas heating and cooking infrastructure with clean energy equivalents is a great goal, but mandates for new construction won't solve for existing buildings' energy use. That's why programs encouraging building owners to retrofit their properties — and compensating low-income homeowners for the expense — are needed. Simple, affordable fixes like painting a roof white can have a huge impact on reducing solar gain.
Electrify everything. Phase out fossil fuels. Electrifying public transit and private vehicles with clean energy will wean the city off of petroleum and curb pollution. Funding to convert public fleets to electric and providing charging infrastructure is needed, as are mandates banning new internal combustion engine cars.
There certainly is a path forward for Seattle to lead on climate action and achieve its ambitious 2030 net-zero goal laid out in Seattle Green New Deal legislation. However, it's not a path that Mayor Durkan has been adept at trailblazing forward, which is why new leadership sounds great about now.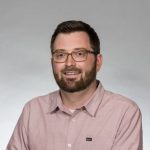 Doug Trumm is publisher of The Urbanist. An Urbanist writer since 2015, he dreams of pedestrianizing streets, blanketing the city in bus lanes, and unleashing a mass timber building spree to end the affordable housing shortage and avert our coming climate catastrophe. He graduated from the Evans School of Public Policy and Governance at the University of Washington in 2019. He lives in East Fremont and loves to explore the city on his bike.