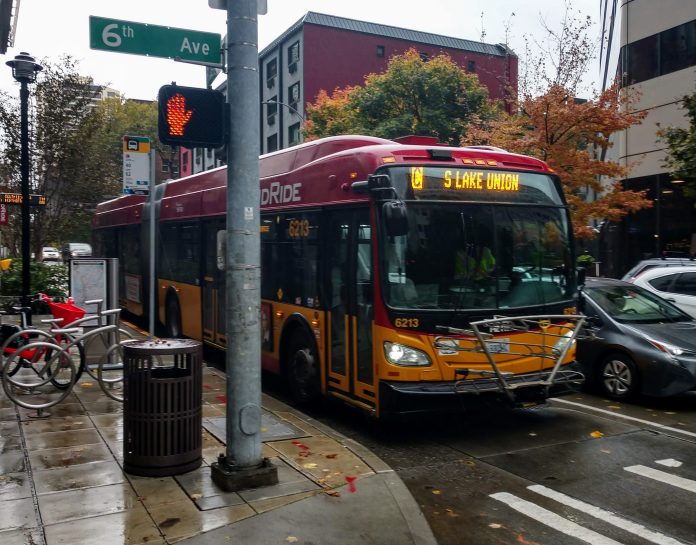 Metro Connects is poised to be updated this year, extending the long-range plan out another 10 years to 2050. Changes under reviewed would add additional corridors as potential RapidRide Lines and expanded and upgrade frequent, local, and express service. The update process will also adjust the interim network period, extending it beyond 2025. Funding for the program, however, has yet to materialize and has been significantly delayed due to the pandemic — though recent rounds of federal financial assistance may change the situation. Nevertheless, cutbacks were made in the fall as part of the biennial county budget.
Those cutbacks included an alphabet soup of delayed capital projects. Metro deferred the RapidRide K Line (Bellevue-Kirkland), RapidRide R Line (Rainier), and part of the RapidRide J Line (Roosevelt), focusing instead on completing just three lines over the next several years. Those cuts expanded on 2018 cuts that saw Seattle's RapidRide plans for Route 40, Route 44 and Route 48 were downgraded to lesser improvements, though they remain in long-term plans. RapidRide Lines that will still advance include the H Line (Delridge), G Line (Madison), and I Line (Kent, Renton, and Auburn). Originally, Metro had envisioned a larger set of RapidRide projects over the decade, but those had already been pared back over costs and uncertainty.
Nevertheless, Metro is looking ahead with the Metro Connects updates. Key elements are the interim network and 2050 network updates. The interim network updates are focused on changing alignments and frequencies based upon new information, addressing equity gaps in the plan, and revising the RapidRide network. The updates also take into account changes since the last interim network plan and new time horizon. As for the 2050 network, it too takes into account most of the same considerations as it pushes the full Metro Connects plan out another 10 years.
In the slider below, the current interim (2025) network and 2040 network can be compared to the draft versions of the new interim network and 2050 network plans.
While much of the plans are the same, there are some new ideas for even more local, frequent, express, and RapidRide corridors than the current plan versions. Metro has also indicated that some mangled alignments for corridors could be untied, which could mean more legible and useful service.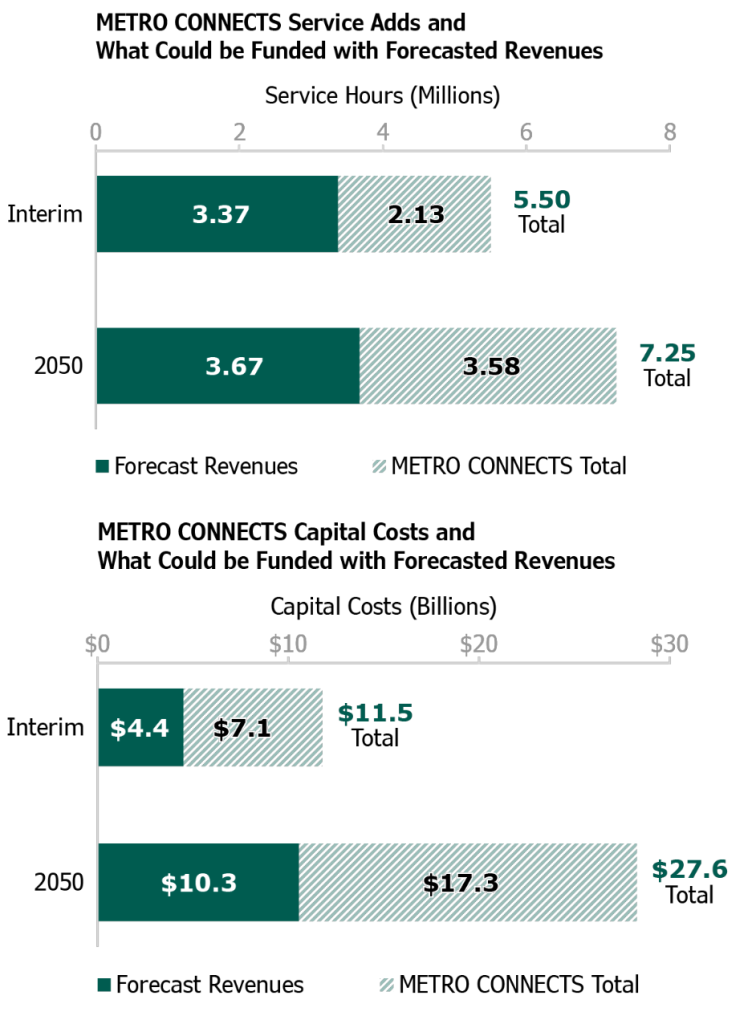 On the financial side, the Metro Connects program is only partially funded. Service hours could only be funded at 3.37 million annual service hours for the interim network (61.3% of the 5.5 million needed) and 3.67 million annual service hours for the full plan (50.6% of the 7.25 million needed). Capital costs for the interim network are estimated at $11.5 billion and the full plan at $27.6 billion. However, only $4.4 billion of revenues are forecasted to cover the the interim network plan (38.2% of the need) and $10.3 billion for the full plan (37.3% of the need).
Fundamentally, program funding is heavily constrained. A mix of additional federal, state, and local funding would be needed to realize the plan, which is the point of the exercise: setting a vision and identifying areas that need to be addressed in order to achieve it.
Discussions are underway at the federal and state levels for new transportation funding laws that could cut down on the funding gap — President Joe Biden just released a national infrastructure plan that would bump federal funding up by $85 billion over the decade, for instance. There has also been talk at the county level of establishing a countywide transportation benefit district again and the update will specifically mention a need for regional funding. A bold plan for expanded bus service could be more convincing to voters than a 2014 version that would have largely only saved bus service slated for cuts.
The updated cost estimates do add in several key assumptions, such as a more robust network, added night and weekend service, extended period of service growth, the Marine division (King County Water Taxi), vehicle electrification, and system maintenance and fleet replacement.
Through 2050, Metro plans to make its biggest investments in supporting infrastructure (e.g., new equipment and bus bases) and speed and reliability projects (e.g., bus lanes and transit signal priority). Access to transit, passenger facilities, and electrification all make up 5% to 6% of the investment plan.
With the update, Metro will create a special Strategic Plan dashboard. This will track costs and forecasted revenues. Service levels will be updated after every service change, forecasted revenues will be updated in tandem with the biennial budget process, and costs and needs will follow an every six- to ten-year update cycle.
Metro Connects updates will have a tie back to the Service Guidelines. Metro plans to modify the guidelines so that it looks at the Metro Connects interim network for investments. Target service levels and Priority 3 (service growth) investments will directly relate to the interim network and bus network restructures will also be informed by the interim network.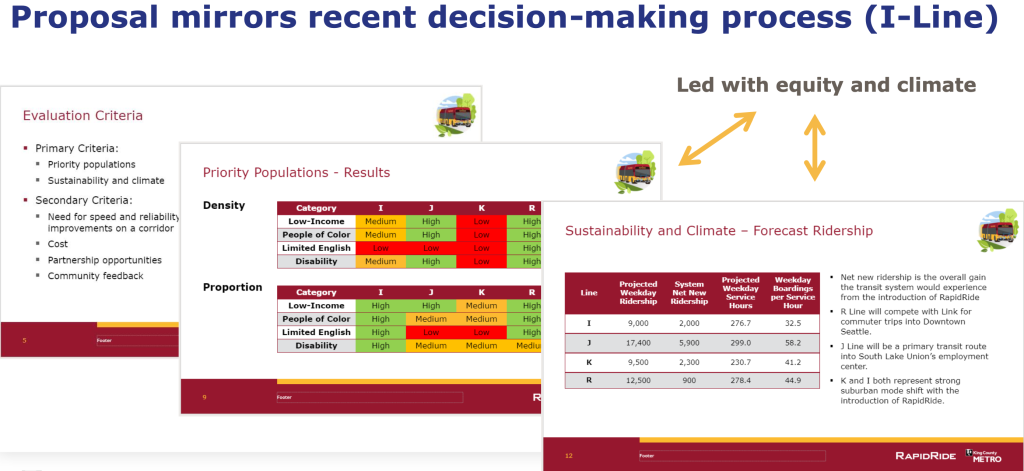 On RapidRide, Metro has developed a prioritization process for selecting routes that could be elevated to bus rapid transit. The process involves looking at about a dozen potential candidate routes and then whittling that pool of candidate routes down to about three to five that would end up in the interim network. Several key factors like the County budget, equity, and sustainability are used to guide the selection process in addition to background information on corridors and collaboration with local governments.
Ultimately, the Metro Connects updates under development will be critical in reorienting the plan and setting the vision to deliver it in the decades ahead. The full update of the plan will be transmitted to the Regional Transit Committee and Metropolitan King County Council in July along with other policy updates and is expected to be reviewed in August by policymakers. Final adoption could come thereafter.
The degree to which Metro Connects will be realized, however, largely hinges on additional funding. Capital outlays are a significantly challenging aspect of the program and underpin the ability to deliver RapidRide components. Operational plans are also constrained though not quite so severely. More local, state, and federal funding could help deliver various aspects of the plan quickly, particularly on the operational side. The financial aspect of the plan will certainly outlive the update process underway now and continue to be a key driver of county transit discussions in the coming months and years.

Stephen is a professional urban planner in Puget Sound with a passion for sustainable, livable, and diverse cities. He is especially interested in how policies, regulations, and programs can promote positive outcomes for communities. With stints in great cities like Bellingham and Cork, Stephen currently lives in Seattle. He primarily covers land use and transportation issues and has been with The Urbanist since 2014.