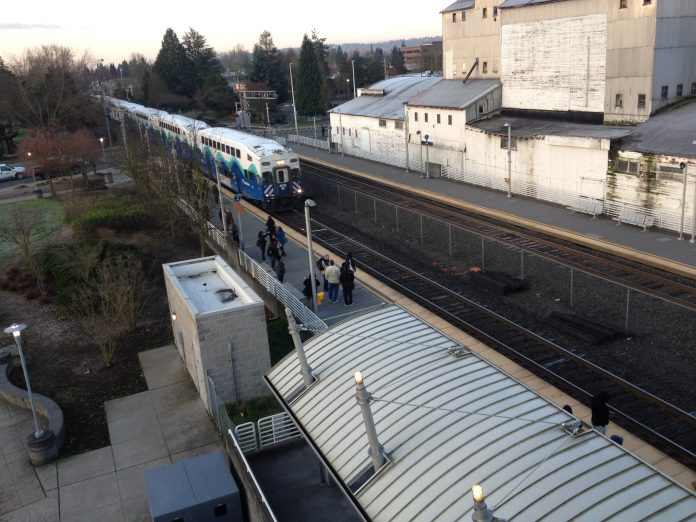 In late April, Metropolitan King County Council formally identified a locally preferred alternative for the RapidRide I Line, which is billed as opening in 2023. The RapidRide corridor would stretch from Renton to Auburn via Kent, primarily running along SR-515, SR-516, and East Valley Highway. In preparation for the RapidRide line, the King County Council also approved a major bus route restructure in the Kent, Renton, and Auburn area set to go into effect in September. This bus restructure will be the biggest of its kind for the area in about 10 years.
The RapidRide I Line locally preferred alternative (LPA) specifies a 17-mile long bus rapid transit (BRT) corridor serving the Kent, Renton, and Auburn communities. The route is planned to serve each city's main downtown core as well as residential, commercial, and industrial districts between. Much of the corridor is surrounded by low density suburban residential development a block or two beyond the corridor, but the immediate streets that buses will operate along do have noticeable medium density residential development and business activities. Key community assets, such as schools, medical services, community centers, and parks will be directly served. Valley Medical Center, which is the largest employer along the corridor, will also benefit from the service, providing a reliable transportation option for nurses, doctors, and other staff.
The service plan identifies a fairly robust level of service using diesel-electric hybrid buses 20 hours per day. At peak hours, Metro plans to run buses at 10-minute frequencies. At off-peak hours, this would drop to 15-minute frequencies. As a RapidRide service, Metro will use all-door boarding buses, off-board fare payment, a menu of speed and reliability improvements, such as business access and transit lanes and transit signal priority. Off-board fare payment is made possible by installing RapidRide stations instead of traditional bus stops that include ticket vending machines and ORCA card reader kiosks.
Area 1 of the RapidRide I Line corridor with proposed alignment, stops, and improvements. (King County)

Area 2 of the RapidRide I Line corridor with proposed alignment, stops, and improvements. (King County)

Area 3 of the RapidRide I Line corridor with proposed alignment, stops, and improvements. (King County)

Area 4 of the RapidRide I Line corridor with proposed alignment, stops, and improvements. (King County)
In total, the LPA identifies 41 station pairs and will provide direct connections with other local routes as Sound Transit's Sounder commuter rail, ST Express bus service, and eventually Stride BRT. Overall, the station pairs do represent some stop consolidation and elimination to keep buses moving five or more blocks at a time before stopping again. When the RapidRide Line opens in 2023, Metro forecasts that ridership will range from 9,000 to 12,000 passengers per day.
Prior to approving the RapidRide I Line LPA, councilmembers pressed King County Metro staff on the scope and implication of the LPA. Councilmember Claudia Balducci (District 6-Bellevue) was especially concerned about the stated level of service that was being committed to in planning documents in light of cratering revenues. Though at the time, a specific forecast on Metro's revenue streams had not been publicly released, she felt that committing to such a level of frequency early on could hamstring the county going forward if transit cuts became inevitable from the economic outfall of COVID-19.
Metro staff, Gregory McKnight and Chris O'Claire, reassured Councilmember Balducci and other councilmembers that a specific service plan was as necessary part of the LPA process in order to move forward in pursuing a $56 million Small Starts grant from the Federal Transit Administration (FTA). The requirement had not been as prescriptive in past RapidRide Small Starts grant application processes, but McKnight said that there was some level of flexibility in ultimate service level through the application negotiation process and that the LPA does not set a permanent minimum standard. The FTA fundamentally wants some level of assurance that financial investments in capital transit projects will not later be squandered like some transit agencies have by entirely cancelling or decommissioning service after only operating for a few years.
The timing of project delivery is 2023 with a construction start in 2022, but at this point everything is up in the air with COVID-19. Delays in capital outlays seem increasingly likely since a countywide ballot measure to fund more bus operational and capital investments has been shelved and is nowhere in sight. Add to that, a report on Monday to the King County Council indicated that a budgetary shortfall of $185 million this due to declining sales tax revenues. Some of this may be offset by $242.8 million in federal grants for operations and other expenditures to respond to COVID-19 impacts.
As a first step to bringing the RapidRide I Line online, Metro is restructuring service in the Kent, Renton, and Auburn areas, similar to what was contemplated last fall. A key change to build ridership in advance of the RapidRide I Line is unifying portions of Routes 169 and 180 to become new Route 160. This route will essentially follow the RapidRide I Line alignment. The unified route will also force Metro to create two additional routes with new Route 161 serving the Burien-to-Downtown Kent corridor and new Route 184 serving neighborhoods south of Auburn Station. Over a dozen other routes will be restructured this fall alongside Routes 169 and 180. This includes Routes 105, 148, 157, 158, 159, 164, 166, 168, 192, 906, 908, 910, 913, 914, 916, and 917.
The bus restructure comes with a mix of route revisions, deletions, and additions. In the deletion category, Metro will eliminate Routes 158, 159, 164, 166, 158, 169, 180, 192, 908, 910, 913, and 916. While this may seem like a bloodbath, most routes are simply being replaced with revised or new routes to optimize local service and feed new Route 160 and transit centers. There a several cases though like Routes 158, 159, and 913 where service is just too low-performing and duplicative of other options, including new options.
Besides new Route 160, four new routes will be introduced in the fall with those being new Routes 161, 162, 165, and 184:
New Route 161 will take over deleted Route 180 from Kent Station to Burien Transit Center, running through the valley and up Orillia Rd S picking up SeaTac on the way. Service levels will be similar to Route 180 that is being replaced by new Route 161.
New Route 162 will be a peak-hour, peak-direction express route operating between the Lake Meridian Park and Ride and Downtown Seattle via SR-516 and Kent Station. There should be about 10 trips on weekday morning and nine trips on weekday afternoons. This essentially consolidates deleted Routes 158 and 159.
New Route 165 will become a college express, operating local service between Green River College in Auburn and Highline College in Des Moines. The route will also serve areas in between in Kent via 132nd Ave SE and SE 240th St and as far as Burien by running through Downtown Des Moines and Normandy Park. The route essentially will replace deleted Routes 164 and 166. Service levels will generally include 30-minute frequencies during most of the day on weekdays and Saturdays, though during peak weekday hours trips may be more frequent to connect with Sounder commuter rail service. Hourly service will operate during nighttime hours and on Sundays.
New Route 184 will service the Auburn area south of Auburn Station as a replacement for deleted Route 180. Timed trips will operate during peak weekday hours to meet Sounder commuter rail service, otherwise frequencies every day will be half-hourly until nighttime service kicks in with hourly service.
New Route 160. (King County)

New Route 161. (King County)

New Route 162. (King County)

New Route 165. (King County)

New Route 184. (King County)

Revised Route 148. (King County)

Revised Route 157. (King County)

Revised Route 168. (King County)

Revised Route 906. (King County)

Revised Route 914. (King County)

Revised Route 917. (King County)

Deleted Route 158. (King County)

Deleted Route 159. (King County)

Deleted Route 164. (King County)

Deleted Route 166. (King County)

Deleted Route 169. (King County)

Deleted Route 180. (King County)

Deleted Route 192. (King County)

Deleted Route 908. (King County)

Deleted Route 910. (King County)

Deleted Route 913. (King County)

Deleted Route 916. (King County)
Service revisions will be made to Routes 105, 148, 157, 168, 906, 914, and 917. The revisions shake out as follows:
Route 105 will have weekday peak-hour service improve to 15-minutes frequencies, up from half-hourly.
Route 148 will be slightly modified to be better serve the community, including residential areas along 116th Ave SE.
Route 157 will be revised to reduce duplication with new Route 162 on SR-516, moving the tail to SE 256th St and 132nd Ave SE.
Route 168 will be straightened out for the portion of the route between Kent Station and 132nd Ave SE by consolidating service to SR-516. Rider can use other options on streets no longer served, such as Routes 160, 164, and 914. Frequency and span of service will also improve with more 30-minute evening frequencies and expanded hourly late evening service.
Route 906 will be extended to serve the Tukwila Sounder station and eliminate a deviation off of SE Petrovitsky Rd. In terms of frequency, weekday peak-hour trips will be increased to meet Sounder commuter rail trains, Saturday service will be improved to half-hourly headways, and Sunday service will be introduced with hourly headways.
Route 914 is Kent's "shopper shuttle" in East Hill and Downtown Kent. Some aspects of the route will be modified to make up for loss of other service on local streets, but some streets will also lose service from Route 914. Fortunately, these streets will be covered by other routes. Service will also improve to half-hourly frequencies on weekdays and Saturdays.
Route 917 will be adjusted to eliminate the low-ridership tail near the General Services Administration. By doing so, frequency will be increased to every 30 to 40 minutes ono weekdays and hourly Sunday service will be introduced.
In September when the bus restructure rolls out, service levels may be different from what is planned, given that the COVID-19 epidemic has depressed rider demand and may begin to have significant financial stress in operating higher service levels.

Stephen is a professional urban planner in Puget Sound with a passion for sustainable, livable, and diverse cities. He is especially interested in how policies, regulations, and programs can promote positive outcomes for communities. With stints in great cities like Bellingham and Cork, Stephen currently lives in Seattle. He primarily covers land use and transportation issues and has been with The Urbanist since 2014.