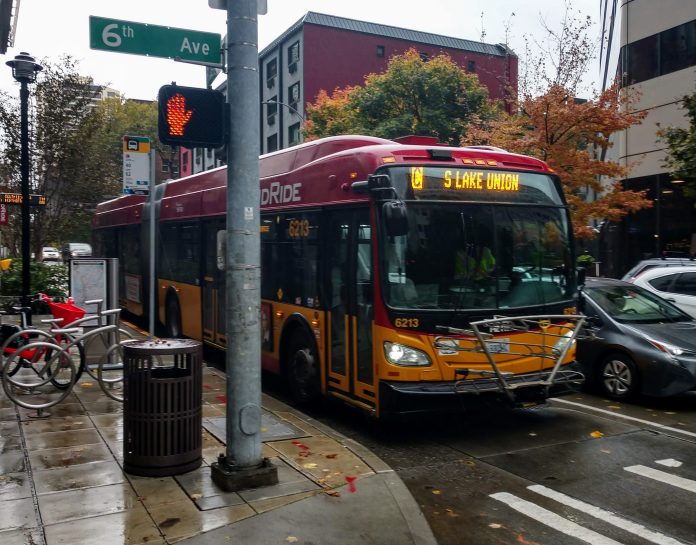 King County Metro is moving into its next planning phase for a new RapidRide line in Southeast King County, a local bus restructure, and a new South King County bus base.
Known as the RapidRide I Line, the 17-mile route would serve Renton, Kent, Auburn, and the unincorporated areas in between by 2023. The line would blend together Route 169 (Renton-Kent) and major portions of Route 180 (Auburn-Kent-Burien), which collectively have about 8,000 daily riders–and upgraded service is expected to boost ridership further. A bus restructure in the area would go into effect next fall and a new bus base would open in the early 2030s.
Metro has cited racial equity as a reason why the RapidRide I Line is being prioritized, since Southeast King County is one of the most racially and economically diverse areas of the county.
Proposed RapidRide stop locations and design
Metro has released a more complete concept of how the RapidRide I Line would operate and function as it runs through the Southeast King County cities. Proposed station stops are fairly balanced throughout the corridor with most about every five blocks. Some existing stops are proposed for consolidation (closure and removal) to keep buses moving since each stop, dwell, and start eats into run times.
In Downtown Renton, the RapidRide I Line would share stations with RapidRide F Line, which already exists. South of there, Metro is proposing to upgrade 10 existing stops to the RapidRide station standard and install a new station just south of SE Petrovitsky Rd. Five existing stops would would be eliminated while six local stops would be retained for non-RapidRide services. Metro is also proposing to provide access improvements to three stations on S Talbot Rd and one each on 108th Ave SE and SE Carr Rd. Other station access improvements are proposed in Downtown Renton, which would benefit both RapidRide lines and local service.
In the Kent area, Metro is proposing 19 stations. This would involve upgrading 18 existing stops to the RapidRide station standard and installing a new station stop at SE 244th St. Nine existing stops would be closed and six others would be retained for non-RapidRide services.
Station access improvements are proposed for four areas along 104th Ave SE as well as near Kent Station and stops at S 266th St and 94th Ave SE. Surprisingly, none are proposed at the junctions of SE 256th St with 104th Ave SE and 101st Ave SE, which are notoriously awful area for people walking, rolling, and biking.
In Auburn, Metro is proposing nine station stops from the city limits to the terminal at Auburn Station. Five stations would be upgraded from existing stops while four new ones would be located along Auburn Way N. Six existing stops would be closed and five others would continue to serve non-RapidRide Services. Additionally, Metro is proposing station access improvements near a proposed station between 1st St NE and 2nd St NE on Auburn Way N.
Renderings show what RapidRide stations could look like in each of the three Southeast King County communities. The stations will consist of high quality furniture typical of RapidRide stations, such as real-time information signs, transit shelters and seating, area maps, receptacles, and lighting. The stations will also come with ORCA card readers for off-board payment, allowing for all-door payment. All stations would be in-lane stops and station access improvements may be rolled out based upon local circumstances. Buses would presumably mimic the standard RapidRide red and yellow design using 60-foot articulated buses with three doors and on-board wifi.
In order to keep buses moving swiftly along the corridor, Metro is also considering a blend of solutions, such as:
Queue jumps and transit signal priority at stoplights;
Locating stations after intersections so buses do not get stuck at lights;
Bus-only lanes;
Bus (center-boarding) islands; and
Short bus-only lanes, shared right-turn lanes, and business access and transit lanes near intersections.
Metro is seeking feedback on the concepts through November 29th. The public can weigh in online or check for in-person open house on the project website. A final design for the corridor should come next summer and construction is planned to begin in 2022.
New bus base
Metro is still considering three locations in Kent and Auburn for a bus base that would provide capacity for 250 all-electric buses. The locations include:
A 25- to 38-acre site in Kent at S 196th St and 68th Ave S;
An 18- to 26-acre site in Auburn at S 277th St and D St NE; and
A 38-acre site in Auburn at 37th St NW and B St NW.
The sites all have their tradeoffs, but the southern Auburn site seems like the best option based upon site constraints and access to local highways for dispatch. Metro is seeking online feedback on the locations through November 17th.

Stephen is a professional urban planner in Puget Sound with a passion for sustainable, livable, and diverse cities. He is especially interested in how policies, regulations, and programs can promote positive outcomes for communities. With stints in great cities like Bellingham and Cork, Stephen currently lives in Seattle. He primarily covers land use and transportation issues and has been with The Urbanist since 2014.