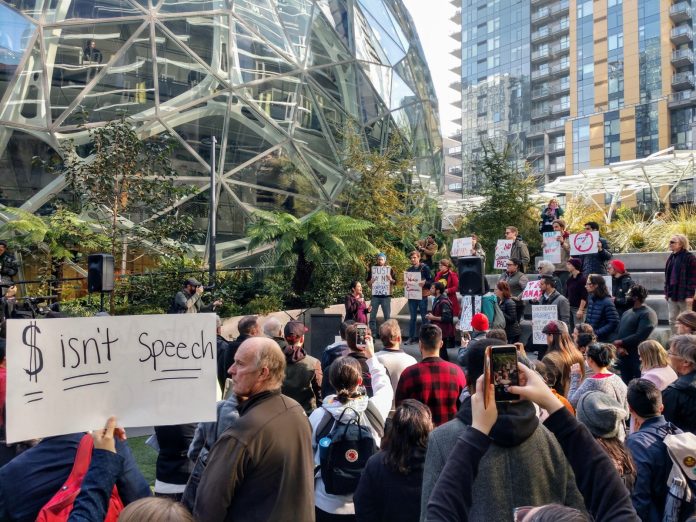 Unlike its tech giant competitors in Facebook and Google, Amazon hasn't pledged $1 billion to build housing in its hometown region. Amazon hasn't even pledged $500 million like Microsoft did last year. What Amazon has done this year, though, is funnel $1.5 million into Seattle's 2019 election. Given the options of being forced to the housing solutions table via a progressive Seattle City Council or to lavish charitable giving on the scale of its peers to ease public pressure, Amazon chose door number three: try to buy the Seattle City Council elections to preempt either option.
That massive donation prompted disgruntled Amazon workers, progressive candidates, and activists to rally today at the Amazon Spheres, the signature three-orb landmark of Amazon's massive South Lake Union corporate headquarters. That campus houses most of Amazon's 45,000 workers in Seattle–and is projected to continue to grow even more after all the HQ 2 hoopla.
On hand was Councilmember Kshama Sawant, who is up for reelection in District 3 and is Amazon's number one target–as well as District 2 candidate Tammy Morales and District 4's Shaun Scott. Both have also earned Amazon's scorn for pushing progressive taxation and the city taking a firmer hand with the corporate behemoth–now valued at a trillion dollars.
The first councilmember on the docket, though, was Teresa Mosqueda. She and Sawant were the only two councilmembers to vote against repealing the employee hours tax that Amazon opposed and strong-armed the City into canceling by raising a stink and donating to a repeal effort, funding paid signature gatherers. Councilmember Mosqueda stressed that progressives on the city council still had work to do–work Amazon was trying to stop dead in its tracks.
"We're here to send a message that here in Seattle we are fearless and we refuse to be intimidated," Councilmember Mosqueda said. "We're the city that stood up and passed $15 an hour in the face of intimidation and fear. And when businesses said they would have to shut down and the sky would fall, we proved that $15 an hour would work."
"They're afraid that we're going to keep fighting for more union work," Mosqueda said. "They're afraid we're going to keep fighting for a domestic workers bill of rights, which we just passed last year. They're afraid of the hotel worker legislation we just passed again this year. They're afraid of what we're going to do next year, which is fight for all gig economy workers and all app-based workers to have the same rights as everyone deserves."
"We won't let our City Council be bought," Councilmember Mosqueda said. "Seattle is not for sale."
Councilmember M. Lorena González also spoke and previewed legislation she's working on to limit corporation donations in local elections. Big businesses and wealthy individuals have donated more than $3 million to pro-business political action committees (PACs) this year.
"This is a massively important moment for our city," Councilmember González said. "What we're talking about here is fundamentally prohibiting corporate interests from seeping into and buying our local elections. This bill will do that, and I want to thank the folks at Fix Democracy First who are in the audience here."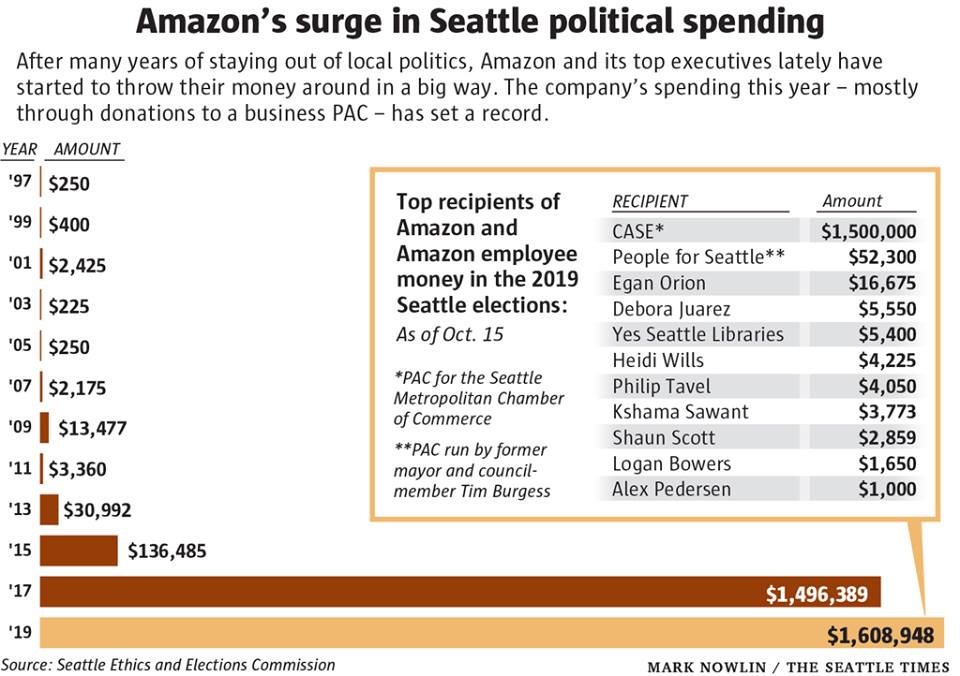 In her speech, Councilmember Kshama Sawant disputed the "corporate media narrative" that the city council isn't working well together. Instead, she said there's a progressive consensus on the city council and they're getting things done, and that's what scares Amazon and the Chamber of Commerce.
"They want to keep Seattle a corporate tax haven," Councilmember Sawant said. "We want a massive expansion of high-quality publicly-owned social housing and a Seattle Green New Deal."
"There's no balance in corporations dumping millions of dollars into these races to undermine our democracy," Tammy Morales said. "This is about who we are as a city. It's about whether or not we're going to save space in Seattle for blue collar workers, or if we're going hand our city over to wealthy special interests in the city."
District 4 candidate Shaun Scott, meanwhile pointed out that chamber-backed candidates have paid lip service to progressive causes, but they stand by Amazon and other big businesses when it counts.
"My opponent, who is one of the chosen chamber candidates, released a statement saying he shares a lot of the concerns and frustrations of all the activists here today," Scott said. "What I have to say about that is the time to share your frustrations was when you were filling out chamber of commerce questionnaire."
Scott also highlighted the need for progressive zoning policy. Despite the Chamber stressing that upzoning could alleviate the housing and take away the need for the head tax, Amazon and the chamber have anointed candidates who oppose upzones and rolling back apartment bans. Candidates like Alex Pedersen, Phil Tavel, Heidi Wills, and Jim Pugel have been very conservative on single-family zoning, preferring to stoke fears rather than stake bold positions helping renters find more places to call home in Seattle.
Why Facebook is Getting Into Housing
Meanwhile, Facebook is facing its own backlash. Facebook made news with a billion-dollar pledge yesterday to help build 20,000 affordable homes in the San Francisco Bay Area, where the $500 billion company is based. While the terms of the pledge are not yet clear, Facebook clearly wants some good headlines since Congress is grilling Facebook CEO Mark Zuckerberg this week over unethical business practices, such as discrimination in advertising and running campaign ads containing falsehoods.
Don't take your eye off the ball: we really do need to regulate Facebook and perhaps break it up. But, nonetheless, pledging $1 billion to housing creation should be commended.
Google–also based in the Bay Area–recently made its own $1 billion housing pledge.
These corporate pledges from Facebook, Google and Microsoft are a mixed bag and will have a mixed impact. A portion is donating land or money to build housing directly, which will have a big impact. But they're also counting money that is investing into housing hoping to earn a return. This isn't charity. This is seeking a profit, even if it could be helpful and boost housing production.
The other big issue is apartment bans that are stifling housing growth and locking renters out of much of the Bay Area and of the Seattle metropolitan area. These companies have signaled they want more permissive zoning, but they haven't lobbied hard on that front like they do for issues closer to their bottom line, like taxation and regulation.
Finally, there's the issue of is it enough? A billion dollars sounds like a lot, but really we should be investing even more in social housing. Moreover, it's a one-time gift. It has the downside of giving temporary relief while the long-term structural problem remains unsolved. We need progressive taxation, including a capital gains tax and state income tax, to ease some of the luxury housing demand swallowing up the market. The on-going revenue can then be a perpetual source for building more social housing and maintaining the public housing stock we have.
Housing is a huge issue, a huge part of our economy, and a huge piece of our gaping wealth inequality puzzle. It won't be solved with half measures and voluntary corporate largess.
Amazon Sees Buying Council as Bargain Versus Billion-Dollar Housing Pledge
Like I said earlier, Amazon has never given to housing on anything approaching that scale of its internet giant competitors Facebook, Google, and Microsoft–its charitable donations are usually counted in the single-digit millions. Instead, the company has focused its efforts on buying local elections. Amazon made a big impact on the 2017 mayoral election, giving $350,000 down the stretch and almost $1.5 million all told counting donations from top executives. Now this year instead of ramping up housing donations, Amazon is ramping up efforts to dominate Seattle elections.
Last week, Amazon donated $1 million to Civic Alliance for Sound Economy (CASE) PAC, which is the Seattle Metropolitan Chamber's political arm. That brings Amazon total corporate contributions to $1.5 million for this election cycle, a new record in Seattle elections–and all to CASE PAC. Seven of nine Seattle City Council seats are up for reelection, and Amazon and other prominent business leaders are saying they plan to take back the city council. They want thoroughgoing progressives out, and they want to replace them with compliant "pragmatic progressives"–Milquetoast Moderates if you will.
Amazon's brazen move to flood the 2019 Seattle election with corporate spending also earned it considerable backlash from progressive leaders nationwide. U.S. Senators and presidential candidates Elizabeth Warren and Bernie Sanders both condemned Amazon's move. Former labor secretary Robert Reich joined the chorus, suggesting voters should snub Amazon-endorsed city council candidates Phil Tavel, Mark Solomon, Egan Orion, Alex Pedersen, Heidi Wills, and Jim Pugel (Milquetoast Moderate the bunch).
Instead, people should vote for Lisa Herbold, Tammy Morales, Kshama Sawant, Shaun Scott, Debora Juarez, Dan Strauss, and Andres Lewis, Reich said. Reich's endorsements mirror The Urbanist's endorsements, by the way. This election really matters for urbanists since Amazon has allied with the Seattle Times Editorial Board, which is the biggest defender of single-family zoning and car culture in the city. That means Amazon candidates can't be trusted on urbanist issues and would likely take us backwards or hit the pause button on progressive transportation and land use changes.
Amazon's Goal: Veto Taxes Aimed at Them
What is Amazon seeking to achieve with this megadonation? Both Amazon and CASE use vague buzzwords like accountability in describing what traits they want in a councilmember, but clearly taxation is the big motivator for them, as speakers at the rally stressed. The Seattle City Council raised Amazon's ire when it passed the Employee Hours Tax (also known as the "head tax") last year. Aimed at large employers, the head tax would have raised about $47 million per year–about $20 million of that from Amazon.
Mayor Jenny Durkan, who was a major beneficiary of Amazon's 2017 campaign donations, had said that she had worked out a deal with Amazon to get them to tolerate the tax after she threatened a veto and convinced the city council to cut the tax nearly in half and add a five-year sunset clause that would have ended the tax after five years without city council action.
Despite the deal, Amazon still opposed the head tax and funded repeal efforts. Facing an expensive campaign to defend the tax and some tight polling, the Seattle City Council–with the exception of Councilmembers Sawant and Mosqueda–backed down and voted to repeal the tax.
That brief few weeks Seattle had a head tax on the books to fund affordable housing can either be the high watermark for progressives in Seattle or it can be Amazon's Waterloo, in which Seattle's largest employer overstepped its bounds, turned off voters, and underscored the need for a Seattle government willing to stand up to them. I for one am hoping for the latter.
The alternative is sobering: letting Amazon dictate who is on the Seattle City Council via a tsunami of money would be the beginning of corporate rule in Seattle. That's not the Seattle I want to call home.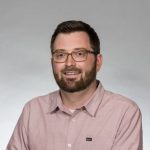 Doug Trumm is publisher of The Urbanist. An Urbanist writer since 2015, he dreams of pedestrianizing streets, blanketing the city in bus lanes, and unleashing a mass timber building spree to end the affordable housing shortage and avert our coming climate catastrophe. He graduated from the Evans School of Public Policy and Governance at the University of Washington in 2019. He lives in East Fremont and loves to explore the city on his bike.