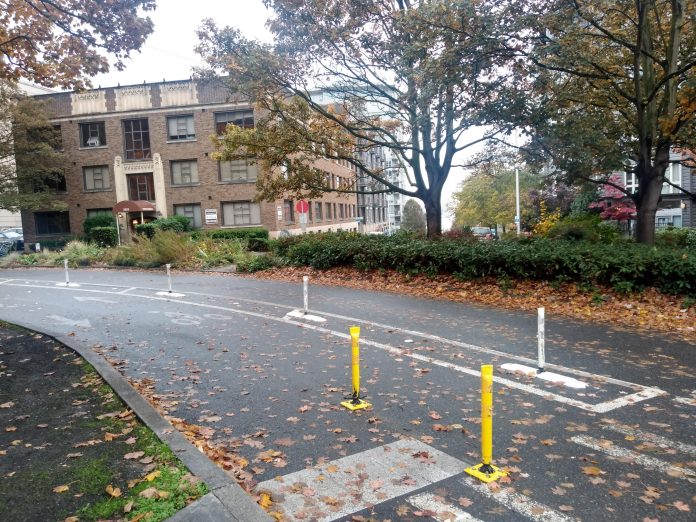 The Seattle Center Arena renovation is rapidly transforming the western edge of Seattle Center as we head toward a projected opening date of Summer 2021. The Seattle Storm will return to their longtime home and professional hockey will return for the first time in decades. But outside of the arena's footprint, there's a lot of planning still taking place: with the new arena will come significant transportation impacts on Uptown and north Belltown, with a list of planned projects that will continue to be implemented long after the ribbon is cut.
Oak View Group, the arena's developer, has committed with the City to add a number of multimodal improvements. These include the construction of a corridor of protected bike lanes on the west side of Seattle Center in Uptown, transit-only lanes on 1st Avenue N and Queen Anne Avenue N, pedestrian improvements, and upgrades to the monorail. But the arena's transportation improvements are also serving to beef up the area's car infrastructure with the goal of moving as many vehicles as possible after events–despite the protest of transportation advocates.
Estimates are that a typical concert or sports event will generate around 15,000 vehicle trips, a vast majority of attendees bringing their own vehicle to park near the arena, with close to half of these trips competing for the same street space in the peak hour after an event. A 450-car garage is being added under the arena, which will join existing garages in the southwest corner of the Seattle Center campus. 2nd Ave N will be a primary corridor for vehicles leaving events, and the traffic management plan will direct those vehicles away from the Denny Way corridor and through downtown via 2nd Avenue.
Currently at its narrowest point, 2nd Avenue N is one lane in each direction with back-in angle parking in front of the Pacific Science Center. This would be reconfigured to allow two lanes of southbound traffic to exit parking garages without merging and cross Denny Way to get to 2nd Avenue. However, since early 2018, only one lane is available for traffic on 2nd Avenue because the other was turned into the terminus of Seattle's flagship protected bike lane. To flush traffic as fast as possible from the area around the arena, this lane would be removed, and riders crossing Denny Way would need to use the sidewalk.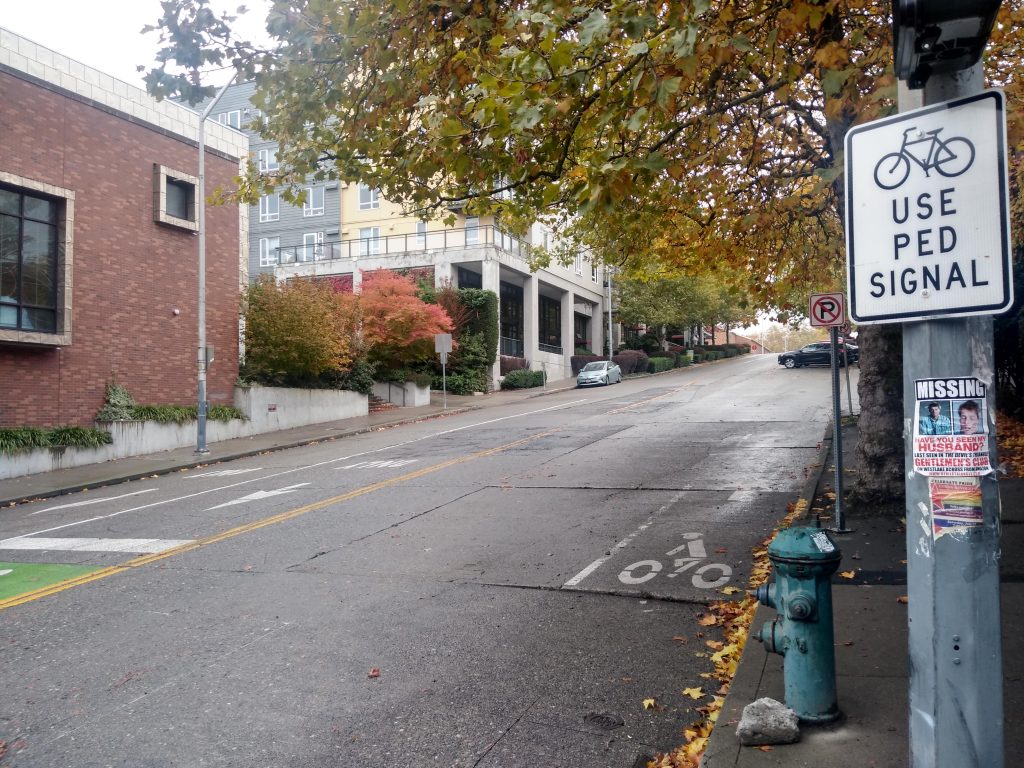 From the draft Arena Access Management Plan, finalized last year:
2nd Ave would be reconfigured south of Denny Way to include a second southbound receiving lane, modifying the northern-most segment of the recently installed protected bike lane to direct northbound people on bikes to access the sidewalk. The second vehicle lane is necessary for serving the large number of post-event motorists leaving the 1st Ave N and Arena garages via 2nd Ave N.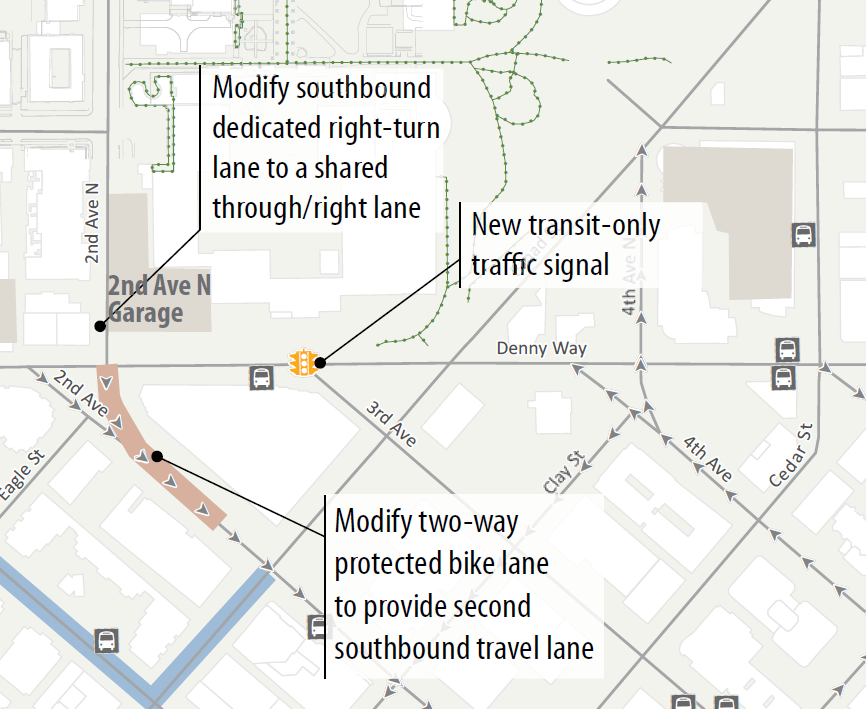 Plans obtained via a public records request show a 2016 design for the protected bike lane modified to depict a ramp where people riding bikes would move between the sidewalk and the protected bike lane.

The only silver lining of this plan is the fact that left turns are not permitted from 2nd Ave N onto Denny Way. Drivers do not generally expect to see people biking on the sidewalk, so moving them there with drivers turning left would be a dangerous move.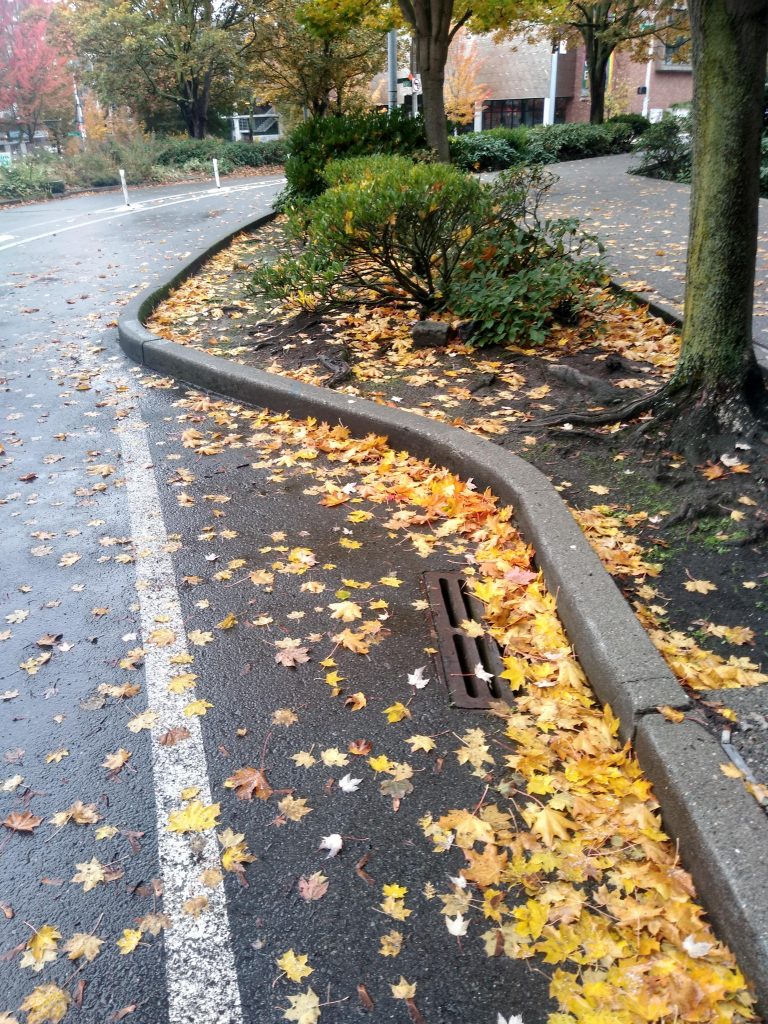 The plan for a continuous bicycle facility past the arena would instead bypass this block, and construct a two-way protected bike lane that would run on Broad Street and 1st Avenue across Denny Way and then run along 1st Avenue N to Thomas Street, where it would continue north of Thomas Street on Queen Anne Ave N. This is to provide two lanes for northbound traffic north of Thomas Street and three lanes north of Republican Street.
Exact designs for Thomas Street or what will happen at the final terminus of the protected bike lane north of Mercer Street are not known yet, but again the design of a key bicycle network segment is changing to accommodate moving as many private cars next to the arena as possible. Decisions on transitioning a facility from one street to another in the middle of a route will clearly have an impact on network legibility, something that is becoming a trend systemwide as new facilities transition from one- to two-way facilities or switch sides of the street at key junctures.
The arena doesn't have ambitious goals for increasing bicycle ridership to events, setting a target of today's bike mode share of 1% increasing to…2% by 2035. The share of attendees walking to events is estimated at 10% in 2020 and only going up to 12% in 2035. So while the project is on paper an opportunity for the City to add multimodal investments in conjunction with private development, in reality these investments will be secondary to managing demand for auto travel.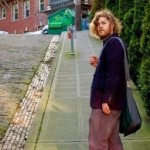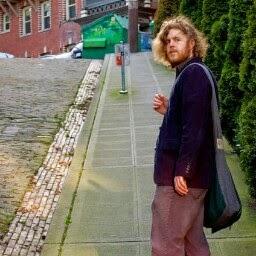 Ryan Packer lives in the Summit Slope neighborhood of Capitol Hill and has been writing for the The Urbanist since 2015. They report on multimodal transportation issues, #VisionZero, preservation, and local politics. They believe in using Seattle's history to help attain the vibrant, diverse city that we all wish to inhabit. Ryan's writing has appeared in Capitol Hill Seattle Blog, Bike Portland, and Seattle Bike Blog, where they also did a four-month stint as temporary editor.