Seattle has advanced toward receiving a federal grant that would cover nearly half of the project's $133.4 million price tag.
Back in 2010 when King County Metro Transit started service on RapidRide Line A, which runs from Tukwila to Federal Way, transportation planners probably never dreamt poor Line G, better known as Madison Bus Rapid Transit (BRT), likely the only of the RapidRide lines that will meet bronze standard BRT criteria set by the Institute for Transportation and Development Policy (ITDP) for bus rapid transit, would end up lost in an alphabet soup of muddled completion dates. Projected opening dates for Line H (2021), Line I (2023), and possibly Lines J and R (2024), are outpacing Line G, whose expected completion has been pushed back to September 2024 based on the advice of independent contractors responsible for vetting the project's eligibility for Federal Transit Authority (FTA) funding.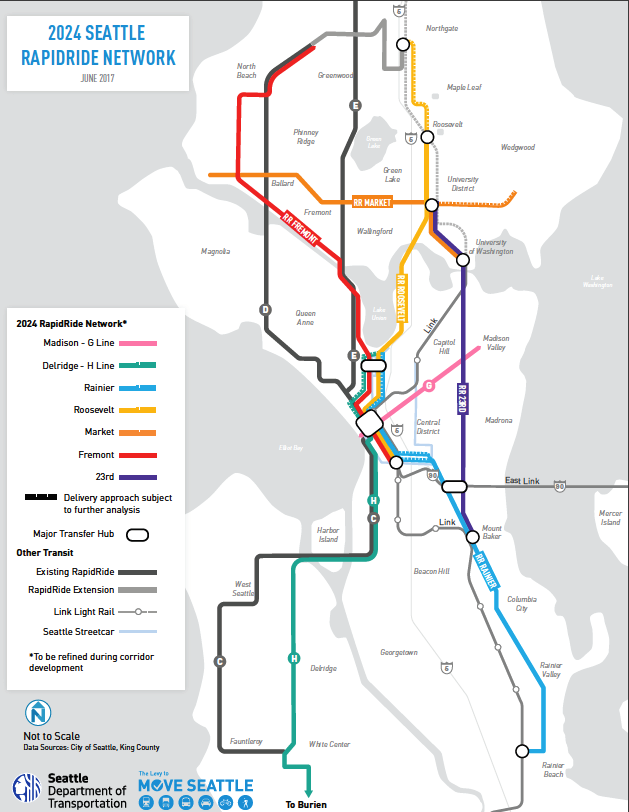 However, in better news, experts have assessed that by extending the construction process to 36 months over the initial 24 months, increasing cost contingencies by adding $6 million to the project budget, and advancing an agreement with Sound Transit to ensure the designated $35.8 million levy dollars approved by voter approved ST3 are invested in the project, SDOT's plans for Madison BRT met the necessary requirements to advance forward in the FTA Small Starts Grant process.
Despite the name, the investment from the Small Starts Grant is big and essential: the grant funding is expected to cover roughly 45% of the Madison BRT's $133.4 million price tag, which has continued to increase due to inflation and other factors. At least at this point, Madison BRT's latest cost increase is not expected to jeopardize the project. According to reporting by the Capitol Hill Blog, SDOT has stated the $6 million price increase will be covered by savings from other Move Seattle Levy projects.
Transit advocates also remain cautiously hopeful that SDOT will not need the entire 12 month construction extension, meaning if all goes well service could possibly kick off earlier in 2024.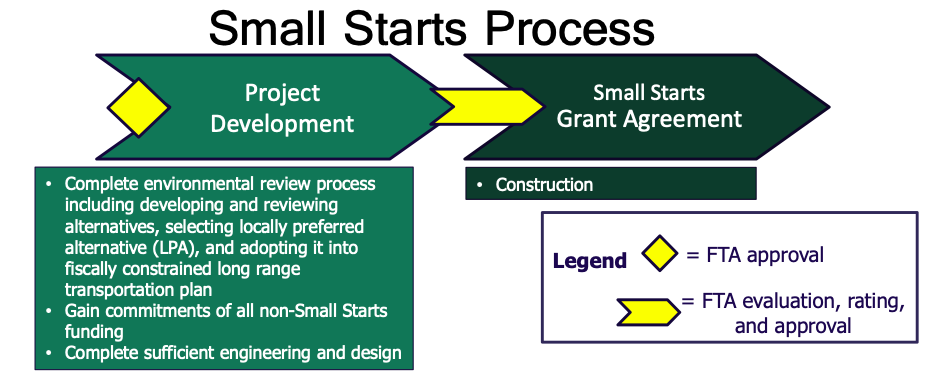 The preliminary approval of the grant application represents a big win for SDOT, which had collaborated with the FTA's independent contractors to revise its offerings after the initial application was denied earlier this year.
If all things go as planned and the Small Starts Grant funding for Madison BRT comes through, it will represent the first time the SDOT has secured this kind of federal funding. SDOT spokesman Ethan Bergerson confirmed that the agency expects to receive the funding by the end of the year, although there are no guarantees.
Receiving FTA funding matters now because of what it may represent for the future. Even in the best of times federal grants for projects like Madison BRT are always coveted by municipalities, and with more and more local budgets going into the red, states and cities will soon be vying for federal funding to replace aging infrastructure and boost job growth coming out of the Covid recession. By getting a Small Starts grant application this far, SDOT has gained both experience and credibility in the complicated process.
In a press release by the agency, SDOT Director Sam Zimbabwe addressed the "challenging economic times" and called the experts' decision to advance the grant application an "important milestone."
"We appreciate the rigorous review to show our readiness to deliver this massive infrastructure investment and the many job opportunities it will provide as we work toward community and economic recovery," said Zimbabwe.
Part of the Seattle's plans for an expanded transit system since 2012, the future Madison BRT will provide service every six minutes on a 2.3 mile ten station corridor that extends between First Ave in downtown's Central Business District and Martin Luther King Jr Way, connecting neighborhoods in downtown Seattle, First Hill, Capitol Hill, the Central Area, and Madison Valley.

To help accomplish the increased speed and reliability, BRT buses will travel in a bus only lane for segments of the corridor, passengers will pay for fares before boarding and enter or exit using any of the buses' five doors, raised platforms will be installed to make it easier to board with strollers, wheelchairs, or bikes, and cyclists will be able to load their bikes inside the bus. In an effort to curb carbon emissions, the hope was that the BRT fleet would be all electric; however, problems with procuring all electric buses that met all necessary specifications, including the ability to board on both sides of the bus, eliminated that possibility and the fleet will be constituted of diesel hybrids.
Planning for Madison BRT also has included additional improvements for pedestrians and cyclists along the corridor, including much needed improvements at the dangerous intersection of Madison Street, 12th Avenue, and Union Street, which as a result of a high rate of pedestrian collisions between 2008 and 2017 was deemed the 5th most dangerous intersection in Seattle.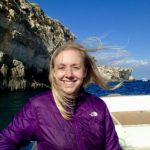 Natalie Bicknell Argerious (she/her) is a reporter and podcast host at The Urbanist. She previously served as managing editor. A passionate urban explorer since childhood, she loves learning how to make cities more inclusive, vibrant, and environmentally resilient. You can often find her wandering around Seattle's Central District and Capitol Hill with her dogs and cat. Email her at natalie [at] theurbanist [dot] org.