Earlier this month, King County Metro dropped a new survey for RapidRide R, its planned upgrade of Route 7–one of its busiest routes with 11,000 daily riders. Officially RapidRide R is slated to open in late 2024, but the Seattle Department of Transportation (SDOT) plans to roll out some of the improvements sooner in 2022–such as business access and transit (BAT) lanes on select northbound stretches of Rainier Avenue.
The survey gives a sense of the direction that Metro and SDOT are heading, particularly when it comes to consolidating or altering bus stop locations. The agencies had hinted at their bus stop consolidation concept in a 2018 survey, and are largely following that concept here. In some cases, Metro has proposed two locations and asked survey takers to rank them–presumably with the less popular option getting removed.
Rainier RapidRide was originally scheduled to open in 2021, but the Move Seattle Reset delayed the targeted opening to 2024 and cut three routes from RapidRide plans. The Move All Seattle Sustainably (MASS) coalition (of which we're a member) urged earlier delivery of BAT lanes, and SDOT has pledged to do so. MASS also suggested extending bus lanes through congested stretches of Rainier near I-90, but that isn't in the works yet.
Last year, in the aftermath of another deadly crash, Mayor Jenny Durkan announced some safety improvements to Rainier Avenue, which have long been hot spots for crashes. Safe streets advocates had long demanded action to fix Rainier, Seattle's deadliest street. RapidRide R implementation will expand on some of those safety upgrades, with sidewalk and crossing improvements that are not fleshed out yet.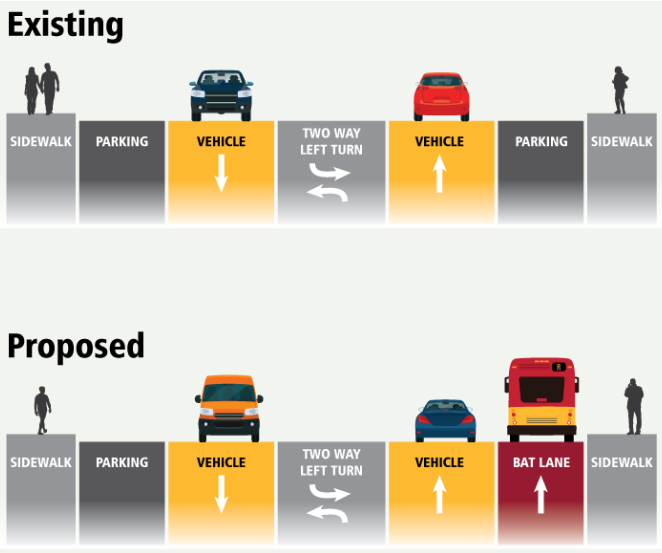 There had been hopes that the Rainier project could also provide protected bike lanes–since it's the flattest and most direct route serving most of the commercial and cultural destinations–but that ship has likely sailed after SDOT cut the bike lane option in 2018. A somewhat but not really parallel greenway will have to suffice.
Segment 1: International District & Little Saigon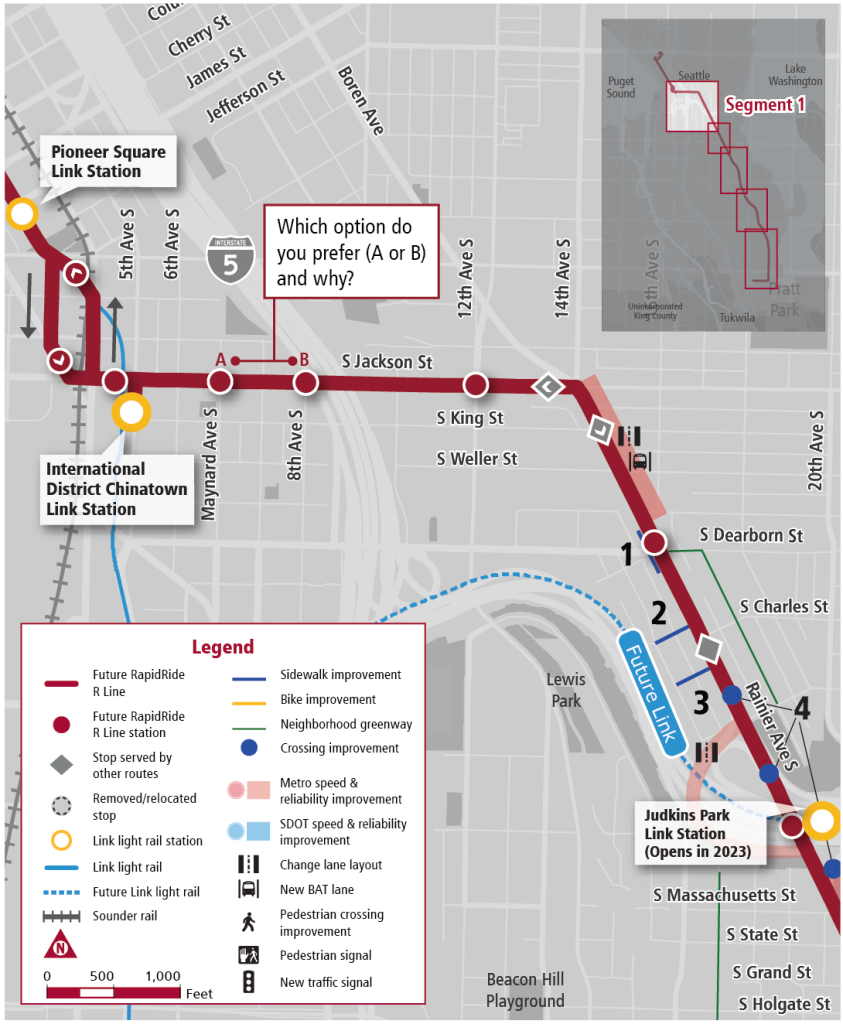 RapidRide R runs along S Jackson St using the curb lane, while the First Hill Streetcar shares the corridor, but runs in the center lane. This creates an interesting case for transit lanes. It may be easier to get bus lanes if they shared the same lane, but San Francisco has also demonstrated that that completely removing cars from a key transit corridor is also quite feasible and effective even in the United States.
Segment 2: Mount Baker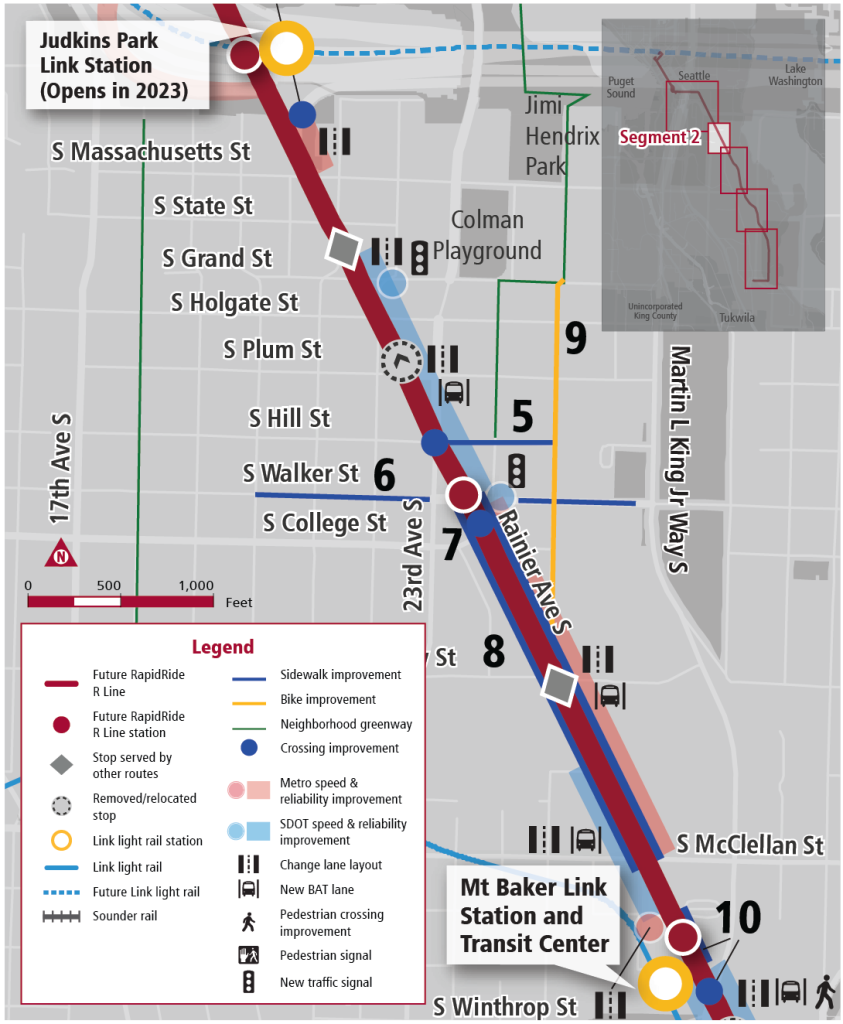 Near Mount Baker Station, BAT lanes will exist on both sides of Rainier Avenue briefly. Sharing a good portion of this segment with Route 48, RapidRide R would skip two of the bus stops here, leaving them to other bus routes under Metro's plan.
Segment 3: North Rainier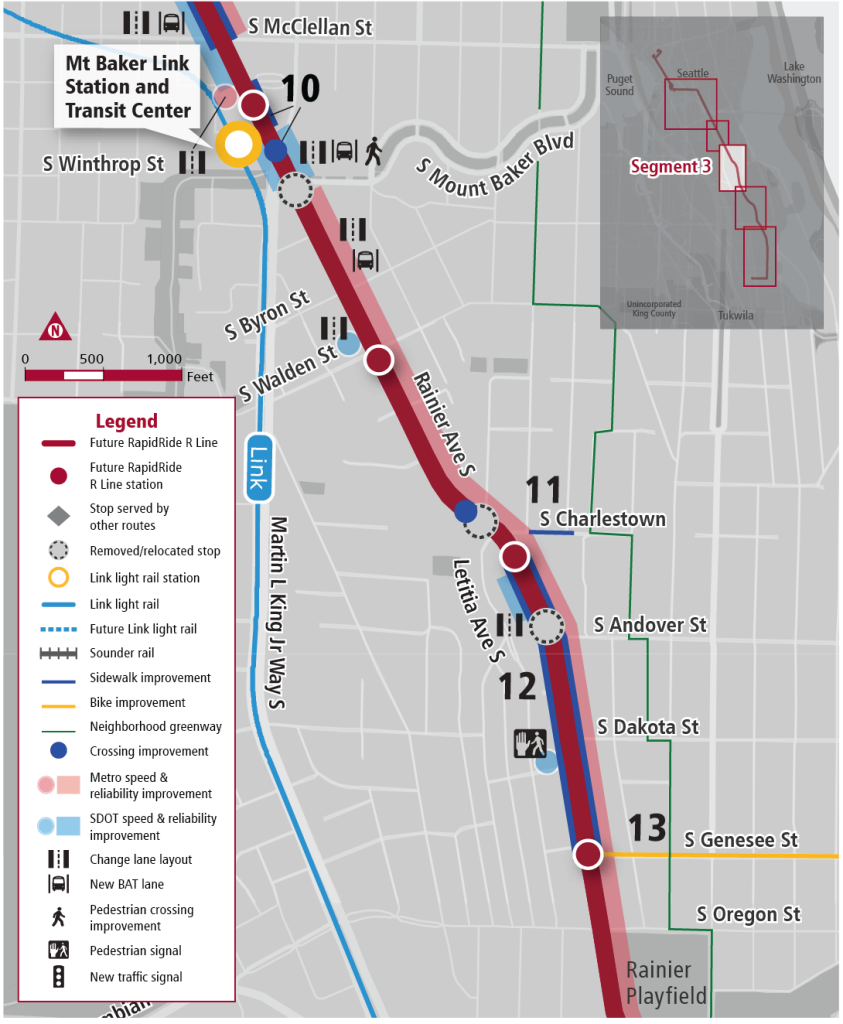 It appears that queue jumps are the strategy to speed up the route through Segment 3. Metro proposed consolidating two stops at S Charlestown Street and S Andover Street, replacing them with a stop in-between the two.
Segment 4: Columbia City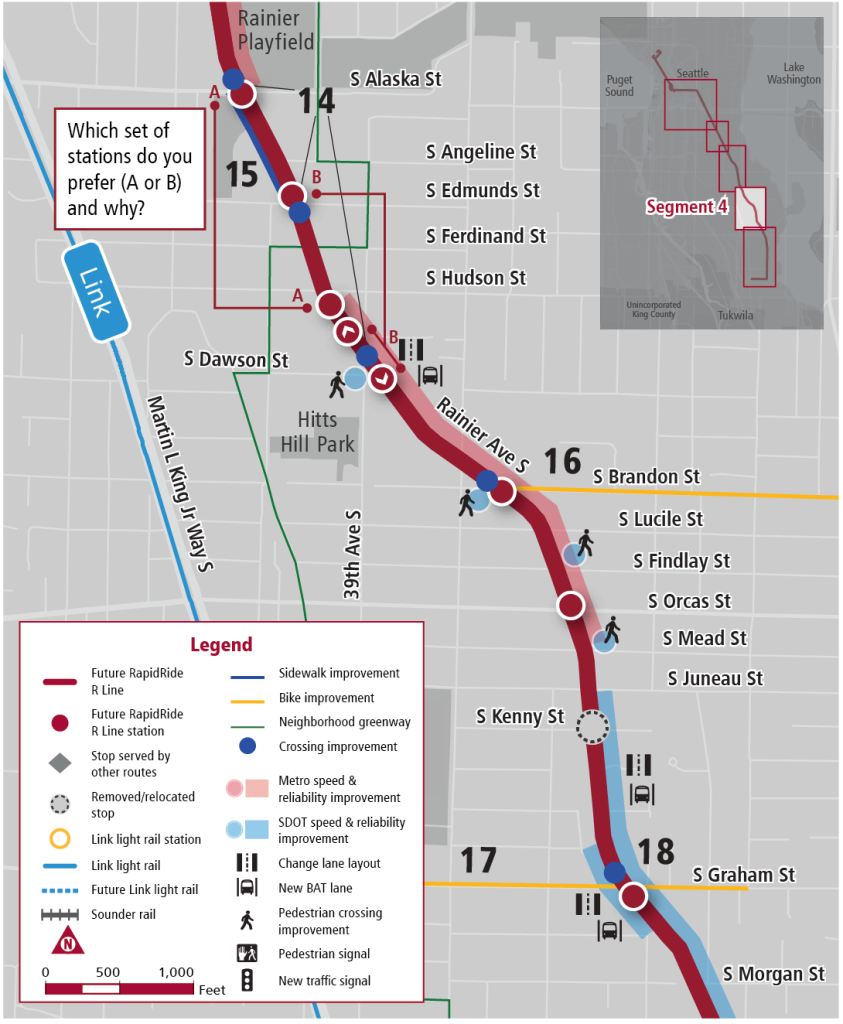 Metro's survey asks whether a stop at Alaska Street or Edmunds Street is preferred as a location. Either station would be the closest option to reach Columbia City Station, where transit oriented development continues to sprout around the light rail station. This Columbia City segment already saw a road rechannelization which has calmed the road somewhat and improved safety as part of a Vision Zero intervention. More pedestrian crossing improvement could further promote walkability and safety. There won't be a BAT lane through the heart of the Columbia City business district, but they are planned to the south.
Segment 5: Rainier Beach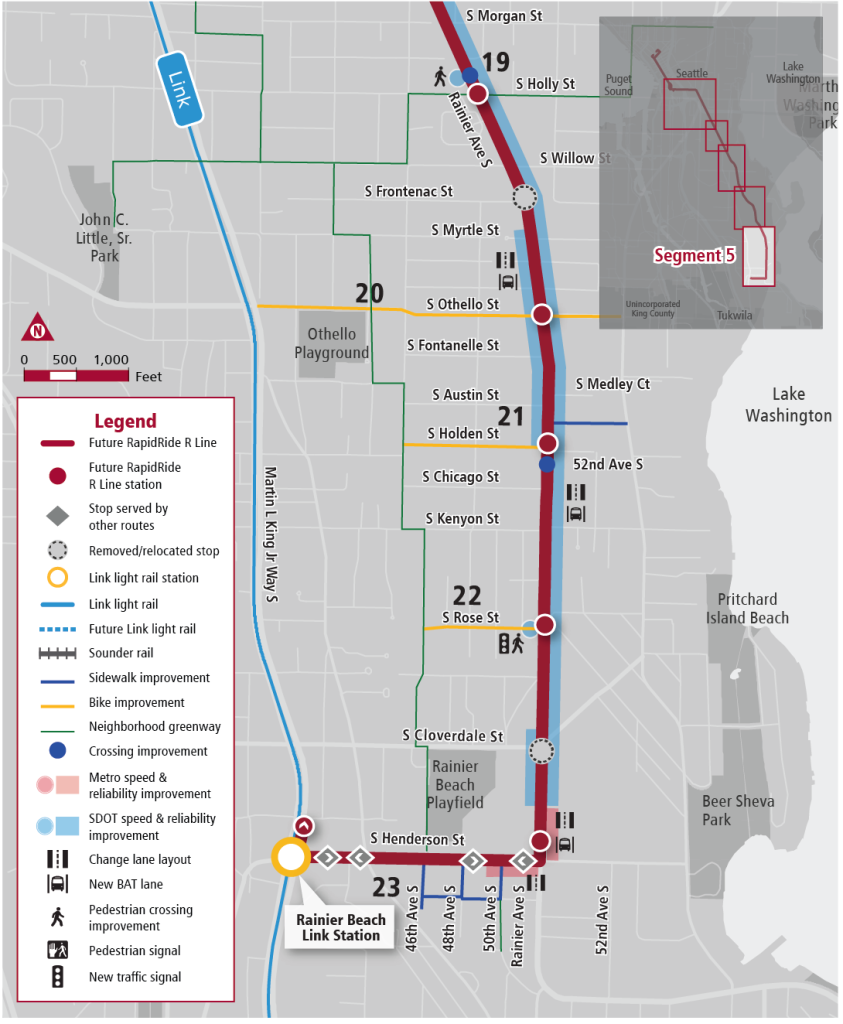 Northbound BAT lanes would be fairly continuous through Segment 5, which should help speed up the route. Route 7's Prentice Street tail would get the ax in Metro's revision, as would bus stops at Frontenac Street and Cloverdale Street.
In addition to the survey, Metro has planned several outreach events including one tonight at Hillman City Collaborative from 6pm to 8pm. On March 3, Metro is hosting an open house at Dunlap Elementary School from 6pm to 8pm, and another at Hirabayashi Place March 5 from 5:30p to 7:30pm. And once again the online survey is available here and runs through March 10th.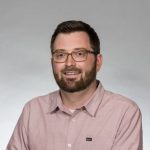 Doug Trumm is publisher of The Urbanist. An Urbanist writer since 2015, he dreams of pedestrianizing streets, blanketing the city in bus lanes, and unleashing a mass timber building spree to end the affordable housing shortage and avert our coming climate catastrophe. He graduated from the Evans School of Public Policy and Governance at the University of Washington in 2019. He lives in East Fremont and loves to explore the city on his bike.