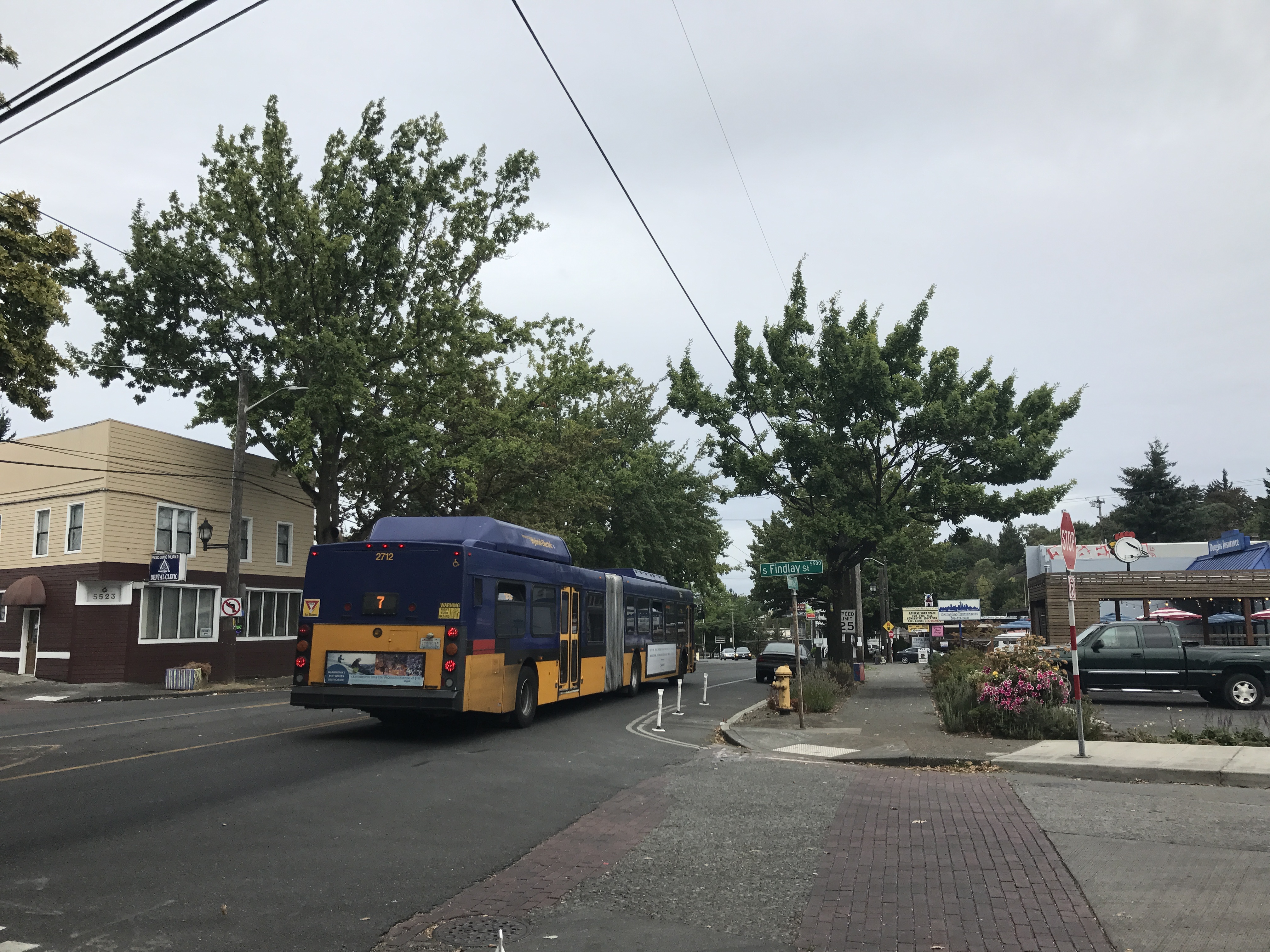 The Rainier RapidRide Line is coming to the Rainier Valley in 2021 and will provide very frequent 24-hour service and improve the quality of bus operations, bus stops, and bus design. The route will largely replace the existing Route 7, one of the busiest routes in the King County Metro Transit network and had 10,800 daily weekday riders as of fall 2017. Metro is planning to run the route from Downtown Seattle on Third Avenue to Rainier Beach Station via Jackson Street and Rainier Avenue. The Rainier RapidRide Line will be the fifth RapidRide line in Seattle. 10 Rapid Ride lines will criss-cross the city by 2024. Metro and the Seattle Department of Transportation (SDOT) are looking for feedback on the corridor concepts that were recently released.
There are several changes to the proposed corridor scope. Originally, the Rainier Line had been envisioned to continue into South Lake Union, possibly connecting with the Roosevelt Line. That has been cut back with the route planned to terminate just north of the retail core of Downtown Seattle. Operation costs and duplicative service are cited reasons for the change. Additionally, Yesler Way was considered as an alternative routing to Jackson Street. Yesler Way is a street that Metro desperately wants to provide frequent service to enhance local access to Downtown Seattle, most recently with a failed proposal to alter Routes 3 and 4 to serve it. However, Yesler Way was found to add travel times, reduce key connections, and increase costs.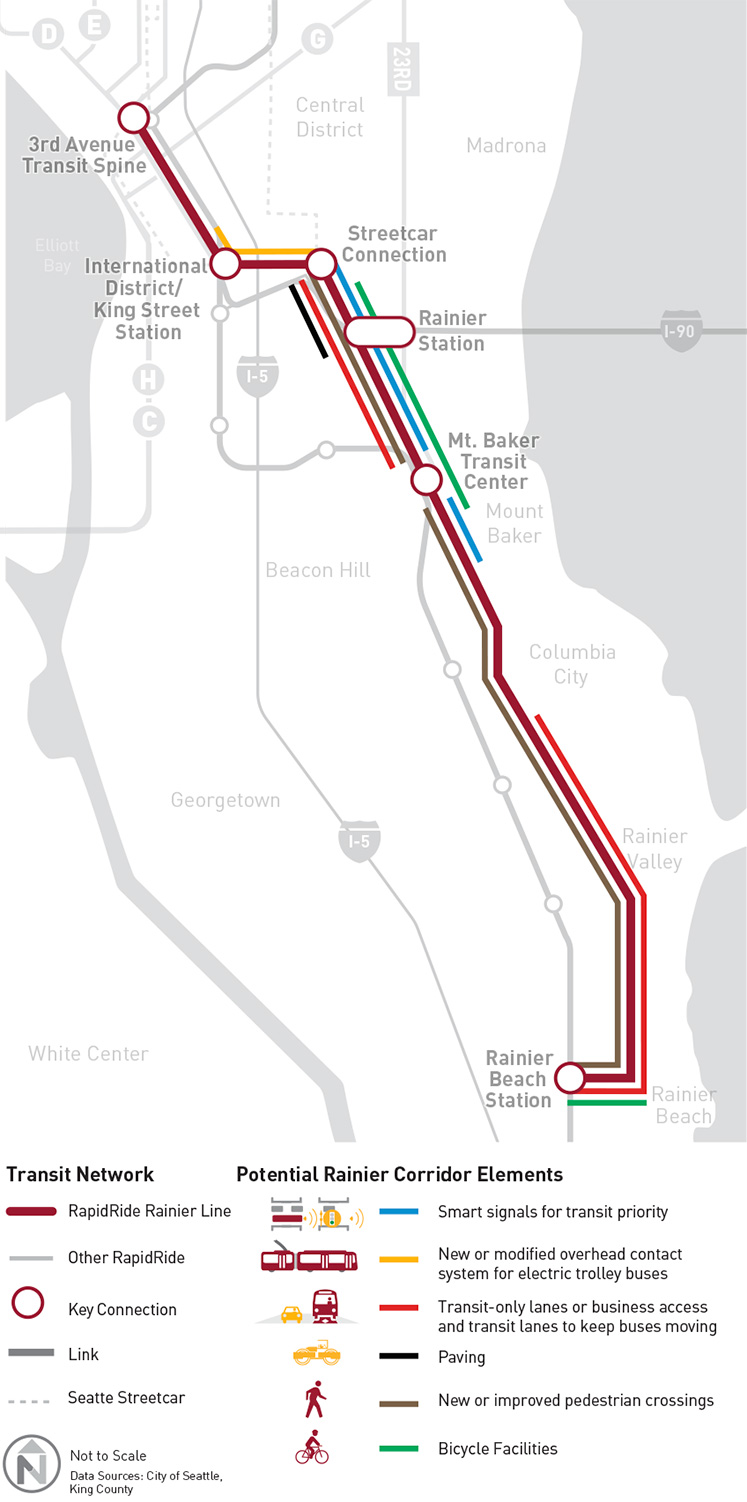 As is typical with RapidRide projects, Metro and SDOT are working together to propose transit access improvements along the corridor (see map above that summarizes these features). These include targeted transit priority signal locations, some possible in-street bicycle facilities, improved pedestrian crossings, and transit-only or business access and transit lanes (BAT). For certain segments along the route, new paving and overhead wires will be installed.
As a general rule, RapidRide service is designed to stop less frequently than local bus service. This is achieved by trying to stick with an average stop spacing of a half-mile. The stop frequency for the Route 7 is closer to quarter-mile between stop. Under the proposal, several stops would be closed to achieve stop balancing and consolidation, but would result in an average of distance of 0.3 miles between stops.
Two options have been developed for the corridor:
Option 1: Metro would close several stops on Rainier Avenue to all service. Several stops along the corridor would be for local service only. Throughout the corridor, Metro would upgrade existing stops to include standard RapidRide features. Four new RapidRide stop pairs would be added to Rainier Avenue. Two new RapidRide stop pairs would also be added on Jackson Street.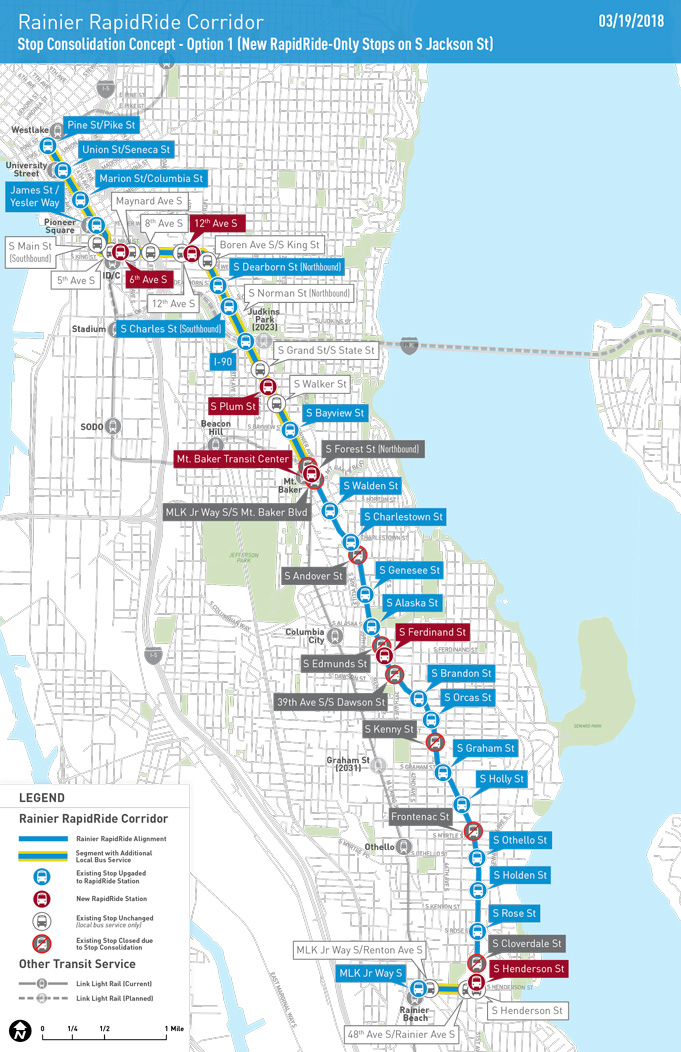 Option 2: This option would be identical to Option 1, except that Metro would consolidate some bus stops on Jackson Street, build a new RapidRide-only stop pair, and upgrade an existing stop pair to include RapidRide features.
The RapidRide project has been broken up into four distinct segments for consideration of a variety of mobility improvements.
The first segment is Chinatown-International District to Mount Baker. The online survey describes three options being proposed:
"Option 1 includes bus-only lanes to keep buses moving and Neighborhood Greenway connections."
"Option 2 includes a mix of protected bike lanes, bike lanes, and Neighborhood Greenway connections."
"Option 3 is a hybrid option that includes transit-only lanes, protected bike lanes, and Neighborhood Greenway connections."
Option 1 would provide the most benefit to transit speeding up buses by up to one minute southbound and up to four minutes northbound in the afternoon (the benefits northbound in the morning are likely greater) along the segment with many stretches of transit-only and business access and transit lanes. Option 2 would slow buses by up to two minutes both directions, according to Metro's modeling. Option 3 would be mixed speeding up buses northbound by three minutes and slowing buses southbound by two minutes in the afternoon; targeted transit speed improvements would be focused in the northbound direction allowing the faster travel times.
However, Option 2 would provide the most pedestrian crossing improvements and the most direct benefits to bicyclists with in-street protected bikes lanes on Rainier Avenue, though only one portion of three portions of the segment would have bi-directional bicycle facilities in the street–and those facilities would not be fully protected from traffic. All options would also include installation of new nearby Neighborhood Greenway facilities. The Bike Master Plan indicates that protected bikes lanes are supposed to be installed on the whole segment along Rainier Avenue, but so far concerns about freight and high-vehicle counts (which SDOT considers "on the upper threshold" of lane reducing rechannelizations) have stalled implementation.
The second segment from Mount Baker to Columbia City, only one primary option is being considered. This option would improve travel times for buses by two minutes in both directions in the afternoon. Several pedestrian crossings would be added and other pedestrian facilities on the segment could be upgraded. Because the Rainier Valley Neighborhood Greenway under construction right now does not provide a direct connection to Mount Baker station, future greenways would be planned to bridge that gap. Ultimately, the plan for Rainier Avenue in Mount Baker is an ambitious modal plan called Accessible Mount Baker, which should serve as a traffic diverter for much of the traffic on Rainier Avenue, moving it to MLK Way S.
The third segment from Columbia City to Rainier Beach is still in the conceptual planning stage. SDOT says that it will likely recommend a new northbound business access and transit lane to speed up bus service. A new center turn lane would also be added and an existing on-street parking lane would be retained. The had previously considered an alternative to provide protected bike lanes on the street, but that appears to have evaporated, partly due to community feedback favoring transit priority over bike facilities, partly due to SDOT's concerns that this stretch of Rainier is too dangerous for a protected bike lane. A formal design of proposed treatments is planned for this fall.
The fourth segment from Henderson to Rainier Beach Station has two primary options. Neither option would provide speed and reliability features for buses, but Option 2 would involve construction of protected bike lanes on S Henderson St.
The online survey is open to the public through April 8th, which provides ample opportunities to provide specific feedback on the proposals. Several in-person drop-in sessions will available over the next few weeks, including opportunities to talk to transportation planners at King Donut (9232 Rainier Ave S) on March 28th from 3pm to 5pm, Viet Wah Asian Supermarket (1032 S Jackson St) on April 2nd from 12pm to 2pm, and Rainier Farmer's Market (2119 Rainier Ave S) on April 6th from 1pm to 3pm.

Stephen is a professional urban planner in Puget Sound with a passion for sustainable, livable, and diverse cities. He is especially interested in how policies, regulations, and programs can promote positive outcomes for communities. With stints in great cities like Bellingham and Cork, Stephen currently lives in Seattle. He primarily covers land use and transportation issues and has been with The Urbanist since 2014.