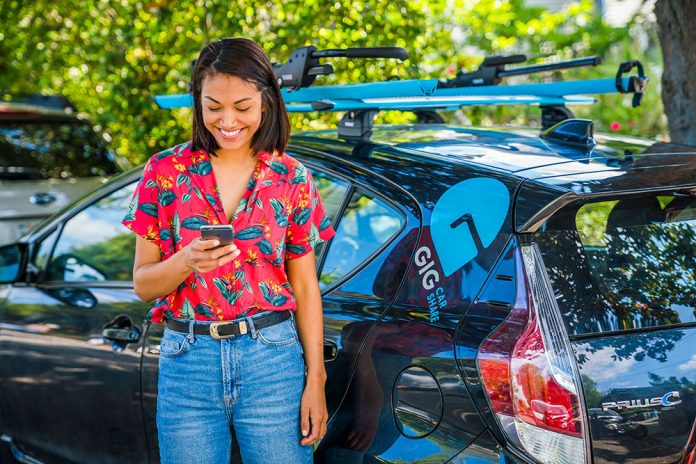 As one door closes, another opens. GIG Car Share will be entering the Seattle market in May, the company announced on Tuesday. This comes on the heels of news that long-time carsharing company Car2Go would end service in Seattle on February 29th. Other competitors such as LimePod and ReachNow folded last year. For a short time, Seattle will have no free-floating carshare service, though Zipcar is still around.
The American Automobile Association (AAA) is behind the new carsharing company and currently operates its GIG carsharing service in Sacramento and the several cities of the San Francisco Bay Area. It is not yet clear what the Seattle home area will look like, but it probably will end up covering most of the corporate boundaries of Seattle allowing carshare users to park on-street at no cost wherever allowed. Trips outside the home area will also be allowed, but cannot be ended until returning to the home area.
GIG has indicated that 250 cars will be introduced to the Seattle home area. These will consist of Toyota Priuses that include bike racks, a feature the company is promoting to attract recreational members in addition to general city use. The vehicles will be able to carry as many as four passengers plus the driver. In its other markets, the Priuses come in hybrid and all-electric model. Cars should start appearing on city streets in April.
Cost of the service is fairly similar to Car2Go's rate structure with a $0.41 charge per minute, up to $15 per hour cap. All costs, including insurance and gas, are built into the per-minute and hourly charges. Through March 15th, new members can register and get two hours of credit for free. The first 1,500 new members in Seattle will also get to try out the service before the formal launch in May.
The arrival of a new free-floating carshare program will hopefully allow Seattle to continue its progress decreasing car dependence and promoting alternatives to car ownership. Seattle led the nation in decreasing car ownership rates over the previous decade with a 3% drop. Alongside improving transit, bikeability and walkability, carsharing options did their part to help convince people forgo car ownership.

Stephen is a professional urban planner in Puget Sound with a passion for sustainable, livable, and diverse cities. He is especially interested in how policies, regulations, and programs can promote positive outcomes for communities. With stints in great cities like Bellingham and Cork, Stephen currently lives in Seattle. He primarily covers land use and transportation issues and has been with The Urbanist since 2014.