Since the start of summer, many residents of West Seattle, White Center, and Burien have been plagued by slow bus commutes, particularly when heading out of Downtown Seattle during evening commutes. In recent months, the nearly 30,000 daily riders who rely on workhorse bus routes like the RapidRide C Line and King County Metro Route 120 (the future RapidRide H Line) have watched travel times spike, sometimes by as much as an hour on Fridays when the convergence of stadium events and heightened ferry terminal traffic tightens the Seattle Squeeze into a vice grip on beleaguered West Seattle-bound transit riders.
I'm not a regular passenger on any of the bus lines that have been impacted by the congestion, but I can remember sailing in and out of Downtown from West Seattle by bus a few times shortly before the Alaskan Way Viaduct closure thinking, "How will traffic engineers keep these bus lines moving without the viaduct?"
The answer to that question is a complicated one. For now, King County Metro and the Seattle Department of Transportation (SDOT) are applying a tourniquet to stop the bleeding. Buses bound for West Seattle and Delridge will no longer use 1st Avenue S, which has been gridlocked to a standstill many evenings, and instead will use 2nd Avenue S, 4th Avenue S, and Edgar Martinez Drive S to reach southbound SR-99. (More specifics on the reroute below.)
The Seattle Squeeze involves many different factors beyond just the very visible closure of the Alaskan Way Viaduct and the movement of Metro buses from the bus tunnel to surface streets. And unfortunately for West Seattle-area bus commuters, most of those factors seem to zero-in directly on their bus routes.
A painful transition for West Seattle-area commuters
"To say the Seattle Squeeze has been rough on those of us who rely on bus service from downtown to West Seattle and Burien has been an understatement," King County Councilmember Joe McDermott said.
Earlier in August, McDermott, a West Seattleite who also serves on the county council's Mobility and Environment Committee, was questioned by the West Seattle Blog about what City and County agencies were doing to address the the "bus crawl" phenomenon, acknowledged that, "[e]very route has challenges and made finding a predictable and reliable route difficult."
McDermott's response followed a series of posts which began with one commuter sharing a photo of the bus traffic she was trapped in for over an hour. That initial post spurred a thread eighty-five comments, in which commuters vented frustrations and exchanged ideas on what could be done to improve the situation.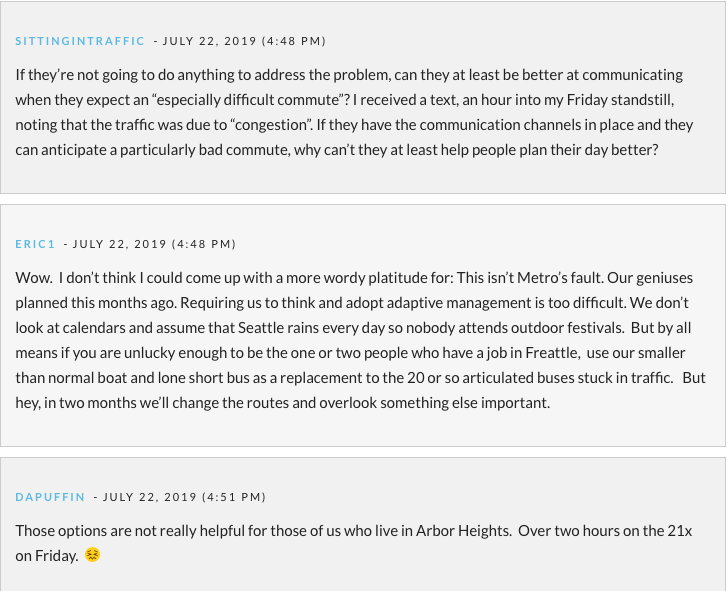 West Seattle-area transit riders are eventually supposed to receive congestion reprieve. Several of the planned Waterfront Seattle improvements, such as dedicated transit lanes on the southern portion of the future Alaskan Way megaboulevard, ferry queueing lanes the Colman Dock Ferry Terminal, and the future two-way transit only Columbia Street, are targeted at improving mobility for transit riders through this important corridor. But the new Alaskan Way boulevard won't fully open to traffic until 2021.
In the meantime, King County Metro and SDOT have announced both southbound and northbound bus reroutes that they hope will improve passengers evening commutes. The reroutes come in addition to signal timing changes that the agencies have already implemented and are seeking to refine as conditions change. Metro's service development director Bill Bryant said the reroute could save as much as a half-hour on the busiest evening peak commutes.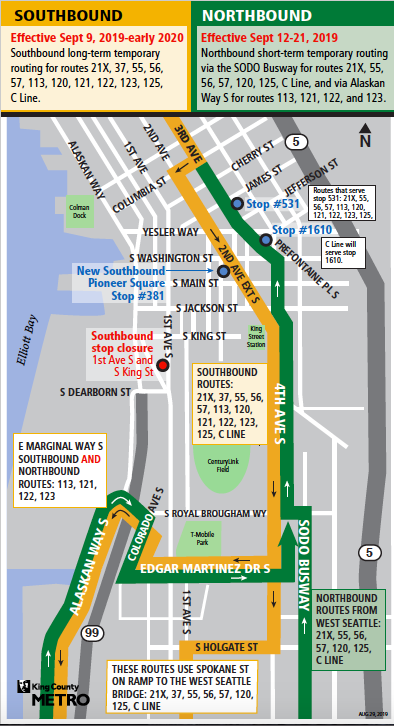 Southbound reroutes take effect September 9th
Long-term temporary routing for Metro Routes 21X, 37, 55, 56, 57, 113, 120, 121, 122, 123, 125, and RapidRide C Line begins on September 9th. The reroutes are expected to last until the beginning of 2020.
The southbound lines will move to 2nd Avenue at Columbia Street, transferring to 4th Avenue S at S Jackson Street in the International District and then either precede south through the Stadium District on Edgar Martinez Drive and Colorado Avenue S before eventually returning to Alaskan Way or use S Holgate Street access the Spokane Street on-ramp to the West Seattle Bridge.
In a press release, agencies said that "[t]his service revision comes after Metro and SDOT evaluated alternate pathways and worked to prioritize bus traffic through the city's central business district."
However, riders remain concerned about how much time they stand to save with the southbound reroute.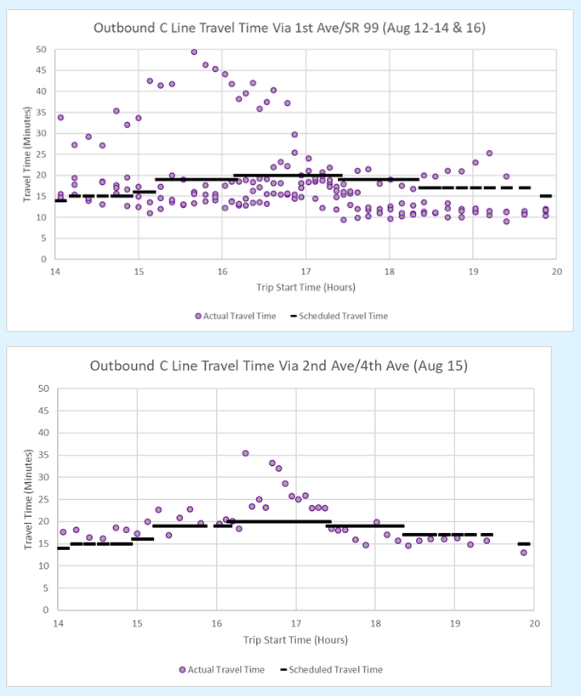 In a statement accompanying data request from the West Seattle Blog about bus travel times, Metro spokesperson Travis Shofner stated that while the agency "cannot promise that Fourth Avenue South is always going to be faster than First Avenue," the data suggests that riders should have a "more predictable commute," an assertion backed up by data shared by the agency comparing commute times between the two routes. The data, which is limited to a single test day of the 4th Avenue S route, shows travel times spiking at about 35 minutes on the 4th Avenue S reroute versus 50 minutes on 1st Avenue S.
Still questions remain. Chief among them is why 1st Avenue could not be adapted to better accommodate bus traffic. Commuters have suggested removing on-street parking from 1st Avenue during peak periods to create transit only lanes. However, the City has cited weight restrictions as a major barrier to such a plan. Curbs that support sidewalks on 1st Avenue cannot support the 55,000-pound weight limit necessary to safely transport buses. Currently both transit and freight are only able to use center lanes on 1st Avenue. The only workaround for that would be to make the center lane bus- and freight-only, but SDOT doesn't seem interested in that.
Demolition of Alaskan Way Viaduct at Dearborn will cause short-term northbound reroutes
Another piece in this complicated traffic engineering puzzle is the intersection at 1st Avenue S and S Dearborn Street, where a hulking remnant of the Viaduct still awaits demolition. Metro and SDOT have pledged to hold off demolition until two lanes of traffic are open either way on Alaskan Way. But even if that construction results in a slight delay, Metro has asserted that its planned short-term northbound routes of lines 21X, 55, 56, 57, 113, 120, 121, 122, 123, 125, and RapidRide C Line will begin on September 12th and are anticipated to last until September 21st.
During an estimated ten-day period, impacted northbound lines will follow 4th Avenue S to S Royal Brougham Way to the SODO Busway. Estimated travel times have not been released, but passengers should be prepared for delays during the northbound reroute period.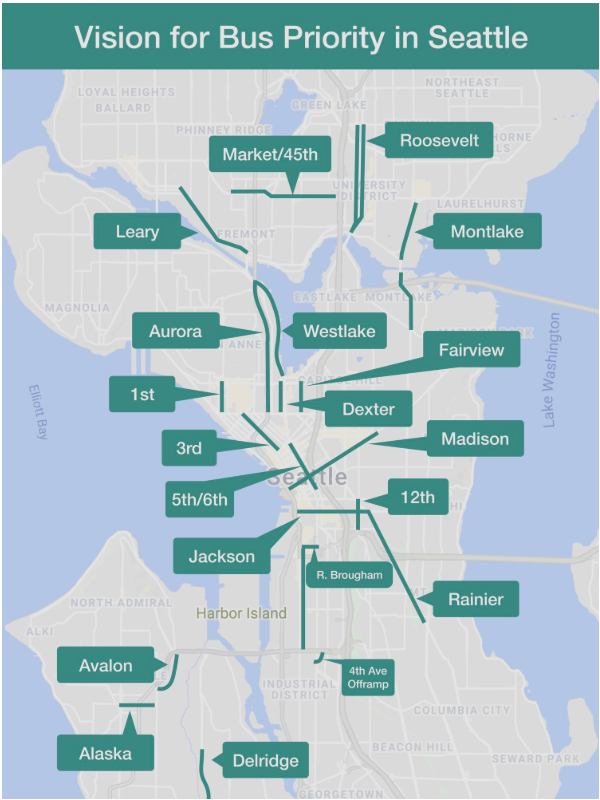 Overall, the reroute is good new for transit riders. It's a step in the right direction, but hopefully just the first of many tweaks to keep buses moving through Downtown.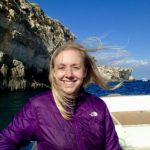 Natalie Bicknell Argerious (she/her) is a freelance reporter and podcast host at The Urbanist. She previously served as managing editor. A passionate urban explorer since childhood, she loves learning how to make cities more inclusive, vibrant, and environmentally resilient. You can often find her wandering around Seattle's Central District and Capitol Hill with her dogs and cat. Email her at natalie [at] theurbanist [dot] org.