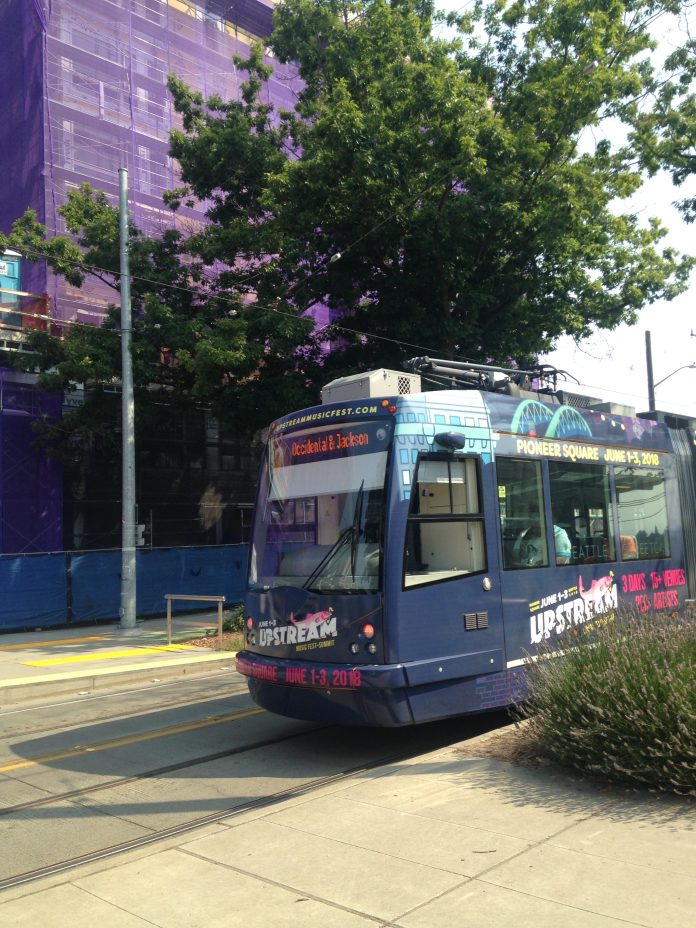 Within a year, 1,400 new housing units will come online in First Hill, which is already one of Seattle's densest neighborhoods, as well as a major employment center that continues to add more workers and jobs. Since the chances for the expansion of light rail into First Hill appear slim, neighborhood advocates are concerned about the pause in construction of the Center City Connector (CCC). They worry that cancellation of the CCC would result in First Hill being cut out of another connected transit system right when the dense and rapidly growing neighborhood needs more, not less, access to public transit.
"We believe that the streetcar, which is already finding its way, will only be made better if the promise made to connect the First Hill streetcar to a system are made true," said Alex Hudson, former Executive Director of the First Hill Improvement Association. (Full Disclosure: Hudson is on the board of The Urbanist.)
While a lot of attention has focused on NIMBYs who have resisted changes to residential zoning in Seattle, Hudson believes it is important to remember that First Hill has welcomed the growth other neighborhoods have spurned. Upholding the promise of a connected streetcar is one way to show that the city is committed to the success and livability of neighborhoods that commit to density.
Dialogue has occurred between the Mayor's office and representatives from First Hill about the CCC, providing reason for cautious optimism.
"I appreciate that her staff has met with us to hear our concerns," Hudson said. "And I look forward to more collaborative engagement."
Yesler Terrace Needs Transit
The First Hill Improvement Association provides a map of "Coming Development"  on its website. Projects currently under construction are red, while proposed projects are blue, resulting in a colorful patchwork of shapes. Many people are familiar with First Hill's east-west boundaries of I-5 and Broadway, but the north-south boundaries of Union Street and S Main St are much less familiar. It's easy to forget that Yesler Terrace, and all of the land south of James Street, are part of First Hill.
"For a long time there has been a serious stigma around everything south of James Street. It's focused who uses Harborview [Medical Center] and who lives in Yesler Terrace," Hudson said. "There are also design features that make [the area] south of James feel like its own place."
 On its website, the First Hill Improvement Association states its mission is to "champion a dynamic and safe First Hill for all." A key part of that effort is connecting the neighborhood.
"We are working so that people who live in Yesler Terrace are able access the benefits of this incredibly rich neighborhood, so it's not 'here's where poor people live' and 'here's where wealthy people live,'" Hudson said.
Building connections across the neighborhood will continue to be important as the redevelopment of Yesler Terrace  adds new housing and commercial properties.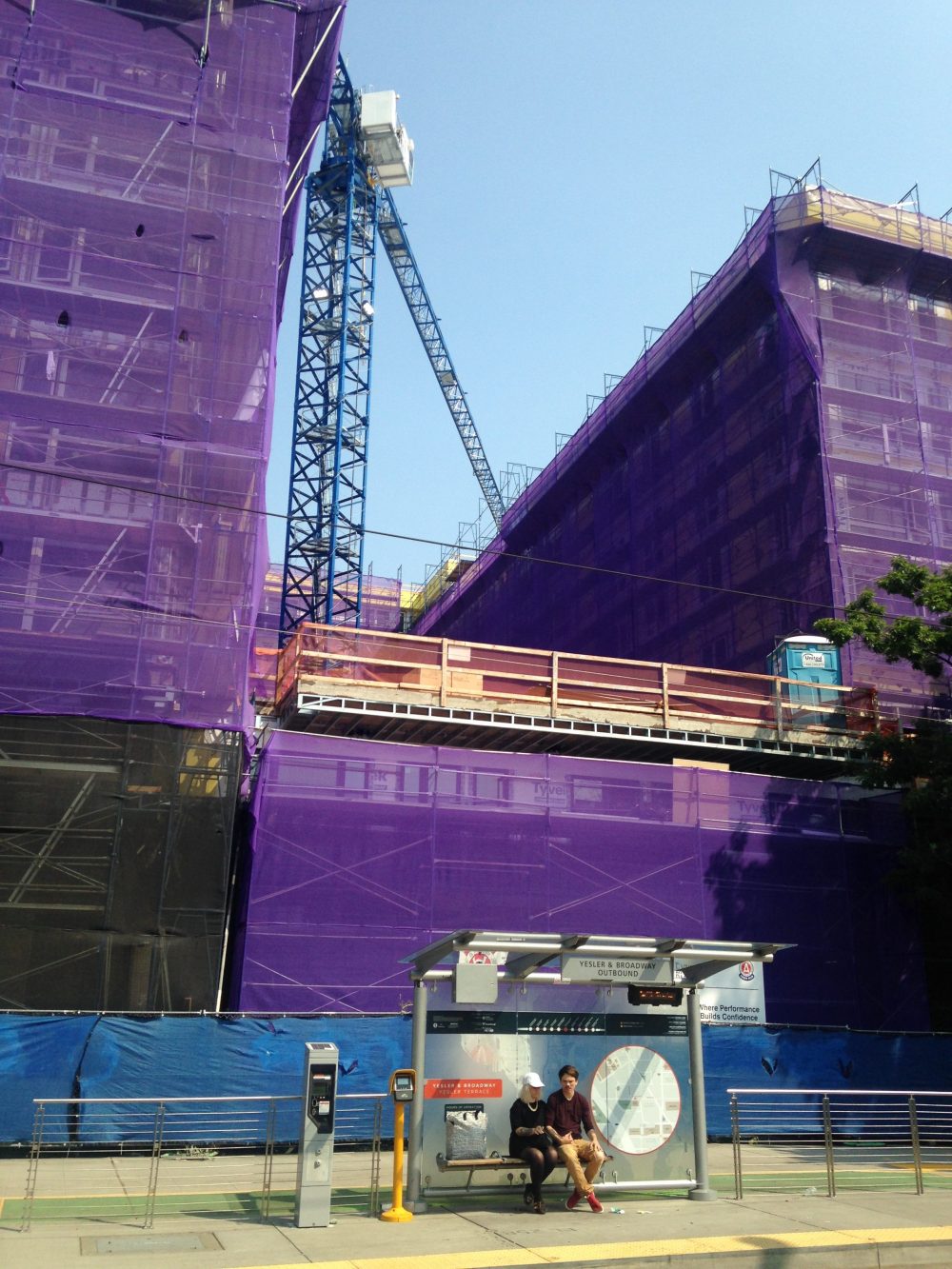 According to Seattle Housing Authority (SHA) data, the redevelopment of Yesler Terrace will create up 5,000 units of housing, 1,800 of which will be subsidized for low and moderate-income residents.
Additionally, the new Yesler Terrace will be a commercial center with 88,000 square feet of retail space, 900,000 square feet of office space, and 5,100 parking spaces. Despite investment in parking, transit will be essential to the mobility of many Yesler Terrace residents, with the current First Hill streetcar running straight through the center of the development. SHA has touted Yesler Terrace as a "convenient, welcoming neighborhood" explaining that the "streetcar provides a key link to the region's wider public transportation system."
However, if the CCC is cancelled, residents of the new Yesler Terrace will lose access to a connected system that would transport them directly to services, employment, and recreation.
"We have parts of this neighborhood, specifically Yesler Terrace, that are not served as well as they ought to be by bus," Hudson said. "Not everybody has able-bodied privilege. Even though you can see First Hill from the ID and Pioneer Square, there are not great ways to get here on bus. It's very difficult to walk because there is a ton of elevation. People rely on the streetcar to get up the hill."
Vulnerable Populations and ADA Accessibility
The "able bodied privilege" referenced by Hudson is important to keep in mind when thinking about the demographics of First Hill, which is serves a large number of disabled and elderly city residents, many of whom need rely on ADA accessibility to get around town. The Seattle Streetcar has been designed for ADA accessibility through its low floors and high platforms, which create a "minimal gap" for boarding passengers. Wheelchair ramps on the streetcar can be "deployed by pressing a blue button inside or outside of the car." The interior of the streetcar is more spacious than a bus and can more easily accommodate wheelchairs, walkers, strollers, and other personal mobility aids. Also, audio and digital display announcements keep passengers informed of where they are traveling.
These features make riding the streetcar a difference experience than riding a bus, opening up a public transit option to people who may not be served well by buses.
"The streetcar is a highly legible way to get around town. It has higher capacity and offers a more pleasant rider experience," said Hudson.
For vulnerable populations, including patients in need of medical care, the streetcar's benefits matter. Nicknamed as "Pill Hill," First Hill is home to major medical campuses, including Harborview Medical Center, a public hospital owned by King County and operated by UW Medicine. As a "mission driven hospital that provides comprehensive care to patients from all walks of life," Harborview is on the frontlines of providing medical care to King County's neediest patients, including providing "charity care" to uninsured patients. UW Medicine's annual financial report states that in 2017, Harborview spent approximately $75 million dollars on charity care. By comparison, UW Medical Center, the second highest charity care spender in the UW system, spent $29 million. A 2016 comparison of charity care across hospitals in King County from the Department of Health, found that charity care expenses at Harborview were roughly 7.97 percent of adjusted patient service revenue, while at Virginia Mason Medical Center, charity care accounted for 1.52 percent and at Swedish First Hill, 1.71 percent.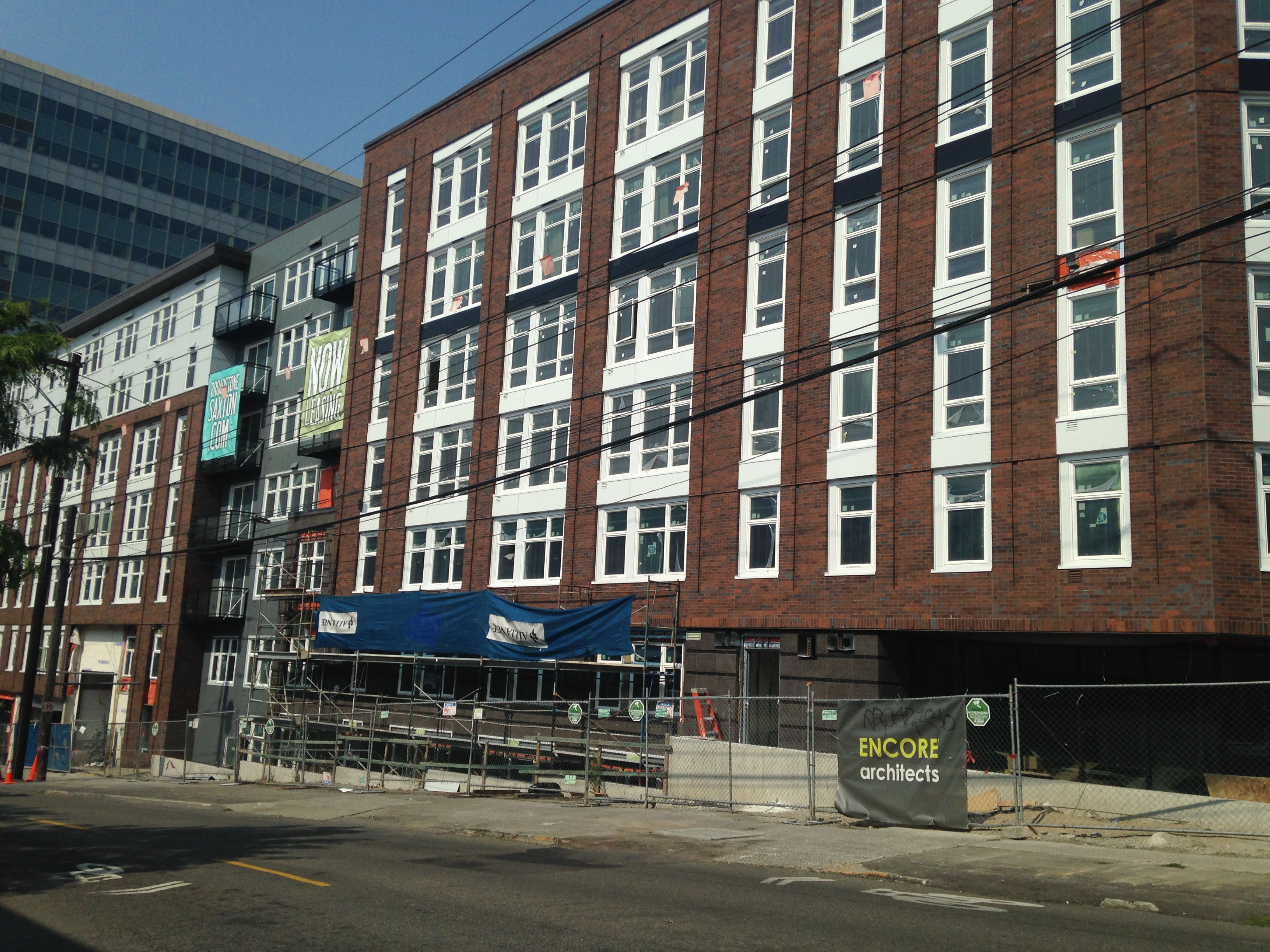 However, providers agree that all patient populations benefit from access to transit, and other First Hill providers, including Swedish First Hill, have recognized the importance of public transportation for their patients and employees.
"It would be very difficult for our most vulnerable populations to receive the care they need, if public transportation was not available. At Swedish, we have seen first-hand the benefits major transit improvements, including the First Hill Streetcar, Link Light Rail, and added bus service, have provided both our caregivers as they travel to and from work and our patients when seeking the care they need," said Mark Melnyk, Transportation Coordinator at Swedish First Hill.
Swedish First Hill is in the midst of an expansion project that it describes as "transformative" for its First Hill campus.  Plans include new buildings that will replace older structures, including a new Northwest Tower, which Swedish describes as "the most significant and complex project undertaken by Swedish in the past several decades." As part of this expansion project, Swedish committed to funding for the First Hill Park's redesign project. Seattle City Council also recently voted to allocate funding for First Hill Park, ensuring its future. The park is important for maintaining the livability of First Hill as it continues to increase in housing and commercial space.
This proximity to hospitals and other amenities have made First Hill a popular choice for another population who value the ADA accessibility of streetcars: retirees.
"In First Hill, we have lot of people who are transit dependent because of their age and not just economic status. People retire here so they do not need to have a car," Hudson said.
Senior housing in First Hill ranges from affordable to luxury. Chancery Place Apartments, Cabrini Senior Housing, and Bellwether's Tate Mason House are examples of low-income senior housing, while Skyline, Horizon, and a new 24-story senior housing project at 620 Terry Avenue are all marketed as luxury options.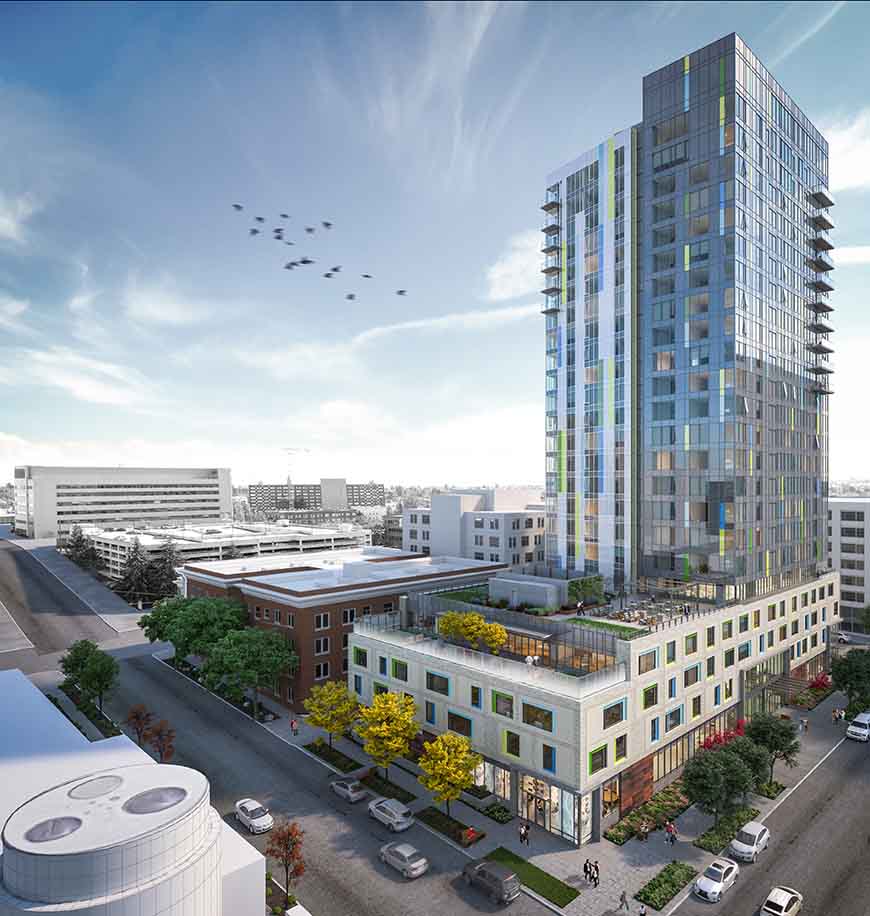 A Resident Population Increasing in Size and Diversity
1400 Madison Street was originally planned as the site of the First Hill light rail station. After it was cut from ST3 plans, the land was transferred to affording housing providers, Plymouth Housing Group and Bellwether Housing at zero cost.
Instead of light rail, First Hill will receive the first affordable high-rise housing development to be constructed in Seattle in 50 years. Plans for 1400 Madison include over 300 units of affordable housing for seniors who have experienced chronic homelessness, as well as lower-income individuals and families. The project is currently in the early outreach phase of design review.
1400 Madison is one example of how First Hill is experiencing a wide variety of growth within its borders. As the neighborhood continues to increase in different types of housing, medical services, and commercial activities, the needs of its residents will continue to diversify. Access to a connected streetcar system would provide the growing number of diverse residents much needed mobility choices.
"I appreciate that the mayor is doing her due diligence and reviewing where issues may lay in this capital project, which is important," Hudson said. "I believe that the multiple years of planning that have occurred in the decision to build the CCC, and access federal funds, has proven that the CCC is a worthy project. We have already had this conversation and we decided that we need the CCC."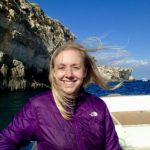 Natalie Bicknell Argerious (she/her) is a reporter and podcast host at The Urbanist. She previously served as managing editor. A passionate urban explorer since childhood, she loves learning how to make cities more inclusive, vibrant, and environmentally resilient. You can often find her wandering around Seattle's Central District and Capitol Hill with her dogs and cat. Email her at natalie [at] theurbanist [dot] org.