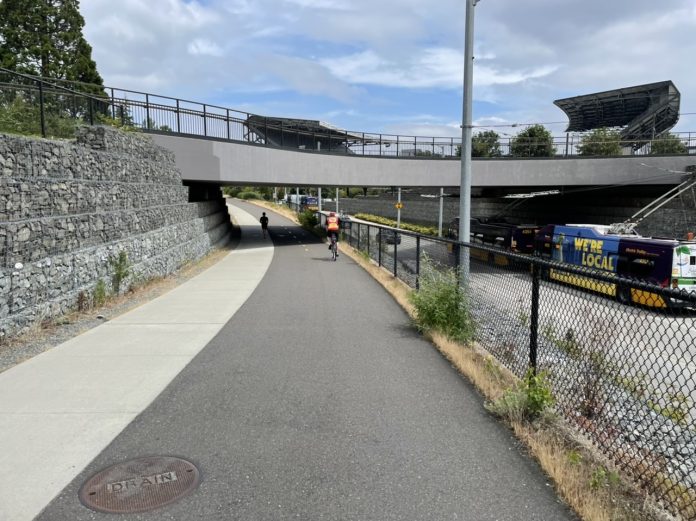 This Transpo Notes roundup touches on a mix of transit stories, including:
ORCA now offering one trip protection;
Pierce Transit's evaluation of bus rapid transit expansion alternatives;
Sound Transit's maintenance program starting next week;
Puget Sound transit operator July staffing levels; and
Community Transit and Pierce Transit's free youth fare proposals.
ORCA cards now offering one trip protection
On Tuesday, ORCA announced a new trip protection program where riders can exceed their e-purse balances on a limited basis. The goal is to ensure that riders aren't left stranded when making a trip and have valid fare for their journeys. The program will allow riders to travel with a negative balance of up to -$2.75. As an example, the typical rider traveling from Northgate Station to Angle Lake Station on Link would pay $3.50 for the entire trip, but could have a starting balance of $0.75 on ORCA e-purse and pay the remainder using the full trip protection of -$2.75. Riders will need to reload their ORCA cards to make additional trips. Initially, ORCA will be allowing riders to hold a negative balance of up to -$10.00, but this will change in September when the limit will go to -$2.75.
Pierce Transit shares details on future bus rapid transit expansion
On June 29th, Pierce Transit shared details on early results for future Stream bus rapid transit (BRT) expansion. Four potential corridors are under evaluation for BRT deployment in the coming decades. A first Stream BRT line is expected to be launched in 2027 along the SR 7 corridor, meaning that five lines could be in operation by the 2040s.
According Pierce Transit's report, Corridor A has the highest ridership potential of all expansion corridors even though it's not the longest potential corridor. The evaluation suggested several different alternatives by corridor, as follows:
Corridor A: Alternative A from Downtown Tacoma to Lakewood Transit Center via S 19th Street and Bridgeport Way W/SW, Alternative A1 same as Alternative A but with an extension to Lakewood Sounder Station, and Alternative A2 from Tacoma Community College to Lakewood Transit Center;
Corridor B: Alternative B from Downtown Tacoma to Lakewood Transit Center via S Tacoma Way and 108th Street SW, Alternative B1 same as Alternative B but via Pacific Avenue and S 38th Street/S 47th Street, and Alternative B2 same as Alternative B but via Pacific Avenue and S 48th Street;
Corridor C: Alternative C from Puyallup Sounder Station to Sunrise via Meridian and Alternative C1 same as Alternative C but extended to Edgewood via Meridian.
Corridor D: Alternative D from Lakewood Transit Center to Pierce College via 100th Street SW, S Tacoma Way, and 112th Street S/E, Alternative D1 same as Alternative D but terminating at South Hill Mall Transit Center, and Alternative D2 same as Alternative D but extended to Lakewood Sounder Station.
Estimated ridership by day and corridor. (Credit: Pierce Transit)

Corridor A alternatives evaluated. (Credit: Pierce Transit)

Corridor B alternatives evaluated. (Credit: Pierce Transit)

Corridor C alternatives evaluated. (Credit: Pierce Transit)

Corridor D alternatives evaluated. (Credit: Pierce Transit)

Evaluation results by metric and corridor alternative. (Credit: Pierce Transit)
The evaluation results take into account connections, sustainability, growth, and other factors to determine the best alternatives. Of each corridor, Alternatives B2, A, C, and D1 — when ranked in order — performed best on the weighted metrics. However, in context, it is surprising that Alternatives A and D1 outperformed Alternatives A1 and D2, which would serve the Lakewood Sounder Station. That connection seems relatively critical for the future. Additionally, the S 19th Street segment on Corridor A could quickly become redundant to the T Link extension planned for somewhere between 2039 and 2041 on the same street, but perhaps this could encourage Sound Transit to move the streetcar alignment to 6th Avenue, which is a comparably higher density corridor.
The second Stream BRT line will move into project development sometime in 2023 or 2024. A final evaluation report due by the end of year should help determine what corridor moves into project development.
Sound Transit's 'Future Ready' maintenance starts next week
Beginning on Monday, July 11th, Sound Transit's first wave of "Future Ready" maintenance work will commence. The work will be focused on platform tile and mortar replacement over a two-week period at Columbia City Station that runs through July 24th. A second round of work at the station is scheduled from August 19th through September 1st.
During the work, Sound Transit will be running reduced Link 1 Line service with trains operating between Northgate and Angle Lake Stations every 20 minutes and layering on additional service between Northgate and Stadium Stations such that combined frequency is every 10 minutes between the latter two stations. The additional service will run from 6:00am to 10:00pm daily, meaning outside those hours 20-minute frequencies will be in effect.
In advance of the service reductions and maintenance work, Sound Transit has uploaded scheduled data to trip planning services. Google Maps was already showing the interim schedules as of Wednesday. Throughout the year, Sound Transit has scheduled other Future Ready maintenance works.
Transit operator July staffing levels still largely lagging
We checked in on how some of Puget Sound's largest transit agencies are doing in staffing up on transit operators over the past three months. The numbers continue to show that agencies are struggling to retain operators and increase total staffing levels, which are critical to maintaining normal service.
King County Metro is budgeted to staff up to 2,723 operators this year (about 2,100 full-time and 600 part-time positions), but the number of operators has continued to slide over the past several months from 2,593 operators in May to 2,567 operators at the beginning of July. However, the agency has reported that 23 full-time operators graduate today and another 36 full-time operators are set to graduate on August 5th. Seven more batches of part-time operator classes are scheduled through mid-September to backfill positions, each of which have about 15 trainees.
| | | | |
| --- | --- | --- | --- |
| Month | Full-Time | Part-Time | Total |
| May | 2,034 | 559 | 2,593 |
| June | 2,004 | 568 | 2,572 |
| July | 1,982 | 585 | 2,567 |
Pierce Transit appears to be ramping up operator staffing levels. At the beginning of the month, it stood at 430 full-time operators and 438 operators when including part-timers. The agency has a budget for 515 operates and part-timers are important to fill special service needs and cover for full-timers. Pierce Transit graduated 18 operators in mid-June and has another class of 19 trainees that are expected to graduate in mid-August. Another trainee class starts on July 25th.
| | | | |
| --- | --- | --- | --- |
| Month | Full-Time | Part-Time | Total |
| May | 430 | 0 | 430 |
| June | 423* | 0 | 423* |
| July | 430 | 8 | 438 |
*Seven trainees became full-time operators on June 12th and a further nine became part-time operators.
Community Transit's operator staffing levels slid slightly over last month with a further reduction of four operators. The agency is trying to train up new hires. Three operators graduated on July 1st and more than a dozen more could join the ranks in the next three months, including four more July 29th, three more on August 26th, and seven more on September 23rd. Community Transit told The Urbanist that 17 operators have moved into other agency roles this year, such as dispatch, supervision, and instruction.
| | | | |
| --- | --- | --- | --- |
| Month | Full-Time | Part-Time | Total |
| May | 333 | 4 | 337 |
| June | 332 | 4 | 336 |
| July | 328 | 4 | 332 |
Kitsap Transit told The Urbanist that the agency is short 22 transit operators needed for normal fixed-route and paratransit (Access) bus service. On net, the agency has lost three operators since May. Kitsap Transit has four trainees (three for Access and one for fixed-route service) learning the ropes right now, which is a little less than previous months. The agency is making efforts to attract new hires and the agency board just approved a new contract that may incentivize new hires and retain existing staff, such as general wage increases, a market adjustment for Access operators next year, a one-time ratification bonus of $5,000 for operators, a retention bonus, and other compensation benefits.
| | | | |
| --- | --- | --- | --- |
| Month | Full-Time | Part-Time | Total |
| May | 92 routed, 50 Access | 9 routed, 2 Access | 154 |
| June | 94 routed, 45 Access | 9 routed, 2 Access | 150 |
| July | 95 routed, 45 Access | 8 routed, 3 Access | 151 |
For Kitsap Transit's ferry operations, the agency has one port captain, 11 captains, and 31 deckhands. There's only four vacancies within ferry operations, all of which are deckhands.
Community Transit and Pierce Transit propose free youth fares
Community Transit is proposing free youth fares across its services. The agency is seeking public feedback on the draft proposal, which could be implemented late this summer somewhere between September 1st and September 6th to align with the start of school. The agency has hinted that eligible youth riders may need ORCA cards to avail of the free fares. Community Transit would become eligible for state grants ($4.5 million by June 2023 and $12.2 million annually through 2025) for implementing free youth fares under the Move Ahead Washington transportation package passed by the state legislature this year. The agency is accepting feedback through August 1st.
Pierce Transit is doing the same with free youth fares proposed for implementation on September 1st. Like Community Transit, Pierce Transit expects the fare policy change to be revenue positive with annual state grants of about $7.8 million through 2025. The agency has a public hearing on the proposal this coming Monday (July 11th), but is also taking feedback in other forms.

Stephen is a professional urban planner in Puget Sound with a passion for sustainable, livable, and diverse cities. He is especially interested in how policies, regulations, and programs can promote positive outcomes for communities. With stints in great cities like Bellingham and Cork, Stephen currently lives in Seattle. He primarily covers land use and transportation issues and has been with The Urbanist since 2014.