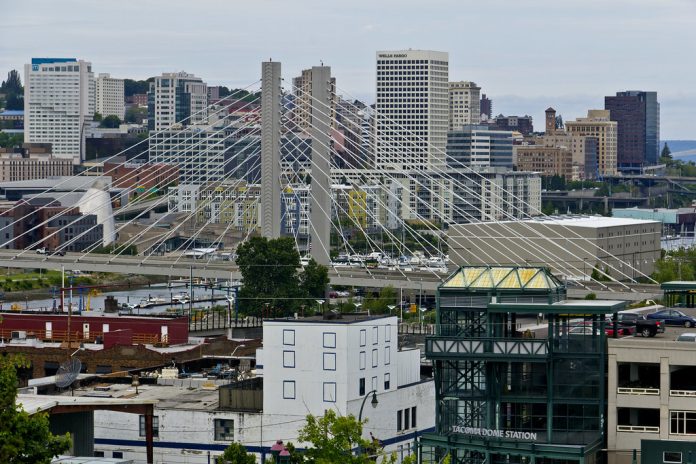 In mid-September Urbanist reporter Kevin Le wrote about the Tacoma City Council's plan to create 10-block buffer zones around the city's nine emergency homeless shelters in which encampments and the storing of belonging by unhoused people would be prohibited on public property. At the time of publication, the introduction of the ordinance was delayed for further review in part because of complaints from organizations such as Tacoma Mutual Aid Collective.
On October 11th, however, the Tacoma City Council voted to pass an amended ordinance that expands these buffer zones to include Aspen Court (a City-permitted emergency and transitional housing facility) and all public property within 200 feet of Tacoma's mapped rivers, waterways, creeks, streams, and shorelines. In instances where the 10-block radius cuts through publicly owned property, such as a park or school, the restrictions will apply to the entire block or parcel. People are found in violation of the law may be fined up to $250 and imprisoned up to 30 days. As part of the amendment process for the ordinance, these penalties were reduced from a $1,000 fine and maximum allowable amount of time of 90 days in prison.
Additionally, other than cases in which the encampments or storage of belongings are judged to pose a "significant risk to life, public health and safety, or property," the City will be required to give at least two weeks advance notice before removal so organizations and community groups may offer assistance.
The City has created an interactive GIS map showing the areas that fall under these proposed restrictions, which includes all of Downtown Tacoma.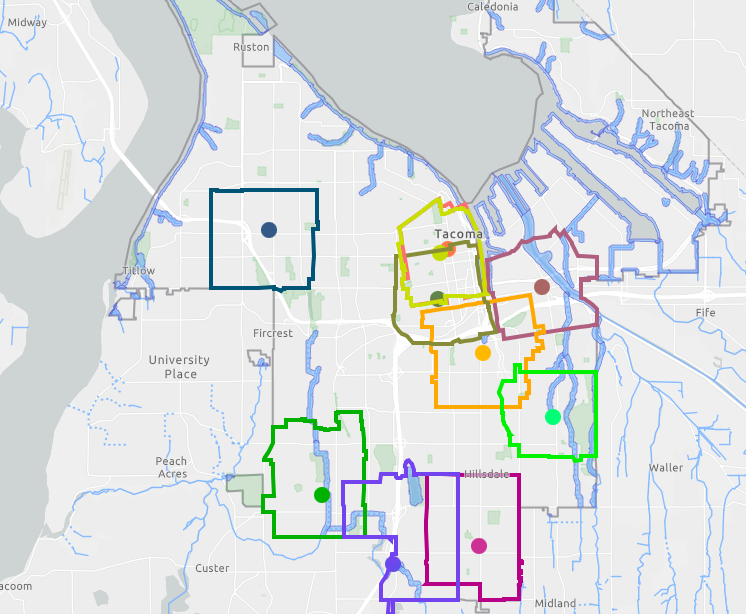 The ordinance will go into effect on November 14th. It was first brought forward for consideration by Councilmember John Hines (Position 1) in response to community concerns about encampments near emergency shelters.
As Le reported, "The ordinance's memo cites a U.S. Department of Justice report that states: 'evidence from police case studies shows areas adjacent to transient encampments have higher levels of petty and serious crime unrelated to 'routine behaviors,' such as drug dealing and usage, disturbance, theft, prowling, burglary, panhandling, fighting, vandalism, armed robbery, rape, and aggravated assault' in addition to sanitation issues."
Thus according to the ordinance's proponents, creating buffer zones would help better ensure the safety of people living in the emergency shelters, while also increasing the likelihood of more Tacoma neighborhoods accepting emergency shelters. Currently the city has nine city funded emergency shelters, with plans in the works for an additional low barrier emergency shelter at 5th Street and Pacific Avenue. An authorized encampment has also been planned at South 82nd and Pacific Avenue and the conversion into emergency shelter of the shuttered Comfort Inn at 8620 South Hosmer Street is moving forward.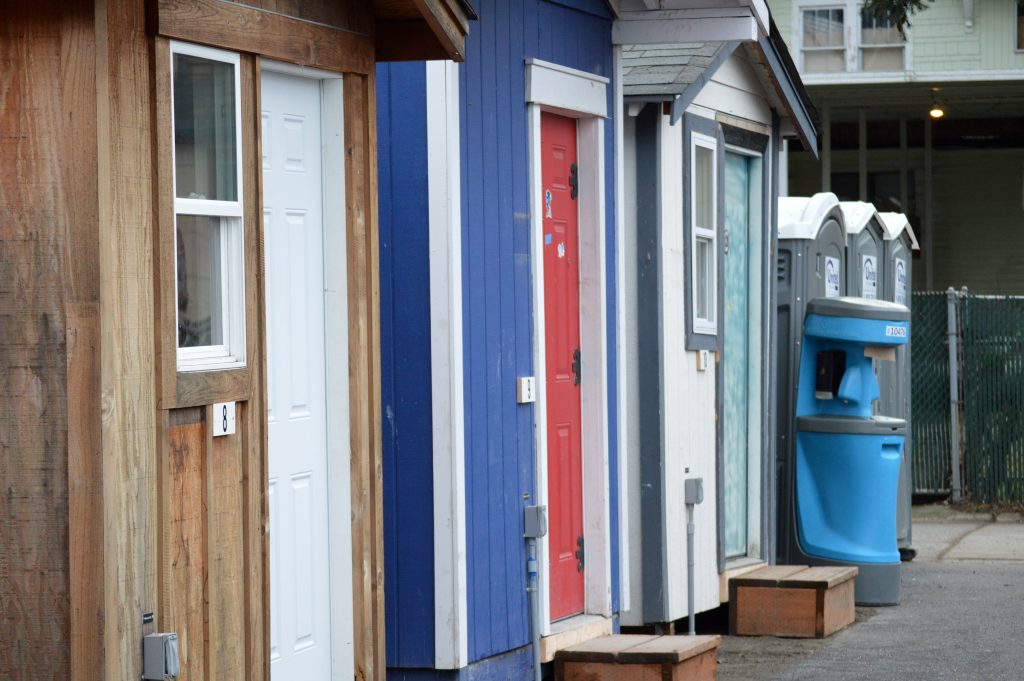 But data shows the beds and services provided at these sites, fall far short of need. According to the City of Tacoma, as of October 3rd, there are 41 available beds across city funded emergency shelters. While additional shelters exist in Tacoma and other Pierce County cities, they are not equipped to serve the estimated 4,300 people experiencing homeless in Pierce County as of July 2022. In fact, Pierce County estimates that each night 2,970 people, or 70% of homeless people, sleep unsheltered in the county each night.
Hines acknowledged the need in his remarks accompanying the ordinance's passage.
"Since the beginning, I have been clear that the health and safety issues posed by encampments cannot be regarded in isolation from all that the City is doing on homelessness, and I remain committed to that work," Hines said in a press release. "Looking ahead, this work will require further investments in shelter, services, and affordable housing, which the Council is committed to. In partnership with my Council colleagues, community partners, and our residents, I will continue helping to connect our unhoused residents with the help they need."
Tacoma Mayor Victoria Woodards was also supportive of the ordinance while admitting to its limitations.
"As we collaboratively address the complex and challenging issue of homelessness in Tacoma, we know this is only part of a larger solution," Woodards said in a press release. "What this does is ensure that those who have accepted shelter can get the help they need in a safe environment. It also preserves critical habitats, the environmental health of our waterways and shorelines, and the treaty-protected rights of our Tribal partners."
In order to assess the ordinance's impacts, the City will perform data collection on a variety of points including:
how many people are offered and accept services in the both the prohibited and non-prohibited areas of Tacoma;
the number temporary shelters and safe parking sites in the city before and after the ordinance's implementation;
the number of emergency (911) and non-emergency (311) calls involving activity in the prohibited areas;
staffing levels of the City's Homeless Engagement Alternatives Liaison (HEAL) team, which addresses health and safety concerns related to encampments;
general statistics and data public safety provided by the Tacoma Police Department.
The data will be compiled into a report for City Council by April 2024. In the meantime, groups like the People's Assembly have expressed that they will continue to oppose the new restrictions.
"We will keep taking care of each other, like we always have. We will keep fighting and we won't back down. All we got is us," tweeted the People's Assembly in response to the ordinance's passage.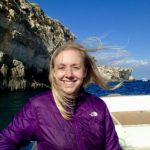 Natalie Bicknell Argerious (she/her) is a freelance reporter and podcast host at The Urbanist. She previously served as managing editor. A passionate urban explorer since childhood, she loves learning how to make cities more inclusive, vibrant, and environmentally resilient. You can often find her wandering around Seattle's Central District and Capitol Hill with her dogs and cat. Email her at natalie [at] theurbanist [dot] org.