The Urbanist has grown a lot since its founding in 2014. When I first got involved in 2015 by showing up to meetups in a coffee shop in South Lake Union, it was a scrappy organization (by the loosest definition of the word) with no real staff, money, or even much readership. It had a few key people who did most of the writing, and so there was always the risk of one person moving, having a family emergency, or just plain burning out from the weight of their efforts.
Over time The Urbanist has grown and got a more formal organizational structure. It has attracted more writers who produce more coverage and hence more readers, expanding its advocacy and educational offerings.
Over the last few years, we have finally been able to add paid staff, which we think is the key to making The Urbanist sustainable over the long term. The change has allowed Owen Pickford, our founder and original executive director to step down to pursue other things, while The Urbanist continues on, now with longtime volunteer Doug Trumm as the paid executive director. We have also been able to hire Natalie Bicknell Argerious, another longtime volunteer, as our managing editor. She has been able to devote more time to both raising the quality of the writing and to seeking out and cultivating additional writers.
We have also more recently been able to begin paying more writers for their work. While some folks are happy to volunteer their time, which we greatly appreciate, we want to be able to compensate those who are pursuing reporting on the crucial issues our region faces as a full or part-time job for the great work they do.
We also acknowledge the privilege in volunteerism, and if we want to expand the voices heard in The Urbanist we need to be able to fairly compensate people for their time. In the next few years, we hope to build on this work and continue to deliver more coverage to our region — we hope you have noticed our efforts thus far to get beyond the borders of Seattle.
This is all due to the generous donations of readers which have increased greatly over the years. We sincerely thank all the supporters who have donated, be it a small one-time gift or large monthly contributions. We also encourage readers on the fence to join our donor community. It really does feel good to support the journalism that you want to see. Donate today.
We also get a boost from ad revenue, which has gone up along with readership as Doug and Natalie being able to put in the time to optimize it. We know ads are annoying. Thanks for bearing with them. Ads really do help pay the bills and allow us to provide the coverage we do. If you can't donate, at least consider whitelisting our site on your adblocker.
With a larger budget comes more responsibility, which we take very seriously. And it's for that reason we have just completed a major board expansion, growing from five members to 12. In growing the board, we had several goals, including expanding our board's skills, broadening its geographic diversity, and making it more reflective of the diversity of our region, and I think we have succeeded on all counts. In addition, while we invited several people within The Urbanist orbit, we also put out an open call to readers to help find people who, while familiar with us, also are hopefully far enough removed to avoid insularity.
Meet the board
With all that being said, let's meet the board!
Patrick Taylor – Board President
Patrick is a designer at a small architecture firm with a strong focus on attainable urban infill housing. He is passionate about design, housing affordability, biking, and what makes cities so magical. He works to advocate for abundant and diverse housing options and for a city that is a joy for people on bikes and foot. He is currently co-chair of the AIA Housing Task Force, a member of the Othello Station Community Action Team, and a past two term member of the Seattle Bicycle Advisory Board, serving most of that time as a co-chair and its representative on the Move Seattle Levy Oversight Committee. He lives in the Othello neighborhood with his wife and young child.
Ruth Lipscomb – Board Vice President
Ruth Lipscomb is a retired software engineer, investor, and philanthropist. She lives in Bellevue, volunteers with progressive nonprofit organizations, and fosters kittens. In 2021, she ran for Bellevue City Council against an incumbent Republican. Alas, Bellevue stuck with the Republican, but her campaign opened her eyes to the dearth of in-depth media coverage on the Eastside and inspired her to get more involved with The Urbanist and join the board. The Urbanist is one of the few organizations reporting on the happenings at Bellevue City Hall.
Kelli Refer – Secretary
Kelli is executive director of Move Redmond. As a transportation policy expert, Kelli focuses on the intersections of land use, public health, social justice, and how people move around cities. Previously she worked as legislative aid for Councilmember Mike O'Brien and worked on several pieces of legislation for the Move All Seattle Sustainably (MASS) Coalition. She is also a bicycle advocate, who strives to make riding bikes a safe and accessible way for people to get around, especially for families. Whenever possible her family loves to combine the bus, bikes and hiking shoes to explore Washington's beautiful state parks.
Shaun Kuo – Treasurer
Shaun is a recent graduate from the University of Washington's Jackson School, and current master's student at UW Tacoma's MA in Community Planning. He is a Seattle native who has lived in Wallingford, Northgate, and Lake Forest Park. He enjoys exploring the city by bus and foot. He joined the board as treasurer in 2020. Shaun also serves as an editor and writes about energy policy, development, and parks.
Erin Fried
Erin is deputy director of the Capitol Hill EcoDistrict, a project of Community Roots Housing. She is also a writer, planner, and conflict resolution specialist with expertise in social marketing, community organizing, and peace-building. She has 12 years of experience in research, advocacy, and program management across a range of focus areas, including affordable housing, climate change, disaster recovery, immigration reform, and the arts. She is committed to approaching all issues through the lens of equity, and leads a racial equity workgroup at The Urbanist.
Jesse Simpson
Jesse is government relations and policy manager at the Housing Development Consortium, a coalition of more than 190 housing organizations. Previously, Jesse worked as a policy analyst and executive assistant at Bellwether Housing. Jesse grew up in Seattle and attended Lewis and Clark College, majoring in environmental studies with a focus on urban planning, transit-oriented development, and gentrification. After moving back to Seattle, he worked as an associate analyst for Greenfield Advisors, helping sue companies over environmental contamination, mortgage fraud, and Fair Housing violations.
Crystal Fincher
Crystal is the Principal of Fincher Consulting, LLC, a full service political consulting firm. Crystal has helped local, legislative and statewide candidate campaigns, levies, and initiatives win and has helped advocacy organizations and local political organizations develop and deploy successful strategies to increase community representation, inclusion, engagement and turnout, particularly in underrepresented areas and among infrequent voters. Additionally, Crystal is the political director of Persist PAC, a member of the American Association for Public Opinion Research, and hosts Hacks & Wonks on KVRU FM and KODX FM (also available in your favorite podcast player). Crystal served on the City of Kent Land Use and Planning Board as the first African-American and youngest member in its history. Crystal has served as a Deputy on the Washington Roundtable, on the boards of the Kent Youth and Family Services, the Northwest Association of Financial Professionals, and Tabor 100 as the economic development chair. She resides in Kent.
Rubén Casas
Rubén is an assistant professor at the University of Washington Tacoma in the School of Interdisciplinary Arts and Sciences and the School of Urban Studies. He also serves as the faculty lead for the Urban Environmental Justice Initiative. He studies rhetoric in urban contexts. His research and teaching emphasize the role of the built environment in public life. One key area of focus in both his research and teaching is the way people's ability to build community and establish a sense of place are materially and symbolically impacted by the processes and practices that have given a city its physical shape and form. He is also a contributor to The Urbanist as well as other publications, including a stint as a columnist at Crosscut.
Rian Watt
Rian is the Strategy Lead for International and Large-Scale Change at Community Solutions, a nonprofit dedicated to building large-scale movements to end homelessness across Australia, Canada, Denmark, the United States, and the United Kingdom. He rents in Seattle with his wife, and has previously lived in Georgia, Belgium, London, Boston, and the suburbs of Chicago. He has volunteered as a commissioner on the Seattle Planning Commission and as a Meal Coordinator two nights a week for Teen Feed, a low-barrier meal program for homeless and unstably housed youth. Rian also freelances as a professional baseball writer covering the Mariners and national baseball as a member of the Baseball Writers' Association of America. Rian got his undergraduate degree from Clark University in Worcester, MA (in Economics and Political Science) and his master's degree in Public Management and Governance from the London School of Economics. He's the proud son of immigrants (from West Bengal and Scotland, respectively).
Jesse Swingle
Jesse is a marketing professional with experience at nonprofits who currently works in the cannabis industry. He is the current board vice president for FIUTS, a non-profit organization founded at UW focused on promoting international understanding and community, and a past board member for the Seattle Opera. He's a long-time reader of The Urbanist who we are excited to welcome to the board. He grew up in Sequim. He attended University of British Columbia for undergrad and recently completed an MBA at Seattle University.
Charles Adkins
Charles is a proud enrolled member of the Yurok Tribe of Klamath, California. After experiencing homelessness in his youth, Charles put down roots in Everett after being able to access services that helped him get back on his feet. He has dedicated himself to fighting for those who are unable to advocate for themselves. Through his work Charles has managed to make real, impactful change for disadvantaged communities across the state of Washington. In his day job, he is a legislative policy analyst for the Tulalip Tribe. He is also involved in numerous civic committees and commissions including the Washington State Advisory Council on Homelessness, the Everett Planning Commission, the Sound Transit Everett Link Community Advisory Group, and many others.
Breana Brown
Breana works in housing and has a passion for affordable housing policy. A lifelong Puget Sound resident, she grew up in Ballard and in Redmond. She studied economics at the University of Washington. She first came across The Urbanist due after seeing coverage of the Amazon warehouse proposed in the Mount Baker neighborhood, which, if built, could have jeopardized progress and housing opportunities in the area. Soon after, she came to rely on The Urbanist's reporting. She believes strongly in promoting walkable, liveable cities for all income-levels, backgrounds, and ages. She lives in Madison Valley.
Subscribe today
Our reinvigorated board is going to be fighting to expand the reach of The Urbanist and guide the organization in a pivotal time for urbanism. We ask you to invest in this organization and help bring about a bright future for cities everywhere.
Fall 2022 Subscriber Drive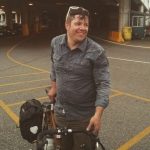 Patrick grew up across the Puget Sound from Seattle and use to skip school to come hang out in the city. He is an designer at a small architecture firm with a strong focus on urban infill housing. He is passionate about design, housing affordability, biking, and what makes cities so magical. He works to advocate for abundant and diverse housing options and for a city that is a joy for people on bikes and foot. He lives in the Othello neighborhood with his fiance and kitty.