Villains come in all shapes and sizes, but for the last 30 years they've probably been played by Ralph Fiennes. From roles in "Schindler's List" to Wallace and Gromit, Fiennes is the epitome film baddie exuding terrifyingly smooth viciousness and barely coiled imbalance set behind one of the most dangerous of British accents. That's even outside of the five films in the role of He Who Shall Not Be Named.
Now Fiennes is on stage in New York playing a name often seen as a real life villain: Robert Moses. The play, "Straight Line Crazy" by David Hare, covers Moses' life in two parts. First comes the builder's 1920's rise to power as an idealist visionary, then the abrupt opposition of the 1950's as the power broker bulldozed too far. The New York Times called the play a pleasure and Fiennes "gloriously entertaining." Anyway, its two month run off Broadway at The Shed is completely sold out, so enjoy a snippet from the play's time in London.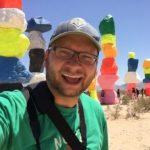 Ray Dubicki is a stay-at-home dad and parent-on-call for taking care of general school and neighborhood tasks around Ballard. This lets him see how urbanism works (or doesn't) during the hours most people are locked in their office. He is an attorney and urbanist by training, with soup-to-nuts planning experience from code enforcement to university development to writing zoning ordinances. He enjoys using PowerPoint, but only because it's no longer a weekly obligation.