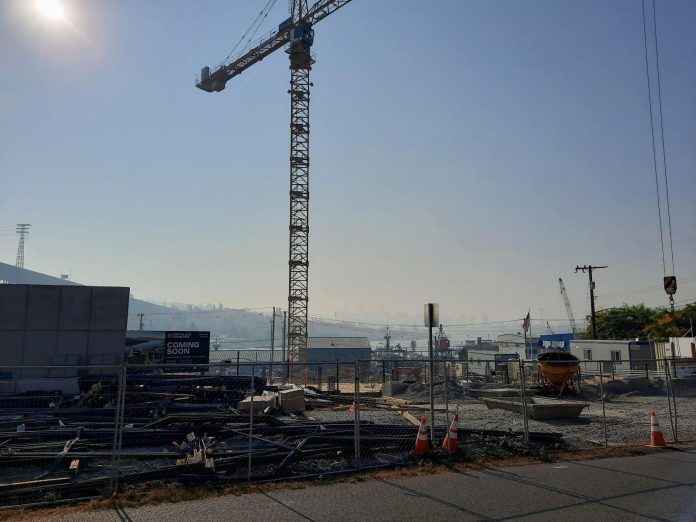 A "grave" report from the new Office of Economic and Revenue Forecasts (OERF) showed a hit to the general fund and a steep decline in revenues related to real estate transactions over the next two years, creating uncertainty in the ongoing biennial budget process.
OERF Director Ben Noble — formerly the director of the City Budget Office — told OERF commissioners on Nov. 2 that new economic data predicts a mild recession will hit the country and the region beginning in 2023 and leveling out by roughly 2026. It's expected to reduce the general fund by $9.4 million and the Sweetened Beverage Tax revenues by $4.5 million.
However, a slowing real estate sector could mean a $64 million hit to real estate excise tax (REET) revenue compared to the office's August projections over the biennium. Those funds are used for major capital and transportation projects.
The news will push the Seattle City Council's budget process out a week as councilmembers consider the impacts, adjust their amendments and create the balancing package, said Budget Chair Teresa Mosqueda.
"If this was just the $9.4 million general fund reduction, it would not be that significant," Mosqueda said at the meeting, but the impacts to other revenue streams are cause for concern.
The issue comes from a worsening local and national economic picture that stems from continued uncertainty caused by the war in Ukraine and actions taken by the Federal Reserve to rein in inflation through increases in interest rates. Federal Reserve Chair Jerome Powell announced another 0.75% increase in the short-term borrowing rate earlier that day, bringing the rate to a target range of between 3.75-4%.
That's the highest it's been since January 2008, CNBC reported.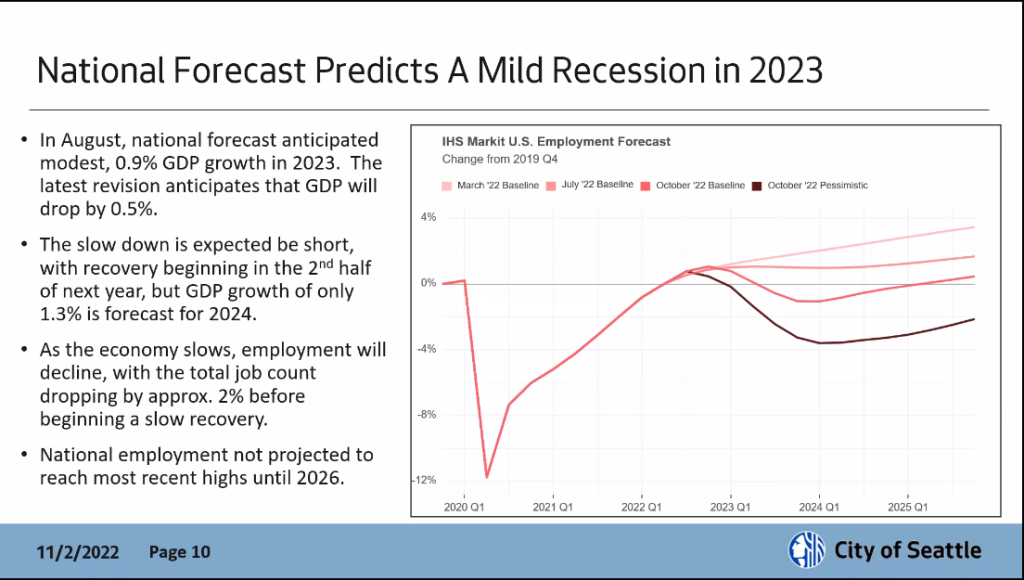 Growth in the national gross domestic product (GDP) is also expected to go into the red in 2023 by half a percentage point, revised down from an anemic 0.9% increase expected in August. Although recent jobs reports have continued to report gains, that is expected to stop as the economy slows: estimates show a 2% reduction in the total number of jobs before a slow recovery begins, with jobs returning to current levels by 2026.
The regional economy will likely mirror that, Noble told commissioners, although the recovery should be faster. A more pessimistic scenario — which the commission did not adopt for planning purposes — shows a possible 5% reduction in jobs, locally.
The slowdown means that certain revenues such as property, retail sales and business and occupation (B&O) taxes that feed the city's general fund are expected to decrease significantly, with a net $9.4 million drop during the 2023-2024 biennium.
However, lower real estate prices and a significant decrease in expected home sales at the national level due, in part, to higher interest rates is also expected to be reflected in the regional economy, causing a $64 million gap in REET funds.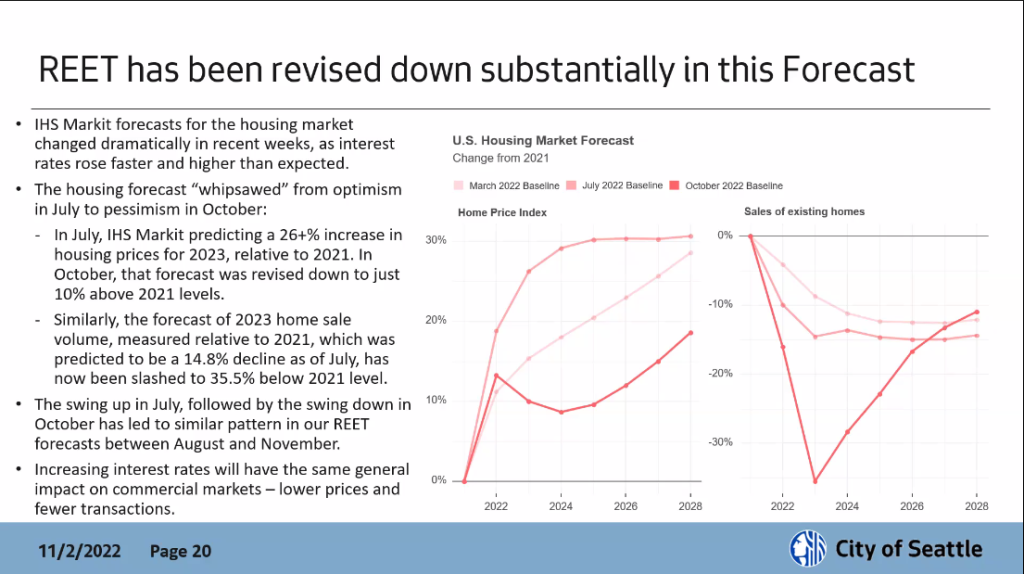 City income from REET can fluctuate and is notoriously difficult to predict, Noble said. In past years, city forecasters have undershot REET funds by as much as 10 to 15%. As independent journalist Kevin Schofield noted in his "Budget School" series, produced by Converge Media, REET funds can come in large windfalls, particularly when the transactions involve commercial buildings.
However, office vacancies in Seattle's central business district have not recovered from the pandemic — as much as 19% of office space in the core remains vacant, Noble said.
Cities like Seattle can use REET funds for a variety of capital projects such as public works projects including roads, highways, sidewalks, traffic signals, bridges and more. Recently, the City Council approved a $20 million loan of REET funds to the Seattle Aquarium to complete its Ocean Pavilion.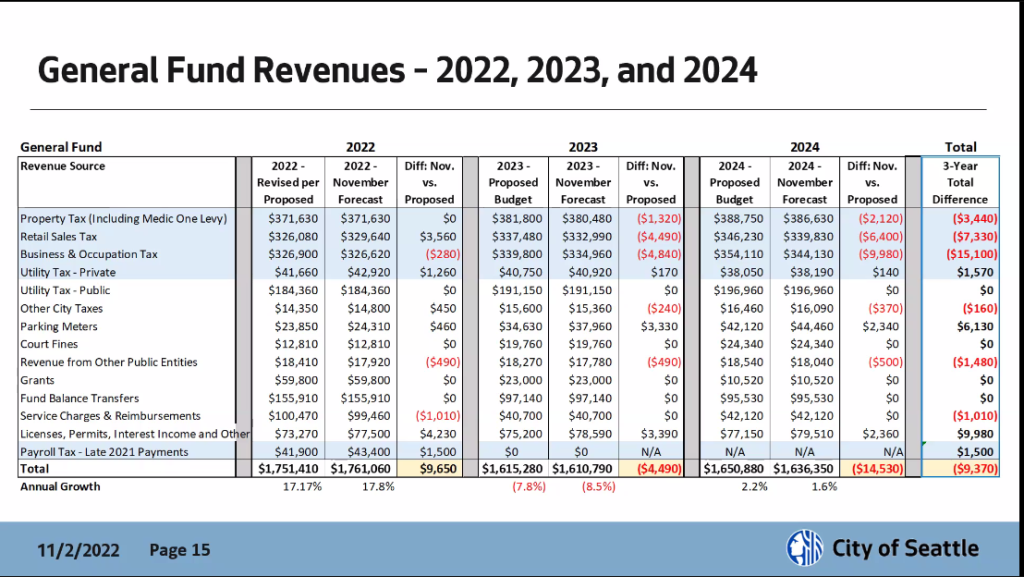 There could be more bad news on the horizon.
OERF has not revised projections about the city's JumpStart payroll tax, which hits the city's biggest employers, largely because there isn't enough data to make accurate predictions on how the potential downturn will impact the amount of money it brings in, Noble said. The city will have a better bead on that by February 2023.
The city received $292 million from the JumpStart tax in 2021, and 2022 payments total $116 million from the first and second quarters of 2022. Final payments are due at the end of January.
There is a "high risk" that the tax will miss 2022-2024 projections, which could be a problem for the city. Mayor Bruce Harrell controversially based part of his proposed budget on repurposing $94 million of JumpStart proceeds and recommended loosening restrictions around the use of the fund going forward. That proposal already faced major pushback from the City Council, who set the following spending plan for JumpStart fund into law in 2021:
62% for affordable and low-income housing;
15% for local business and tourism support;
9% for Equitable Development Initiative investments;
9% for Green New Deal; and
Up to 5% for administering the tax.
In a statement following the forecast presentation, Mosqueda said that the city would respond to the situation with "urgency and compassion" and underscored the need to find new, progressive revenue sources.
Mosqueda released a new timeline for considering the budget. She said the Chair's Balancing Package will be released on Monday, November 14, the Council will begin voting on the balancing package on Monday, November 21, and the Council's final Committee vote is scheduled for Monday, November 28. The Council will still hold the oral public comment periods as scheduled: at Public Hearings on Tuesday, November 8 at 9:30am and Tuesday, November 15 at 5:00pm, and during Public Comment on Monday, November 21 at 9:30am. 
This article was produced in partnership with Real Change News, where Archibald is the editor.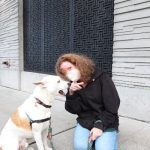 Ashley Archibald is the editor of Real Change News, a nonprofit journalism outlet covering economic and social justice issues in Seattle and beyond. She can be reached at editor [at] realchangenews.org and on Twitter at @AshleyA_RC.