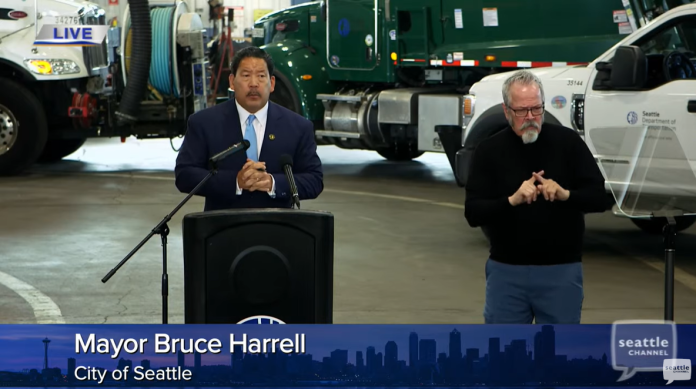 Mayor Bruce Harrell largely presented a status quo biennium budget on Tuesday, but he is seeking to undo a few recent progressive policy wins, as he puts the Seattle Police Department (SPD) first and make cuts elsewhere. His proposal would move parking enforcement back into SPD after a brief sojourn in the Seattle Department of Transportation (SDOT), which he claimed would avert a $5 million hit to the general fund due to overhead costs imputed to SDOT.
To close a $140 million revenue gap in the general fund, Mayor Harrell is proposing to shift $95 million from the JumpStart Seattle fund, which had been earmarked mostly for housing investments. A similar maneuver is planned in 2024, when the budget deficit is projected to be even deeper. The move balances the $1.6 billion general fund budget.
In other cases, Mayor Harrell's budget hops onboard to champion progressive causes, such as expanding access to child care and boost pay. That priority is paid for with a $5 million investment from the JumpStart fund, and Harrell credited Councilmember Teresa Mosqueda, who chairs the budget committee and spearheaded JumpStart legislation in 2020, which spared the city from steep austerity cuts over the last two years, raising $279 million in 2022, with $294 million projected in 2023 and even more in 2024.
During a pre-speech press briefing, Julie Dingley said the Harrell administration saw the budget crunch coming and took some proactive steps, such as a spending hold on non-essential 2022 investments that saved $20 million. Harrell also instructed departments to draft budget cut proposals in the 3 to 6% range. She also said more revenue would be on the table but not until 2025, likely. Mayor is pledged to participate in a progressive revenue task force with the City Council, which has gone through similar exercises in the past. Since additional progressive revenue isn't planned this biennium, closing the gap has meant dipping into JumpStart funds again.
Doing so will require legislation to modify the guardrails that the City Council put in place in 2021 out of frustration with how then-Mayor Jenny Durkan had raided the JumpStart fund without consulting Council or working collaboratively — in fact, she had opposed JumpStart, siding with large corporations that didn't want to be hit with the progressive payroll tax levied on them.
While Mayor Harrell appears to have consulted with Mosqueda rather than springing the idea on her, he is asking for more money that she signaled support for shifting. In August, Mosqueda proposed using excessed payroll tax revenue above initial projections to help close the budget gap without austerity measures, but those extra revenues were projected at $71 million in 2023 and $84 million in 2024. Harrell appears to be seeking an extra $24 million beyond that in 2023, and not quite as much over that mark in 2024.
"I drew a line in the sand," Mosqueda told Publicola Monday, "and I want to make sure that we're sticking to that, not only because it's what we passed in statute, but because the agreement to use the higher-than anticipated revenue was to prevent austerity. And part of preventing austerity is keeping our promises, [including] our promises to human service providers."
After Council passed pay raises earlier this year aimed at retaining workers in a depleted agency, Harrell's budget aims to cap pay raises to those human service providers at 4% removing an inflation adjustment mechanism in a bid to control labor costs. The inflation rate is high this year — nearly 9%, so the 4% raise is well below inflation.
"As Budget Chair, I will be working with my Council colleagues to finalize the biennial budget that builds towards a Seattle where everyone is housed and cared for, healthy and safe, and supports workers and small businesses for a more equitable and resilient economy," Mosqueda said in a statement following the Mayor's speech. "We must protect investments in housing and maintain commitments with the workforce that cares for our most vulnerable, increase childcare to support workers and boost our local economy, prioritize climate resilience in programs and infrastructure investments, and stave off cuts to critical programs and city staff."
Police and public safety
Lateral hire police officers, meanwhile, received $30,000 hiring bonuses and new recruits $7,500 bonuses under the Mayor's SPD staffing plan.
"With the focus from the Mayor's recruitment and retention plan, the investments in the budget aim to shift SPD hiring projections from a loss of 113 officers per year on average to a net gain of 30 officers over the biennium," the Mayor's office said in a budget summary.
In 2021, Mayor Jenny Durkan's budget similarly aimed for a net gain of 35 officers but failed to achieve her goal and actually went backwards due to higher than expected attrition of officers.
The fact there is unlikely to be a meaningful increase in police officers over the next two years despite considerable resources being poured into SPD underscores how important it is that the Mayor to articulate a public safety plan that is centered only on police. The budget speech did highlight some efforts, such as the plan to deploy an additional 26 park rangers in City parks, invest $4.3 million in the Seattle Community Safety Initiative (SCSI) to prevent gun violence among youth of color, and $1.5 million for the King County Regional Peacekeepers program, aimed at restorative services for youth and families impact by gun violence.
Still, violence prevention and diversion programs will need more that a half-hearted one-time infusion to thrive.
SPD's adopted budget last year was $363 million, and Harrell appears intent at mostly maintaining that funding level even as staffing has slipped significantly. SPD has 200 vacant positions. Most other departments with shrinking staffing levels faced "vacancy reviews" from the Harrell administration that meant their budget were cut to reflect their smaller head counts. In SPD's case, those salary saving have largely been invested back into the department in projects like technology, weapons, the bonus program, and a new automated gunshot surveillance system known as ShotSpotter, which would be deployed in Rainier Beach.
Plans to set up a separate public safety agency (outside of SPD) focused on violence prevention and community-based programs didn't get a line-item in the budget, Publicola's Erica Barnett noted, which suggests it's not going to be stood up any time soon, barring Council intervention.
Housing and homelessness
Harrell's speech all but admitted that hitting his goal of building 2,000 supportive housing units in his first year wouldn't happen until 2023. The Urbanist noted in the Mayor's mid-year housing dashboard announcement that the Mayor appeared to falling short of his six-month goal of 1,000 units and the larger 2,000 unit goal for his first year. Just keeping shelter open appears to be a considerable lift as federal pandemic relief aid dries up.
"The budget includes funding for ongoing shelter beds and the creation of hundreds more, including tiny homes and safe lots," Mayor Harrell said in his prepared remarks. "Our proposal ensures we meet our 2000-unit goal and keeps open thousands of shelter units that would otherwise disappear."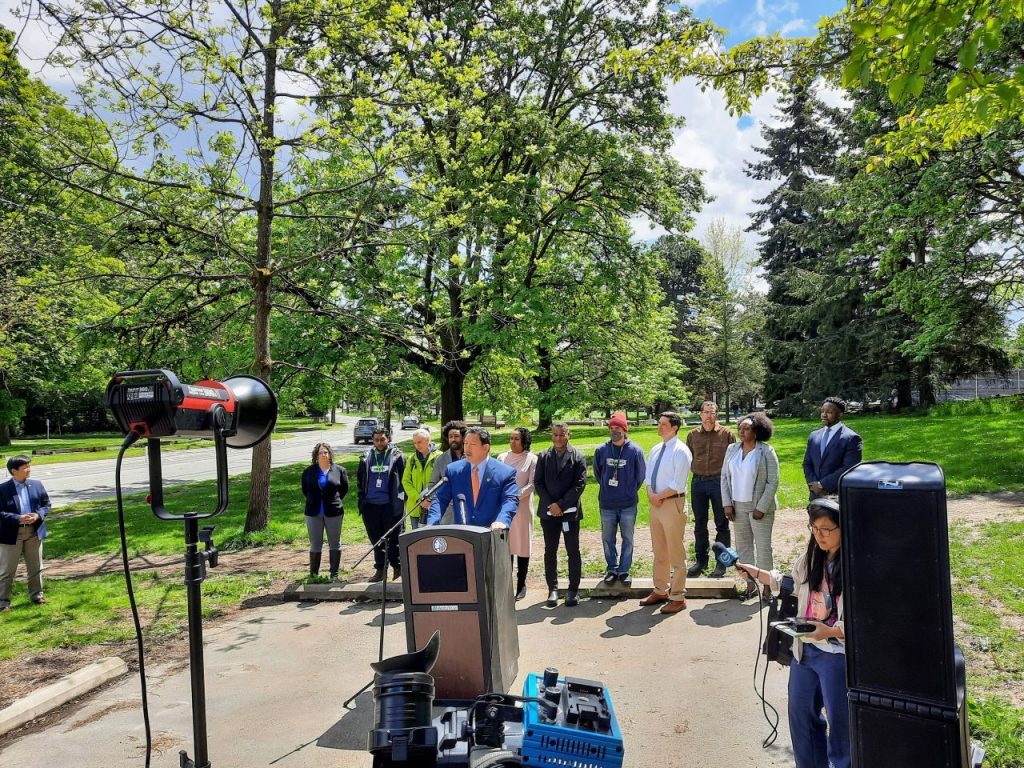 Combining investments from Jumpstart, the Housing Levy, and other sources, Harrell said his budget invest an "unprecedented" sum of nearly $250 million in affordable housing, and he also pledged to ease permitting bottlenecks in partnership with City Council's land use chair.
"Councilmember Dan Strauss: your action-oriented eye toward a more affordable Seattle has inspired significant new investments in our Department of Construction and Inspections to reduce permitting bottlenecks — a total of seven new positions to speed housing production," Harrell added.
While the extra staffing in permit review should help, the Mayor did not address the push to streamline permitting through overhauling the design review process. The Seattle For Everyone coalition (of which The Urbanist is a member) has been advocating for such a course of action for years, pointing to data showing design review causes considerable delays to housing production while failing to live up to city goals around inclusivity.
Despite the Mayor's leaked comments insinuating he planned to cut King County Regional Homelessness Authority's funding to punish them for obstructing his encampment removal push, ultimately Harrell increased funding to the agency by 13% with a $88 million allotment.
A program in the King County budget rather than the City of Seattle one is the splashiest of all. Executive Dow Constantine is proposing a nine-year $1.25 billion property tax levy to stand up a five mental health crisis centers aimed at serving homeless populations. Mayor Harrell has backed that plan.
Transportation: Vision Zero gets modest increase
SDOT would no longer house parking enforcement under the Mayor's proposal, which deals a blow to efforts to civilianize traffic enforcement and prevent deadly traffic stops, which disproportionately impact Black, Indigenous, people of color. The Mayor argued his proposal to return parking enforcement to SPD would save $5 million in overhead costs, but that's only assuming that overhead costs can't be recuperated or transferred over from SPD, which seems odd. The Mayor's office said parking enforcement officers requested the change.
"While we continue our work to reimagine public safety, this may not be our PEOs final home, however, this move will avert nearly $5 million in general fund costs that can be applied towards important community investments," Harrell said. "To ensure a smooth return, our budget includes funding for a transition project manager."
Harrell briefly highlighted the push to reduce traffic deaths and meet the City's Vision Zero goal of ending road deaths and serious injuries by 2030, which unfortunately isn't going well. Fatal crashes hit a 15-year high of 31 in 2021, and the majority of victims were pedestrians.
"To support our goal to eliminate traffic deaths and serious injuries on our streets, we're investing millions toward needed safety investments along the city's high-crash corridors, including the Rainier Avenue corridor," he said. "This was rightly a priority of Councilmember Tammy Morales, and her advocacy for the most vulnerable who walk, ride, and roll in our most diverse
communities should be lauded."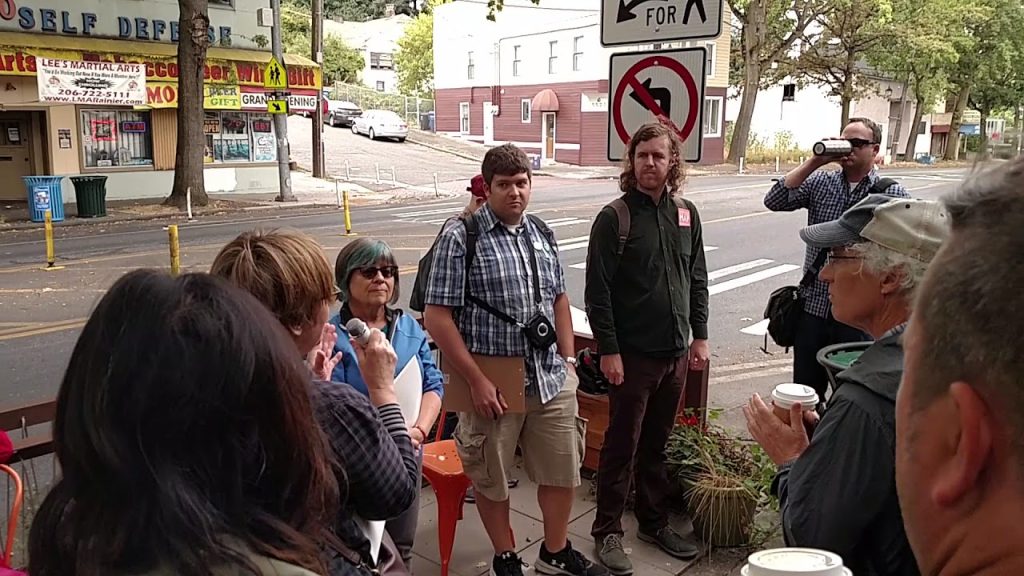 Mayor Harrell increased the base Vision Zero budget by $1.3 million to a total of $8 million. That level of investment won't be able to achieve transformational change, but with enough political will to slow cars without endless studies, traffic safety improvement don't have to be expensive, either. Harrell's traffic safety record as a councilmember was mixed, but his recent moves could signal a fledgling commitment.
On the other hand, another safety oriented program, the Thomas Street Redesign, got the axe in the Mayor's budget. It was slated to add Seattle's first protected intersection.
A further staffing ramp up at SDCI using JumpStart dollars is aimed at processing the considerable paperwork for light rail extensions to West Seattle and Ballard Link, which is in the midst of Environment Impact Statement process.
"The City will invest almost $3 million annually from the payroll tax to support 14 positions that will help develop, review, and plan Sound
Transit's major light rail extension project through Downtown Seattle," the Mayor's office said in a release. "This project represents the largest infrastructure investment in Downtown in the city's history and will require close coordination with Sound Transit to ensure the work best meets Seattle residents' needs."
The Mayor's budget distributes $11.7 million in Move Seattle transportation levy investments in 2023, and $29 million in 2024. The much larger number in 2024 likely reflects that promised transit corridor improvement projects have largely bunched up toward the end of the levy due to delays and revenue shortfalls, which also saw most of them downgraded from full RapidRide upgrade projects. The transportation levy is due for renewal in 2024.
Looking ahead
With the Mayor's budget delivered, it will now be on the Seattle City Council to dig into the Mayor's budget and propose amendments to adjust spending levels as they see fit, with a balancing package due November 7. On Wednesday, the City Budget Office will present an overview going into greater detail. The first public hearing will be on October 12 at 5pm.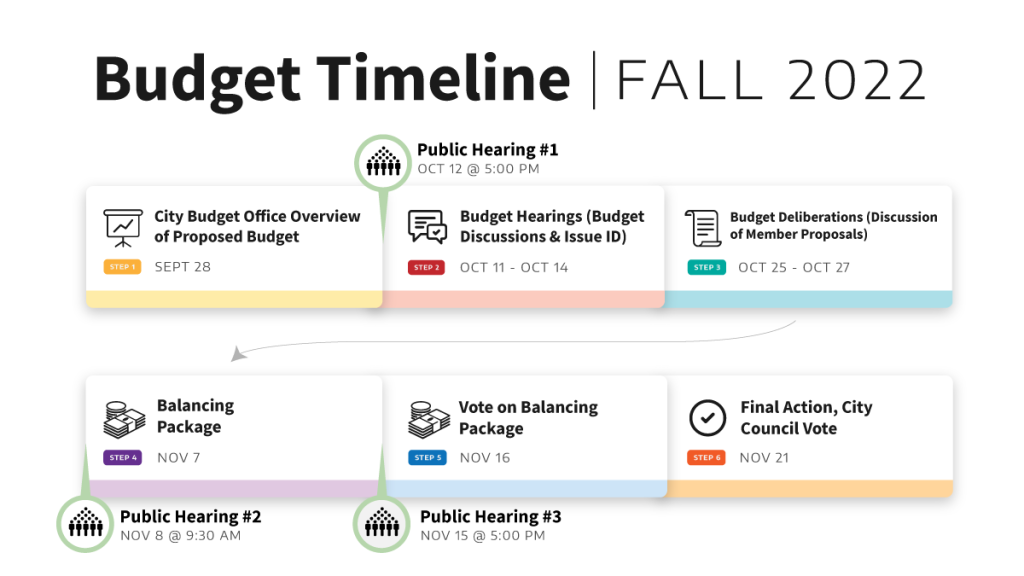 How the budget deliberations shake out will be interesting. Will progressive councilmembers make a stand on some key sticking points? Will a centrist governing majority emerge to rubberstamp the Mayor's plan? Will some conservatives seek to stake out positions to the right of Mayor Harrell? Is anybody going to articulate a public safety plan this isn't centered around a SPD staffing surge?
Harrell was more loquacious, conciliatory, and lofty in tone than his predecessor in his budget speech, but at the same time, with moves like raiding Jumpstart revenue, prioritizing SPD over other departments, and arguably hopping on progressive bandwagons to take credit after the hard work is done, it's hard not to feel some similarities to the Durkan budgets of yore.
Update: This article has been updated after publication to add the Thomas Street Redesign cut, Councilmember Mosqueda's second quote, and additional details about the public safety investments.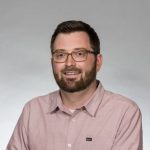 Doug Trumm is the executive director of The Urbanist. An Urbanist writer since 2015, he dreams of pedestrianizing streets, blanketing the city in bus lanes, and unleashing a mass timber building spree to end the affordable housing shortage and avert our coming climate catastrophe. He graduated from the Evans School of Public Policy and Governance at the University of Washington. He lives in East Fremont and loves to explore the city on his bike.